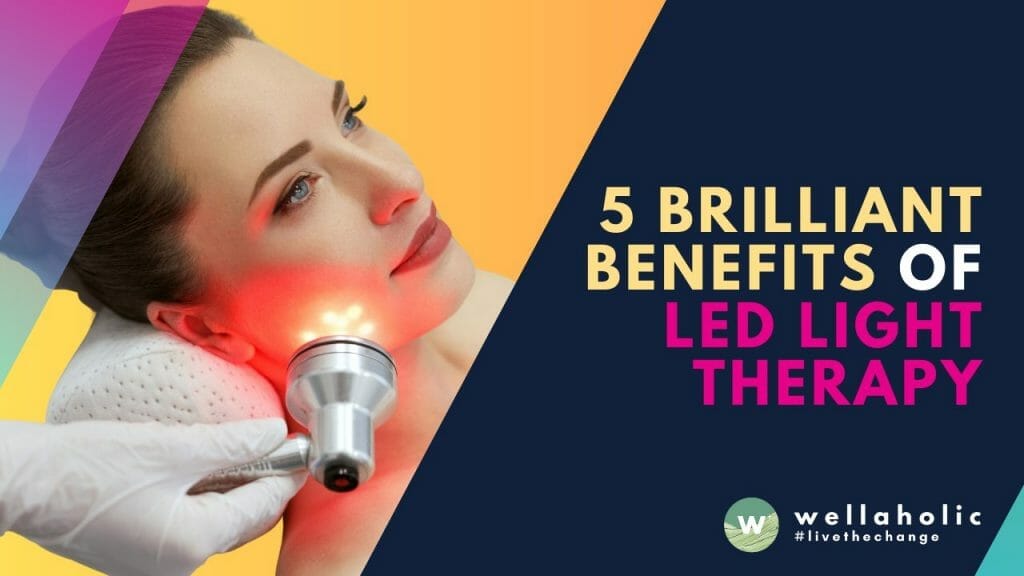 5 Brilliant Benefits of LED Light Therapy
TL:DR Summary
What is LED light therapy? It is a non-invasive skin treatment that uses different wavelengths of light-emitting diodes (LEDs) to target various skin concerns.
What are the benefits of LED light therapy? The benefits include stimulating collagen and elastin production, reducing inflammation and acne, improving blood circulation and skin tone, and healing wounds and scars.
What are the different types of LED light therapy? There are four main types of LED light therapy: red, blue, yellow, and green. Each one has a specific effect on the skin.
How does red LED light therapy work? Red LED light therapy works by penetrating deep into the skin and stimulating the fibroblasts that produce collagen and elastin. This helps to reduce wrinkles, sagging, and signs of aging.
How does blue LED light therapy work? Blue LED light therapy works by killing the bacteria that cause acne and reducing the sebum production. This helps to clear up breakouts, prevent new ones, and calm inflammation.
How does yellow and green LED light therapy work? Yellow LED light therapy works by increasing blood circulation and lymphatic drainage. This helps to detoxify the skin, boost immunity, and heal wounds. Green LED light therapy works by inhibiting melanin production and breaking down pigmentation.
What is LED Light Treatment?
Skin doctors share every little thing you need to find out about these state-of-the-art skin-care therapy. This includes at-home laser hair removal microcurrent therapies, and also, increasingly, LED light treatment.
Although these devices can have a slight Westworld feel, companies have come out with light treatment devices that claim different skin benefits. However does at-home light treatment really function? And also what does it do, anyhow? Allow us simplify for you. LED Light Treatment is terrific in every single face to soothe any type of areas of irritability and also it's also fantastic at brightening the skin.
When made use of consistently, with time, LED lights are thought to permeate your skin at various depths as well as trigger numerous responses in your skin, such as combating acne-causing germs, plumping skin as well as decreasing wrinkles
"LED light therapy is like a breath of fresh air for your skin – its benefits are rejuvenating!"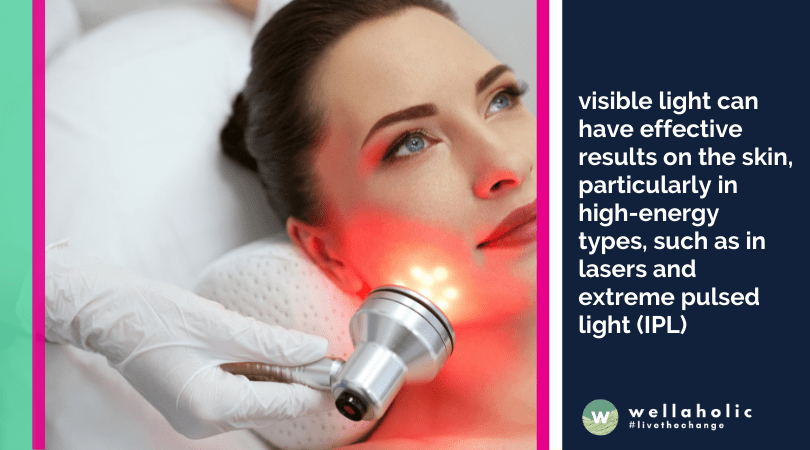 Exactly how does LED light treatment work?
The Impact of LED Light on Skin Health
According to Daniel Belkin, a board-certified dermatologist at the Laser & Skin Clinic of New York, visible light, especially high-energy types such as lasers and intense pulsed light (IPL), can have significant effects on the skin. LED (light-emitting diode), a low-power variant, is absorbed by skin molecules, changing the biological activity or behavior of nearby cells. Translated to skincare, this implies that LED light can modify skin cells to produce various positive results, depending on the color of the light used. Belkin notes, "There is encouraging evidence that blue LED light can alter the skin's microbiome to improve acne, that red LED light can stimulate collagen synthesis, and that yellow LED light can reduce inflammation and healing time."
The Science Behind LED Phototherapy
Research shows that skin cells absorb particles of light (photons) and convert their energy into adenosine triphosphate (ATP), the primary energy form used by cells. The resulting boost of ATP powers metabolic processes, synthesizes vital cellular components like DNA, RNA, proteins, enzymes, and fosters cell multiplication and balance restoration. In simpler terms, LED phototherapy provides compromised cells with added energy, enhancing their performance. For instance, fibroblast cells will produce more collagen and elastin, improving the appearance of fine lines and wrinkles, and speeding up wound healing.
Varied Effects of Different LED Light Colors
The efficacy of LED therapy can vary based on the color of light used, says Bruce Brod, a clinical professor of dermatology at the University of Pennsylvania. Blue light, supported by consistent scientific studies, shows a reduction in acne when used regularly. On the other hand, while red LED light is known to stimulate collagen synthesis, its clinical results are harder to validate. Brod explains that the inconsistency arises because it's easier to measure whether skin has broken out than to observe the gradual restoration of skin. Consequently, more research is needed to determine the long-term effectiveness of red LED light. Current understanding, according to Brod, is that blue light has a "moderate benefit for certain types of acne," and red light can mildly help with fine lines or areas of discoloration, though changes tend to be subtle.
How long does it consider LED light treatments to work?
You can see results from the initial therapy, however it is normally advised to have a minimum program of 6 treatments to see the most effective outcomes. If you would like to super charge your skin for particular skin problems, an extensive program of twelve treatments is recommended close together. A program of treatments offers restorative and also long-lasting outcomes, although you'll have the ability to see a difference after the first session. Light therapy is likewise specifically calming.
What is LED red light?
Red LED light might improve scarring and also indications of aging, such as creases. It may do this Trusted Resource by acting on fibroblasts, which are skin cells that are responsible for collagen Collagen is a healthy protein in the skin as well as other connective tissues. It plays a role in skin recovery. The body creates less collagen as an individual ages, which creates the skin to reveal indications of aging
What is LED blue light?
Blue LED light is usually made use of to deal with acne. It might do this by reducing activity in the sweat glands, so they create much less of the oil that can plug the hair roots, bring about acne. Blue light might also eliminate acne-causing microorganisms called Cutibacterium acnes.
Am I a good candidate for LED light facial therapy?
You may be a candidate for LED light therapy if you have these sorts of skin care worries as well as haven't gotten the outcomes you desire from over-the-counter (OTC) skin products. LED therapy is additionally secure for all skin colors, and also it does not trigger any burning. As a noninvasive procedure without ultraviolet rays, LEDs are typically extremely risk-free for all skin colors as well as types. Side effects are unusual, yet note if you experience soreness or increased swelling. You might, though, wish to talk with your physician if you're taking any type of dental acne drugs, like Accutane, as it causes the skin to be super sensitive to light.
Frequently Asked Questions (FAQ)
What exactly is LED Light Therapy?

LED Light Therapy is a non-invasive skin treatment that uses light-emitting diodes (LEDs) of various colors to address specific skin concerns. It's considered safe, painless, and suitable for all skin types.
How does LED Light Therapy work?

LED Light Therapy works by using specific color wavelengths of light that penetrate the skin at varying depths. This light is absorbed by the skin cells and stimulates cellular activity, including increased production of collagen and elastin.
What is the LED Cell Regen Facial at Wellaholic?

The LED Cell Regen Facial is a signature treatment at Wellaholic that uses LED Light Therapy. This therapy offers multiple benefits such as promoting collagen production, reducing inflammation, and improving skin tone and texture.
How many sessions of LED Light Therapy do I need to see results?

The number of sessions required can vary depending on individual skin concerns. Some people see visible improvements after a single session, while others may need multiple treatments for the best results.
Is LED Light Therapy suitable for all skin types?

Yes, LED Light Therapy is generally suitable for all skin types. It's non-invasive and doesn't use heat or any kind of 'trauma' to induce a wound healing response, which makes it particularly good for sensitive skin.
Can I combine LED Light Therapy with other facials?

Absolutely. LED Light Therapy can be a great addition to your regular facial routine as it can enhance the results of other treatments. For instance, the LED Cell Regen Facial at Wellaholic is often combined with other treatments for optimal skin rejuvenation.
LED Cell Regen Facial by Wellaholic
Wellaholic's LED Cell Regeneration Facial uses different wavelengths to target the skin for various beneficial effects. They are able to improve skin elasticity, produce collagen, minimise blemishes and pimples as well as to soothe aggravated skin and even reduce scarring.
Wellaholic's LED Cell Regeneration Facial uses different wavelengths to target the skin for various beneficial effects.
They are able to improve skin elasticity, produce collagen, minimise blemishes and pimples as well as to soothe aggravated skin and even reduce scarring.
RED Light – 640nm wavelength penetrates skin depth of 1-6nm. Red light helps to regenerate skin cells, stimulate collagen proteins, reduce fine lines and wrinkles, improve blood circulation and reduce inflammation.
BLUE Light – 432nm wavelength penetrates skin depth of 1nm. Blue light helps to treat acne and sun spots, inhibits sebaceous glands, improves skin texture, diminishes acne scars, treats enlarged oil glands and also improves depression.
GREEN Light – 532nm wavelength penetrates skin depth of 0.5 to 2nm. Green light decreases melanin production and whitens skin, decreases age spots and freckles, reduces pigmentation, reduces spider veins and rosacea.
YELLOW Light – 583nm wavelength penetrates skin depth of 1-2nm. Yellow light stimulates production of red blood cells, reduces appearance of tiny blood vessels on skin, boosts lymphatic flow and increases cellular growth.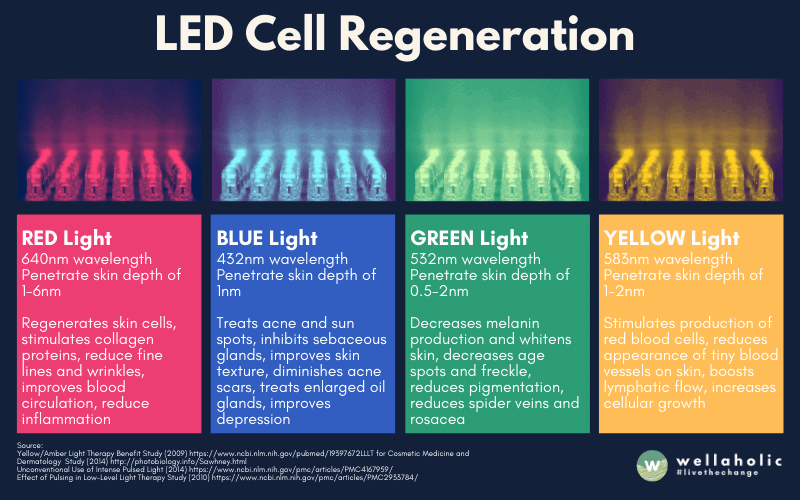 See Over 2000 Positive Reviews of Wellaholic (Customer Verifiable)
Pricing of Facial Treatments by Wellaholic
Wellaholic believes in providing pricing transparency, and hence all our prices are published and updated on its website. Choose from a single-session plan or choose a multi-session plan for greater discounts. Wellaholic's facial treatments are generally divided into the following categories: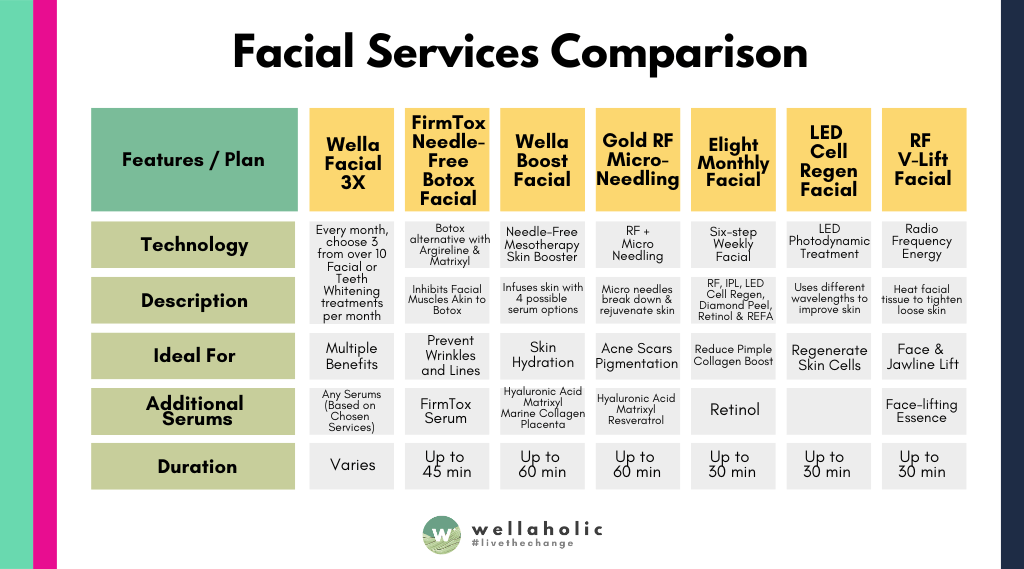 Please click on the menu below to see the pricing for the various facial treatments by Wellaholic. Wellaholic is well-known in the industry for our transparent pricing and no hard selling. In fact, Wellaholic is well-known for not only our transparent and cheap pricing but also without any hidden costs. All prices are nett and inclusive of GST, and are actual prices (i.e. not trial prices).
---