December Promo – Festive Voucher Promo
---
Get Wellaholic's Festive Vouchers at up to 15% OFF!
Rejoice! Christmas is the season to be jolly, and Wellaholic's festive vouchers are coming back again for a second run, with a tie up with Tropika Club Deals. Choose from $50, $100 or $300 vouchers at up to 15% off, and you can use them for your own treatments or gift them to a friend or family member. What's more, these vouchers never expire!!
Buy

a $50 voucher and get 5% off

Buy

a $100 voucher at get 10% off

Buy

a $300 voucher and get 15% off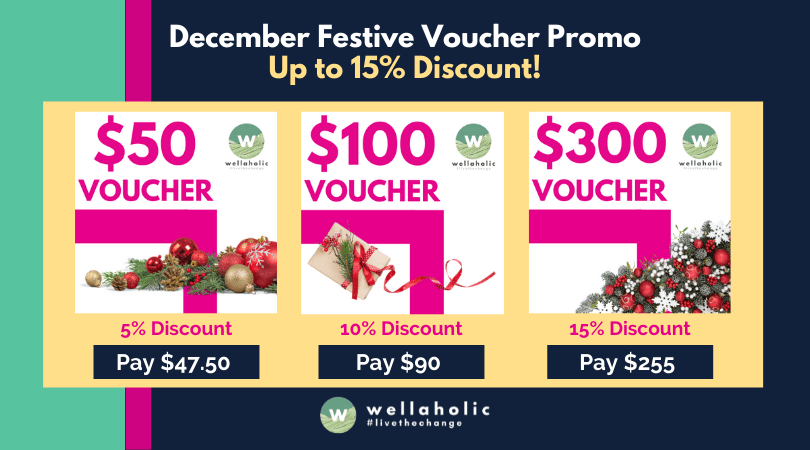 Terms & Conditions
Promotion is valid from

27 Nov to 31 Dec 2021

.

Vouchers must be purchased through Tropika Club Deals.

Vouchers do not expire and can be kept for future usage.

Vouchers are tied to the purchaser (i.e. only the purchaser can redeem the voucher). Hence, if you are buying for a friend, please remember to register an account on Tropika Club Deals in your friend's name before you make the purchase.

Vouchers cannot be stacked for redemption.

e.g. Customer can only use 1 x Voucher for each treatment redemption

e.g. Customer cannot use 2 x $300 vouchers to redeem a $1000 purchase for a treatment.

Vouchers cannot be exchanged for cash.

The management reserves the right to end the promotion earlier than the stated date.

Members cannot earn Cashback with purchase of voucher, but members can use voucher with any existing cashback credits.
---