10 Amazing Benefits of Microneedling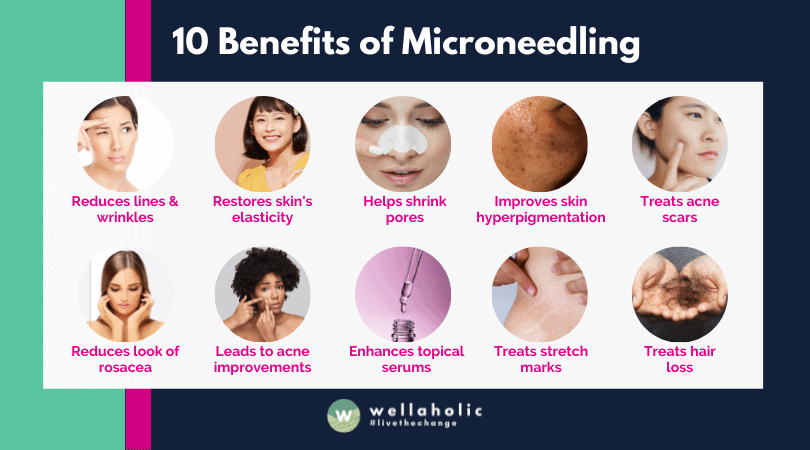 Introduction
Microneedling is one of the facial collagen boosting treatment that is gaining in much popularity, due to good reason. The process of microneedling is using a dermapen or a device attached with a disposable cartridge of many mini-needles to create tiny wounds on the skin. These needles create wounds which are miniscule and skin-deep. Nevertheless, the body reacts to the wounds and then goes about healing the wounds, thereby creating new collagen and elastin that not only helps to create younger-looking skin but also helps to clear scars, pigmentation and wrinkles over time.
Microneedling has the ability to help make your skin glow just right after one treatment and is easily visible as attested by our many customers. This skin radiance and healthy complexion can continue for months after the treatment, but is best realised after repeated treatments over a two-week to four-week gap. Let us share with you 10 amazing benefits of microneedling below.
---
1. Microneedling can help reduce appearance of lines and wrinkles
Skin ageing is a process that cannot be avoided. Yet premature ageing which manifests as fine lines and wrinkles do happen. Microneedling is able to reduce the appearance of fine lines and wrinkles by boosting collagen and elastin to fight lines and wrinkles. Collagen and elastin in your skin helps to add strength and structure, giving the skin a youthful quality.
Why is Microneeding so effective?
Microneedling is a safe procedure that uses the handheld Dermapen device to create microscopic injuries in the surface of your skin tissue. These micro wounds stimulate your body's own healing response and its ability to regenerate and heal itself. Your immune system works to prevent infection, increasing the flow of your blood to remove debris and impurities. Your natural repair system also stimulates the growth of new, healthy skin cells. As new skin cells continue to develop in the weeks after treatment, they will start to replace weak, old cells that no longer support your skin. Because of this, your skin becomes firmer, tighter, and younger-looking. Wrinkles and lines become less noticeable and your skin tone appears fresher and brighter.
---
2. Microneedling has anti-ageing properties
By upping the production of collagen, Microneedling helps to restore and rejuvenate your skin's strength and elasticity, which improves firmness to smooth out those fine lines and wrinkles to make them less visible. Microneedling is the latest trend in this quest to stay youthful. The major appeal of Microneedling is its ability to stimulate growth of collagen and elastin, which are essential to new, youthful-looking skin. The procedure helps to prevent new fine lines and wrinkles from forming, as well as noticeably reducing existing fine lines, crow's feet and deep wrinkles on the forehead.
---
3. Microneedling can help shrink pores
Pores are the openings on the surface of our skin (dermis) that allow for the secretion of the sweat and oil that our bodies produce. While large pores are often associated with genetics and the type of skin we have (those with oily skin often have larger pores), they can also be a result of normal ageing. As you age, your skin will start to lose its elasticity, and your body produces less collagen, which can result in the appearance of larger pores. And when you have enlarged pores, it is easier for dirt and other debris to get into them, creating further skin imperfections. Microneedling stands out as a successful way to improve pore size, skin texture, and discoloration, as well as, taking care of the appearance of those fine lines you try to hide.
Treatment of open and enlarged pores should be done in such a way that each pore is needled individually. For areas that are more sensitive or that have relatively thinner skin, such as near the eyes, on the forehead and around the lips, we recommend to use 0.5mm needle length for the best results and outcome.
---
4. Microneedling can improve sun damage & hyperpigmentation
Microneedling is effective in reducing hyperpigmentation and age spots, especially as a results of long-term sun damage. If you have a blotchy, brownish complexion, which is probably a result of too many days out in the sun, especially in the sunny climate of Singapore, Microneedling and its ability to stimulate new collagen and skin cells can reinvigorate your look and even out your tone. A study in Brazilian Annals of Dermatology showed Microneedling to be a promising treatment for the blotchy, brownish facial pigmentation that comes with this chronic condition. To improve extra pigmentation from sun-damaged skin, needles should range from 1.0 mm to 1.5 mm in length
---
5. Microneedling can help treat scars
Microneedling can also help treat acne scars. The process promotes the growth of new collagen in your skin, encouraging your skin to heal itself, reducing the appearance of ice pick, boxcar, and rolling acne scars. Most customers or patients will see a noticeable reduction in acne scars after a few microneedle treatments. Deep scars or pockmarks are lessened and skin has a more even tone and texture in as few as three to four treatments. The new skin that's created will be firmer, brighter, and smoother. Even those without acne scars will see an improvement in their skin's appearance.
---
6. Microneedling can help treat stretch marks
Stretch marks happen when our bodies develop at a rate faster than our skin can react to. Microneedling kickstarts your body's healing process to create new skin cells to replace the stretch marks damaged by the needles. The target skin area is then restructured, thereby smoothing the appearance of stretch marks. Stretch Mark Microneedle uses the microneedles to effectively break up the tough fibres that make up the stretch mark scar tissue. Microneedling has been clinically proven to fade the appearance of stretch mark scarring. A series of six treatments every two to four weeks is recommended for the best results.
There is minimal pain and no downtime. The recommended needle length (millimetres) for treating stretch marks is 1.5 to 2.0mm. At Wellaholic, we use professional derma-pens with 36 needles. Each needle is one-time use only for hygiene safety reasons. To take the results to the next level, we apply Hyaluronic Acid (HA) serum after treatment to hydrate, heal and increase collagen production.
---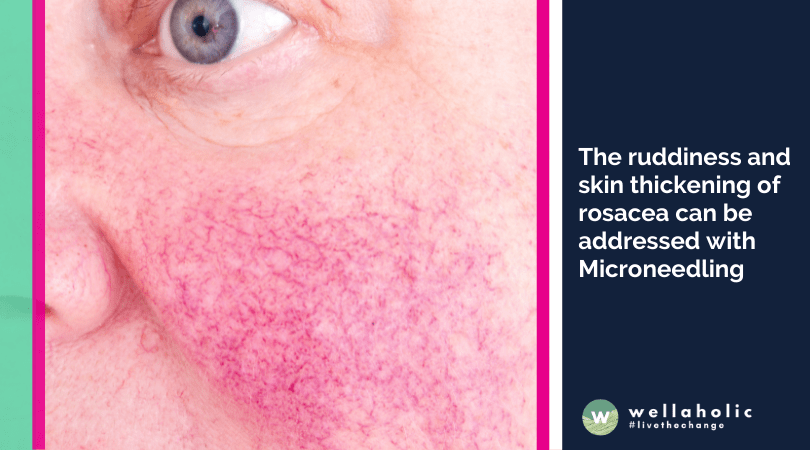 7. Microneedling can reduce the appearance of rosacea
The ruddiness and skin thickening of rosacea can be addressed with Microneedling. If you suffer from this skin condition, you experience a hastened breakdown of collagen. Microneedling may offer promise as a treatment for clients with rosacea, according to research presented at the American Academy of Dermatology Annual Meeting.
Twenty women with erythema­totelangiectatic rosacea ages 27–65 were studied, divided into two treatment groups. Both groups were treated every 15 days over four sessions; the first was treated with a wet dressing infused with tranexamic acid solution for 20 minutes, while the second group added simultaneous microneedling with a tranexamic acid solution topical application. Tranexamic acid is an antifibr­inolytic medication, often used to improve clotting for women with heavy menstrual cycles and to prevent major blood loss after surgery, trauma, tooth extraction, etc.
Both groups showed improvement, as assessed by Investigator Global Assessment of Rosacea Severity Score (IGA-RSS). However, Microneedling proved more effective, with patients showing an improvement of 3 units, in comparison to the 2 units of IGA-RSS seen in the other group. Clinical photos and dermoscopy were also used to assess improvment.
---
8. Microneedling can lead to acne improvements
If you still suffer from acne or blackheads, you may benefit from Microneedling treatments. As the sterilized needles poke holes in the uppermost layer of your skin, they remove the source of the recurring blackhead in the process. Nevertheless, while it can work wonders at improving acne scars, Microneedling can actually spread bacteria in the skin, making breakouts worse. This is why over at Wellaholic, we usually do not recommend using microneedling for acne or pimples or patients with a pimple breakout although it is able to treat acne – due to certain risks inherent in the treatment procedure.
---
9. Microneedling can improve the effectiveness of topical products
The tiny punctures from the Microneedling treatment actually act like little channels, allowing topical products to penetrate better and work more effectively. At Wellaholic, we use a blend of powerful serums to improve the effectiveness of our microneedling treatments.
HYALURONIC ACID 2% + VITAMIN B5

This formula uses three forms of HA with varying molecular weights, as well as an HA Crosspolymer.
This offers full-depth hydration and visible plumping without drawing water out of the skin.
B5 further enhances surface hydration.
USAGE: HYDRATION AND PLUMPING
RESVERATROL 3% + FERULIC ACID 3%

This formula combines very high concentrations of two of the most powerful and important antioxidants in skincare: Resveratrol and Ferulic Acid.
Skincare formulations generally incorporate Resveratrol at 1% or less and Ferulic Acid at 0.5% or less.
This formula an exceptionally high concentration of resveratrol.
USAGE: ANTI-AGEING
MATRIXYL™ 10% + HYALURONIC ACID

Matrixyl™ is a trademarked peptide composition developed by Sederma Inc. in France.
This highly-effective composition has been shown to reduce the look of static and dynamic wrinkles.
This formula contains two generations of Matrixyl™, at a combined concentration of 10% by weight in a specialized Hyaluronic Acid delivery system.
USAGE: INTERNAL PLUMPING TO FILL UP SCARS AND WRINKLE
---
10. Microneedling can treat hair loss and promote hair regrowth
Microneedling for Scalp helps treat hair loss and promote hair regrowth. Microneedling for Scalp is a Collagen Induction Therapy hair loss treatment in Singapore which is also able to cause controlled trauma in the scalp to promote hair growth. Together with the use of Minoxidil 5%, Microneedling can lead to positive effects on hair growth over a 12-week period. Especially effective for patients with Alopecia Areata and Androgenetic Alopecia, or male pattern baldness, receding hairline and thinning hair.
Gold RF Microneedling Facial by Wellaholic
Gold RF Microneedling is a revolutionary skin treatment that delivers dramatic anti-ageing results by combining fractional radiofrequency (RF) with microneedling to effectively treat acne, acne scar, pigmentation, stretch marks & enlarged pores. Gold RF Microneedling can also lift saggy skin and revitalise dull and uneven skin tone.
What is Gold RF Microneedling Facial Treatment?
If you are looking for an effective method to clear your acne scars, wrinkles or pigmentation, or if you are looking to tighten saggy skin such as jowl lines and nasolabial folds without any invasive surgery, then Gold RF Microneedling is the right treatment for you. Gold RF Microneedling combines two scientifically-proven techniques, microneedling and fractional radiofrequency (RF) to treat a variety of skin conditions.
Gold RF Microneedling uses up to 64 needles to penetrate the skin, releasing RF energy to trigger collagen and elastin production for the ultimate anti-ageing treatment for a clearer complexion and firmer skin.
Gold RF Microneedling is a safe, minimally invasive, and extremely effective aesthetic treatment for treating acne scars, pigmentation, fine lines and wrinkles.
Gold RF Microneedling has the ability to stimulate the growth of collagen and elastin using the combination of Microneedling with Radiofrequency, which is the key to new, youthful-looking skin.
Gold RF Microneedling has a dermatological treatment has seen extensive positive clinical results. This is an improvement over just doing a Microneedling or Radiofrequency treatment on its own.
Gold RF Microneedling combines radiofrequency with microneedling to stimulate tissue remodelling, thereby triggering the production of collagen.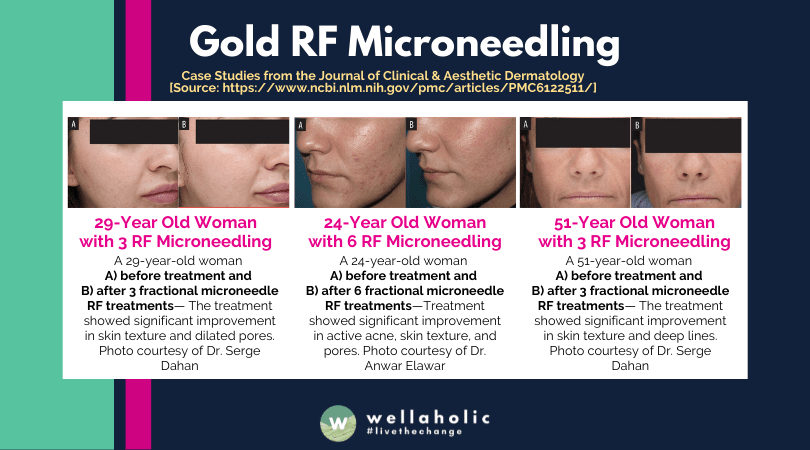 What are the Benefits of Gold RF Microneedling Facial?
Gold RF Microneedling has all the skin resurfacing benefits of traditional microneedling, but with the added technology of insulated needles that deliver RF energy to the skin, creating new microchannels linking your skin's layers.
Gold RF Microneedling create tiny wounds in your skin to prompt your body to replace old skin cells with healthy new ones, the RF energy heats deep layers of your dermis to encourage collagen growth and tissue tightening, leading to visibly healthier skin that continues to improve over the following months.
Gold RF Microneedling leads to faster cell turnover and quicker results than traditional microneedling.
Gold RF Microneedling has a shorter recovery time as compared to traditional microneedling, laser resurfacing treatments and chemical peels. There is also less risk of hyperpigmentation.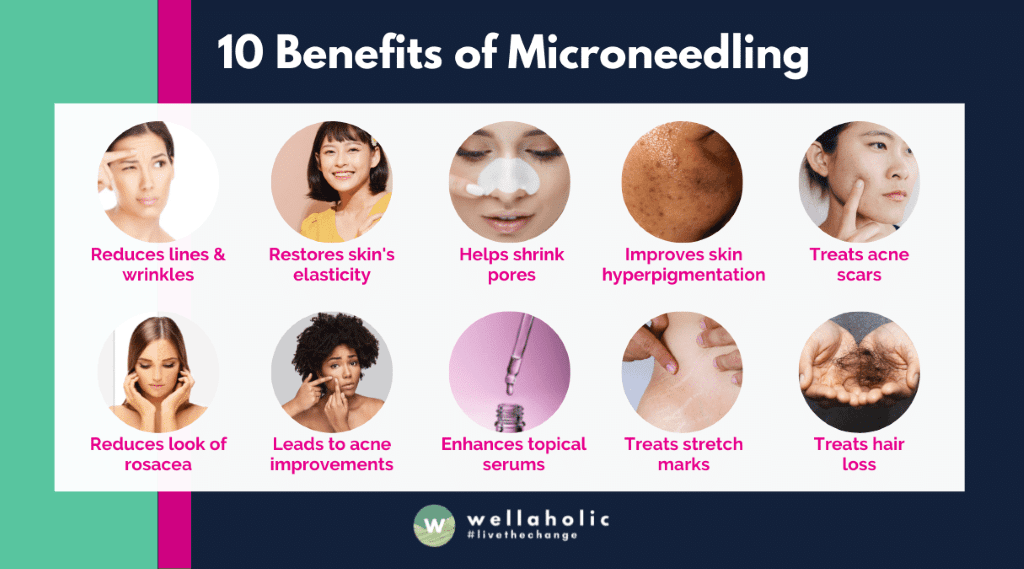 See Over 1800 Positive Reviews of Wellaholic (Customer Verifiable)
Pricing of Facial Treatments by Wellaholic
Wellaholic believes in providing pricing transparency, and hence all our prices are published and updated on its website. Choose from a single-session plan or choose a multi-session plan for greater discounts. Wellaholic's facial treatments are generally divided into the following categories: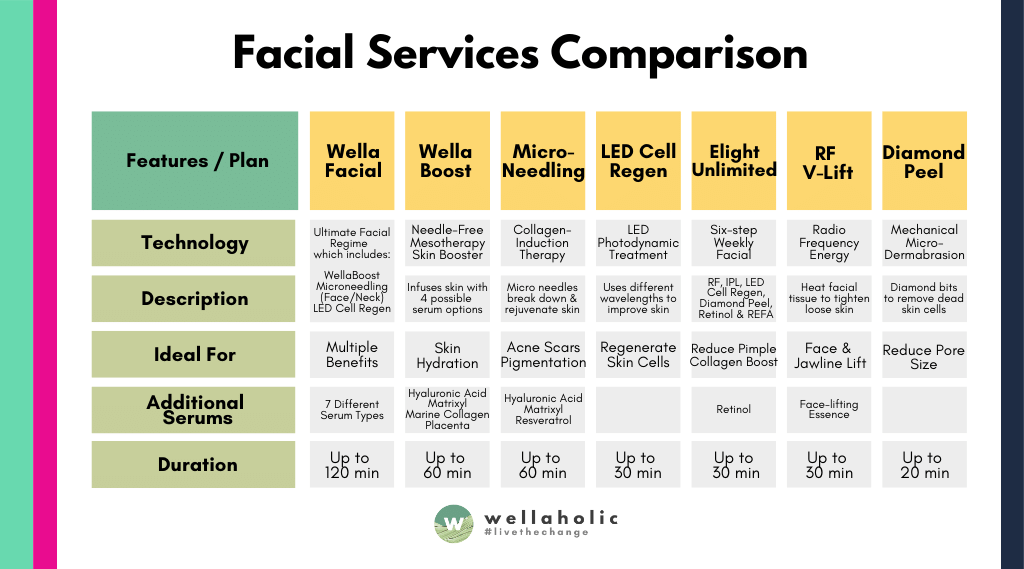 Please click on the menu below to see the pricing for the various facial treatments by Wellaholic. Wellaholic is well-known in the industry for our transparent pricing and no hard selling. In fact, Wellaholic is well-known for not only our transparent and cheap pricing but also without any hidden costs. All prices are nett and inclusive of GST, and are actual prices (i.e. not trial prices).
---
---