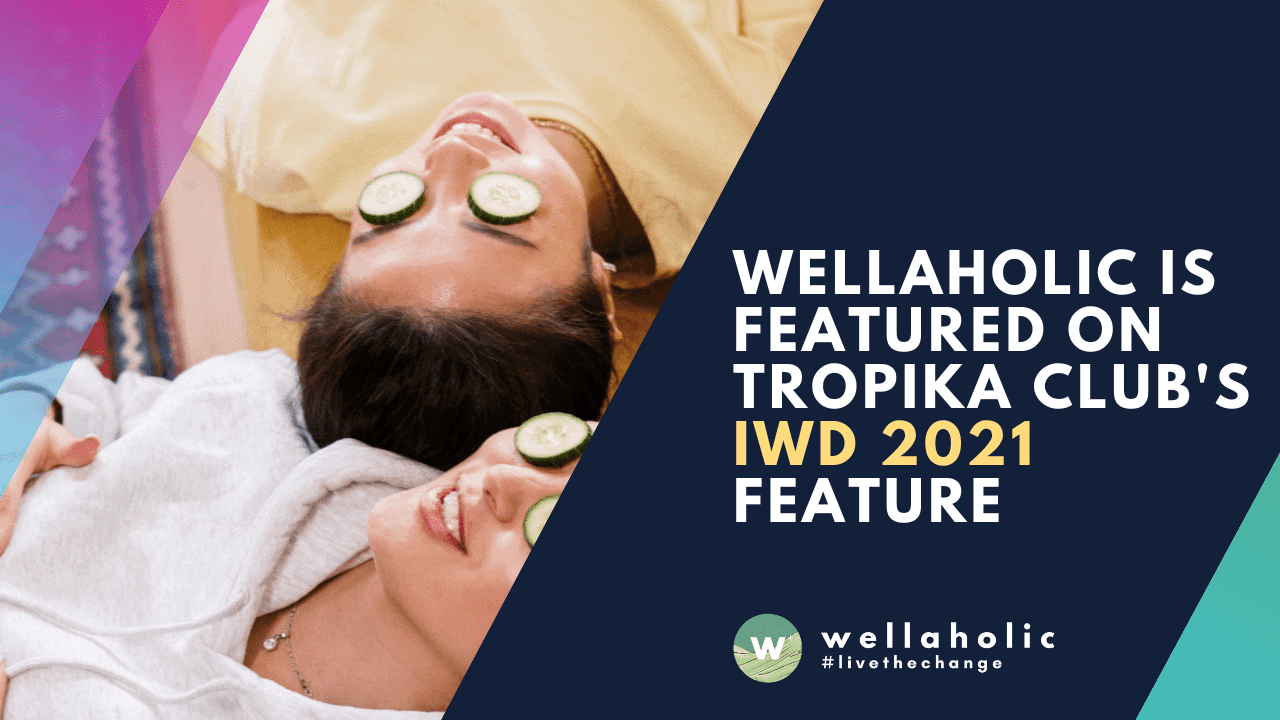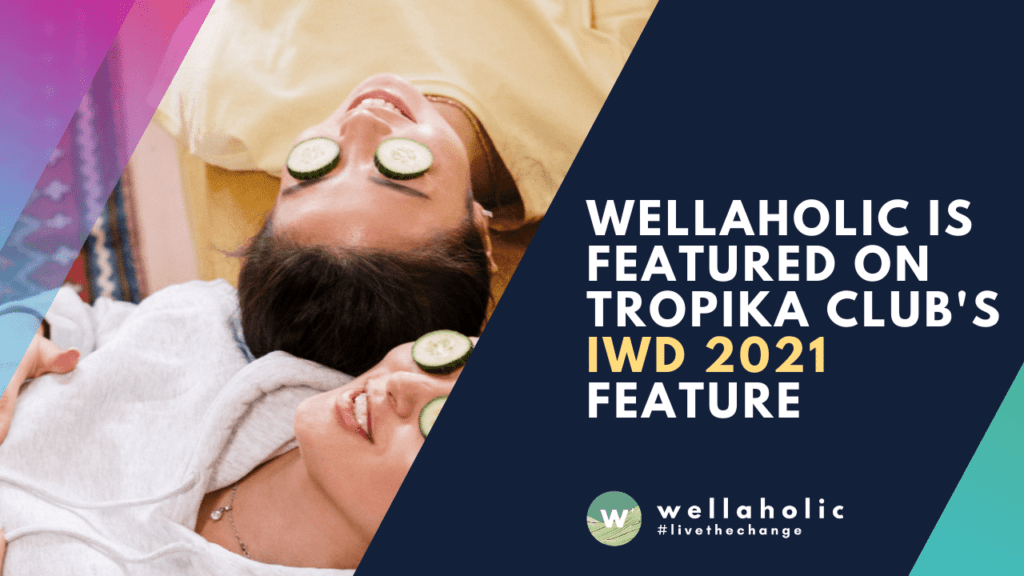 Wellaholic is Featured on Tropika Club's IWD 2021 Feature
Giving Women a Break – International's Women Day
Wellaholic is featured on Tropika Club's IWD 2021 feature for this March 2021. Read excerpts of the the full article via the link or right below:
This year's International Women's Day will hit differently as the fight for gender equality takes on a different turn in the pandemic. Early on in the pandemic, The Atlantic declared 'The Coronavirus Is a Disaster for Feminism'. They see that the virus upended the daily routines of dual-income households. With that, childcare moves from the paid economy—day-cares, kindergartens, and babysitters—to the unpaid one: the families at home.
Of course, we're not out of the woods yet. There are still clusters periodically forming and reports of community cases in Singapore. Thankfully, at least in Singapore, it's all kept under control, and more vaccines are being produced every day. To use a tired, cliched, nonetheless accurate analogy, we can now see the light at the end of the tunnel, though we don't know how long the tunnel will be. But, even as we want to run out of the tunnel, the pandemic's toll on women shouldn't be ignored.
From challenge comes change, so let's all choose to challenge.
In Japan, COVID-19 exacerbated burdens from unemployment, household responsibilities and urban isolation. As a result, suicide spiked 15 per cent among Japanese women—the first year-over-year increase in over a decade, the New York Times reported. We can see a similar situation unfolding in the U.S and Germany. In those two countries, women are also facing reductions in employment and working hours. Also, women in the two countries are more likely to transition to working from home.
The pandemic's adverse effects on women's equality could continue even if the world recovers from the pandemic. It could be more difficult for women to reintegrate into the workforce. And even if they are re-employed, they could still be hired to do the same job with lesser pay.
Singapore isn't exempt from the global trend. However, there is hope that there is a more equal division of housework and care work after the pandemic. That's because some men begin to work from home, they take on responsibilities at home too.
But sociologists noticed that there is evidence showing that the household would still prioritise the men's career and income after the pandemic, 'crystallising' gender inequality in the future.
This could exacerbate mental stresses for women. Not least when they have to face sexism and misogyny at the workplace, and by society as well. What's more, the gender gap in mental health has existed even before the pandemic. A Mental Health Study conducted between December 2009 and December 2010 found that the lifetime prevalence of major depressive disorders is higher in women than in men (7.2 per cent in women, 4.3 per cent in men).
'A SHORT BREAK FOR A LONG MILE'
There are solutions to this: the Singapore Council of Women's Organisation (SCWO) advocates for childcare leave and eldercare leave to be interchangeable. AWARE Singapore thinks that making the request for flexible work arrangements a statutory right. And, they also suggest employers be required to provide paid eldercare leave and family care leave.
While we're no policy experts, we know that getting some rest becomes a privilege for women. So even as the theme for this year's International Women's Day is #ChoosetoChallenge, we'd like to remind women that it's okay to take a break, to pamper themselves a little. After all, there's a Chinese saying that goes '休息是为了走更长的路'—a short break will help you take on the long mile.
For this International Women's Day, Tropika Club is Giving Women a break. And we're proud to have the opportunity to collaborate with a slew of exemplary local brands for this little mission of ours. IncBox, W.O.W! Wellness, Wellaholic, R'es Beauty, Studio by Willy, Hegen, and Highbrow are standing by our message. Read on for their messages of solidarity, and see how they plan on giving women a break.
Special IWD Promotion All Our Female Customers
All female customers of Wellaholic will get to enjoy a special promotion. For all purchases over $100 (final amount), get an additional discount based on your age.
Examples
A female customer aged 45 will get $45 off a single session of SHR Brazilian of $159 (final price = $159 – $45 = $114)
A female customer aged 39 will get $39 off a single session of TeethWhite of $109 (final price = $109 – $39 = $70)
A female customer aged 29 will get $25 off a single session of Microneedling @$159 (final price = $159 – $29 = $134)
---
Terms and Conditions
The promotion is valid for the month of March 2021 for all female customers of Wellaholic only.
Customer can apply the promotion to one treatment only (E.g. customer cannot use promo for more than one treatments)
The promotion is valid for all Wellaholic services and treatments.
The promotion is valid for final price of $100 and above.
Cashback can be used for this promotion, but the final amount must be above $100 to qualify for the promotion.
Promotion is meant for treatments within the month of March and cannot be purchased for future usage.
No cashback will be accrued for this promotion.
The management reserves the right to amend or end the promotion before end March.
Happy International Women's Day!!
---