Traction Alopecia: Causes and Treatment
Introduction to Traction Alopecia
Many people style their hair not only to look presentable. Nevertheless, several of the hairdos we choose may damage actually our hair and scalp, and lead to what we term as Traction Alopecia. One report without a doubt validates that some hairstyles can harm your hair follicles, leading to a progressive loss of hair, likewise a hair shedding condition also referred to as Traction Alopecia. In this article by Wellaholic, we are going to explain what is Traction Alopecia in Singapore and how Singaporeans can prevent this hair loss condition.
What is Traction Alopecia?
Traction alopecia is a loss of hair brought on by repeated pulling stress or stress on the hair, hair roots as well as its hair follicles. You possibly have listened to somebody talking about their hair being "tugged" at the edges, and suffering from patchy hair loss. It is something mysterious that they can't discuss. That mysterious cause is probably traction alopecia. However, traction alopecia doesn't just take hold of your hairline, it might affect various other parts of your scalp as well.
It is estimated that traction alopecia affects roughly one-third of ladies of African descent. This makes it the leading sort of loss of hair among them. Notwithstanding, it also impacts men and ladies of Asian origin.
What are the causes of Traction Alopecia
Not every lady can to these beauty salon horror tales certainly, however that doesn't imply they are risk-free from traction alopecia. This kind of hair loss is frequently self-inflicted as well as may be triggered by:
Tight braids, weaves, chignons, ponytails, dreadlocks, and other scalp-pulling hairstyles which is common in Asian hairstyles
The weight of excessively long hair- if hairs are long and tightly tied they too might cause traction alopecia below the chin;
Hair extensions- especially if they are tightly tied or glued to the base of your hair
Chemical treatments such as hair relaxers- they may alter the structure and chemical composition of the hair strands and follicles, thus leading to hair loss
Hair Rollers – especially if the hair is put up in rollers overnight for different types of hair
Wearing hair accessories, e.g., hair grips or slides the same way every day
Headwear, e.g., helmets and tight elastic bands
Essentially what these hairstyling procedures do is produce traction. When this occurs repetitively, as well as for a long term duration, inflammation creates around the hair origin, as well as the hair shaft ends up being loosened in its roots. Ultimately, the hair might wind up falling out in clumps, which can lead to adverse effects and psychological effects to your well-being.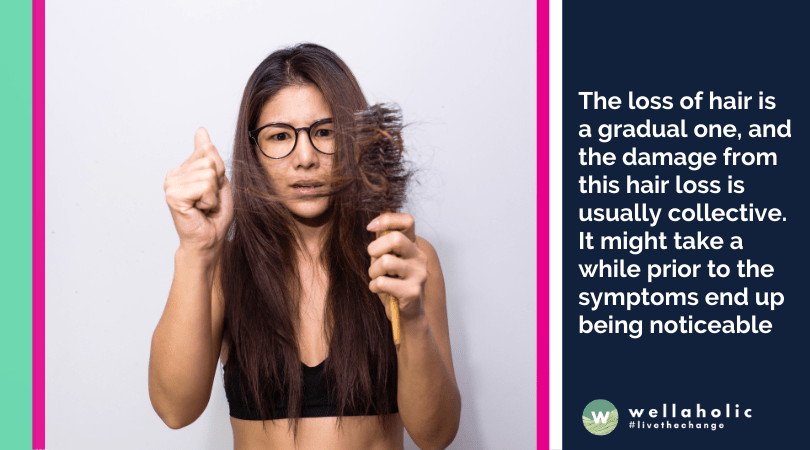 What are the signs that you are suffering from Traction Alopecia?
The loss of hair is a gradual one, and the damage from this hair loss is usually collective. It might take a while prior to the symptoms end up being noticeable. Nonetheless, the following signs might be indicative of traction alopecia:
Several short or broken hairs around your hairline or in position where your hair is under substantial strain
A declining hairline particularly on the temples, temple or neck
Scalp redness, tenderness, irritability, or itching over a period of time
Little small pimples which you can notice on the scalp
Sudden hair loss, especially patchy hair loss for all forms of hair 
Initially, traction alopecia doesn't trigger scarring. Nonetheless as time passes, and the traction to the hair continues, you will start to see reddish and scarred skin, which is also tied to the loss of hair density and thinning hair. Traction alopecia symptoms might vary from person to person. A person's hair care methods primarily identify them. The problem most frequently impacts the sides (temporal) and also front (frontal) of the scalp. This has actually led to the description of the fringe sign as a helpful marker of this kind of hair loss or alopecia.
Can Traction Alopecia be reversed?
Anything that pulls on your hair might harm your origin hairs, thereby triggering traction alopecia. The damage happens slowly as well as in phases. So if captured early, it can be stopped, and any kind of hair loss or thinning can be effectively turned around. Typically, if a hairstyle is done too tight, little pimples as well as discomfort appear first. This is called traction folliculitis, and it is an outcome of tension on the hair creating inflammation within the hair follicles.
However, if traction alopecia is left without treatment, and also the roots is put under continuous stress, irreparable damages occurs. The hair follicle will get inflamed, and hair will certainly quit growing back, ultimately resulting in long-term scarring and hair loss! Good hair care practice will help prevent this permanent hair loss condition.
How can you treat Traction Alopecia?
Providing your hair a break from any style that might trigger traction or this "tugging action" is the key treatment for traction alopecia. You could, as an example, try wearing your hair up or down, or rotating in between the two. If you absolutely need to pull your hair back, opt for a style that's low as well as loose. Generally, try to avoid a tight hairstyle to give your hair roots a break. Do a systematic review on your scalp to see if there are any described risk factors and treat it early.
If your hair is too long, you should consider cutting it short.
If you have actually shed hair, you can apply topical minoxidil, to aid grow back hair to fill out the sparse areas.
You can treat Traction Alopecia with Microneedling for Scalp
Microneedling for Scalp helps treat hair loss and promote hair regrowth. Microneedling for Scalp is a Collagen Induction Therapy hair loss treatment in Singapore which is also able to cause controlled trauma in the scalp to promote hair growth. Together with the use of Minoxidil 5%, Microneedling can lead to positive effects on hair growth over a 12-week period. Especially effective for patients with Traction Alopecia, Alopecia Areata and Androgenetic Alopecia, or male pattern baldness, receding hairline and thinning hair.
A topical hair loss solution starts working from the stages of hair follicles with respect to the stage of the hair loss. Since each person will have a different reason or cause behind the hair loss, the time frame will also vary accordingly to the situation and also the treatment type. For Wellaholic's Microneedling for Scalp, it will require a weekly treatment for 12 weeks to see good results, as evidenced from the supporting case studies showing the effectiveness of microneedling for hair loss.
How is Microneedling for Scalp Conducted?
The Microneedling for Scalp procedure is comfortable and easy with no downtime.
Prior to the treatment, please keep your hair washed and cleaned. Avoid applying wax, gel, clay, etc.
Before your treatment, our friendly consultant will check to find areas with hair loss and make a note of it.
The treated area is cleaned with alcohol to disinfect the area.
The Microneedling for Scalp treatment is started. This may take between 20 to 40 minutes depending on the size of the area.
The consultant will apply the 5% Minoxidil and gently massage the area for 5 minutes.
Pricing of Hair Loss Treatments by Wellaholic
Wellaholic believes in providing pricing transparency, and hence all prices are published and updated on its website. Choose from a single-session plan or choose a multi-session plan for greater discounts. Wellaholic's hair loss treatments are generally divided into the following categories:
Please click on the menu below to see the pricing for the various hair loss treatments by Wellaholic. Prices are nett and inclusive of GST.
How Do I Choose the Right Hair Loss Treatment Plan for Me?
Depending on your hair regrowth needs you can choose the following plans:
Wellaholic is well-known in the industry for our transparent pricing and no hard selling.
In fact, we are probably the only aesthetic establishment in Singapore that publishes our prices openly.
All prices are nett and inclusive of GST, and are actual prices (i.e. not trial prices).
You can read our amazing reviews here.
HairGrow™ Unlimited (4 x Microneedling for Scalp + 4 x HairGrow Scalp Booster + 4 x LLLT per month)
---