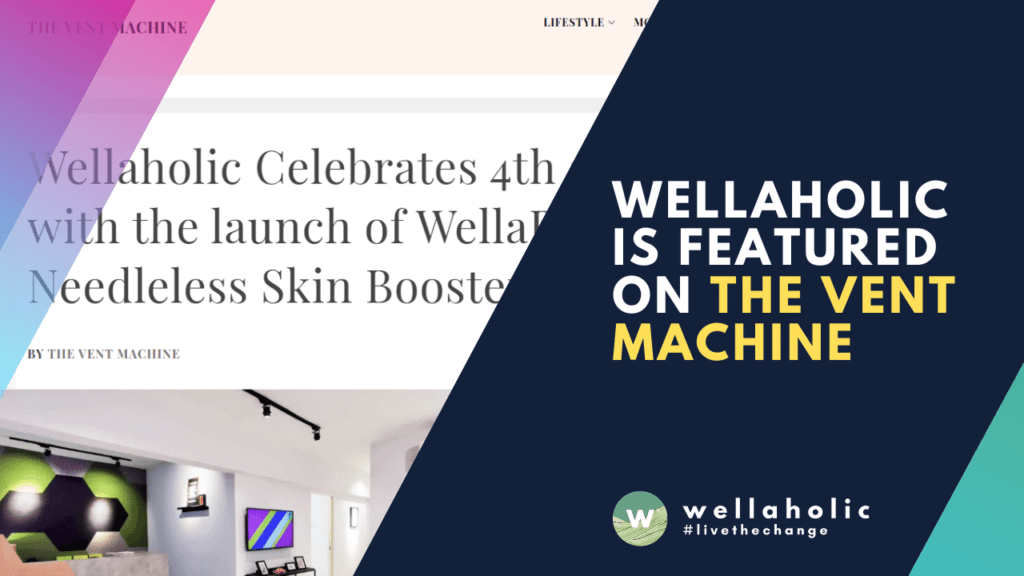 Wellaholic is Featured on The Vent Magazine
Wellaholic is Featured on The Vent Machine
Wellaholic
is featured on The Vent Machine's "
Wellaholic Celebrates 4th anniversary with the launch of WellaBoost™ Needleless Skin Booster Treatment
"
article
.
If you're big on wellness, self-care, and treating yourself right, here's some good news for you. Wellaholic, a data-driven Singapore beauty and wellness company with six – soon to be seven – outlets islandwide, turns four this October. To mark this milestone, they've launched WellaBoost™, a non-invasive facial skin booster which combines two state-of-the-art technologies – High-Pressure Jet Spray Technology and Electroporation – to infuse the skin with four different types of facial serums: Hyaluronic Acid, Matrixyl™, Marine Collagen, and Placenta.
With its general healing properties, Hyaluronic Acid serves as the base serum, and customers can choose to add one or more of the other serums based on their skin type and needs. Matrixyl™ promotes collagen and elastin production, Marine Collagen promotes skin regeneration and heals scars, while Placenta promotes anti-ageing properties from stem cells.
Enjoy 40% off your second Wellaholic purchase*
To thank and treat their loyal customers, Wellaholic will be offering 40% off their second purchase of any Wellaholic service or package on the same day for him or herself, or a friend or family
member
. This way, one can choose to indulge in a second treatment or help a friend snag a cut-price deal on their next beauty or wellness pampering session. Another reason to 
jio
 a friend the next time you #treatyoself!
​
This
promo
is valid for all Wellaholic services and available at all 
Wellaholic outlets
 islandwide throughout the month of October 2020. Whether you're returning a favour or helping a friend dip their toes into beauty and wellness, this is a great way for beauty and wellness lovers to #payitforward.
---