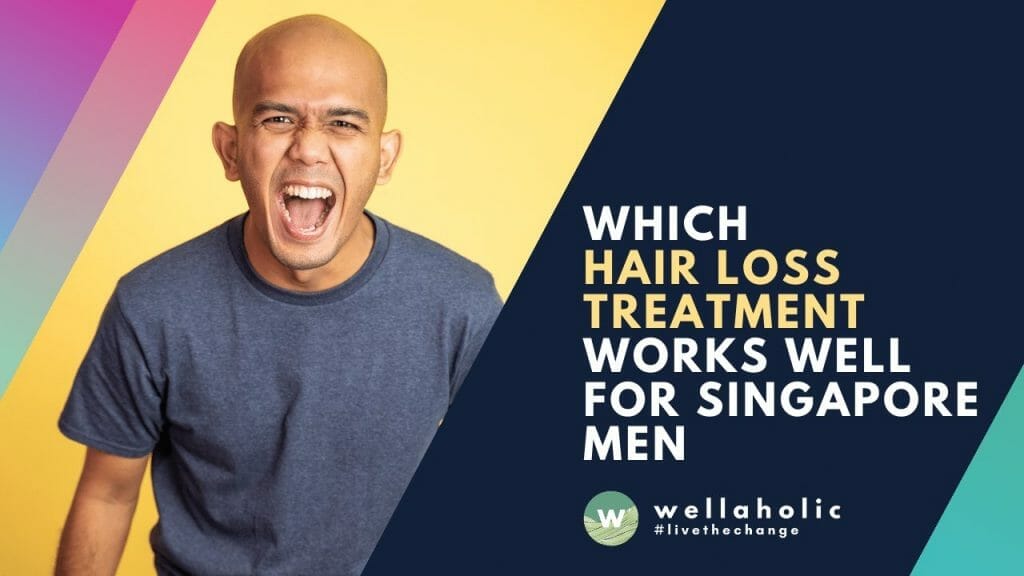 Which Hair Loss Treatment Works Well for Singapore Men
Introduction: What hair loss treatments are available in Singapore?
Hair loss is a common problem that affects both men and women in Singapore. While there are many causes of hair loss, such as genetics, illness, and stress, there are also many treatment options available. In Singapore, there are a number of places that offer hair loss treatments. These include both medical and surgical options. Medical treatments for hair loss include medication, such as minoxidil, and hair transplants as well as other herbal and scientific methods to treat hair loss.
---
Male pattern baldness: what is it and how common is it in Singapore?
Male pattern baldness is a common condition in Singapore, affecting approximately 1 in 2 men by the time they reach 50 years old. It is characterized by a receding hairline and hair thinning on the crown of the head. Male pattern baldness is caused by a combination of genetic and hormonal factors. There is no cure for male pattern baldness, but treatments are available to help slow down its progression.
Minoxidil: how does it work and what are the success rates?
Minoxidil was originally developed as a medication to treat high blood pressure. It was found to be an effective vasodilator, meaning it widens blood vessels, and was approved by the FDA for treatment of hypertension in 1979. As a result of its ability to widen blood vessels, minoxidil also increases blood flow to the scalp. This is thought to be how minoxidil helps promote hair growth.
---
Finasteride: how does it work and what are the success rates?
Finasteride is a medication that is used to treat male pattern baldness. It is a type of 5-alpha reductase inhibitor, which means it works by blocking the hormone responsible for hair loss. Studies have shown that finasteride is effective in slowing down hair loss and promoting hair growth. The success rates vary depending on the individual, but overall, finasteride is a effective treatment for male pattern baldness.
Hair transplants: how do they work and what are the success rates?
Hair transplants are a type of cosmetic surgery that involves taking hair from one area of the head and grafting it onto another area. The success rate of hair transplants varies depending on the individual, but is generally high. The procedure is typically performed by a dermatologist or plastic surgeon.
Insert text here
Conclusion: which treatment is the most effective for Singapore men?
In conclusion, more research is needed in order to determine which treatment is the most effective for Singapore men. However, it is clear that there are a variety of treatments available that can be effective depending on the individual. If you are struggling with hair loss, be sure to consult with a doctor or specialist to find the best treatment plan for you.
Microneedling for Scalp – Achieve Hair Regrowth with Science
Microneedling for Scalp helps treat hair loss and promote hair regrowth. Microneedling for Scalp is a Collagen Induction Therapy hair loss treatment in Singapore which is also able to cause controlled trauma in the scalp to promote hair growth. Together with the use of Minoxidil 5%, Microneedling can lead to positive effects on hair growth over a 12-week period. Especially effective for patients with Alopecia Areata and Androgenetic Alopecia, or male pattern baldness, receding hairline and thinning hair.
A topical hair loss solution starts working from the stages of hair follicles with respect to the stage of the hair loss. Since each person will have a different reason or cause behind the hair loss, the time frame will also vary accordingly to the situation and also the treatment type. For Wellaholic's Microneedling for Scalp, it will require a weekly treatment for 12 weeks to see good results, as evidenced from the supporting case studies showing the effectiveness of microneedling for hair loss.
Benefits of Microneedling for Scalp
Microneedling for Scalp works by mechanical controlled injury into the dermis.
When Microneedling for Scalp is used with Minoxidil when treating alopecia, there is an increase of hair density, thickness and quality of hair regrowth.
The treatment is safe, non-invasive and relatively painless.
There is no downtime to the Microneedling for Scalp treatment.
Microneedling for Scalp treatment is able increase the density of existing hair, leading to fuller appearance of overall hair.
Is Microneedling for Scalp Hair Growth Treatment Backed By Science?
There has been numerous research studies which shows the effectiveness of microneedling with Minoxidil for hair growth.
​Study 1: A Randomized Evaluator Blinded Study of Effect of Microneedling in Androgenetic Alopecia: A Pilot Study (2013) [source]
In 2013, 100 men with Androgenetic Alopecia (AGA) were recruited to take part in a study which tested the effects of microneedling on hair growth. 94 men completed the study.
The men were randomly split into two groups. The first group, which consisted of 50 volunteers, was treated with both microneedling and minoxidil (5 percent) lotion.
The second group, which consisted of 44 volunteers, was treated with minoxidil (5 percent) lotion.
The group which combined Microneedling with Minoxidil application saw a significant hair growth as compared to the minoxidil-only group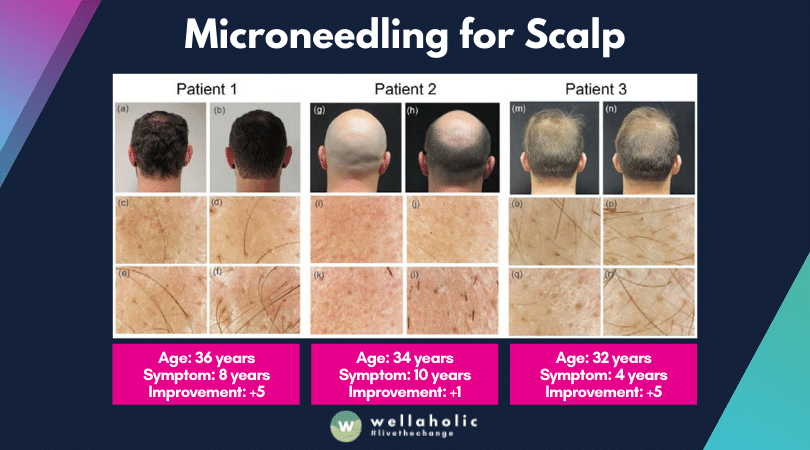 Study 2: Response to Microneedling Treatment in Men with Androgenetic Alopecia Who Failed to Respond to Conventional Therapy (2015) [source]
In 2015, researchers recruited four men who had been on 5 percent minoxidil solution for the past two to five years (9). While their hair loss didn't continue, there were no signs of growth.
The four men were subjected to microneedling sessions over a six-month period combined with their current therapies.
A 7-point evaluation scale was used to track results, and the men were followed up with for 18 months to assess treatment sustainability.
The patients experienced a +2 or +3 on the standardised evaluation scale, and new hair growth was noted after 8 – 10 sessions. Even further, these results were sustained over 18 months.
This is the first case series to report the boosting effect of microneedling with respect to new hair follicle stimulation in patients with androgenetic alopecia who were poor responders to conventional therapy.
Are There Before and After Photos of the Treatment?
See Over 1800 Positive Reviews of Wellaholic (Customer Verifiable)
Pricing of Hair Loss Treatments by Wellaholic
Wellaholic believes in providing pricing transparency, and hence all prices are published and updated on its website. Choose from a single-session plan or choose a multi-session plan for greater discounts. Wellaholic's hair loss treatments are generally divided into the following categories:
Please click on the menu below to see the pricing for the various hair loss treatments by Wellaholic. Prices are nett and inclusive of GST. Wellaholic is well-known in the industry for our transparent pricing and no hard selling. In fact, Wellaholic is well-known for not only our transparent and cheap pricing but also without any hidden costs. All prices are nett and inclusive of GST, and are actual prices (i.e. not trial prices).
---
---