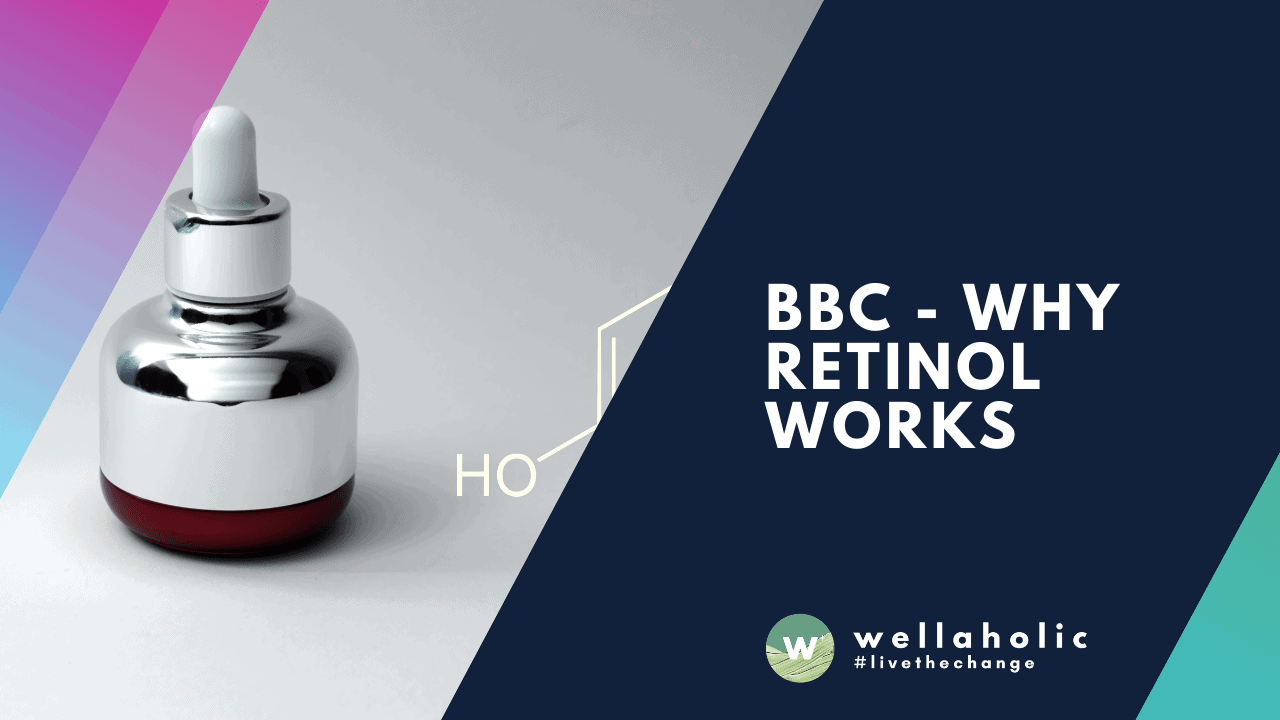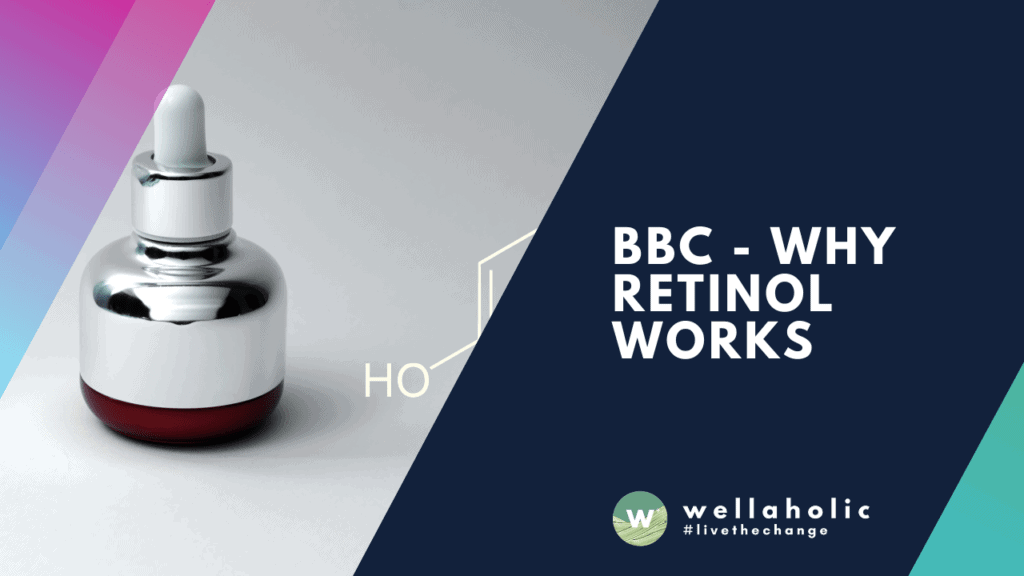 BBC's The Truth about Looking Good – Why Retinol Works
Table of Contents
Introduction
In the UK over £9 billion a year are spent on beauty products that promise to improve and transform us. But how much of what these products promise is based in scientific evidence, and how much is simply marketing manipulation?
Cherry Healey teams up with independent scientists to put everyday cosmetics to the test like never before. In a groundbreaking study carried out by the University of Sheffield, and with the help of 25 volunteers, she discovers that moisturisers might not have the benefits people think they do.
She meets dermatologists in Manchester to find out how well her skin is really ageing and sees the shocking effects of sun damage, and she discovers the only over-the-counter product scientists would use on their own wrinkles.
Retinol Works Brilliantly!
​Over-the-counter retinol products could offer an effective alternative to needles when it comes to addressing wrinkles. Speaking to Cherry, consultant dermatologist Dr Anjali Mahto referenced a study conducted by the Amway Corporation and the University of Michigan where the use of 0.1% retinol by participants over a four week period led to an improvement in fine lines, wrinkles and pigmentation too. As a weaker form of prescription strength tretinoin (which Dr Mahto highlights as the most impressive no-needle option), improvements can be sustained over several months with continued use.
Her recommended plan of action? Use a product with a minimum of 0.1% retinol in it to begin with, building it up gradually. If only small amounts of irritation are experienced, upgrade to maybe 0.3% or 0.5% in a few months' time. Once you're used to it, try building it up to 1%. Caution is advised though due to the risk of redness and irritation.
Wellaholic's Skincare is Retinol-Based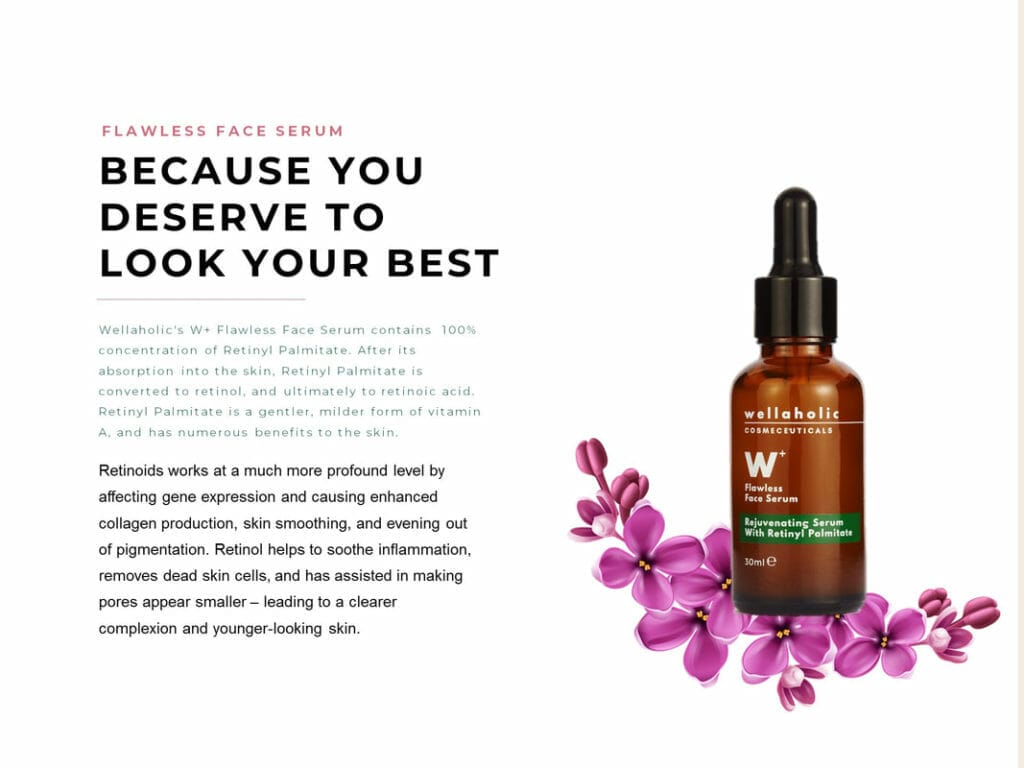 Part of Wellaholic's research stems from the numerous independent studies that have been made on retinol – it remains one of the highly important ingredient with an amazing benefit on the skin.
The benefits of Retinol for the skin includes:
Effective cell-communicating ingredient
Exhibits strong antioxidant properties
Improves skin texture
Reduces appearance of wrinkles and other signs of aging.
Has been shown to increase collagen production
Helps reduce appearance of hyperpigmentation from sun damage
Has been shown to help improve elastin
Wellaholic's Face Serum contains 100% pure concentrate of retinyl palmitate, which is a gentler form of retinol suitable for daily usage. Wellaholic's Retinol Moisturiser, on the other hand, has a combination of retinyl palmitate and moisturising agents including AHA or alpha hydroxyl acid which provides more moisturing properties and is suitable for application when going to bed.
This combination treatment brings out the effectiveness of the Elight Facial Collagen Boost treatment. Going deeper into the science behind this approach, Elight treatments uses Radio Frequency, IPL, as well as Red Light Therapy to stimulate the collagen peptides.
The collagen peptides, upon stimulated by the various energies, is able to boost collagen production, and help repair the skin and tightening it in the process (as seen in the illustration). This works very well with the retinol therapy proposed as the retinoic acid helps to accelerate the exfolication of the outer surface of the skin, thereby revealing (more quickly) the newer layers of skin which is already created and tightened by the Elight process.
While this process is effective and have been many satisfied customers, it is not an immediate process (as with Laser invasive treatments). This is because the body takes time to create collagen and shed off the outer layer of skin. Hence, the treatment, while effective, requires a dedicated and consistent approach.
With a disciplined approach towards Elight treatments and combining it with the retinol-application treatment on a regular basis – you will be leveraging on science and innovation to help you look younger and slow down the process of ageing on your skin! 
Pricing of Facial Treatments by Wellaholic
Wellaholic believes in providing pricing transparency, and hence all our prices are published and updated on its website. Choose from a single-session plan or choose a multi-session plan for greater discounts. Wellaholic's facial treatments are generally divided into the following categories: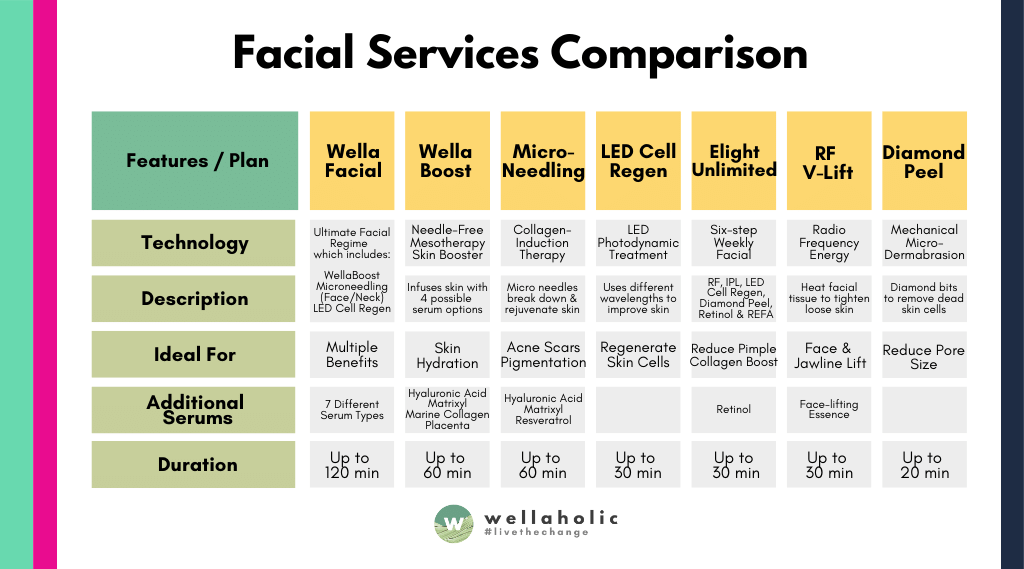 Please click on the menu below to see the pricing for the various facial treatments by Wellaholic. Wellaholic is well-known in the industry for our transparent pricing and no hard selling. In fact, Wellaholic is well-known for not only our transparent and cheap pricing but also without any hidden costs. All prices are nett and inclusive of GST, and are actual prices (i.e. not trial prices).
---
---