Best Facial near Farrer Road MRT – Wellaholic Farrer Road
Looking for a Facial Service Near Tampines MRT?
Looking for a facial service that's close to Farrer Road MRT? Or are you near at Holland Village, Botanic Gardens, Buona Vista, Queenstown or Bukit Timah and looking for a reputable facial treatment service provider? Look no further than our trusted experts at Wellaholic (Farrer Road)! Our team of facial experts provides top-notch facial services that are perfect for various skin concerns. Choose from our WellaFacial, Elight Facial, Gold RF Microneedling, Microneedling, WellaBoost Skin Booster, RF V-lift, Diamond Peel Microdermabrasion and LED Cell Regen facials.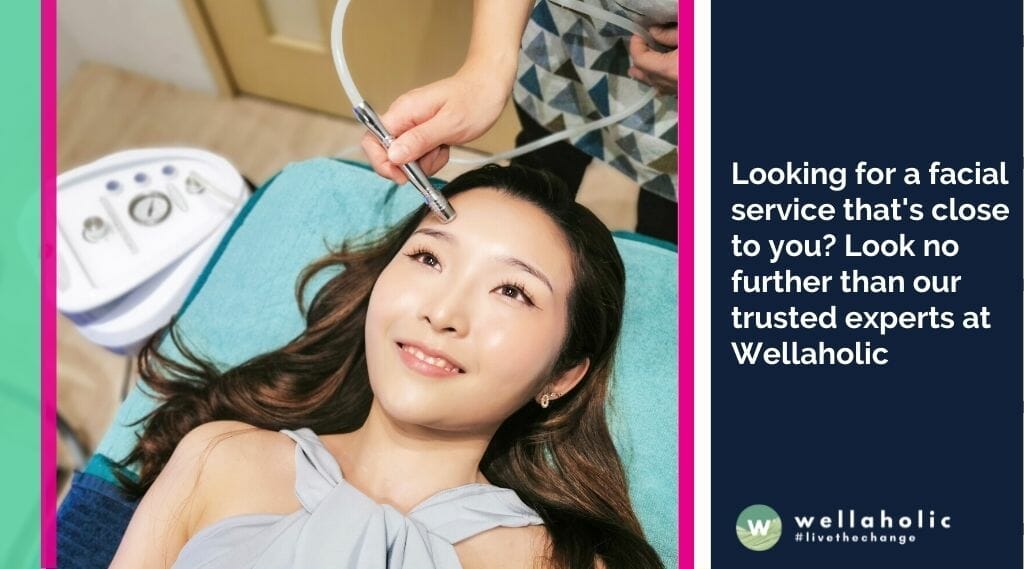 Wellaholic's Facials for All Skin Concerns
The eight skin concerns considered by the program are: Acne prone, Anti-ageing, Loss of elasticity, Obvious pores, Pigmentation, Redness, Sun damage and Wrinkles. Additionally there are four eye concerns comprising of: Anti-ageing, Dark circles, Loss of elasticity and Wrinkles.
Wellaholic has Won Numerous Awards for our Facial Treatments
Wellaholic has been recognised as a leader of both RF microneedling and microneedling, winning annual awards, such as the Best Microneedling Treatment by Daily Vanity Spa & Hair Awards in 2022, 2021, 2020 and 2019. Wellaholic has also won the Best Microneedling award by Beauty Insider Beauty & Wellness Awards from 2018 to 2021.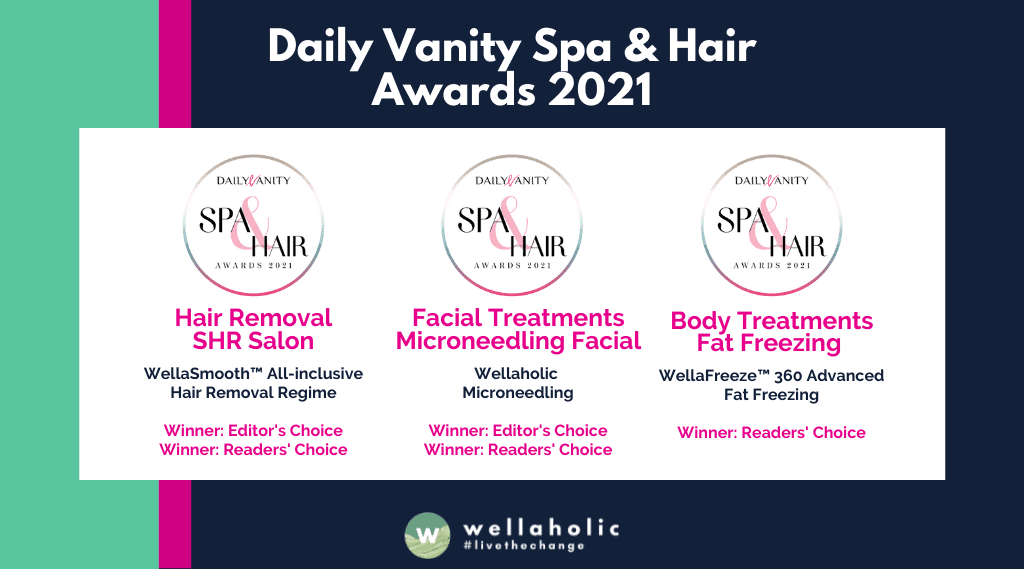 Facial Treatments: Packages and Pricing
Depending on your facial needs, you can choose from our WellaFacial, which includes several different technology facials. Or you can choose ala carte the facial treatments that meet your needs. Either way, you are a winner at Wellaholic, due to our cost-effectiveness, price transparency, and exceptional customer service.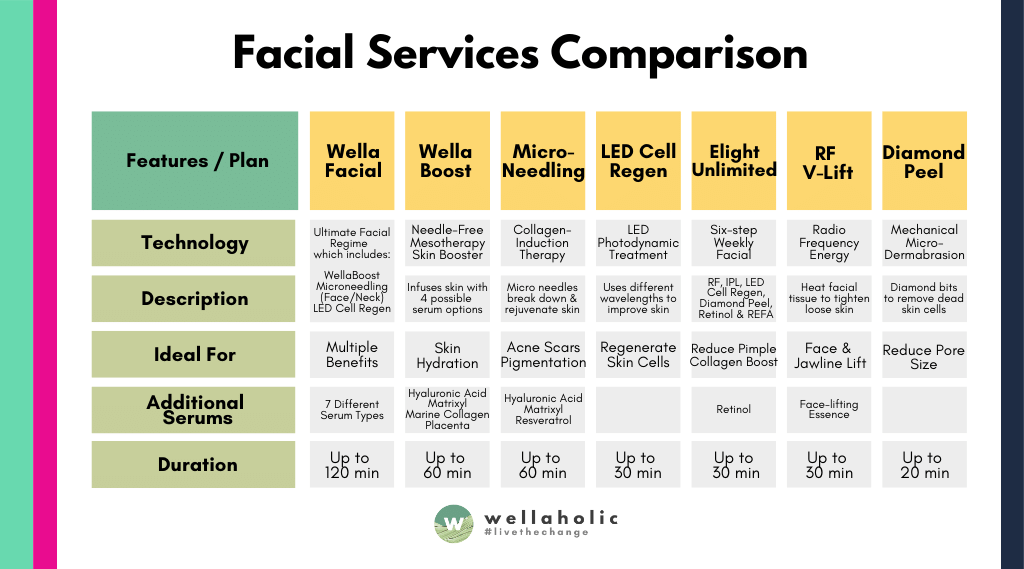 How to Get to Wellaholic Farrer Road?
Located just 2 to 3 minutes via a sheltered walkway from Farrer Road MRT station, Wellaholic (Farrer Road) will serve our customers located in the western sector of Singapore. With 3 really spacious treatment rooms, and a full range of treatment options, Farrer Road will increase Wellaholic's treatment capacity to ensure a high level of availability for our customers living in Farrer Road, Holland Village, Queenstown, Commonwealth, Bukit Timah, Caldecott and Bishan areas.
Wellaholic (Farrer Road) is located at:
Farrer Road Outlet: +65 8853 3424
3 Queens Road #02-155
Singapore 260003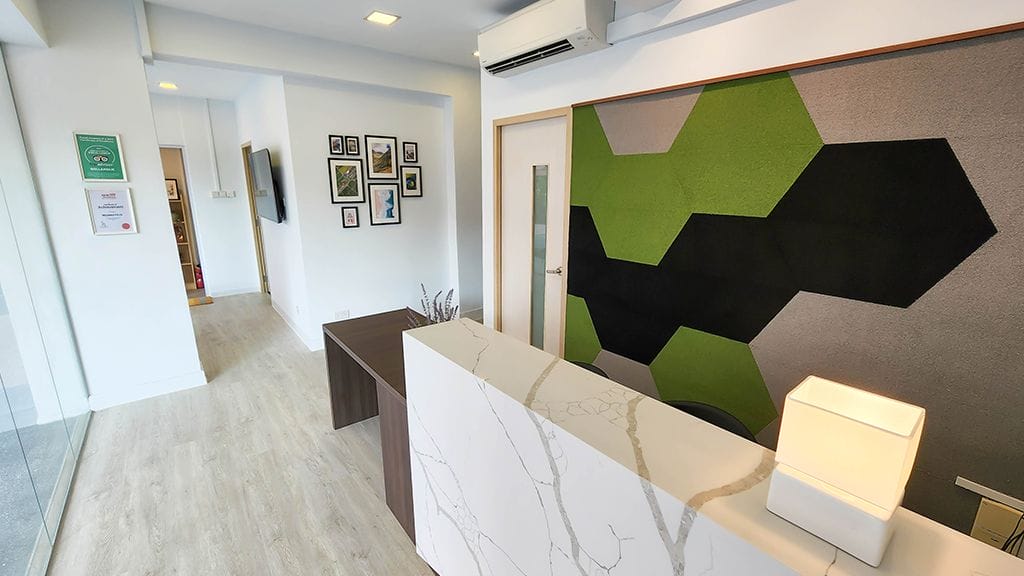 ---
Wellaholic's Commitment to Price Transparency and No Hard-selling
Wellaholic's commitment to transparency becomes a perfect complement to our quality treatments. We don't say this lightly: we don't do hard-selling. We don't have any trial sessions that distort the prices of our treatments. All our prices are stated clearly on our website, and on the brochures at our outlets. So, rest assured, you will have your peace of mind at Wellaholic.
---
WellaFacial™ by Wellaholic
WellaFacial™ is Wellaholic's signature facial regime, designed for customers who want an extensive all-inclusive facial regime which includes the latest technologies to promote cellular renewal and anti-ageing. WellaFacial™ provides additional free treatments to help our customer look their best at an affordable per-session pricing.
Unlike typical facials which involves steaming the face, and manual extraction of blackheads, etc., Wellaholic advocates the use of technology and scientifically proven methods to help our customers with their anti-ageing regime. The result– visible differences over the course of a three-to-six month period.
What is WellaFacial™?
Incorporates Best-of-Breed technology facials at affordable pricing
Designed for customers who want a regular facial regime which includes the latest technologies to promote cellular renewal and anti-ageing.
WellaFacial™ provides additional free treatments to help our customer look their best at an affordable per-session pricing.
Pay for WellaBoost™ (4 Serums) needle-free skin booster and Microneedling (Face) to get free additional Microneedling (Neck) and LED Cell Regeneration treatments as part of our special WellaFacial™ plan. 
What are the Benefits of WellaFacial™?
​WellaFacial™ allows you to choose the combination of treatments that works best for your skin concerns:
Microneedling: Effective in resurfacing skin and treatment acne scars, pigmentation and stretch marks.
WellaBoost™: Needle-less skin booster with two different technologies to help increase skin hydration, collagen production as well as skin regeneration.​
LED Cell Regeneration: Uses different wavelengths to target the skin for various beneficial effects such as improving skin elasticity, boosting collagen production, minimising blemishes and pimples as well as soothing aggravated skin and even reduce scarring.
See Over 1800 Positive Reviews of Wellaholic (Customer Verifiable)
Pricing of Facial Treatments by Wellaholic
Wellaholic believes in providing pricing transparency, and hence all our prices are published and updated on its website. Choose from a single-session plan or choose a multi-session plan for greater discounts. Wellaholic's facial treatments are generally divided into the following categories: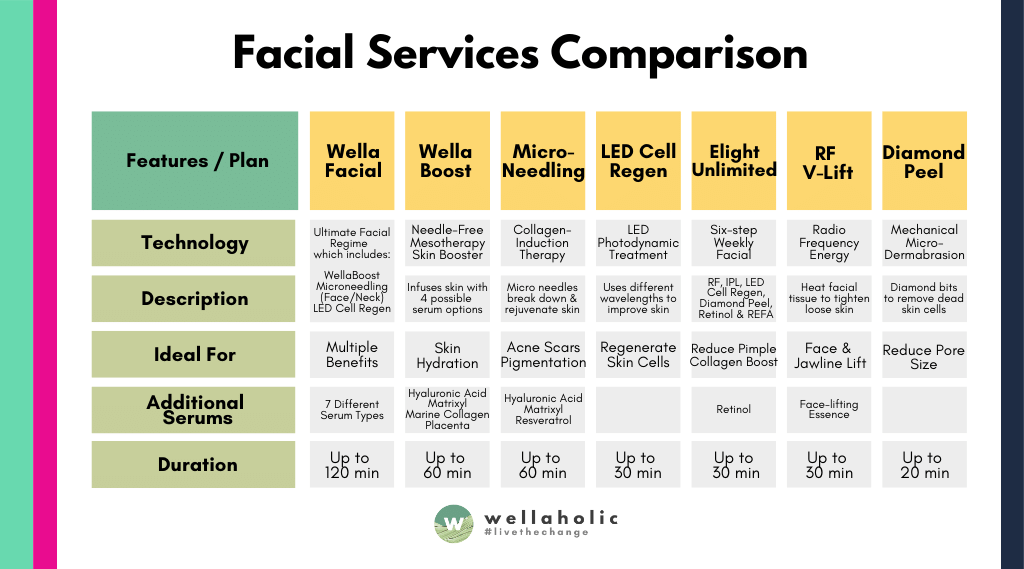 Please click on the menu below to see the pricing for the various facial treatments by Wellaholic. Wellaholic is well-known in the industry for our transparent pricing and no hard selling. In fact, Wellaholic is well-known for not only our transparent and cheap pricing but also without any hidden costs. All prices are nett and inclusive of GST, and are actual prices (i.e. not trial prices).
---