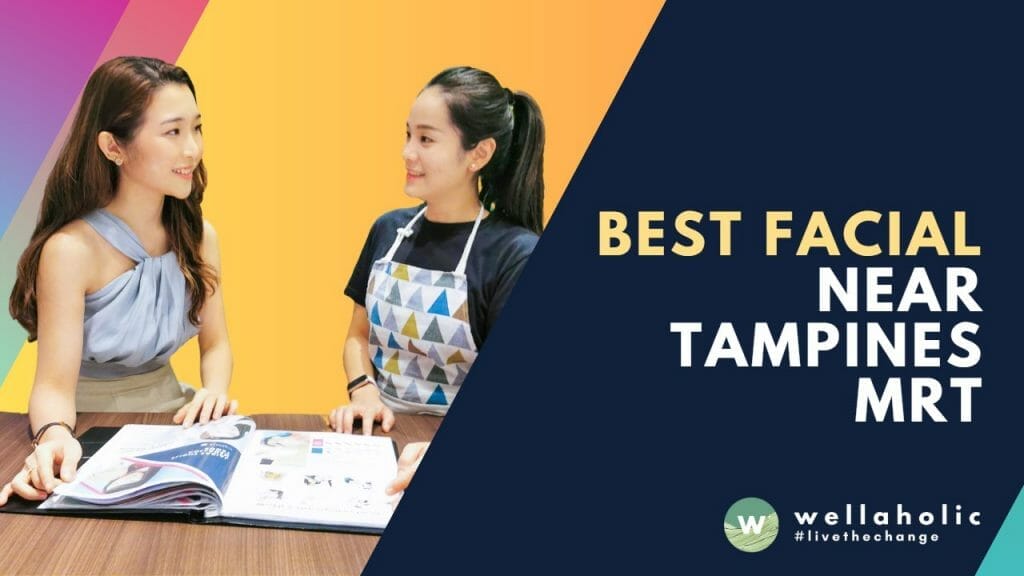 Best Facial near Tampines MRT – Wellaholic Upper Changi
TL:DR Summary
The article recommends Wellaholic Upper Changi as the best facial service near Tampines MRT, based on its location, services, and reviews.
The article showcases Wellaholic's various facial treatments for different skin concerns, such as acne, pigmentation, wrinkles, and dullness.
The article introduces WellaFacial, a personalized facial program that uses a skin analysis system to determine the best facial treatments for each individual's skin type and condition.
The article also provides the pricing and packages of Wellaholic's facial treatments, which are transparent and affordable with no hidden costs.
Looking for a Facial Service Near Tampines MRT?
Your Gateway to Skincare Excellence Near Tampines
Are you navigating the bustling Tampines area, perhaps near the MRT, Tampines Mall, Century Square, Our Tampines Hub, Changi City Point, or Expo, in search of top-notch facial services? Look no further—Wellaholic (Upper Changi) is your destination! Situated conveniently to serve all your skincare needs, we're just a stone's throw from these landmarks, making us an easy choice for your next facial treatment.
Tailored Skincare Treatments for Every Skin Type
At Wellaholic (Upper Changi), we understand that every skin has a story. Our dedicated team is trained to listen to your skin's specific needs. We specialize in creating personalized facial treatments that cater to your unique skin type. Whether you're battling acne, wrinkles, pigmentation, or simply seeking hydration, our expert aestheticians are equipped to craft the perfect skincare regimen for you.
The Wellaholic Promise: Beyond Ordinary Care
We believe in delivering more than just ordinary facial treatments. With a combination of high-quality skincare products and advanced techniques, we strive to exceed your expectations. Our goal is not just to meet your skincare needs but to elevate your experience, ensuring you leave with a sense of satisfaction and boosted self-confidence. At Wellaholic (Upper Changi), every treatment is an opportunity to pamper your skin with the care and attention it deserves.
Our Facial Services. Our team of facial experts provides top-notch facial services that are perfect for various skin concerns. Choose from our WellaFacial, Elight Facial, Gold RF Microneedling, Microneedling, WellaBoost Skin Booster, RF V-lift, Diamond Peel Microdermabrasion and LED Cell Regen facials.
"For a truly pampering experience, visit Wellaholic Upper Changi for the best facial near Tampines MRT!"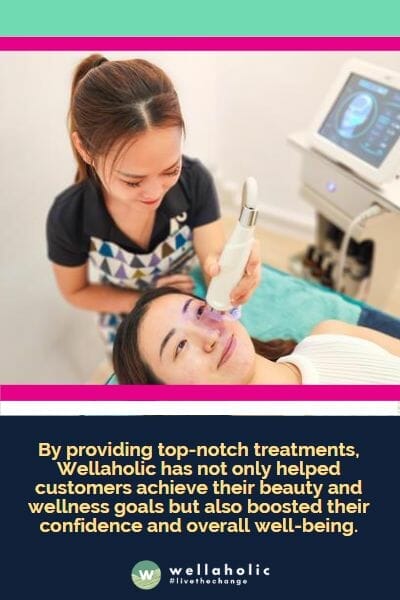 Wellaholic's Facials for All Skin Concerns
Wellaholic's Approach.
At Wellaholic, we're not just about facials; we're about crafting a customized skin journey just for you. We know that every person's skin is as unique as their fingerprint, and one-size-fits-all solutions simply won't cut it. That's why our skilled aestheticians dive deep to understand your skin type and its specific needs, so they can curate a personalized facial treatment plan for you.
Struggling with stubborn acne? Worried about wrinkles or pigmentation? Or perhaps your skin is feeling dry and lifeless? Whatever your concerns may be, we're here to help. We're passionate about resolving your skin issues, and that's why we use only top-quality products that complement our advanced treatment techniques.
Facial Treatments. Here are some of the facial treatments that Wellaholic offers:
Acne Control Facial – This facial targets acne-prone skin by unclogging pores and reducing inflammation. It also helps to prevent future breakouts.
Anti-Aging Facial – As the name suggests, this facial is designed to reduce the appearance of wrinkles and fine lines. It helps to improve skin elasticity, leaving the skin looking younger and more radiant.
Pigmentation Control Facial – This facial helps to even out skin tone and reduce the appearance of dark spots and pigmentation.
Hydrating Facial – Dry skin can be a problem, especially in colder months. Wellaholic's hydrating facial helps to replenish moisture and leave the skin feeling soft and supple.
The table below shows the various facial concerns as well as the recommended facial treatments to address these concerns:
Facial Concern
Recommended Facial Treatments
Fine Lines and Wrinkles
– CO2 Laser Facial
– RF Microneedling
– Microneedling
– Chemical Peels
– LED Light Therapy
Acne and Acne Scars
– Microneedling
– Chemical Peels
– LED Light Therapy
– Blue Light Therapy
Dark Spots and Pigmentation
– Chemical Peels
– Microdermabrasion
– Laser Skin Resurfacing
– IPL Therapy
– LED Light Therapy
Dull and Uneven Skin Tone
– Microdermabrasion
– Chemical Peels
– Laser Skin Resurfacing,
– LED Light Therapy
Dry Skin and Dehydration
– Hydrating Facials
– Oxygen Facials
– Dermaplaning
– Microneedling
Puffy Eyes and Dark Circles
– Under Eye Treatments
– Lymphatic Drainage Facials
– LED Light Therapy
Enlarged Pores
– Chemical Peels
– Microdermabrasion
– Laser Skin Resurfacing
– Dermaplaning
– Microneedling
Different facial concerns and the recommended facial treatments to solve them
Facial Treatments: Packages and Pricing
Depending on your facial needs, you can choose from our WellaFacial, which includes several different technology facials. Or you can choose ala carte the facial treatments that meet your needs. Either way, you are a winner at Wellaholic, due to our cost-effectiveness, price transparency, and exceptional customer service.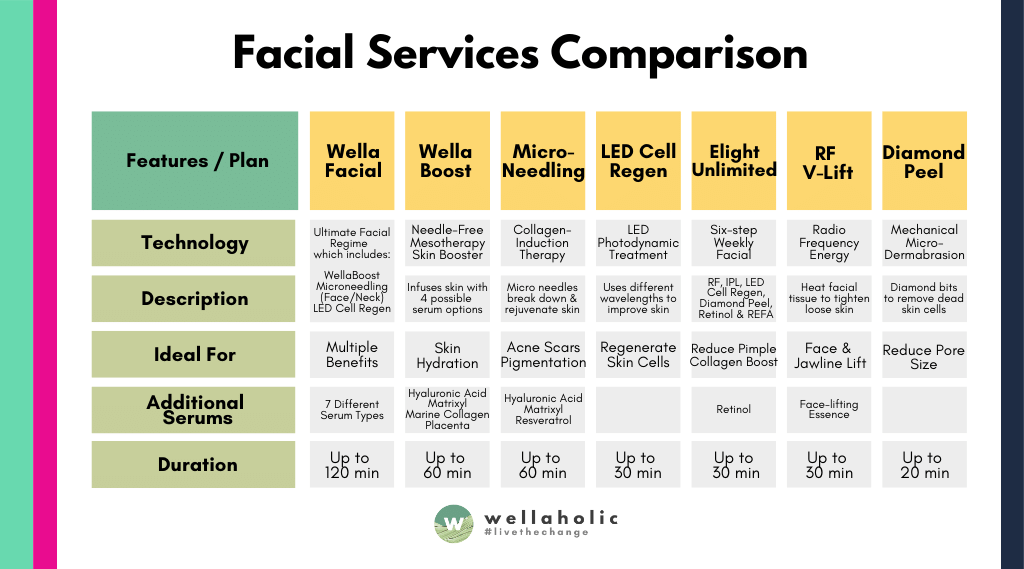 How to Get to Wellaholic Upper Changi?
Located within Upper Changi MRT station (DTL), Wellaholic Upper Changi is just minutes away from where you are. Our Wellaholic Upper Changi outlet is has a total of 4 rooms and is fully equipped for all treatments including Hair Removal, TeethWhite, WellaFreeze and also our Microneedling treatments.
Wellaholic (Upper Changi) is located at:
B3-03 Upper Changi MRT Station
Downtown Line (Platform Level)
Singapore 485990
(Within Upper Changi MRT Station)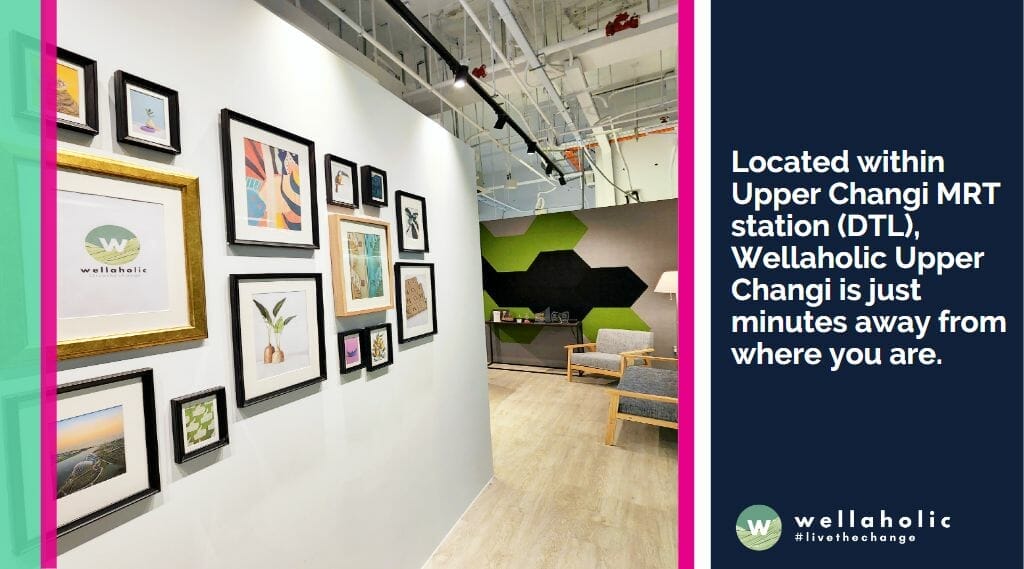 Frequently Asked Questions (FAQ)
1. What Makes Wellaholic's Facial Services Unique in the Tampines Area?

Answer: Wellaholic stands out in the Tampines area for its personalized approach to skincare. Each treatment is tailored to the individual's skin type and concerns, ensuring a customized skincare journey. Wellaholic's commitment to quality and customer satisfaction, combined with its convenient location near Tampines MRT, makes it a top choice for facial services.
2. Can I Find Treatments for Specific Skin Concerns Like Acne or Aging at Wellaholic?

Answer: Absolutely! Wellaholic offers a range of facial treatments targeting various skin concerns, including acne control, anti-aging, pigmentation, and hydration. Their expert aestheticians are equipped to handle diverse skin issues with effective and safe treatments.
3. How Does Wellaholic Ensure the Quality and Safety of Its Facial Treatments?

Answer: Wellaholic prioritizes quality and safety in all its treatments. They use high-quality skincare products and advanced treatment techniques. Moreover, all treatments are performed by trained professionals who are well-versed in skincare needs for both women and men.
4. Are There Any Specialized Facial Treatments Available for Unique Skin Conditions?

Answer: Yes, Wellaholic offers specialized treatments like CO2 Laser Facial, RF Microneedling, Chemical Peels, and LED Light Therapy, catering to unique skin conditions such as fine lines, wrinkles, acne scars, dark spots, and uneven skin tone.
5. How Can I Book an Appointment for a Facial Treatment at Wellaholic?

Answer: Booking an appointment at Wellaholic is easy and convenient. You can book online. Wellaholic's outlets are open 361 days a year, including public holidays, allowing flexibility in scheduling your visit.
7. Is Wellaholic Accessible for Clients Coming from Different Parts of Singapore?

Answer: Yes, Wellaholic's Upper Changi outlet is conveniently located within Upper Changi MRT station, making it easily accessible for clients traveling from different parts of Singapore.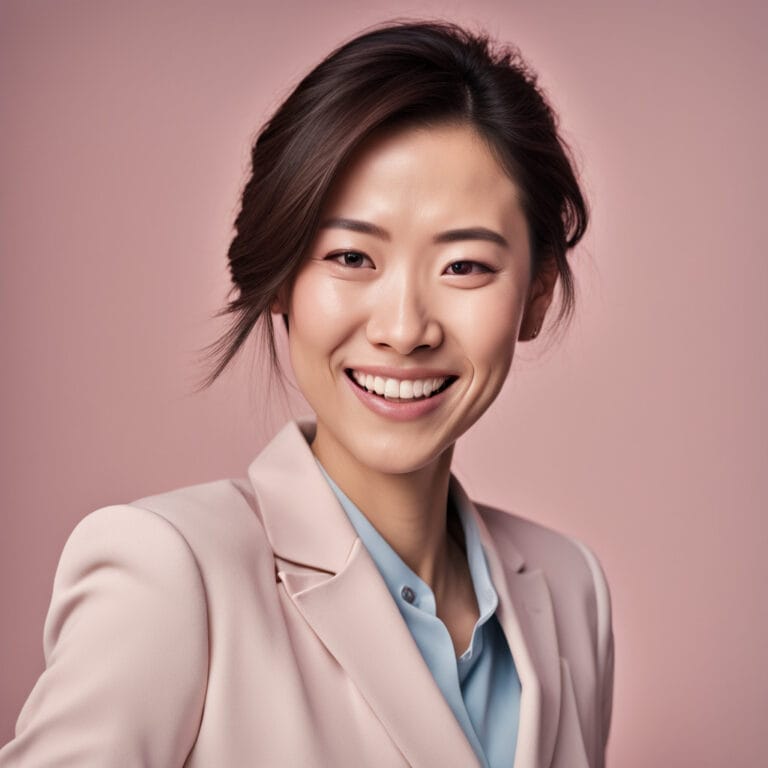 Serene Chiam, Aesthetic Director
Serene Chiam, the Aesthetic Director at Wellaholic, an acclaimed Aesthetic Chain in Singapore, brings over a decade of expertise in the aesthetics industry. With a Bachelor of Health Science (Aesthetics) and CIDESCO certifications, she expertly combines scientific knowledge with practical skills. Serene is known for her personalized approach to beauty, ensuring each Wellaholic client's journey is unique and transformative. Her significant contributions have been pivotal in establishing Wellaholic's reputation for excellence in aesthetic wellness.
GET IN TOUCH
Book Now Pay Later

WellaFacial 3X – Your Passport to Youthful Radiance
⭐ Enhanced Skincare Offering. Our premier offering, WellaFacial™ 3X, is an exclusive facial package meticulously crafted to help our customers embrace a youthful and radiant appearance through top-tier treatments.
⭐ Customized Therapies. We empower our customers by offering them the liberty to handpick any three treatments from our comprehensive menu of 10 exceptional facial and teeth whitening options.
⭐ Superior Age-Defying Solutions. Each therapy within our suite of offerings is meticulously crafted with the purpose of delivering unparalleled anti-ageing results.
⭐ Unparalleled Value and Versatility. The WellaFacial™ 3X is cost-effective. It guarantees access to high-end treatments at a surprisingly affordable price, offering an exceptional blend of luxury and value.
⭐ Award-Winning. Wellaholic's treatments have been recognized by top beauty publications such as Daily Vanity, Beauty Insider, and Tropika Club Magazine.
⭐ Over 2000 Verified Customer Reviews. Wellaholic has over 30 industry awards and over 2000 positive reviews from customers, and >50% are repeat customers.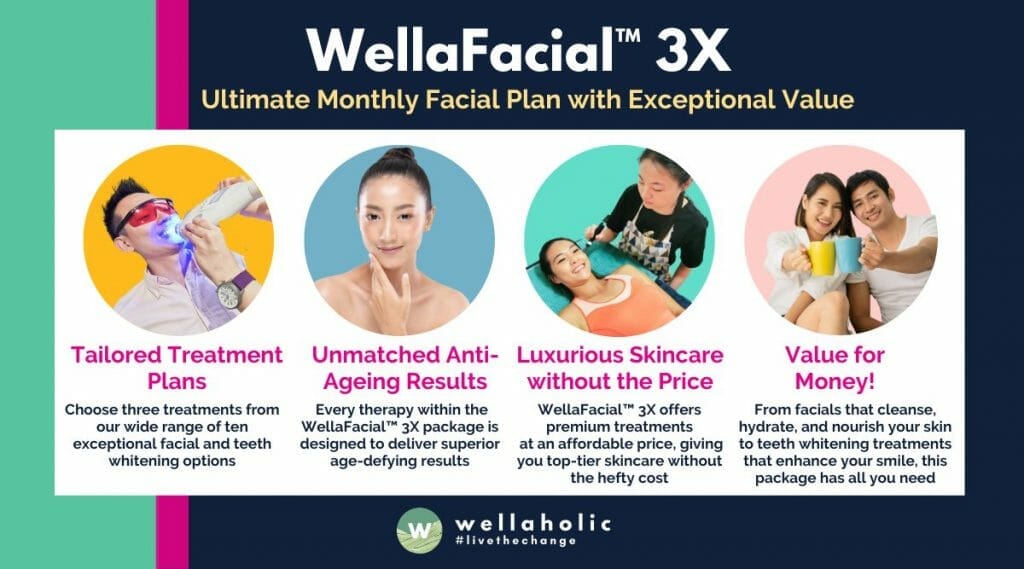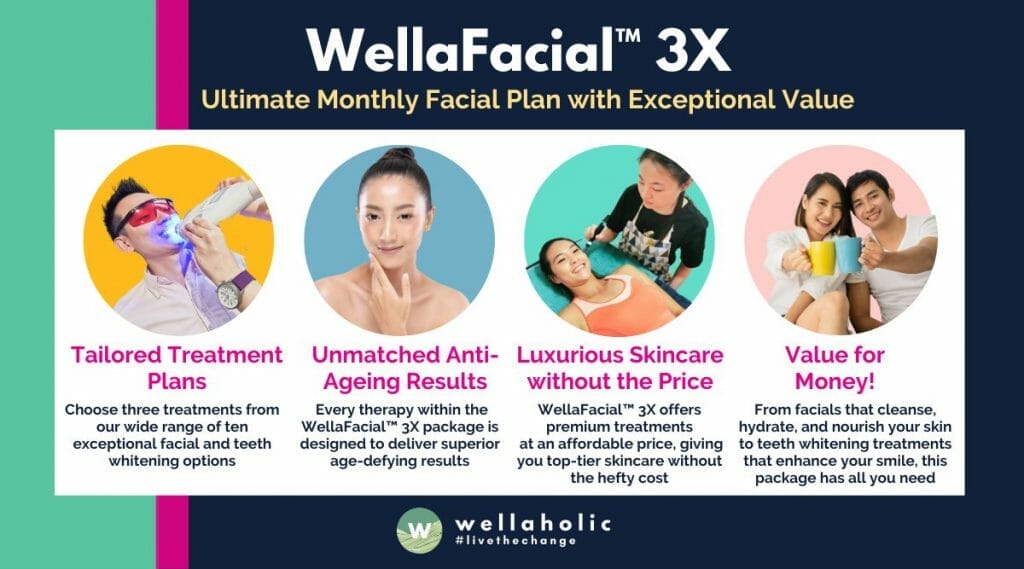 Our WellaFacial™ 3X Ultimate Facial Plan is the perfect way to pamper yourself with three premium facial and teeth whitening treatments. For a monthly fee, you can enjoy our signature facial combo that is designed to exfoliate, nourish, and rejuvenate your skin.