Best Facials near Lavender MRT – Wellaholic Lavender
Looking for a Facial Service Near Lavender MRT?
Looking for a facial service that's close to Lavender MRT? Or are you near at Aperial Mall, Kitchener Complex, City Square Mall, City Gate or Jalan Besar Plaza shopping malls and looking for a reputable facial service provider? Look no further than our trusted experts at Wellaholic (Lavender)! Our team of facial experts provides top-notch facial services that are perfect for various skin concerns. Choose from our WellaFacial, Elight Facial, Gold RF Microneedling, Microneedling, WellaBoost Skin Booster, RF V-lift, Diamond Peel Microdermabrasion and LED Cell Regen facials.
"Experience the best facials near Lavender MRT with Wellaholic Lavender and get your skin glowing!"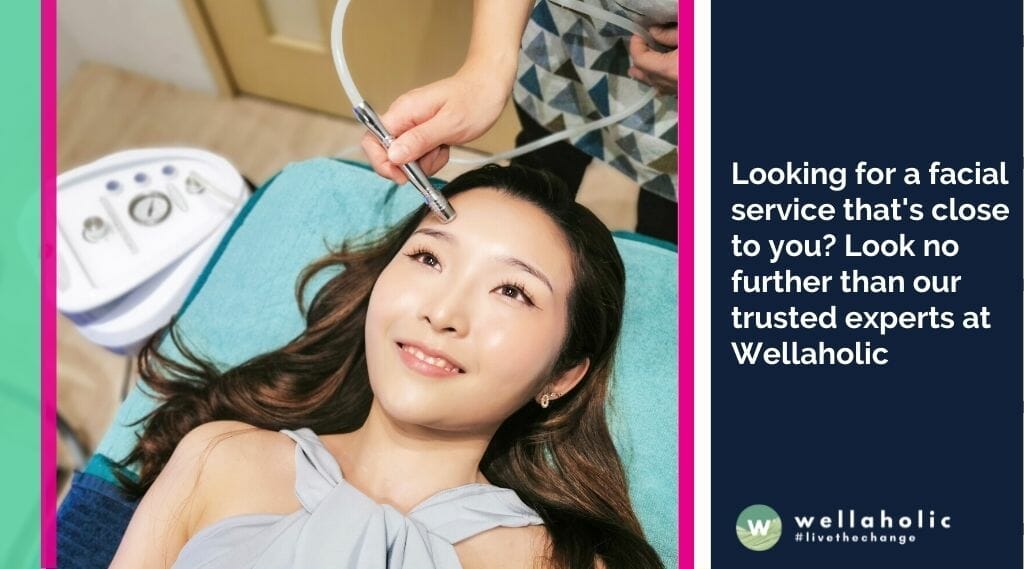 Wellaholic's Facials for All Skin Concerns
Wellaholic's Approach. Wellaholic has a team of expert aestheticians who analyze each individual's unique skin type and create a specialized facial treatment plan. The goal is to help clients address common skin issues such as acne, wrinkles, pigmentation, and dryness. Using top-quality products and advanced techniques, Wellaholic's experienced professionals are devoted to providing the best possible service for clients' skin health needs.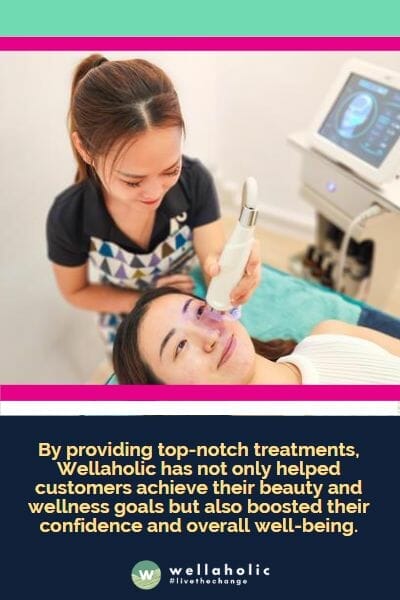 Facial Treatments. Here are some of the facial treatments that Wellaholic offers:
Acne Control Facial – This facial targets acne-prone skin by unclogging pores and reducing inflammation. It also helps to prevent future breakouts.
Anti-Aging Facial – As the name suggests, this facial is designed to reduce the appearance of wrinkles and fine lines. It helps to improve skin elasticity, leaving the skin looking younger and more radiant.
Pigmentation Control Facial – This facial helps to even out skin tone and reduce the appearance of dark spots and pigmentation.
Hydrating Facial – Dry skin can be a problem, especially in colder months. Wellaholic's hydrating facial helps to replenish moisture and leave the skin feeling soft and supple.
The eight skin concerns considered by the program are: Acne prone, Anti-ageing, Loss of elasticity, Obvious pores, Pigmentation, Redness, Sun damage and Wrinkles. Additionally there are four eye concerns comprising of: Anti-ageing, Dark circles, Loss of elasticity and Wrinkles.
Acne and acne scars
Pigmentation and pores
Loss of elasticity
Redness
Wrinkles and fine lines
Overall anti-ageing and skin rejuvenation
The table below shows the various facial concerns as well as the recommended facial treatments to address these concerns:
Facial Concern
Recommended Facial Treatments
Fine Lines and Wrinkles
– CO2 Laser Facial
– RF Microneedling
– Microneedling
– Chemical Peels
– LED Light Therapy
Acne and Acne Scars
– Microneedling
– Chemical Peels
– LED Light Therapy
– Blue Light Therapy
Dark Spots and Pigmentation
– Chemical Peels
– Microdermabrasion
– Laser Skin Resurfacing
– IPL Therapy
– LED Light Therapy
Dull and Uneven Skin Tone
– Microdermabrasion
– Chemical Peels
– Laser Skin Resurfacing,
– LED Light Therapy
Dry Skin and Dehydration
– Hydrating Facials
– Oxygen Facials
– Dermaplaning
– Microneedling
Puffy Eyes and Dark Circles
– Under Eye Treatments
– Lymphatic Drainage Facials
– LED Light Therapy
Enlarged Pores
– Chemical Peels
– Microdermabrasion
– Laser Skin Resurfacing
– Dermaplaning
– Microneedling
Different facial concerns and the recommended facial treatments to solve them
Facial Treatments: Packages and Pricing
Depending on your facial needs, you can choose from our WellaFacial, which includes several different technology facials. Or you can choose ala carte the facial treatments that meet your needs. Either way, you are a winner at Wellaholic, due to our cost-effectiveness, price transparency, and exceptional customer service.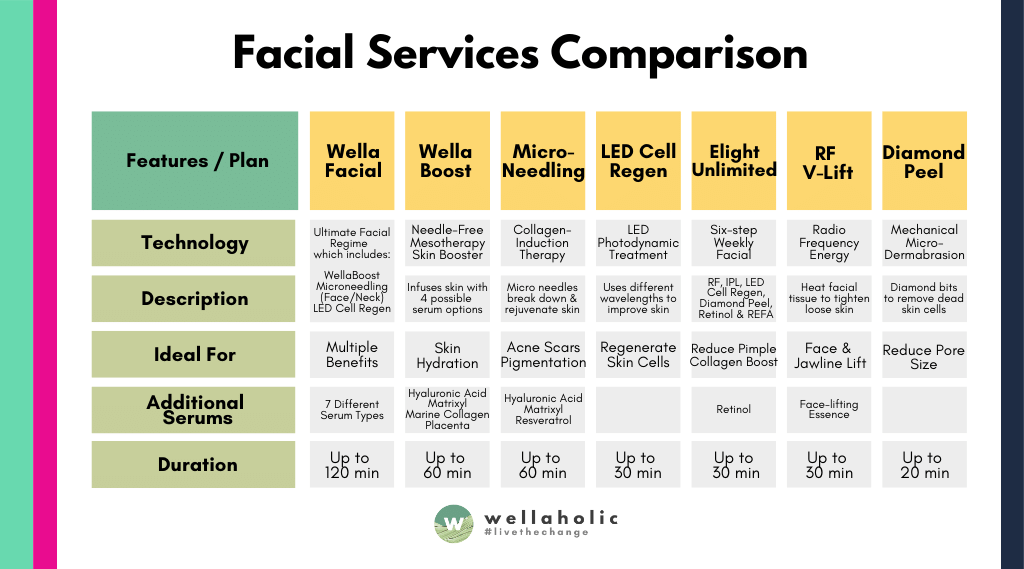 How to Get to Wellaholic Lavender?
Located just 7 minutes by walking from Lavender MRT station, you can exit the station towards Kitchener Complex. Upon reaching NTUC, cross the road (towards Meyson Jewellery HQ) towards Penhas Road. Look out for the Wellaholic signboard on the row of shophouses along Penhas Road. Wellaholic Lavender is located on the second level.
Wellaholic (Lavender) is located at:
16M Penhas Road
(Level 2)
Singapore 208180
WellaFacial 3X – Your Passport to Youthful Radiance
Experience the ultimate in skincare sophistication with our premier WellaFacial™ 3X facial package. At Wellaholic, we are excited to introduce this bespoke treatment plan, designed to rejuvenate your complexion and breathe life into your smile. This enhanced skincare offering allows you to handpick three custom therapies from a diverse range of ten elite facial and teeth whitening treatments. Each selected treatment aims to deliver superior age-defying results, helping you maintain a youthful, radiant appearance. Remarkably affordable, the WellaFacial™ 3X embodies the perfect blend of luxury and value, providing an unparalleled versatility and access to high-end skincare solutions. Embark on a journey to rediscover your best self, only with Wellaholic's WellaFacial™ 3X.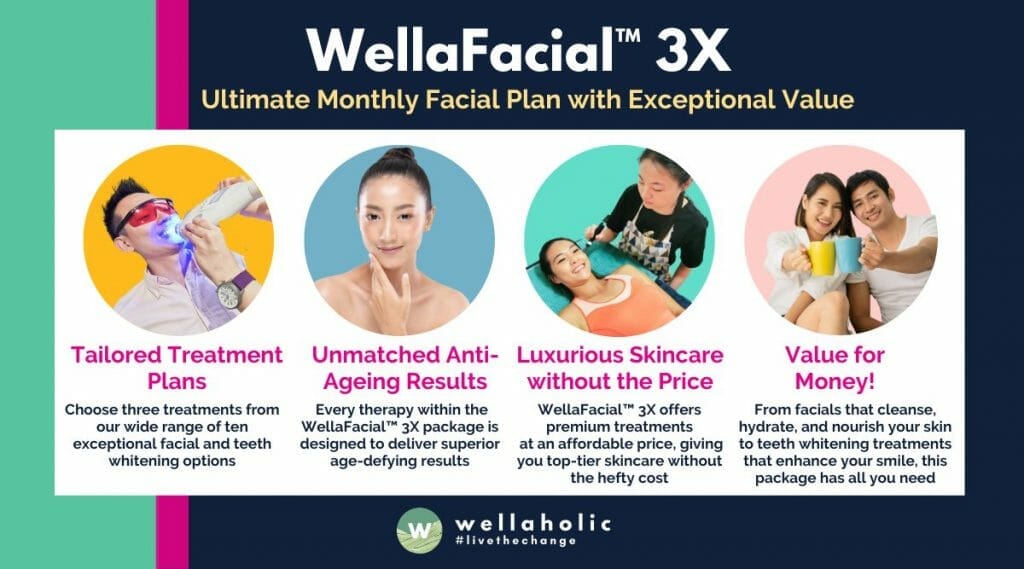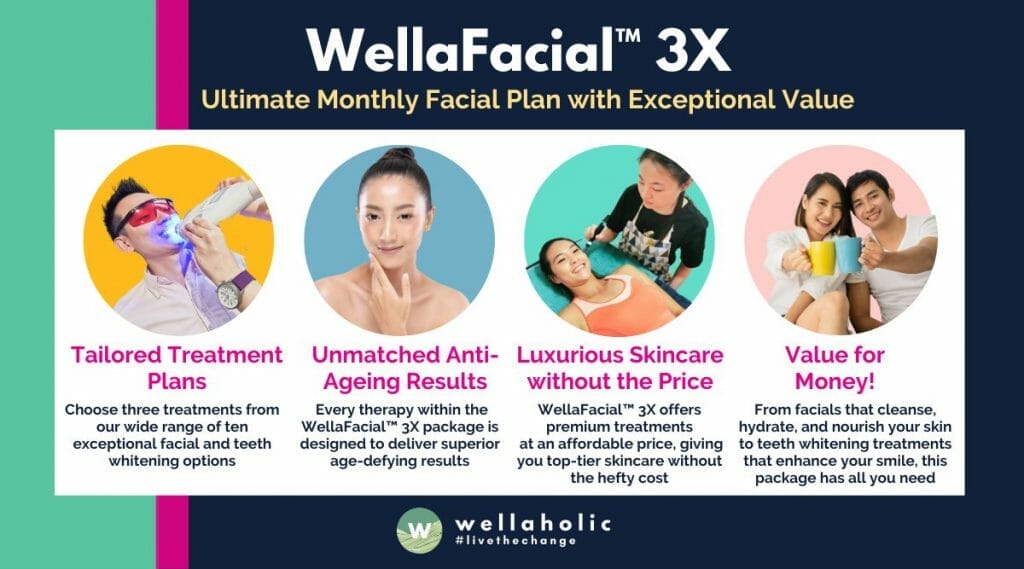 What is WellaFacial 3X?
⭐ Enhanced Skincare Offering. Our premier offering, WellaFacial™ 3X, is an exclusive facial package meticulously crafted to help our customers embrace a youthful and radiant appearance through top-tier treatments.
⭐ Customized Therapies. We empower our customers by offering them the liberty to handpick any three treatments from our comprehensive menu of 10 exceptional facial and teeth whitening options.
⭐ Superior Age-Defying Solutions. Each therapy within our suite of offerings is meticulously crafted with the purpose of delivering unparalleled anti-ageing results.
⭐ Unparalleled Value and Versatility. The WellaFacial™ 3X is cost-effective. It guarantees access to high-end treatments at a surprisingly affordable price, offering an exceptional blend of luxury and value.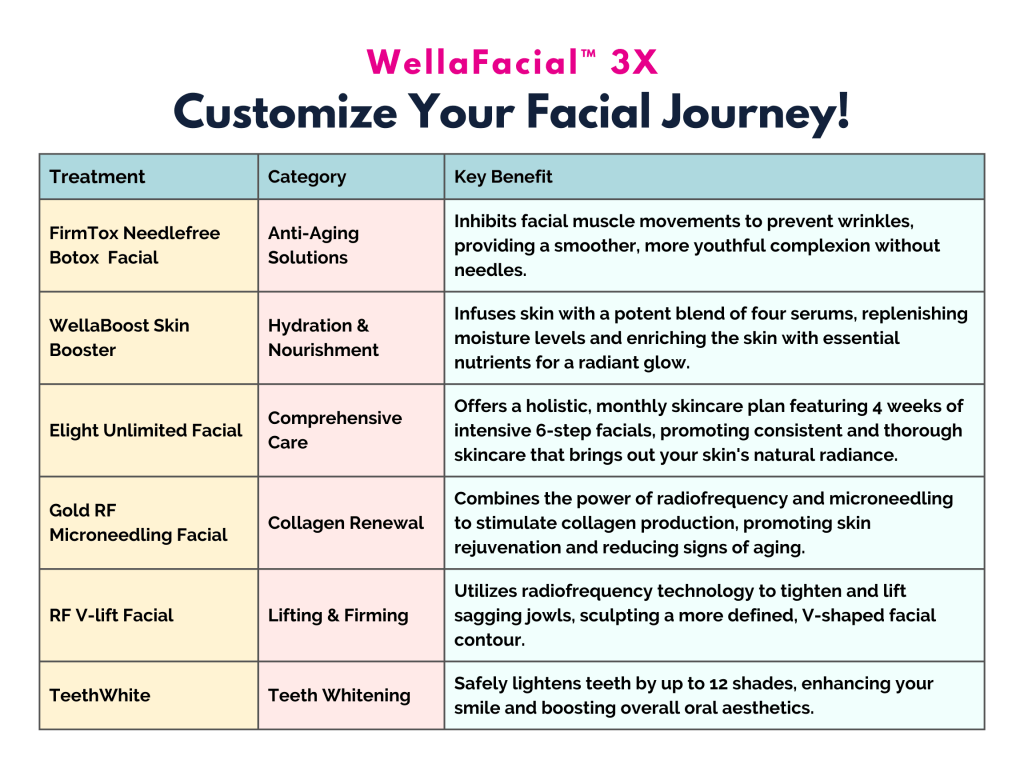 What are the Benefits of WellaFacial™ 3X?
​WellaFacial™ 3X allows you to choose the combination of treatments that works best for your skin concerns:
⭐ Comprehensive Skin Rejuvenation: The WellaFacial™ 3X package combines multiple facial treatments to provide comprehensive rejuvenation for your skin. It targets various concerns like dullness, fine lines, wrinkles, acne, and uneven skin tone, helping you achieve a healthier and more radiant complexion.
⭐ Personalized Approach: With the package, you have the flexibility to choose three treatments that suit your specific skin needs. Whether you require deep hydration, exfoliation, or targeted anti-aging solutions, the WellaFacial™ 3X package allows you to customize your skincare regimen for optimal results.
⭐ Enhanced Collagen Production: Many treatments included in the package stimulate collagen production in the skin. Collagen helps maintain skin elasticity and firmness, reducing the appearance of wrinkles and promoting a youthful glow.
⭐ Professional Teeth Whitening: Wellaholic's teeth whitening treatments are performed by professionals who use safe and effective techniques to brighten your teeth. You can expect professional-grade results and a noticeable improvement in the whiteness of your teeth.
Pricing of Facial Treatments by Wellaholic
💎 Price Transparency. Wellaholic offers pricing transparency by publishing and updating all prices on our website.
💎 Flexible Per-Session or Unlimited Plans. Customers can choose from unlimited monthly facial plans for added cost savings, or per-session plans.
💎 Mix and Match Easily. Wellaholic's facial plan prices are divided into different categories for easy selection.
💎 No Price Shocks.No hidden fees or surprises. You pay for what you get.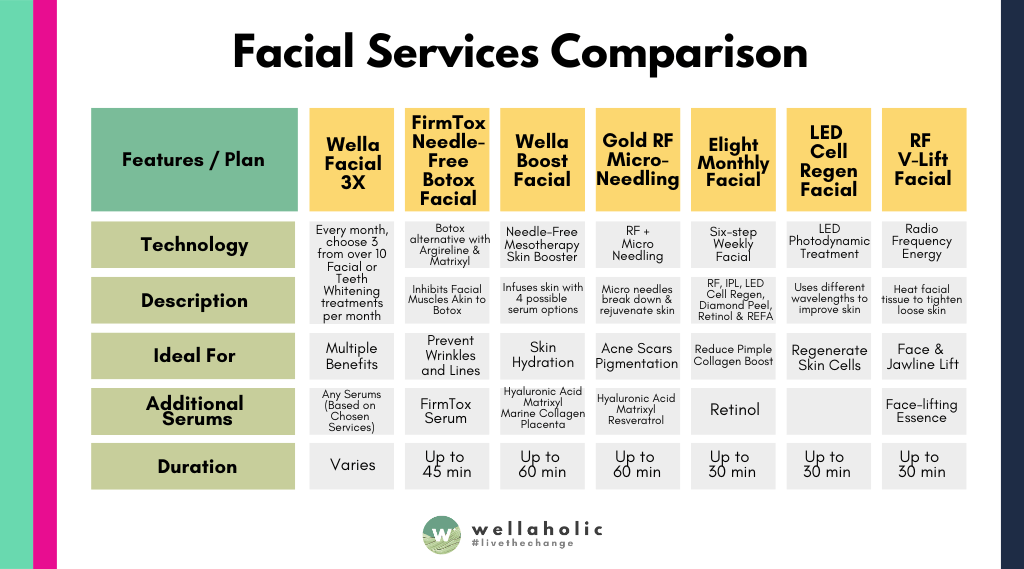 GET IN TOUCH
Book Now Pay Later
Why Wellaholic is One of the Best Facial Providers in Singapore?
✅ Leading Facial Aesthetic Chain in Singapore. Wellaholic is a leading facial and aesthetic chain in Singapore that is highly sought after by customers.
✅ Quality & Safe Treatments. Wellaholic is committed to providing quality and safe treatments with experienced staff.
✅ Wide Range of Facial Treatments. Wellaholic offers a wide range of facial treatments for various skin concerns, and using different technologies such as microneedling, RF, Elight, IPL and mesotherapy.
✅ Trained & Experienced Consultants. All treatments are performed by trained professionals who understand the skincare needs of both female and male customers.
✅ Advanced Facial Technology. Advanced facial technology is used to ensure a safe experience with no downtime or discomfort during the entire process.
✅ Most Affordable Provider. Wellaholic provides competitive pricing for its treatments which makes it one of the most affordable providers in Singapore.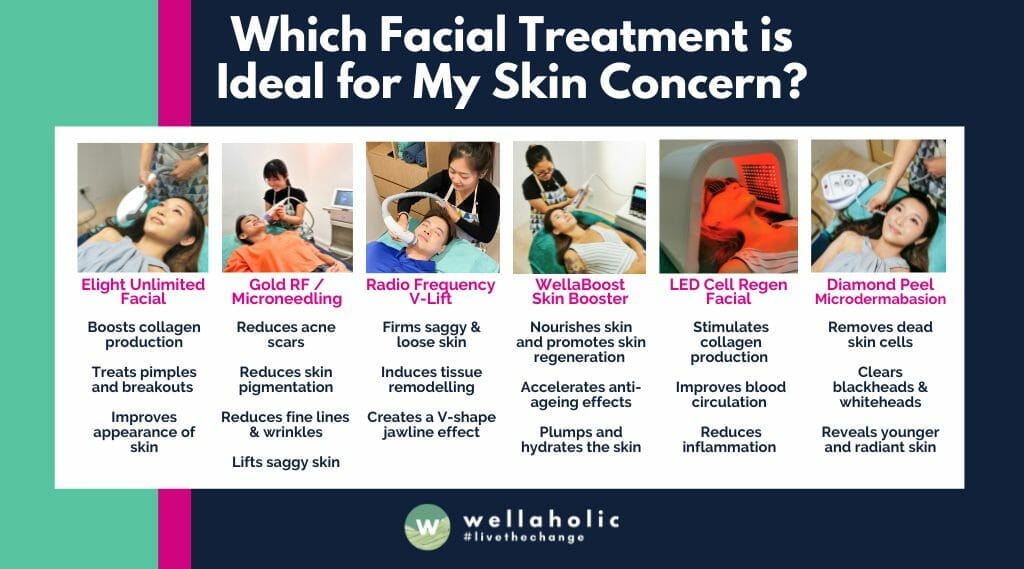 Reason 1: Wellaholic Offers Comprehensive Facial Services and Expertise
Wellaholic offers many types of facial services for your facial and skin needs. Our facials can be broken down into the following categories:
✅ WellaFacial™ 3X Ultimate Facial Plan
✅ FirmTox™ Needle-Free Botox Alternative Facial
✅ WellaBoost™ Skin Booster
✅ Gold RF Microneedling / Microneedling
✅ LED Cell Regen Facial
✅ Elight Monthly Facial
✅ RF V-Lift Facial
✅ Diamond Peel Facial
Reason 2: Wellaholic Has Over 50 Awards and 2000 Genuine Customer Reviews
✅ Over 50 Awards. Wellaholic's WellaSmooth and SHR Hair Removal have been recognized by top beauty publications such as Daily Vanity, Beauty Insider, and Tropika Club Magazine, earning prestigious awards from 2018 to 2023.
✅ Over 2000 Verified Customer Reviews. Wellaholic has over 2000 verified positive reviews from our customers in Singapore and beyond.
✅ Verifiable Reviews. The reviews are verified and positive, which indicates the high level of customer satisfaction (see reviews below).
✅ Over 50% Repeat Customers. More than 50% of Wellaholic's customers are repeat and recurring customers.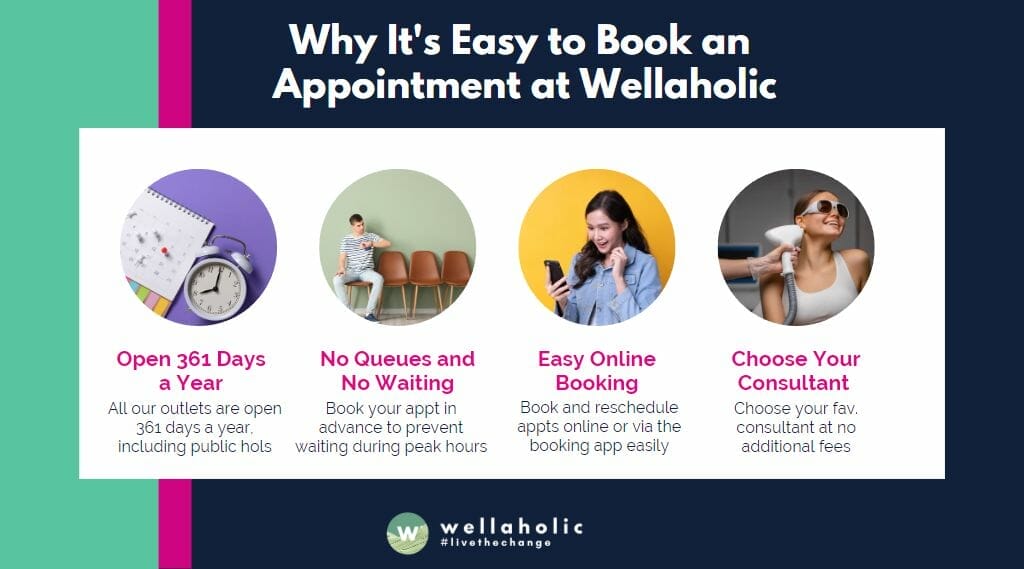 Reason 3: It's Easy to Book an Appointment at Wellaholic
✅ Open 361 Days Per Year. Wellaholic's 8 outlets are open 361 days a year, including public holidays, so that customers can easily book an appointment.
✅ No Queues. All appointments are booked in advanced to prevent the need to queue and wait unnecessarily during peak hours.
✅ Easy Online Booking. Customers can conveniently book and reschedule appointments online or via the booking app.
✅ No Extra Cost for Choosing Consultant. Customers can select their preferred consultant without having to pay any additional fees.
Frequently Asked Questions (FAQ)
What types of facials are available at Wellaholic Lavender?

At Wellaholic Lavender, we offer a variety of facials including deep cleansing facials, anti-ageing facials, hydrating facials, and customised facials to cater to individual skin concerns.
How can I find Wellaholic Lavender from Lavender MRT?

Wellaholic Lavender is located conveniently near Lavender MRT. For detailed directions, please visit our contact us page.
How often should I get a facial in Singapore's climate?

Due to Singapore's humid climate, we recommend getting a facial treatment at least once a month. Regular facials can help maintain your skin's health and enhance its natural glow.
How can I book a facial at Wellaholic Lavender?

To book a facial at Wellaholic Lavender, you can visit our online booking page, select 'Lavender' as your preferred location and choose the facial treatment that suits your needs.
Why should I choose Wellaholic Lavender for my facial treatments?

Wellaholic Lavender is an ideal choice for facial treatments due to our team of experienced therapists, top-tier skincare products and a relaxing environment conveniently located near Lavender MRT.
How long does a facial treatment session at Wellaholic Lavender take?

A typical facial treatment session at Wellaholic Lavender takes about 30 to 90 minutes, depending on the type of facial and the individual's skincare needs.