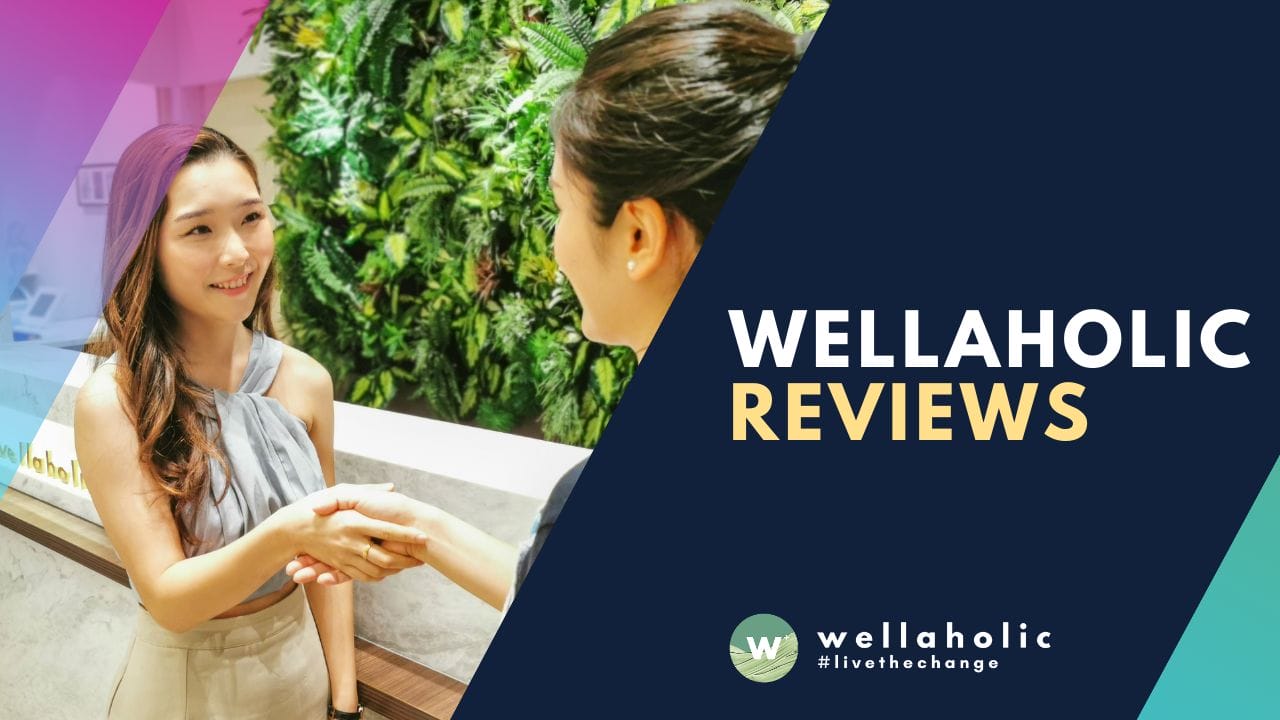 Wellaholic Reviews – 10 Great Reasons to Choose Wellaholic
Introduction
Well, if you are here, you are likely researching about Wellaholic and want to find out more about Wellaholic from their customer reviews and awards that they have won over the years. Established in 2016, Wellaholic has grown to over 8 outlets island-wide and have won over tens of thousands of loyal customers from their exceptional customer service, affordable pricing, transparent prices and no hard-selling. Read on to find out more about Wellaholic.
10 Great Reasons for Choose Wellaholic
In your search for the right service provider in Singapore for your beauty or grooming requirement, you might have chanced upon Wellaholic. Now, what makes Wellaholic different from other merchants? Let Wellaholic share with you 10 great reasons why you should choose Wellaholic over our other friendly competitors!
Reason #1: Wellaholic Provides Scientifically-Proven Treatments
Wellaholic's treatments are backed by scientific research and case studies. We conduct our treatments to replicate the success of the positive case studies published in research journals worldwide. In addition, we publish the research reports on our website so that our customers can easily refer to them:
An example is our Hair Regrowth research. We evaluated two reports: (a) A study on the efficacy of microneedling with minoxidil solution versus microneedling with hair multivitamin solution for the treatment of androgenetic alopecia (link) and (b) A randomized evaluator blind study of effect of microneedling in androgenetic alopieca: A pilot study (link). Through these reports, we determined that Microneedling when used with Minoxidil on a consistent weekly basis over a 12-week period will provide the best results in hair regrowth. In addition, we researched the right treatment sequence and procedure which will lead to the best outcome in treating hair loss.
Reason #2: Wellaholic Believes in Transparent Pricing and No Hard Selling
You will be surprised to know that Wellaholic has been publishing their prices online since they started in 2016. Wellaholic's approach to transparent pricing is refreshing in the beauty and aesthetics industry in Singapore where the actual prices are hidden from customers. Have you ever seen an awesome trial price offer, only to book a treatment and then realise on site that it's not what you thought it was, or run into pressure tactics to make you sign a thousand-dollar package?
At Wellaholic, not only our prices are transparent, there are also no hidden costs. Consultation is also always free, and customers can choose to walk away after the free consultation with no repercussions. Any additional costs will be communicated to the customer on our website or in person during consultation. In addition, we pride ourselves for never ever doing any hard-sell to customers. In this way, customers will find Wellaholic a safe space to enjoy aesthetic treatments without any stress of dealing with persistent sales staff.
Reason #3: Wellaholic Ensures High Availability of Slots for Booking
Have you ever booking a package and then realise that you cannot book your preferred slots? Not at Wellaholic. We use a real-time booking system and leverage data analytics to monitor capacity for both peak and off-peak slots. By maintaining our peak capacity at below 55%, we ensure that our customers can easily book a slot at peak hours, and that our staff is never overworked to the point that they cannot provide excellent service to the customers.
We also track customer booking patterns based on time and location, so as to plan the expansion of our outlets. You will be happy to know that Wellaholic can be found at all the major MRT lines, including our Wellaholic (Bright Hill) outlet which caters to those living along the Thomson-East Coast line.
Reason #4: Wellaholic Enables Easy Booking of Appointments
In this digital age, it is critical to offer customers a seamless journey. At Wellaholic, we create a multitude of booking options for customers to easily make bookings. Also, our "Book Now, Pay Later" policy makes it convenient for customers to choose a service first and worry about the rest later:
Booking via App: FRESHA (download on mobile)
Booking via Online: Website
Booking via Hotline: +65 8181 1814
Booking via Live Chat: Live Chat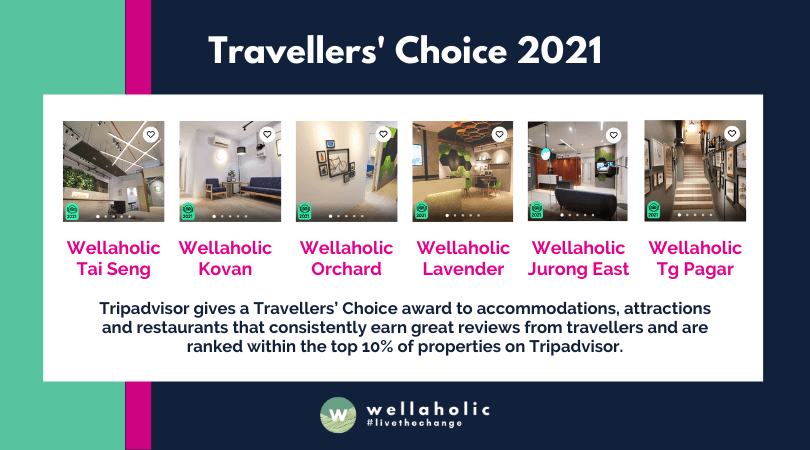 Reason #5: Wellaholic is Highly-Rated by our Customers
We have thousands of positive customers reviews on Google, Facebook, Tripadvisor, Yelp and more. This has helped us won the Travellers' Choice Award, a prestigious award by Tripadvisor which recognises the very best tourism establishments in terms of service, quality, customer satisfaction and more, across a range of categories.
You can refer to our updated reviews below:
Reason #6: Wellaholic has Won Over 40 Awards
Wellaholic has won over 40 awards, both internationally, regionally and locally. On the international front, Wellaholic has consistently won the coveted Travellers' Choice Awards for both 2020 and 2021, and Certificate of Excellence from 2018 and 2019 from Tripadvisor. This recognises the best establishments around the world for providing the best services based on customer reviews and ratings on Tripadvisor. Wellaholic was also awarded the Boutique Spa of the Year 2020 by the Travel and Hospitality Awards (THA). Travel & Hospitality awards is a global recognition programme for the travel industry recognising the very best hotels, tour operators, experience providers, spa & wellness facilities, restaurants, and technology and innovation companies.
On the regional business front, Wellaholic was awarded the Fast Enterprise Award 2020 by Asia Pacific Enterprise Awards and Best Start-up and Fast-Moving Companies by the SME100 Awards 2019 for entrepreneurial excellence. Beyond this, Wellaholic also won awards for the Best SHR Salon, Best Fat Freeze treatment and Best Microneedling treatment from Daily Vanity Spa and Hair Awards 2021, amongst others. The numerous awards attest to Wellaholic's focus on service excellence and process operations to keep its 7 outlets running like clockwork.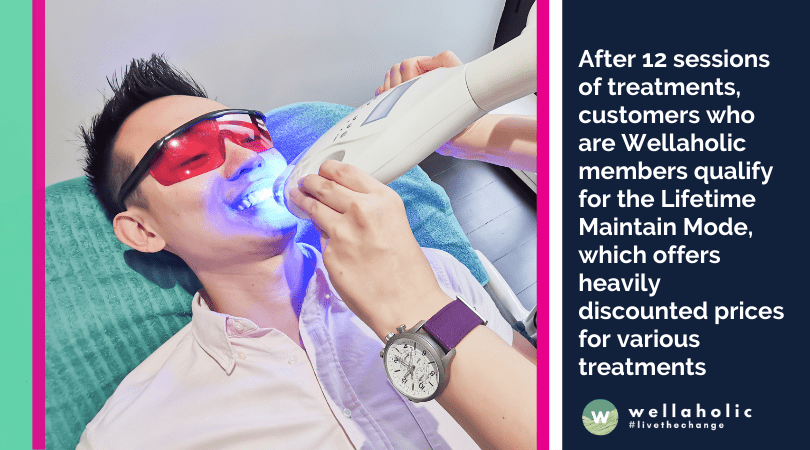 Reason #7: Wellaholic Takes Care of Our Customers for Life
Wellaholic's LIFETIME MAINTAIN MODE helps to take care of our customers for life. After 12 sessions of treatments, customers who are Wellaholic members qualify for the Lifetime Maintain Mode, which offers heavily discounted prices for various treatments including our popular SHR hair removal, Microneedling as well as Teeth Whitening. This helps customers to continue to look your best without having to spend on new packages every time.
Reason #8: Wellaholic Offers Up to 30% Cashback
Wellaholic Membership Program provides our loyal customers additional perks and benefits. Enjoy amazing cashback and special offers. Membership comes in two annual tiers (DELUXE and PRESTIGE), as well as a special LIFETIME tier. The memberships provides our regular and loyal customers added value via attractive cashback rebates, as well as monthly product and service specials. Members also get to enjoy a large variety of benefits such as our 5% to 30% cashback rebates system.
Our special Lifetime Membership Tier comes with exclusive lifetime benefits including 30% cashback points that never expire, as well as permanent access to the attractive lifetime maintain mode prices. Our Lifetime Members also do not get penalised for last minute bookings, and enjoy priority customer concierge and dedicated support team for all your booking requirements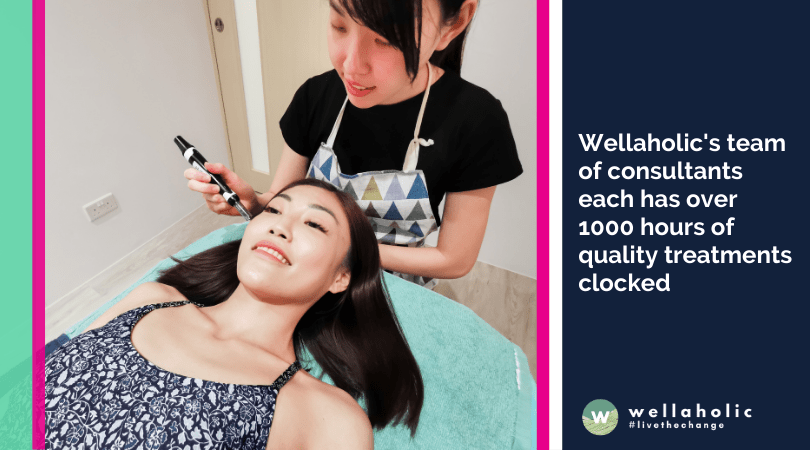 Reason #9: Wellaholic has Experienced and Committed Staff
Wellaholic's team of consultants each has over 1000 hours of quality treatments clocked. Wellaholic provides a comprehensive training plan broken into different phases to ensure that our new consultants are offered enough training hours to reach a level of proficiency to treat our customers. In additional, additional audits are being conducted to ensure that there is a high standard of uniformity in treatment procedure and processes. You can be rest assured of our consultants' focus on safety and efficacy in providing quality treatments to you.
Reason #10: Wellaholic Truly Try Our Very Best
From the consultants on the ground to the management, we continue to try our very best to improve and innovate to stay ahead. All customer feedback is quickly addressed by the team, and any concerns are being quickly resolved in order to improve the team processes. We believe in a "not being defensive" approach when dealing with customer feedback as we believe that our openness in understanding customer feedback will only help to finetune Wellaholic's processes and make us truly a leader in the beauty and aesthetic industry in Singapore and beyond.
---
Why Wellaholic is One of the Best Facial Providers in Singapore?
Leading Facial Aesthetic Chain in Singapore. Wellaholic is a leading facial and aesthetic chain in Singapore that is highly sought after by customers.
Quality & Safe Treatments. The company is committed to providing quality and safe treatments with experienced staff.
Wide Range of Facial Treatments. Wellaholic offers a wide range of facial treatments for various skin concerns, and using different technologies such as microneedling, RF, Elight, IPL and mesotherapy.
Trained & Experienced Consultants. All treatments are performed by trained professionals who understand the skincare needs of both female and male customers.
Advanced Facial Technology. Advanced facial technology is used to ensure a safe experience with no downtime or discomfort during the entire process.
Most Affordable Provider. Wellaholic provides competitive pricing for its treatments which makes it one of the most affordable providers in Singapore.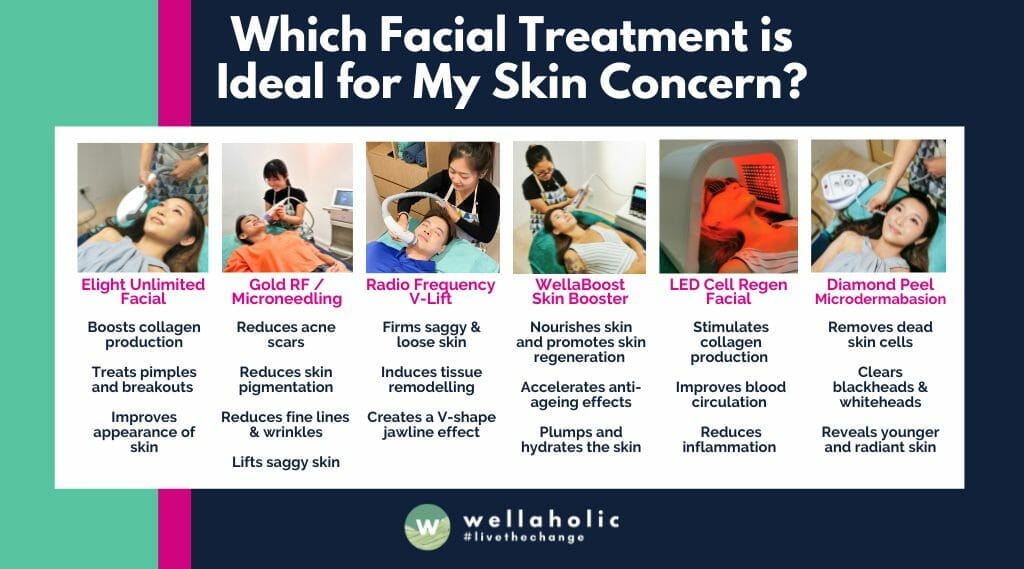 Reason 1: Wellaholic Offers Comprehensive Facial Services and Expertise
Wellaholic offers 7 different types of facial services for your facial and skin needs. Our facials can be broken down into the following categories:
WellaFacial Signature Facial Regime

Extensive all-inclusive facial regime that includes the latest technologies.
Promote cellular renewal and anti-aging.
Ccombines WellaBoost + Microneedling (Face/Neck) + LED Cell Regen Facial to provide multiple benefits at an affordable price.

WellaBoost Skin Booster

Non-invasive facial skin booster which is injection-free.
Combines two different technologies.
Infuses the skin with 4 different types of facial serums.
Helps to promote the increased hydration, collagen production, skin regeneration and healing

Gold RF Microneedling / Microneedling

Revolutionary skin treatment that delivers dramatic anti-ageing results.
Combines fractional radiofrequency (RF) with microneedling.
Effectively treats acne, acne scar, pigmentation, stretch marks & enlarged pores.
Lifts saggy skin and revitalises dull and uneven skin tone.

LED Cell Regen Facial

Uses different wavelengths to target the skin for various beneficial effects.
Able to improve skin elasticity, produce collagen, minimise blemishes and pimples.
Soothes aggravated skin and even reduce scarring.

Elight Unlimited Facial

Six-step technology facial backed by scientific research
Incorporates various technology treatments (RF, IPL, Diamond Peel microdermabrasion, LED Cell Regeneration, Retinol, REFA facial massage, etc.)
Designed as an affordable unlimited monthly package with weekly visits.
Brings out the best consistent results in flawless, younger-looking skin.

RF V-Lift Facial

Uses RF energy to heat tissue and stimulate sub-dermal collagen production.
Reduces appearance of fine lines and loose skin.
Induces tissue re-modelling and production of new collagen and elastin.
Provides an alternative to facelift and other cosmetic surgeries.

Diamond Peel Facial

Non-invasive and mechanical procedure using diamond bits.
Helps to remove dead skin cells, dirt and excess oil on the skin surface.
Improves the appearance of skin, by revealing younger and radiant skin underneath in an instant.
Reason 2: Wellaholic Has Over 50 Awards and 2000 Genuine Customer Reviews
Over 50 Awards. Wellaholic's WellaSmooth and SHR Hair Removal have been recognized by top beauty publications such as Daily Vanity, Beauty Insider, and Tropika Club Magazine, earning prestigious awards from 2018 to 2023.
Over 2000 Verified Customer Reviews. Wellaholic has over 2000 verified positive reviews from our customers in Singapore and beyond.
Verifiable Reviews. The reviews are verified and positive, which indicates the high level of customer satisfaction (see reviews below).
Over 50% Repeat Customers. More than 50% of Wellaholic's customers are repeat and recurring customers.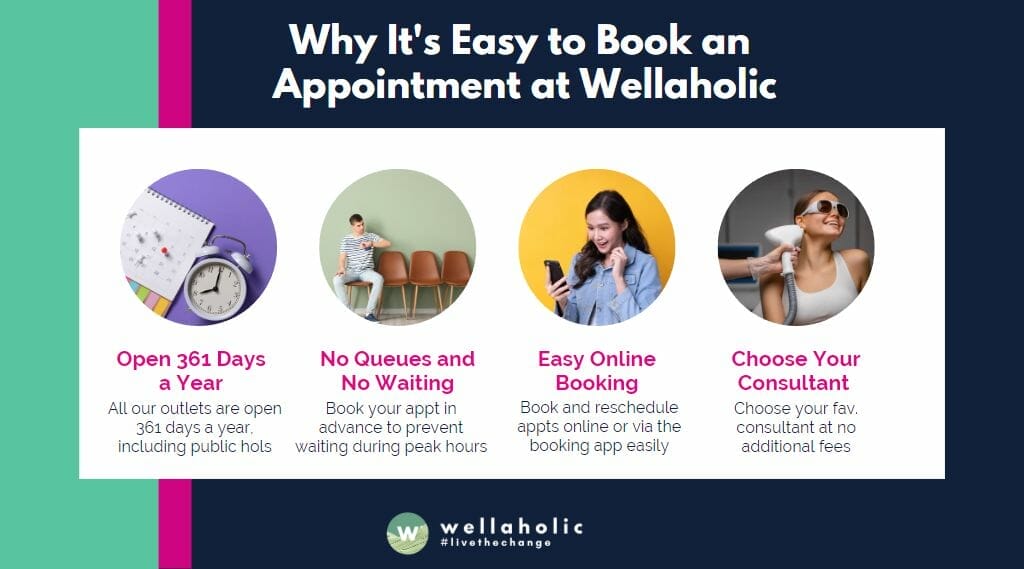 Reason 3: It's Easy to Book an Appointment at Wellaholic
Open 361 Days Per Year. Wellaholic's 8 outlets are open 361 days a year, including public holidays, so that customers can easily book an appointment.
No Queues. All appointments are booked in advanced to prevent the need to queue and wait unnecessarily during peak hours.
Easy Online Booking. Customers can conveniently book and reschedule appointments online or via the booking app.
No Extra Cost for Choosing Consultant. Customers can select their preferred consultant without having to pay any additional fees.