Anniversary Promo 2022 — Enjoy 40% Off Your Second Purchase This October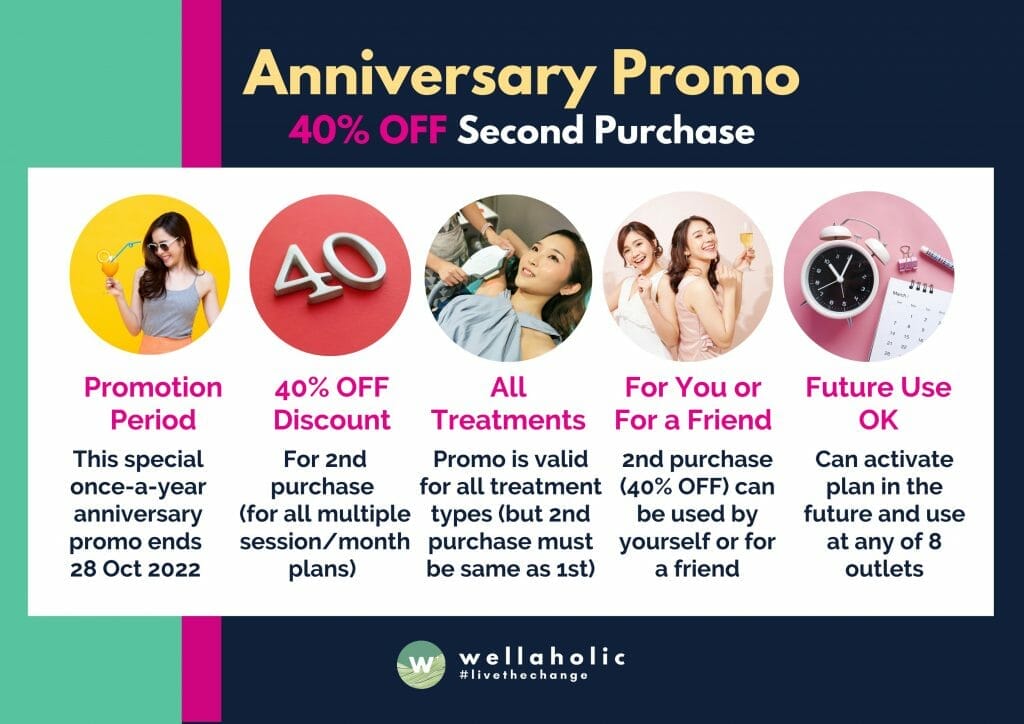 Wellaholic Celebrates Our 6th Birthday this October: Enjoy 40% OFF Your Second Purchase
It's Wellaholic's birthday this October!! We want to share the joy with all our customers by giving a fantastic 40% OFF your second purchase for all Wellaholic services. All you need to do is to head down to any of our 8 outlets, and then choose which service(s) and multiple session/month plan(s) you like. Pay for the first one and then choose to pay 40% less for the second plan. You can choose to buy first and activate the plan(s) later if you are keeping it for yourself. Or if you are getting the second plan for a friend, just make sure that your friend is around or be ready to provide his/her details including:
Friend's Full Name
Friend's Email Address
Friend's Mobile Number
With such an amazing offer, do help us share the word around!! Good things must share~ ❤️❤️❤️
Promo Example
Customer buys a 6-month SHR Unlimited Prestige hair removal plan ($289 x 6 = $1734)
Customer buys a second similar plan at 40% OFF (40% discount of $1734 = $1040.40)
Customer pays $2774.40 for 2 x 6-month SHR Unlimited Prestige
Customer uses the first plan and chooses to activate the 2nd plan to use in the future.
There is no expiry to the plan so the customer can choose to activate it anytime.
Terms & Conditions
Promotion is valid from now till 28 Oct 2022.
Promotion is valid for all multiple session/month plans (e.g. non 1-session and non 1-month plans).
Single-session and single-month plans are excluded from this promotion.
Promotion excludes the 12-month SHR Underarms Unlimited Hair Removal.
The management reserves the right to end the promotion earlier than the stated date.
The second purchase must be the same as the first purchase (i.e. customer cannot choose another service for the second purchase).
Customers can choose to purchase for own use and activate 2nd service later; customers can also choose to gift the second purchase to a friend, as long as the friend's full name, email address and mobile number are given.

Once this has been decided, there will be strictly no further changes allowed (customer cannot transfer packages)
See Over 1800 Positive Reviews of Wellaholic (Customer Verifiable)
---