How to Shave Your Underarms without Darkening Them
Introduction
Underarm hair removal or armpit hair removal is quite a norm in many places. We remove underarm hair not just to keep our physical appearance attractive, we also want to prevent unpleasant body odor. One of the cost-effective ways to remove wanted hair at the underarms is by shaving. Some of the most common methods of shaving include using a razor or electric shaver. However, shaving too frequently will likely cause dark underarms or dark armpits. For that reason, we would like to share with you the right techniques in shaving so that you can stay away from dark underarms and armpit discoloration, as well as dry skin.
1. Soften Your Skin with Warm Water Before Shaving
In order to facilitate the process of shaving, remember to wet your skin with warm water. This is to prevent your skin from unwanted irritation and unwanted cuts. This is especially so if you have sensitive skin. Also, if you cut yourself accidentally, the scars can contribute to dark skin under your armpits. The most effective way to soften the skin before shaving is to use lukewarm water to clean your skin. You can also use a wet towel to do the same. When your skin is soft and exfoliated, you can get a smoother shave and it helps to remove dead skin cells. It opens your pores and you get a closer shave without skin irritation. This is even when you are using electric razors.
2. Exfoliate the Areas Before Shaving
Just like the skin on your face, your underarms benefit from exfoliation to break up bacteria, dirt, and sweat from the clogged hair follicles. Similarly, you can choose to do this with either a physical or chemical exfoliator (or both) to get the most effective shave. Doing this will prevent skin discoloration, or dark underarm.
3. Apply Shaving Gel Before Shaving
Pre-shaving routine is also important. Before shaving, you must moisturize your skin.. Shave gels or shaving creams contain moisturizing benefits that quickly get moisture into the hair to soften your skin so that the razor will glide smoothly. Also, it can help you to remove hard-to-reach body hairs. Actually, underarms skin is very soft and sensitive. That's why it becomes irritated quickly. If you don't follow proper shaving tips during shaving then you may have to face several problems like unwanted cuts, razor burn, razor bumps, ingrown hair etc. that's why proper shaving is most important part of shaving underarms to avoid darkening. Do check the active ingredient in the gel and choose something for natural remedies to encourage skin healing.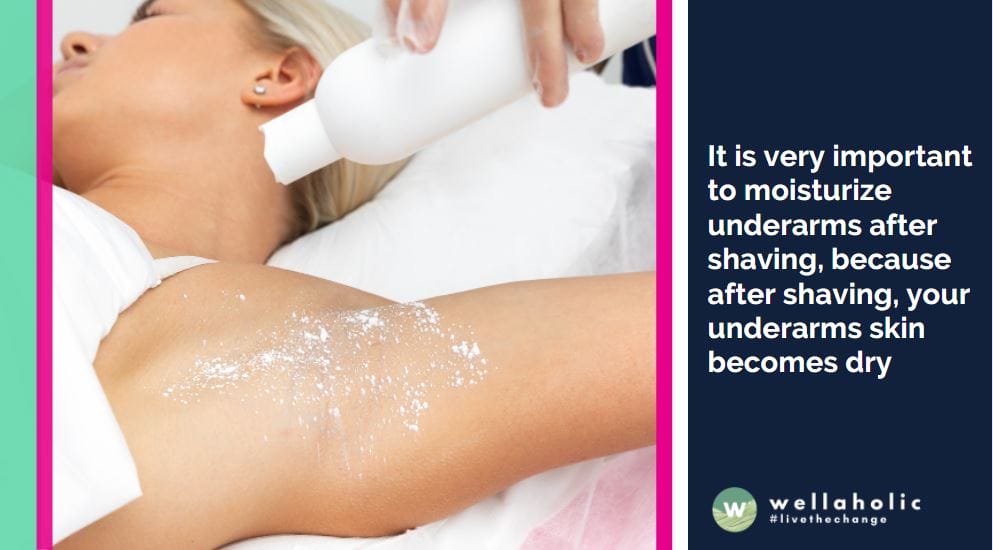 4. Apply Lotion or Moisturiser After Shaving
Every hair removal treatments make your underarm skin dry. As a result, dry armpits normally look darker than ones which are properly moisturized. That being said, remember to put on gentle moisturizer to soften your underarm after you are done shaving. It is very important to moisturize underarms after shaving, because after shaving, your underarms skin becomes dry. It causes your underarms to look darker than they are. Proper moisturization keeps your underarms soft and hydrated. Actually, underarms skin is very soft and sensitive. That's why it becomes irritated quickly. If you don't follow proper shaving tips during shaving then you may have to face several problems like unwanted cuts, razor bumps, ingrown hair etc. that's why proper shaving is most important part of shaving underarms to avoid darkening.
5. Use a Quality Shaver or Razor
Always remember to use a sharp and clean razor. Remember to check your razor for signs of rust and avoid using the same razor day after day. A sharp razor will remove the hair quickly and you won't have to glide again and again. The rubbing action of the razor cuts your skin and when that skin heals, it darkens. It also causes razor bumps and scars. So, it is better to use branded razors, which have high quality blades. It will be better to choose a multi-blade razor, 3 or more. Take a clean, sharp razor never use dull blades! If you want a closer shave then you can shave against the direction of hair growth, but it will cause ingrown hair and razor bumps.
6. Change Your Shaver or Razor Regularly
It is not safe to shave with a rusty razor. Therefore, as a safety measure, discard your shaving blades after three or four uses to prevent ingrown hairs. You must replace razor blades after using it 3-4 times. Rinse your razor properly after using it. Store your razor properly by keeping it dry. Because moisture will cause rust. This will help to prevent dark underarms.
7. Avoid Applying Deodorant after Shaving
After you shave, wait a little bit before putting on antiperspirant. Applying deodorant to freshly shaven skin may cause some discomfort. So, allow your skin time to rest to reduces the chances of irritation from the deodorant. Sometimes, the stinging and irritation we experience after using deodorants can be caused by alcohol and aluminium oxide, which are common in mass-produced drugstore deodorants. This product has none of that, and is an all-natural blend of essential oils in a base of coconut oil, shea butter and beeswax. In the same way, try to avoid using hair removal creams as the harsh chemicals may cause dark underarms.
---
Skin Whitening / Hydrating (PTT) by Wellaholic
Prevent skin darkening, and enhance the tone and suppleness of your skin after your hair removal session with our Skin Whitening / Hydrating (PTT) with AfterGlow red light treatment. Choose from either Whitening Therapy for hyper-pigmented or darkened skin, or choose our Hydrating Therapy for accelerated skin repair from the harsh SHR energy rays. End it off with our AfterGlow™ red light treatment which helps to repair and rejuvenate your treated skin.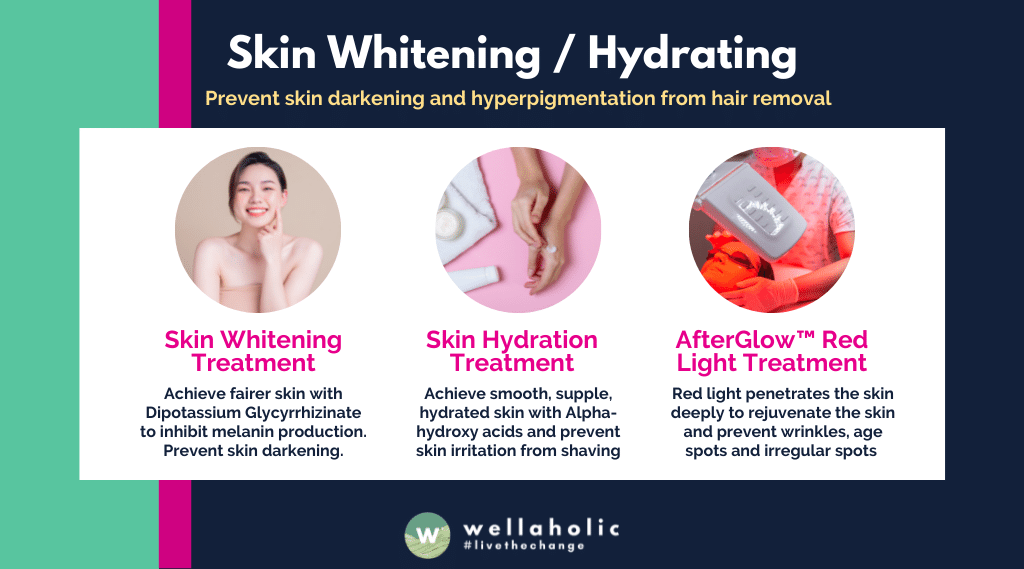 What are the Benefits of Skin Whitening/Hydrating with AfterGlow™?
WHITENING THERAPY – Studies has shown that active ingredient Dipotassium Glycyrrhizinate inhibits tyrosinase activity and melanin production. It is a potential skin whitening agent that prevents skin pigmentation and helps achieve fair skin. It is used in skin whitening and skin brightening products by Shiseido, M.A.D., LiftLab, Amarte, and covered by Truth In Aging.
HYDRATING THERAPY – Studies have shown that treating your skin with active ingredient Alpha-hydroxy acids helps to calm inflammation and reduce irritation associated with post-hair removal laser treatments as well as shaving. This helps to prevent and reduce the onset of rashes and also keep the skin hydrated and supple, leading to a smoother complexion.
AFTERGLOW™ RED LIGHT TREATMENT – Red light therapy penetrates deeper into the skin than other light wavelengths and is able to rejuvenate skin. Red Light Therapy is one of the few non-invasive tools available that can reverse the appearance of ageing skin, such as wrinkles and mottled skin tone. This helps to rejuvenate your skin and prevent body age spots or irregular spots from forming due to the harsh rays from hair removal. 
Whitening – With active ingredient dipotassium glycyrrhizinate which inhibits tyrosinase activity and melanin production. This helps to whiten the areas and prevent the unnatural darkening of skin especially around the underarms and private regions. This treatment is ideal for armpit whitening or underarm whitening, as well as all dark skin.
See Over 1800 Positive Reviews of Wellaholic (Customer Verifiable)
Pricing of Skin Whitening/Hydrating by Wellaholic
Price Plan for Skin Whitening / Hydrating (PTT) with AfterGlow
Pricing of SHR Hair Removal Treatments by Wellaholic
Wellaholic believes in providing pricing transparency, and hence all prices are published and updated on its website. Choose from unlimited monthly hair removal plans (with unlimited SHR hair removal shots) for unlimited body parts, or choose from per-session hair removal price plans. Wellaholic's hair removal prices are generally divided into the following categories: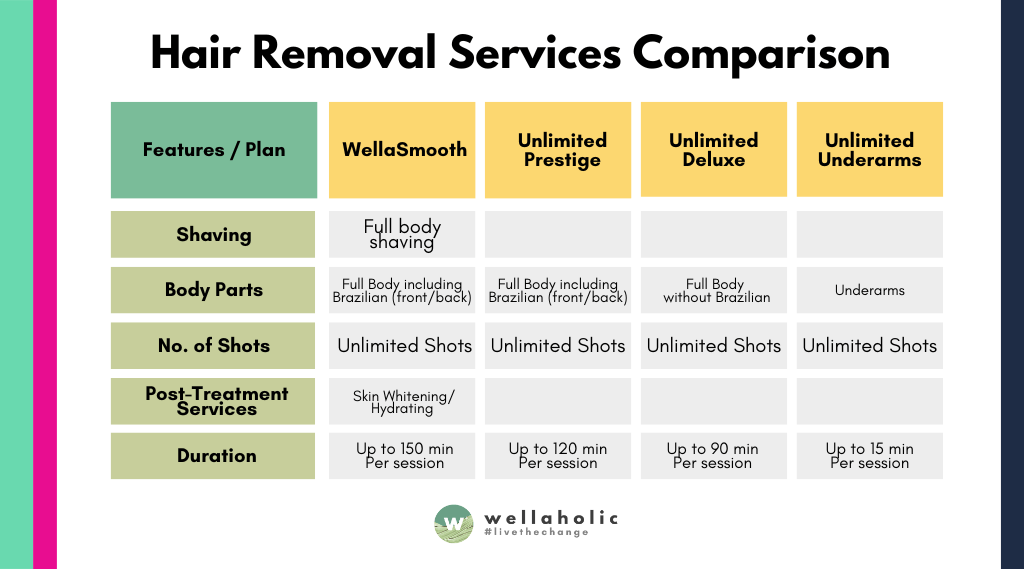 ---