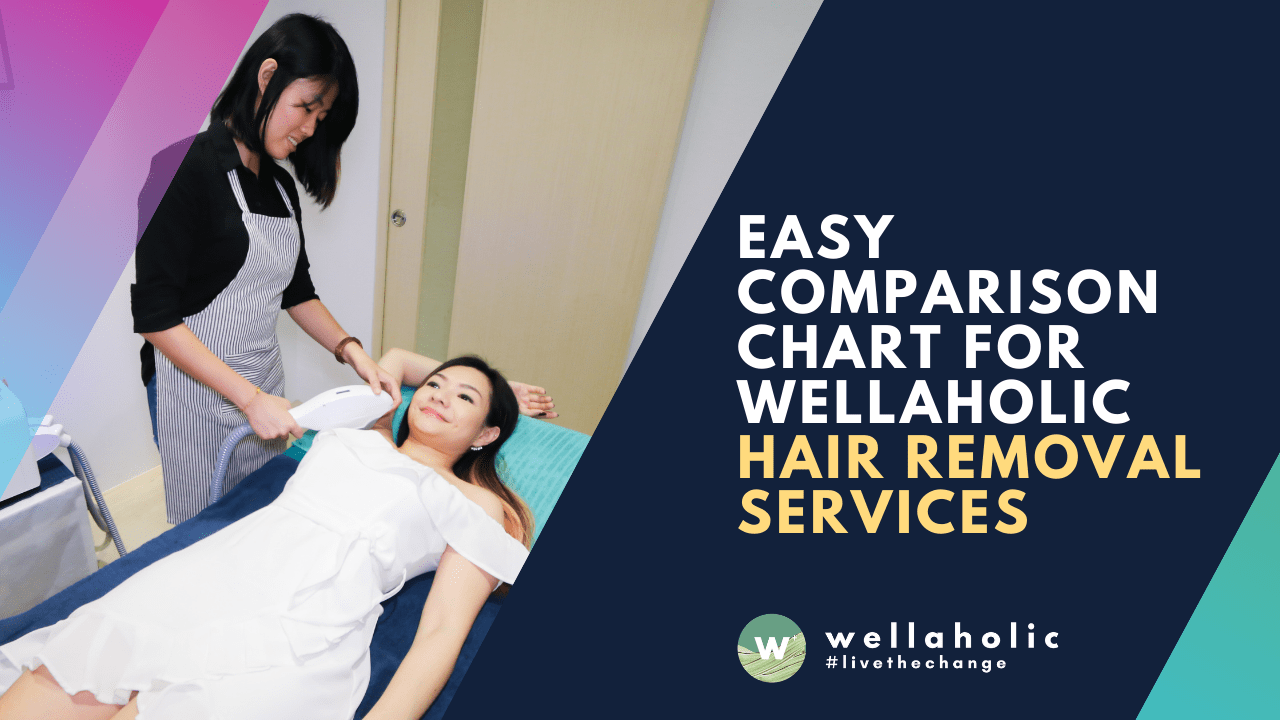 Easy Comparison Chart for Wellaholic Hair Removal Services
TL:DR Summary
What is hair removal? Hair removal is the process of removing unwanted hair from different parts of the body.
What are the different methods of hair removal? There are various methods of hair removal such as shaving, waxing, plucking, depilatory creams, electrolysis and laser hair removal.
How do they compare in terms of effectiveness? Shaving, waxing, plucking and depilatory creams are temporary methods that require frequent maintenance and can cause irritation and ingrown hairs. Electrolysis and laser hair removal are permanent methods that can reduce hair growth and improve skin texture.
How do they compare in terms of cost? Shaving, waxing, plucking and depilatory creams are cheaper in the short term but can add up over time. Electrolysis and laser hair removal are more expensive upfront but can save money in the long run.
How do they compare in terms of pain? Shaving, waxing, plucking and depilatory creams can cause mild to moderate pain and discomfort. Electrolysis and laser hair removal can cause minimal to moderate pain depending on the area and the device.
How to choose the best method for you? You should consider your skin type, hair type, budget, pain tolerance and desired results. You can also consult a professional for advice.
Easily Find Out Which Hair Removal Treatment is Ideal for You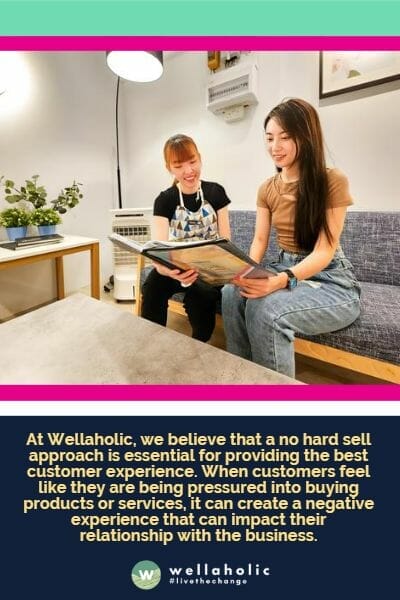 Comprehensive Hair Removal Options At Wellaholic, we offer an extensive range of hair removal treatments for various body parts, including facial and chin hair, chest hair, back hair, arm and leg hair, and even bikini, Brazilian, or Boyzilian hair removal treatments.
Choose Your Plan Select from per-session hair removal plans for specific body areas or opt for our popular SHR Unlimited package for an affordable monthly fee, covering all body parts. For an all-inclusive experience, consider our WellaSmooth package, which includes shaving, post-treatment whitening and hydration, and our AfterGlow red light therapy for incredible skin benefits.
Service Comparison Chart To simplify the decision-making process, we've created a Service Comparison Chart summarizing the key features of each plan. All our hair removal services include unlimited SHR shots for the most effective treatment possible. If you're unsure or have questions, feel free to give us a call at 8181 1814 or use our Live Chat for assistance.
"Compare and contrast with ease to find the hair removal solution that best suits your needs – it's easy with Wellaholic!"
---
WellaSmooth Ultimate All-inclusive Hair Removal Regime
WellaSmooth is our flagship signature treatment designed for an all-inclusive full-body permanent hair removal experience. It includes all-that-you-require shaving service for all body parts, SHR Unlimited Prestige plan (which includes SHR hair removal for all body parts including Brazilian/Boyzilian front/back), and our Post-Treatment Therapy (PTT) with AfterGlow which will help whitening and hydrate your skin for the oomph factor. WellaSmooth is ideal for both men and women, and is delivered by our male and female therapists at all Wellaholic outlets.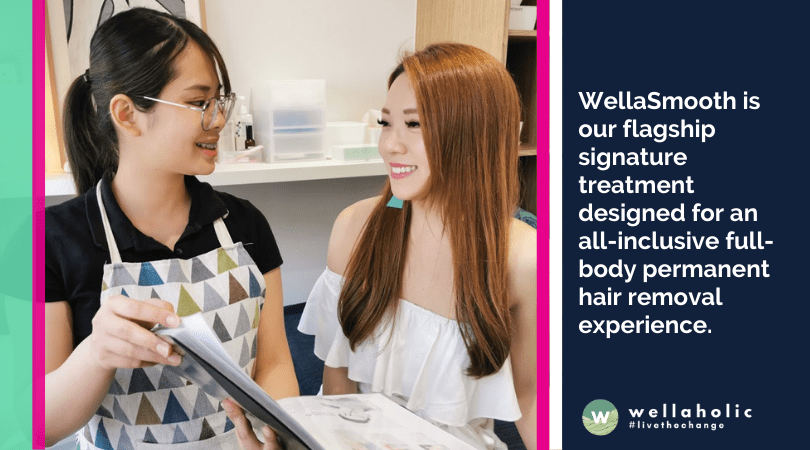 ---
SHR Unlimited Prestige / Deluxe Plan
SHR Unlimited Prestige/Deluxe Our monthly SHR Unlimited Prestige and Deluxe plans offer hair removal treatments on unlimited body parts. The Prestige plan covers SHR hair removal for all body parts, including Brazilian/Boyzilian (front & back), while the Deluxe plan covers all body parts except Brazilian/Boyzilian. With both plans, customers enjoy a hassle-free experience by paying a small monthly fee without worrying about separate payments or counting the number of shots used. At Wellaholic, we provide unlimited SHR hair removal shots.
Gentle Treatment SHR gently heats the skin using low energy but high frequency, targeting melanin and stem cells. It uses 50% of the energy for permanent hair removal, while the remaining 50% is absorbed by the stem cells responsible for hair production.
Advanced Fluorescence Technology (AFT) Our In-Motion laser hair removal technology, using SHR's Advanced Fluorescence Technology (AFT), is a breakthrough in customer comfort and treatment effectiveness. It's proven to be superior and more effective than traditional IPL hair removal.
---
SHR Unlimited Underarms Plan
SHR Unlimited Underarms plan is ideal for customers who are only looking at permanent hair removal for their underarms. Wellaholic is offering an attractive annual underarms hair removal plan at only $129 nett per year with no hidden costs. Customers can purchase the package and then utilise this plan at any of our outlets island wide. This is likely the best and most affordable underarm hair removal plan in Singapore, with great reviews from thousands of satisfied customers.
---
SHR Permanent Hair Removal with Unlimited Shots
Unbeatable in Value and Quality. Wellaholic's SHR Unlimited Plans offer a hair removal solution that is unbeatable in both value and quality.
One Price for All Body Parts. Pay just one low price for a complete hair removal experience for all body parts, including unlimited SHR shots.
Permanent Fuss-Free Solution. Say goodbye to the hassle of expensive and ineffective hair removal methods and trust WellaSmooth to deliver a permanent and fuss-free solution for all your hair removal needs.
Why Choose SHR Unlimited Prestige and Deluxe Plans?
Diode Laser Technology. Developed by Alma Lasers, SHR combines 755nm, 808nm and 1064nm laser wavelengths to target all skin types. 
SHR is Better Than IPL. SHR has been shown to be more effective and less painful, particularly for individuals with Asian skin, without the discomfort associated with IPL.
Unlimited Shots. We use as many shots as needed to effectively target the hair follicles.
Award-Winning. Wellaholic's WellaSmooth and SHR Hair Removal have been recognized by top beauty publications such as Daily Vanity, Beauty Insider, and Tropika Club Magazine, earning prestigious awards from 2018 to 2023.
Ideal for All Skin and Hair Colors. SHR Unlimited Plans (Prestige or Deluxe) are perfect for individuals with any skin color or hair color.
For Men and Women. Wellaholic caters to both men and women with our team of skilled therapists, ensuring that every outlet has a diverse and inclusive environment with male and female professionals readily available to attend to your needs.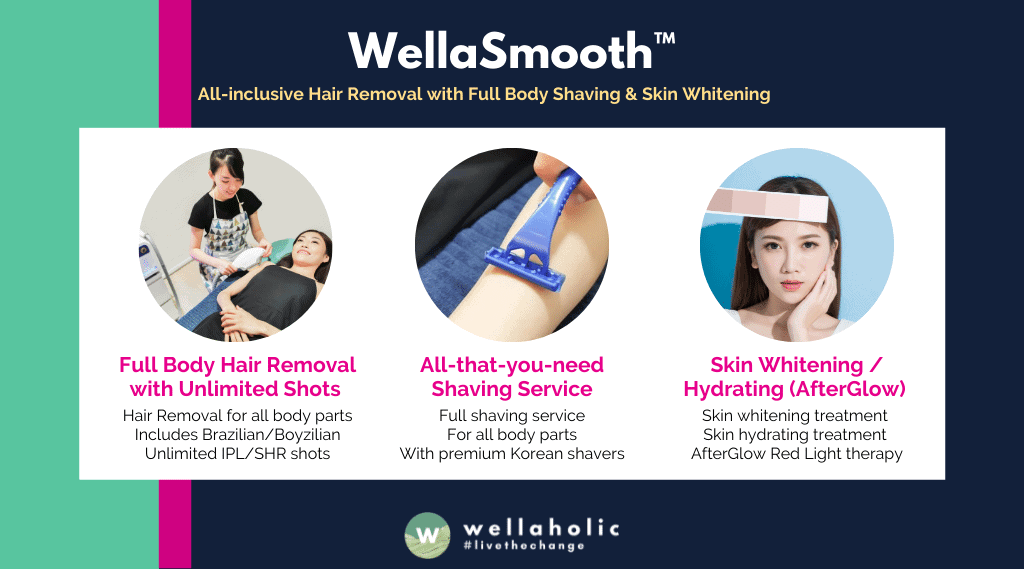 WellaSmooth™ Includes the Following Three Hair Removal Services
Wellaholic's Wellaholic All-inclusive Hair Removal regime includes the following three services:
SHR Permanent Hair Removal PRESTIGE Unlimited – Enjoy our bestseller SHR hair reduction treatment for all body parts
Unlimited Shaving Service – Enjoy unlimited shaving service on all body parts
Skin Whitening/Hydrating (PTT) with AfterGlow – Enjoy post-treatment whitening or hydrating therapy followed by AfterGlow red-light treatment to rejuvenate your skin


See Over 2000 Positive Reviews of Wellaholic (Customer Verifiable)
If you're looking for a reliable and trustworthy aesthetic chain, Wellaholic might just be the perfect fit for you. With over 2000 genuine customer reviews and testimonials, you can see for yourself why our hair removal services have won numerous awards.
Pricing of SHR Hair Removal Treatments by Wellaholic
Price Transparency. Wellaholic offers pricing transparency by publishing and updating all prices on our website.
Flexible Per-Session or Unlimited Plans. Customers can choose from unlimited monthly hair removal plans with unlimited SHR hair removal shots for all body parts, or per-session hair removal price plans.
Mix and Match Easily. Wellaholic's hair removal prices are divided into different categories for easy selection.
No Price Shocks. Customers can expect to pay only for the treatments provided instead of being surprised by additional fees or charges at the end of their hair removal session.
---
Why Wellaholic is One of the Best Hair Removal Providers in Singapore?
Leading Hair Removal Chain in Singapore. Wellaholic is a leading hair removal company in Singapore that is highly sought after by customers.
Quality & Safe Treatments. The company is committed to providing quality and safe treatments with experienced staff.
Wide Range of Hair Removal Treatments. Wellaholic offers a wide range of laser hair removal treatments for various body parts including Brazilian & Bikini, Underarm, Arms, Back & Shoulder Hair Removal, and Leg Hair Removal.
Trained & Experienced Consultants. All treatments are performed by trained professionals who understand the skincare needs of both female and male customers.
Advanced SHR Technology. Advanced SHR technology is used to ensure a safe experience with no downtime or discomfort during the entire process.
Most Affordable Provider. Wellaholic provides competitive pricing for its treatments which makes it one of the most affordable providers in Singapore.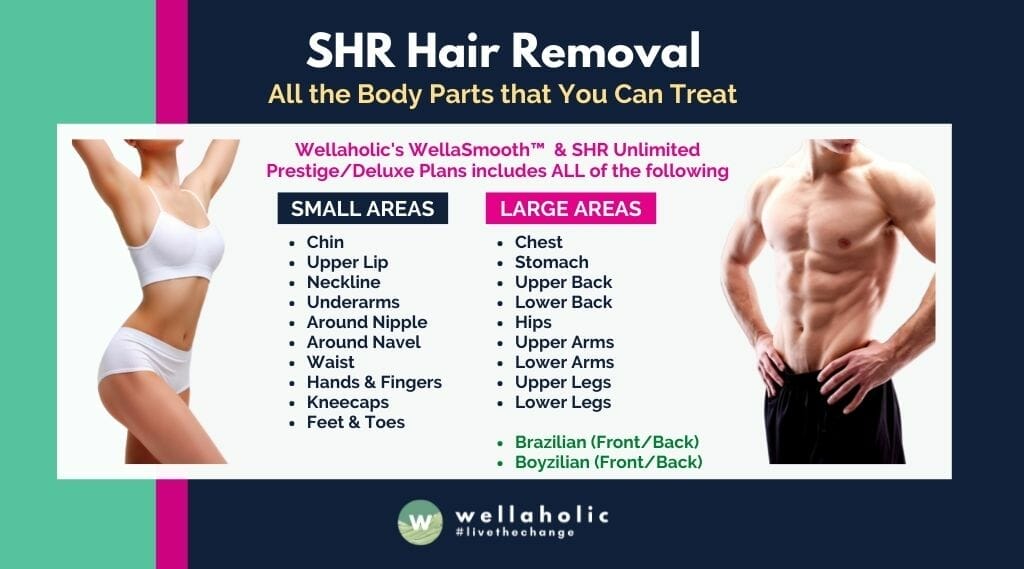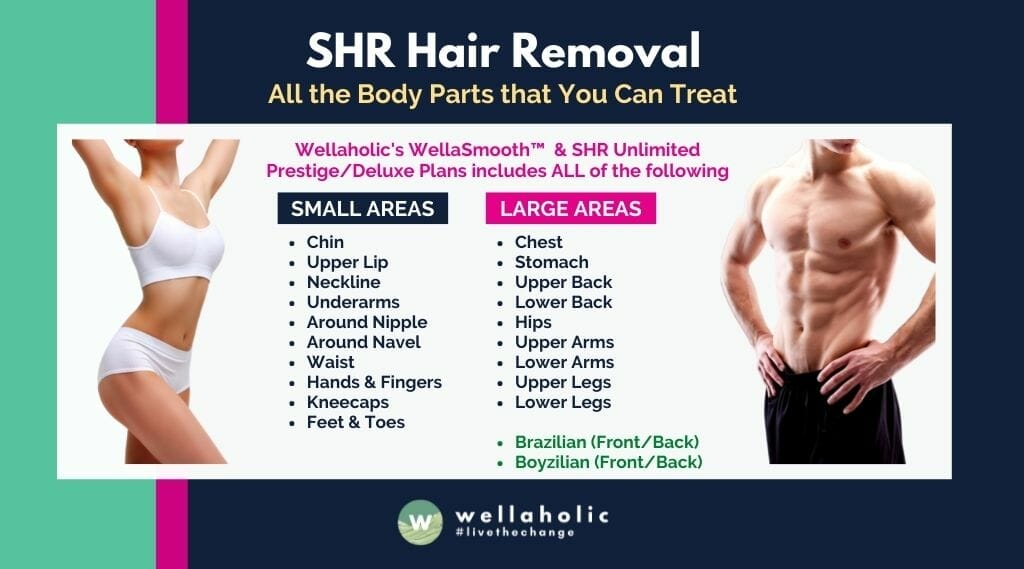 Reason 1: Wellaholic's Unlimited Plans Save You Lots of Money
Unlimited Hair Removal Plans. Wellaholic offers unlimited plans for permanent hair removal with unlimited shots.
Pay One Price for All Body Parts. Customers pay one nett price for hair removal on all body parts, including chin, lips, underarms, back, chest, stomach, legs, and private regions (both front and back).
Huge Cost Savings. With the unlimited plan, there are no separate fees for hair removal on different body parts, leading to huge cost savings.
Reason 2: Wellaholic Has Over 50 Awards and 2000 Genuine Customer Reviews
Over 50 Awards. Wellaholic's WellaSmooth and SHR Hair Removal have been recognized by top beauty publications such as Daily Vanity, Beauty Insider, and Tropika Club Magazine, earning prestigious awards from 2018 to 2023.
Over 2000 Verified Customer Reviews. Wellaholic has over 2000 verified positive reviews from our customers in Singapore and beyond.
Verifiable Reviews. The reviews are verified and positive, which indicates the high level of customer satisfaction (see reviews below).
Over 50% Repeat Customers. More than 50% of Wellaholic's customers are repeat and recurring customers.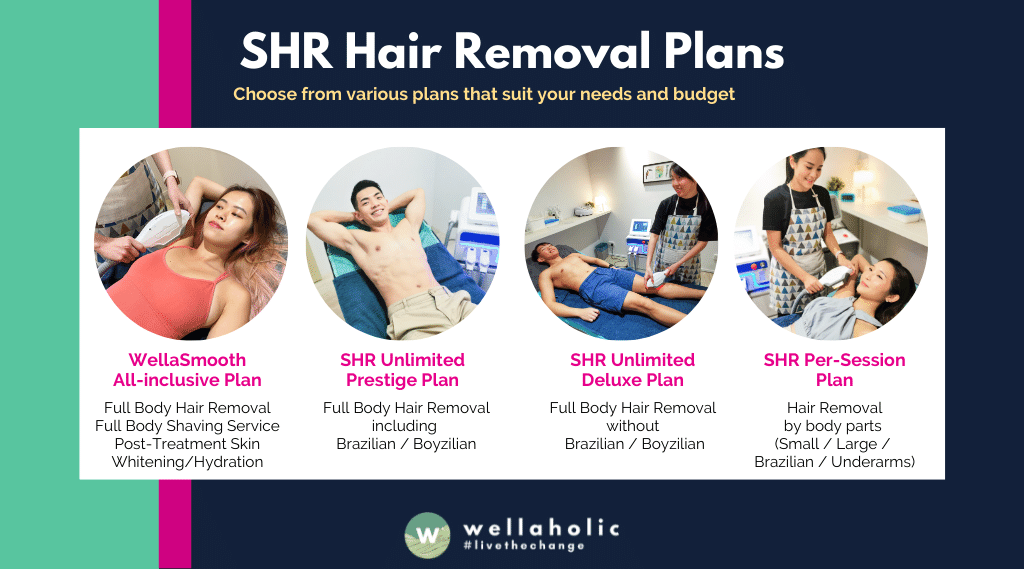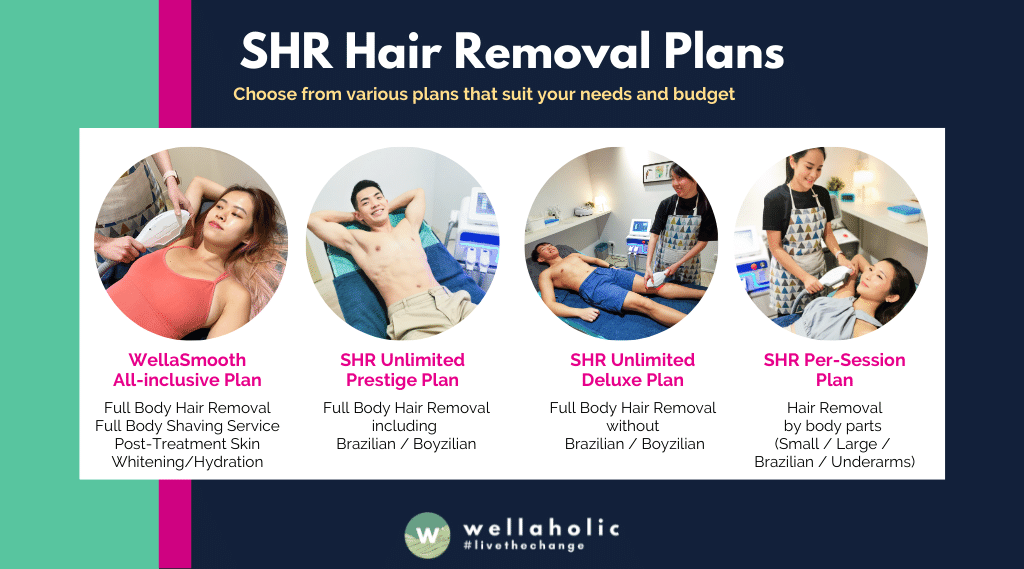 Reason 3: It's Easy to Book an Appointment at Wellaholic
Open 361 Days Per Year. Wellaholic's 8 outlets are open 361 days a year, including public holidays, so that customers can easily book an appointment.
No Queues. All appointments are booked in advanced to prevent the need to queue and wait unnecessarily during peak hours.
Easy Online Booking. Customers can conveniently book and reschedule appointments online or via the booking app.
No Extra Cost for Choosing Consultant. Customers can select their preferred consultant without having to pay any additional fees.
---