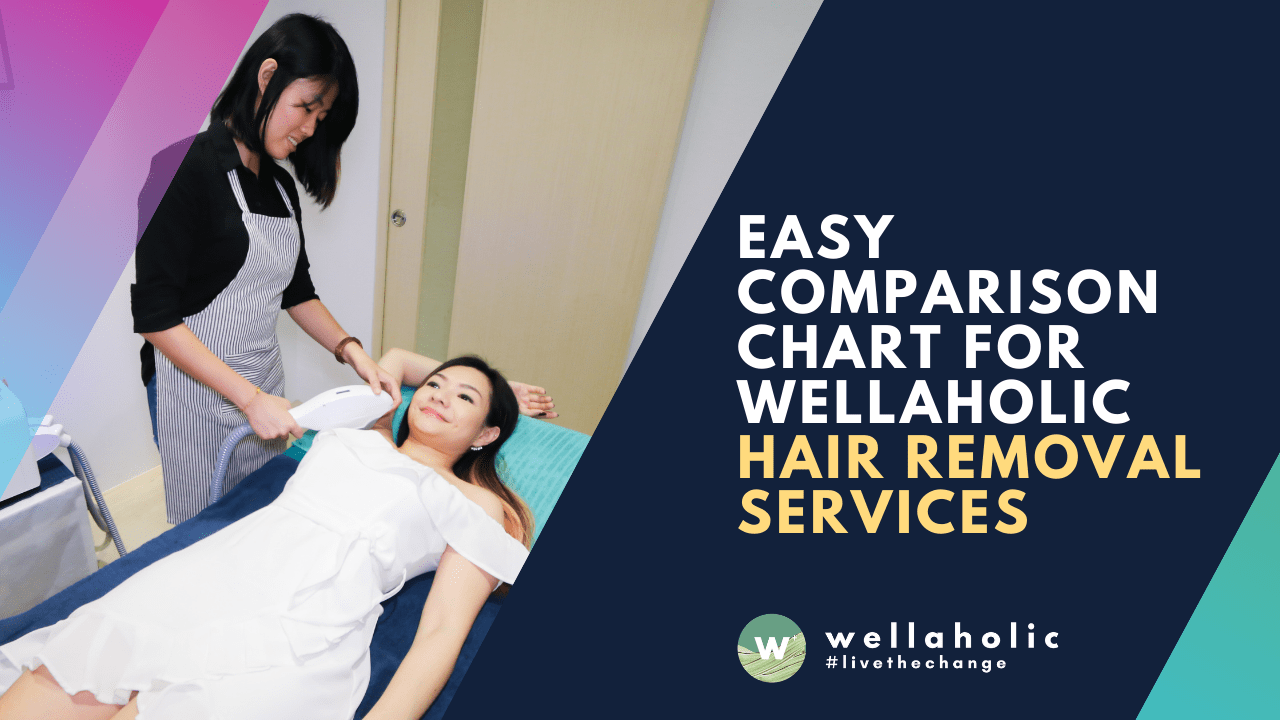 Easy Comparison Chart for Wellaholic Hair Removal Services
Easily Find Out Which Hair Removal Treatment is Ideal for You
At Wellaholic, we have a comprehensive range of hair removal treatments to help you with permanent hair removal for different parts of your body, ranging from facial and chin hair, to chest hair and back hair, arm and leg hair, as well as bikini, Brazilian or Boyzilian hair removal treatments.
You can choose between per-session hair removal plans for specific body areas, or opt for our popular SHR Unlimited package to target all body parts at an affordable monthly fee. You can even choose our WellaSmooth package for all-that-you-need shaving as well as post-treatment whitening and hydration, and topping it up with our AfterGlow red light therapy which does wonders to the skin. To help you easily find out which hair removal treatment is ideal for you, we have created this Service Comparison Chart to summarise the key features and aspects of each plan.
All our hair removal services come with unlimited SHR shots for the most effective treatment possible. When in doubt, feel free to drop us a call at our hotline 8181 1814 or Live Chat us to find out more.
---
WellaSmooth Ultimate All-inclusive Hair Removal Regime
WellaSmooth is our flagship signature treatment designed for an all-inclusive full-body permanent hair removal experience. It includes all-that-you-require shaving service for all body parts, SHR Unlimited Prestige plan (which includes SHR hair removal for all body parts including Brazilian/Boyzilian front/back), and our Post-Treatment Therapy (PTT) with AfterGlow which will help whitening and hydrate your skin for the oomph factor. WellaSmooth is ideal for both men and women, and is delivered by our male and female therapists at all Wellaholic outlets.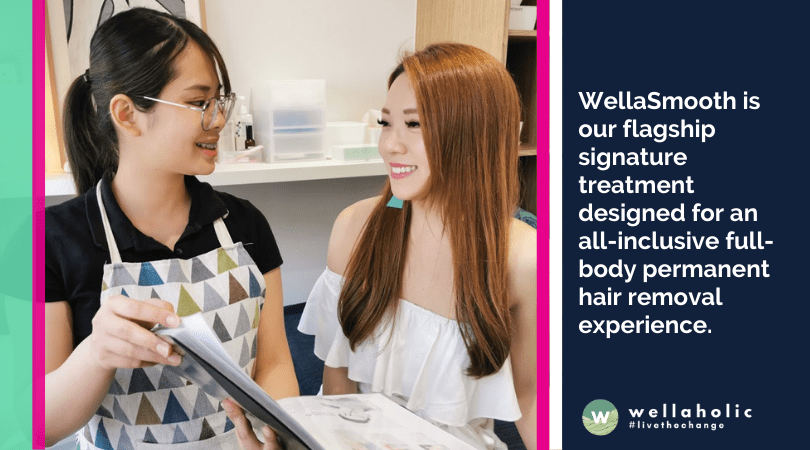 ---
SHR Unlimited Prestige / Deluxe Plan
SHR Unlimited Prestige/Deluxe is our monthly plans which allows you treatments on unlimited body parts. SHR Unlimited Prestige covers SHR hair removal for all body parts including Brazilian/Boyzilian (front & back), while SHR Unlimited Deluxe covers SHR hair removal for all body parts with the exception of Brazilian/Boyzilian. With both plans, customers can just pay a small monthly fee and enjoy fuss-free hair removal treatments without having to worry about separate payments for different body parts, or worry about counting the number of shots used. At Wellaholic, we provided unlimited SHR hair removal shots.
SHR heats the skin gently through the melanin and the stem cells with low energy but high frequency.​ It uses only 50% of the energy for permanent hair removal. The remaining 50% is absorbed into the stem cells responsible for producing hairs. SHR's Advanced Fluorescence Technology (AFT) In-Motion laser hair removal technology is a breakthrough in customer comfort and effectiveness of treatments, and is found to be more superior and better than IPL hair removal.
---
SHR Unlimited Underarms Plan
SHR Unlimited Underarms plan is ideal for customers who are only looking at permanent hair removal for their underarms. Wellaholic is offering an attractive annual underarms hair removal plan at only $129 nett per year with no hidden costs. Customers can purchase the package and then utilise this plan at any of our outlets island wide. This is likely the best and most affordable underarm hair removal plan in Singapore, with great reviews from thousands of satisfied customers.
---
Pricing of SHR Hair Removal Treatments by Wellaholic
Wellaholic believes in providing pricing transparency, and hence all prices are published and updated on its website. Choose from unlimited monthly hair removal plans (with unlimited SHR hair removal shots) for unlimited body parts, or choose from per-session hair removal price plans. Wellaholic's hair removal prices are generally divided into the following categories:
---
---