Wellaholic Insider Guide To Shaving Before Hair Removal (Men's Edition)
Wellaholic Insider Guide To Shaving Before Hair Removal (Men's Edition)
At Wellaholic, we see hundreds of customers every day in Singapore for their hair removal needs, via our WellaSmooth™ Ultimate Hair Removal Regime. Now, some customers prefer to self-shave before coming for their SHR treatments. Over the years, we have gathered useful tips and tricks on shaving before a hair removal treatment. In this insider guide, we are going to share with you on how to get the smoothest shave, especially before your hair removal session. ​
Try not to shave so close to your skin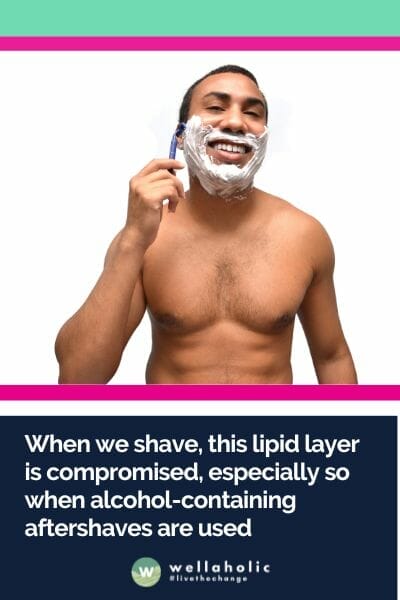 Shaving close to the skin without causing any trauma to the skin is extremely challenging. Also, it is important to understand that shaving can compromise your skin barrier. In reality, our skin has a layer of lipids that works to retain moisture and control the entry of any chemicals into the skin. This acts as a form of protection for the skin. When we shave, this lipid layer is compromised, especially so when alcohol-containing aftershaves are used. When the lipid layer is damaged, the skin becomes extremely vulnerable to external stimuli. Moisture can be easily lost to the surroundings and because of this, foreign chemicals can enter the skin easily. The skin can be more irritable at this stage.
Shaving may also act as a physical stimulus for the receptors in our skin. While the sensory receptors in the skin are meant to perceive pain, they also react to more innocent environmental stimulus like a razor or something sharp. Upon shaving, the skin releases mediators that cause a flare response, which leads to redness or a burning sensation. This may cause what is commonly known as a shaving rash. The chances of this occurring is higher for those with sensitive skin.
Point to note: You need to shave before treatment. Contrary to what your friends might have told you, you actually need to shave before your SHR treatment. Nevertheless, try to smooth shave but not so close to your skin to the point of hurting it. Shave in the direction that your hair grows to minimise irritation, especially if you have sensitive skin. ​
Shave to prevent ingrown hairs and follicultis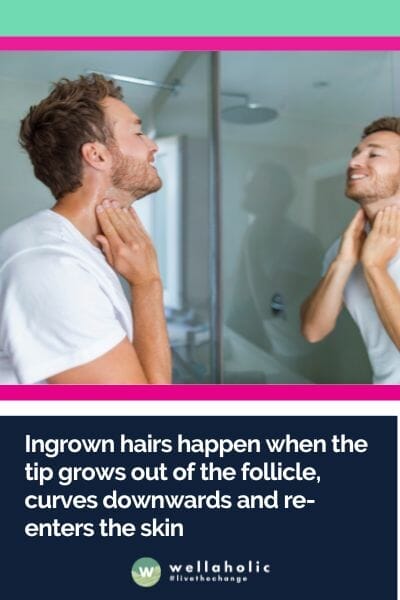 When shaved, the hair is left with a sharp hair tip. Ingrown hairs happen when the tip grows out of the follicle, curves downwards and re-enters the skin. Alternatively, it can grow inwards and penetrate the deeper skin layers. Your body recognises the hair's re-entry as a foreign object and triggers an inflammatory reaction that causes redness and itchiness. The follicles can resemble a pimple filled with pus. To avoid this, try not to stretch the skin while you shave as it causes newly cut hair to retract underneath the skin, making it more difficult to achieve a smooth shave.
Shaving can also block your follicles the casings that hold each hair potentially causing folliculitis or ingrown hairs. Folliculitis is a common skin condition in which hair follicles become inflamed. It's usually caused by a bacterial or fungal infection. At first it may look like small red bumps or white-headed pimples around hair follicles — the tiny pockets from which each hair grows. This condition can be very irritating, especially when caused by pubic hairs in the private regions. ​
How to treat follicultis?
A variety of medications are available for folliculitis. They can be prescribed to treat either bacterial or fungal infections, depending on the cause of the condition. Anti-inflammatory drugs may also be recommended.
Forms of medication include:
topical antibiotic creams
oral antibiotics
topical antifungal creams
antifungal shampoos
oral antifungals
steroid creams
oral corticosteroids
​
Light therapy can also be used to improve the symptoms of deep folliculitis. Light therapy is sometimes used to treat acne, and uses both light and a chemical substance to kill bacteria, fungi, and viruses. If you have a follicultis issue, you can try Wellaholic's Elight Facial Collagen Boost treatment, for the light therapy to destroy the bacteria responsible for the infection. With SHR hair removal, the hair follicles are destroyed so that they cannot get inflammed or infected.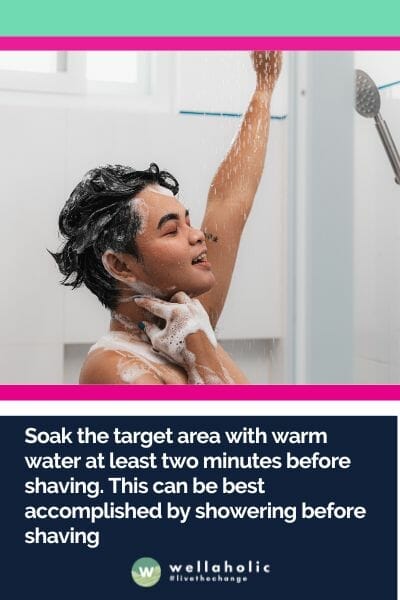 Soften stiff hairs before shaving
The most important step for the ultimate shave is preparing the hairs for shaving, especially if the hairs are thick and coarse, and will affect the quality of shaving. Soak the target area with warm water at least two minutes before shaving. This can be best accomplished by showering before shaving. Warm water causes hair to expand about 34% in volume in about two minutes and thus, makes it softer and easier to cut. The force required to cut a soften coarse hair is reduced by nearly 70%.
​Pre-cleansing helps remove dead skin cells and skin secretions, such as oil, which inhibit water penetration. By removing the build up that impedes smooth razor action, you will have prepared your skin for the closest shave possible,with almost no side effects. Lubricate your skin with a thick shaving cream that prevents evaporation of water and allows the razor to glide smoothly. ​
Try to shave along the grain
Shave with the grain, i.e. in the direction of hair growth, to reduce and limit the effects of a possible razor burn. Friction or abrasiveness on the skin during shaving is aggravated when there is an opposing force against the direction of hair growth, so it is recommended to avoid that.
Always use a sharp and clean razor blade
Use a sharp and clean razor blade with every shave. Dull blades require more pressure, which creates more abrasion with each shave and increases likelihood of damaging of the epidermal skin. Furthermore, unclean blades can introduce bacteria or microbes and trigger inflammation of the skin.
The easiest way to determine which way your hair grows is by taking your hand and rubbing it across your stubble in different directions.The direction that provides the most resistance is against the grain, while the direction that provides the least resistance is with the grain. Shaving against the grain increases your chances of developing painful, ingrown hairs.
How to effectively shave pubic hairs
Grab a hand mirror and some sharp scissors and trim your hair in the spots you want to shave first. This will keep your razor from getting all clogged up. Then, hop in the shower and clean the area with some mild soap and warm water.
​Once you've washed that area well, take a brand-new blade or a fresh-and-sharp disposable razor, apply some shaving cream, and shave downward with the hair, i.e. in the direction it's growing or along the grain (as explained earlier). Using small strokes — and holding your skin taut with the other hand—will help protect against nicks and cuts. Don't wait for your razor blade to dull before switching it out. Old blades carry bacteria and increase the risk of infection or folliculitis.
If all else fails, try a hair removal cream
Hair removal cream is probably the easiest and most pain free of all hair removal procedures. Simply apply to your given body area, wait a few minutes for it to work its magic, and then wash off for smooth, hairless skin. Apply it to your face, legs, bikini line or wherever you like, or maybe even your chest or back?
So, no matter what body area or hair type you have, we have the best hair removal creams which can be used for all. Whilst being the easiest hair removal method on the pain scale, hair removal creams are also great as they reduce your chances of getting ingrown hairs compared to shaving as there's no sharp utensils or cutting of hair and so the cream simply melts away your hairs at the root, without drying your skin either. These creams can cause irritation or allergic reactions, so patch test any new product on part of your body first before going all in.
Conclusion
There you go! We hope that our lengthy guide on self-shaving will help you achieve a nice, smooth shave before your SHR hair removal treatment with us at Wellaholic. Or if you prefer us to help with your shaving needs, do consider our WellaSmooth™ Ultimate Hair Removal Regime which includes unlimited shaving for all body parts, SHR hair removal for all body parts and post-treatment whitening or hydration with our AfterGlow red light treatment.
WellaSmooth All-inclusive Hair Removal by Wellaholic
WellaSmooth™ All-Inclusive Hair Removal is designed for an all-inclusive fuss-free full-body permanent hair removal experience with a 5-star rating. WellaSmooth™ All-Inclusive Hair Removal includes all-that-you-require shaving service, followed by SHR Unlimited Prestige hair removal which includes unlimited SHR shots for the entire body (including Brazilian/Boyzilian). Also included is our Skin Whitening / Hydrating post-treatment therapy (PTT) followed by our AfterGlow Red Light therapy.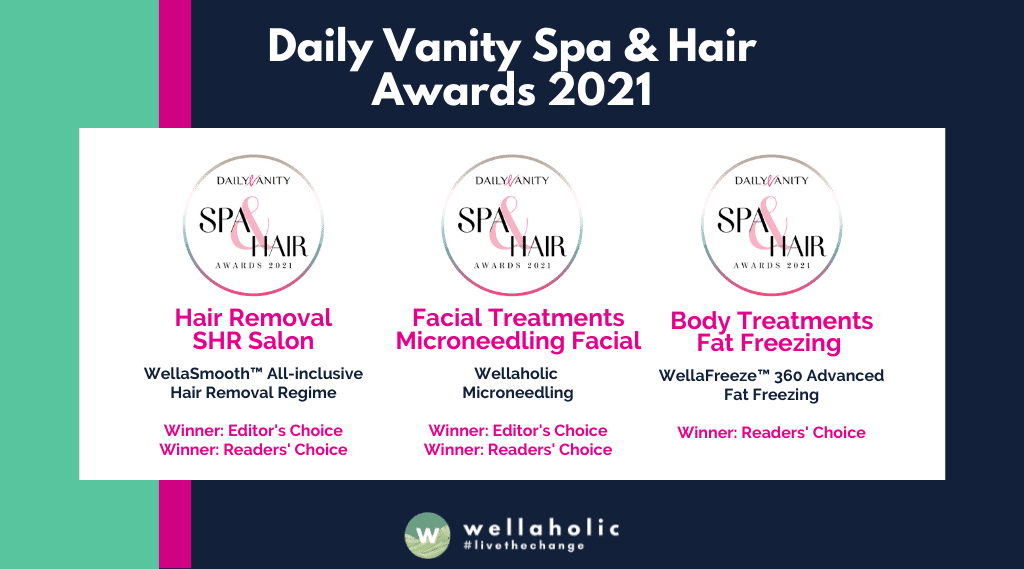 What is WellaSmooth™ All-inclusive Hair Removal Regime?
Voted Best Hair Removal Treatment by Daily Vanity Spa and Beauty Awards 2021.
WellaSmooth™ All-Inclusive Hair Removal is designed for an all-inclusive fuss-free full-body permanent hair reduction experience.
WellaSmooth™ All-Inclusive Hair Removal is ideal for all skin color, hair color, and all forms of hair.
Also include is all-that-you-require shaving service for all body parts including your private regions.
WellaSmooth™ All-Inclusive Hair Removal also includes the Skin Whitening / Hydrating (PTT) with AfterGlow™, which includes post-hair-removal skin whitening or skin hydration followed by our AfterGlow Red Light therapy for enhanced skin rejuvenation.
Achieve smooth and glowing skin that will wow everyone.
This treatment is ideal for both men and women, by male and female therapists.
Get a package and choose your shaving, SHR permanent hair removal and post-treatment whitening and hydration done at any of our multiple outlets across Singapore.
WellaSmooth™ is your ultimate all-inclusive hair removal treatment in Singapore complete with shaving and post-treatment care.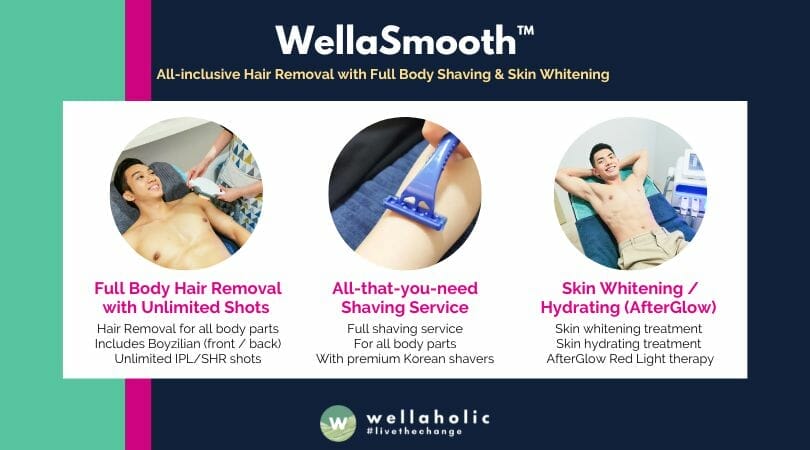 WellaSmooth™ Includes the Following Three Hair Removal Services
SHR Permanent Hair Removal PRESTIGE Unlimited – Enjoy our bestseller SHR hair reduction treatment for all body parts
Unlimited Shaving Service – Enjoy unlimited shaving service on all body parts
Skin Whitening/Hydrating (PTT) with AfterGlow – Enjoy post-treatment whitening or hydrating therapy followed by AfterGlow red-light treatment to rejuvenate your skin
See Over 1800 Positive Reviews of Wellaholic (Customer Verifiable)
Pricing of SHR Hair Removal Treatments by Wellaholic
Wellaholic believes in providing pricing transparency, and hence all prices are published and updated on its website. Choose from unlimited monthly hair removal plans (with unlimited SHR hair removal shots) for unlimited body parts, or choose from per-session hair removal price plans. Wellaholic's hair removal prices are generally divided into the following categories: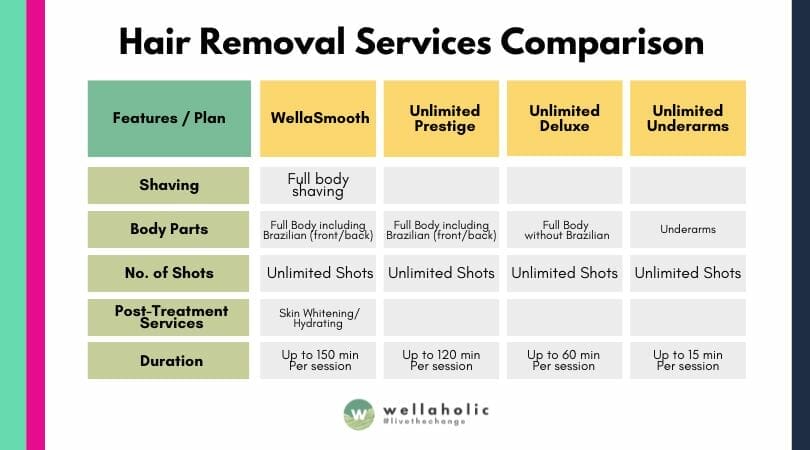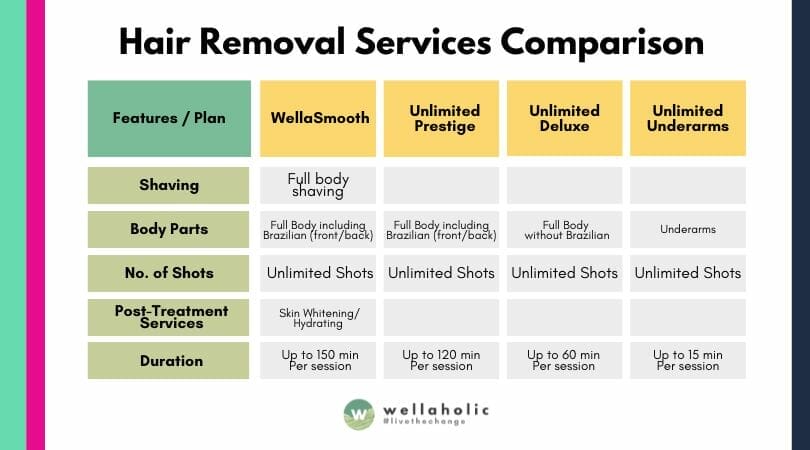 ---
---