CREATINE SUPER STRENGTH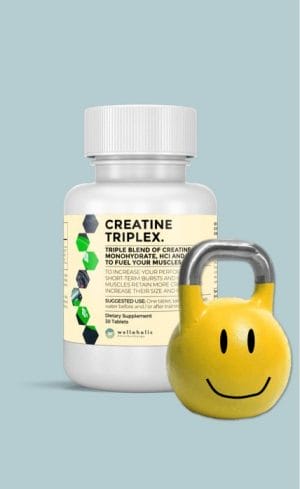 WELLAHOLIC'S CREATINE SUPER STRENGTH CONTAINS THREE FORMS OF CREATINE – CREATINE MONOHYDRATE, HCL AND CREATINE PYRUVATE TO FUEL YOUR MUSCLES AND ACHIEVE YOUR WEIGHT TRAINING OBJECTIVES. 
Studies show that it can increase muscle mass, strength and exercise performance. Additionally, it provides a number of other health benefits, such as protecting against neurological disease. Creatine is a substance that is found naturally in muscle cells. It helps your muscles produce energy during heavy lifting or high-intensity exercise. Taking creatine as a supplement is very popular among athletes and bodybuilders in order to gain muscle, enhance strength and improve exercise performance.
Suggested Use: Two tablets, taken preferably with water before and/or after training.