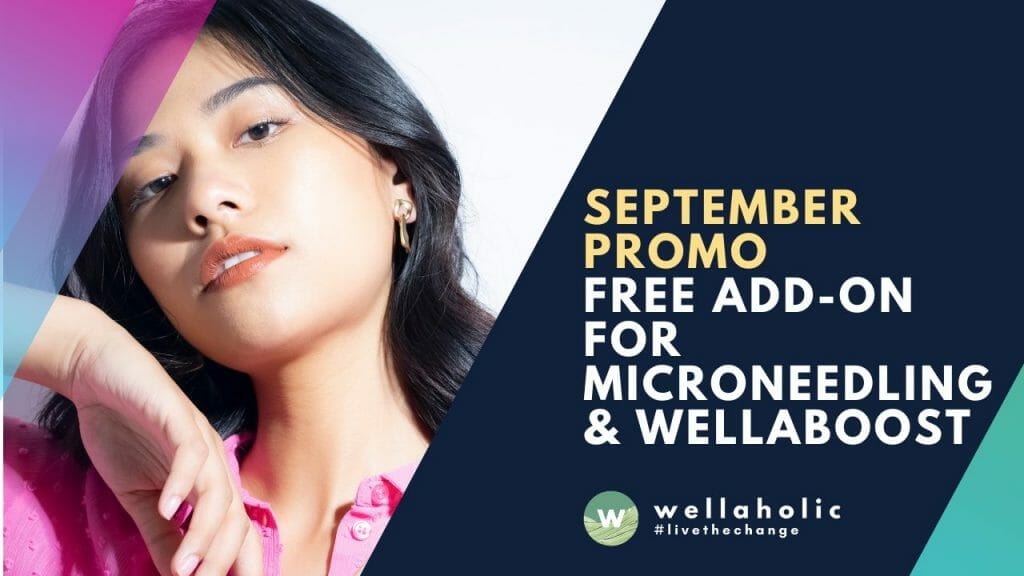 Sep Promo – Free Add-on for Microneedling and WellaBoost
Enjoy Up to $1788 Worth of Free Add-on This September
September is Facial Month for Wellaholic! From now till 30 September, purchase a 3-session, 6-session or 12-session Gold RF Microneedling, Microneedling or WellaBoost Skin Booster plan and enjoy the following attractive add-ons.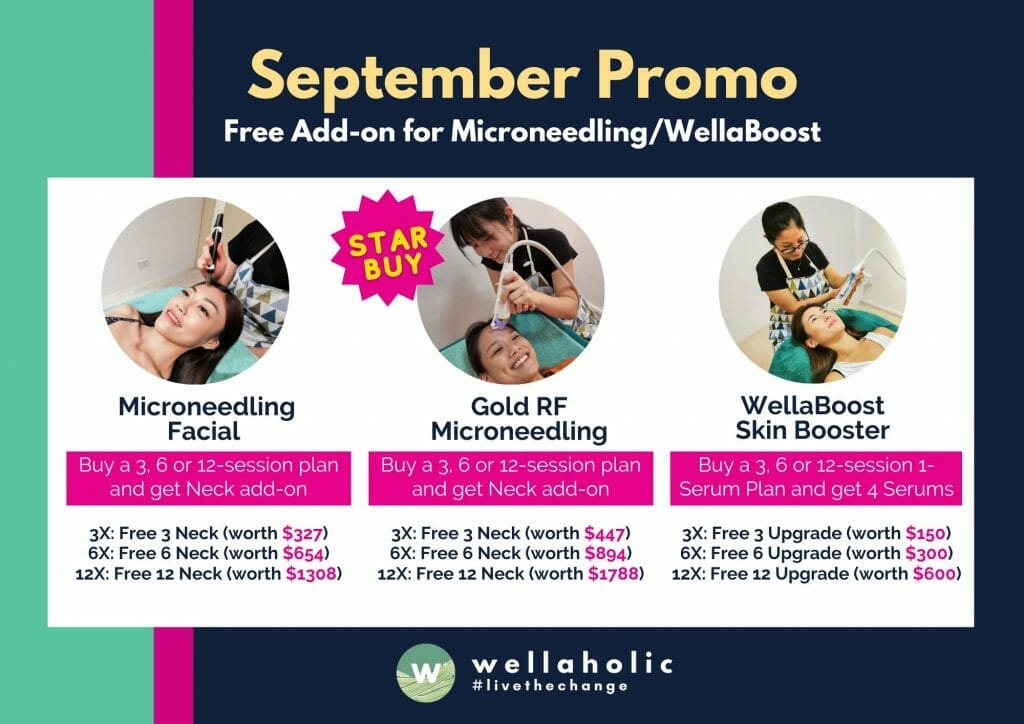 Why Microneeding for Neck?
The neck, being the most neglected area of skin on your body is prone to more damage than other areas. This is because the skin in our neck is thinner than our facial skin and can easily get dryness, deep lines, and loss of elasticity. Eventually, it leads our neck to show the advanced signs of aging, sun damage, wrinkling.
Our neck is also the first part of our face that ages first. As women age, they first notice changes like less defined jawline, or deeper lines and texture changes. In the late fifties, more significant changes like sagging, deep neck bands, and coloration changes occur.
Microneedling is one of the best ways to naturally restore damaged skin and get a healthier, younger look to the skin. It is a non-invasive procedure that involves rolling of needles over the the surface of the skin to create tiny "micro-injuries" in the epidermis. It stimulates "wound healing," or the body's natural reaction to trigger fibroblast cell growth and stimulate the production of new collagen and elastin.
So, it sparks the body's ability to heal itself naturally.
What are the Benefits of WellaBoost Skin Booster?
WellaBoost™ skin booster nourishes the skin with 4 possible serum options. Hyaluronic Acid is always used as the base serum, and customers can choose to add on one or more of the following serums:
Hyaluronic Acid: Promotes healthier, more supple skin and creates a luminous appearance.
Matrixyl: Promotes collagen and elastin production, and diminishes fine lines.
Marine Collagen: Promotes skin regeneration and heals scars.
Placenta: Promotes anti-ageing properties from stem cells.
Terms & Conditions
Promotion is valid from 26 Aug to 30 Sep 2022.
The Neck-add on sessions must be used together with the Gold RF Microneedling/Microneedling sessions.
Add-ons and Upgrades are not transferrable, not refundable and cannot be switch to other treatments.
Members cannot earn or use Cashback credits in conjunction with this promotion.
The management reserves the right to end the promotion earlier than the stated date.
---