How to get the most out of radiofrequency microneedling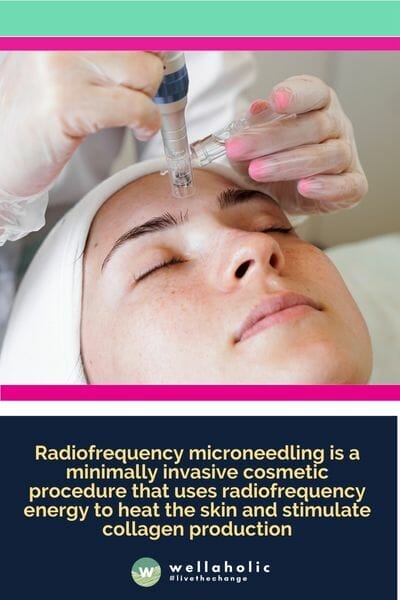 Introduction: what is radiofrequency microneedling?
Radiofrequency microneedling is a minimally invasive cosmetic procedure that uses radiofrequency energy to heat the skin and stimulate collagen production. It can be used to improve the appearance of fine lines, wrinkles, and acne scars. The treatment is typically done in a series of three to six sessions, spaced four to eight weeks apart. Radiofrequency microneedling is considered a safe and effective alternative to more invasive procedures such as laser resurfacing.
---
Benefits of radiofrequency microneedling
Radiofrequency microneedling is a minimally-invasive procedure that uses radiofrequency energy to heat the skin and stimulate collagen production. It can be used to improve the appearance of fine lines, wrinkles, and acne scars. Radiofrequency microneedling is safe for all skin types and has minimal side effects. Treatment sessions are typically short, and there is no downtime required after the procedure.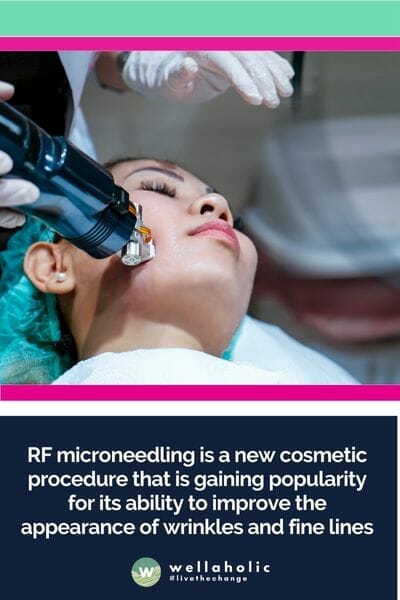 How does radiofrequency microneedling work?
Microneedling is a minimally invasive skin rejuvenation treatment that involves the use of fine needles to create tiny punctures in the skin. This triggers the body's natural healing process, which results in the production of new collagen and elastin. Radiofrequency microneedling is a variation of this treatment that uses radiofrequency energy to heat the skin and further stimulate collagen production.
---
Who can benefit from radiofrequency microneedling?
RF microneedling offers many benefits for the skin. Many of these come from the improved production of collagen created by this dual treatment.
Smoother, firmer skin
More even skin tone with decreased hyperpigmentation
Brighter, more youthful-looking skin
Smaller, tighter pores
Reduced visibility of acne scarring and other scars
Improved skin texture
Alternatively, you should avoid the treatment if you:
currently or recently used Accutane
have an active cold sore breakout
have a skin infection
have a moderate to severe skin disease (like psoriasis)
are receiving chemotherapy or radiation therapy
are pregnant
are taking anticoagulants
have a history of keloids, hypertrophic scarring, or poor wound healing
What are the side effects of radiofrequency microneedling?
After any RF microneedling treatment, redness is a very common and normal side effect. Nevertheless, there might be certain side effects for a small percentage of the population. Possible side effects include:
dryness
redness
scaling
itching
swelling
mild acne flare-up
cold sore breakout
How to get the most out of radiofrequency microneedling
If you're thinking about getting a RF microneeding treatment, or are about to come in for a microneedling session, take a look at these additional steps you can take before your visit and when you get home to maximize your results:
Exfoliate Before Microneedling – Exfoliate several days before microneedling. Exfoliating several times in the weeks leading up to skin needling will improve your results by shedding the dead skin from the surface.
Avoid the Sun – Microneedling makes your skin more sensitive to sun damage. Constantly apply sunscreen during the first two weeks after having a treatment, especially during the hours when the sun's rays are most intense. Limit your exposure as much as possible to prevent discoloration, dryness, and other side effects of ultraviolet radiation.
Hydration is key – Keep your skin well hydrated and nourished following microneedling. After you've had skin needling, it's the perfect time to add in extra hydration and use topical anti-aging products, since they will be absorbed more effectively. Many patients like to use serums containing hyaluronic acid, antioxidants, and sheet masks on the same day that they've had this treatment.
Wash your hands before touching your face – Reduce your risk of infections by washing your hands before you touch your face and applying antibiotic creams if your dermatologist prescribes them.
Avoid activities which make your sweat – Your skin needs time to heal, so be gentle with it. You'll want avoid activities that cause you to sweat and open your pores. Protect your skin during the first 72 hours by avoiding swimming pools, saunas, and heavy workouts at the gym.
Gold RF Microneedling Facial by Wellaholic
Gold RF Microneedling is a revolutionary skin treatment that delivers dramatic anti-ageing results by combining fractional radiofrequency (RF) with microneedling to effectively treat acne, acne scar, pigmentation, stretch marks & enlarged pores. Gold RF Microneedling can also lift saggy skin and revitalise dull and uneven skin tone.
What is Gold RF Microneedling Facial Treatment?
If you are looking for an effective method to clear your acne scars, wrinkles or pigmentation, or if you are looking to tighten saggy skin such as jowl lines and nasolabial folds without any invasive surgery, then Gold RF Microneedling is the right treatment for you. Gold RF Microneedling combines two scientifically-proven techniques, microneedling and fractional radiofrequency (RF) to treat a variety of skin conditions.
Gold RF Microneedling uses up to 64 needles to penetrate the skin, releasing RF energy to trigger collagen and elastin production for the ultimate anti-ageing treatment for a clearer complexion and firmer skin.
Gold RF Microneedling is a safe, minimally invasive, and extremely effective aesthetic treatment for treating acne scars, pigmentation, fine lines and wrinkles.
Gold RF Microneedling has the ability to stimulate the growth of collagen and elastin using the combination of Microneedling with Radiofrequency, which is the key to new, youthful-looking skin.
Gold RF Microneedling has a dermatological treatment has seen extensive positive clinical results. This is an improvement over just doing a Microneedling or Radiofrequency treatment on its own.
Gold RF Microneedling combines radiofrequency with microneedling to stimulate tissue remodelling, thereby triggering the production of collagen.
What are the Benefits of Gold RF Microneedling Facial?
Gold RF Microneedling has all the skin resurfacing benefits of traditional microneedling, but with the added technology of insulated needles that deliver RF energy to the skin, creating new microchannels linking your skin's layers.
Gold RF Microneedling create tiny wounds in your skin to prompt your body to replace old skin cells with healthy new ones, the RF energy heats deep layers of your dermis to encourage collagen growth and tissue tightening, leading to visibly healthier skin that continues to improve over the following months.
Gold RF Microneedling leads to faster cell turnover and quicker results than traditional microneedling.
Gold RF Microneedling has a shorter recovery time as compared to traditional microneedling, laser resurfacing treatments and chemical peels. There is also less risk of hyperpigmentation.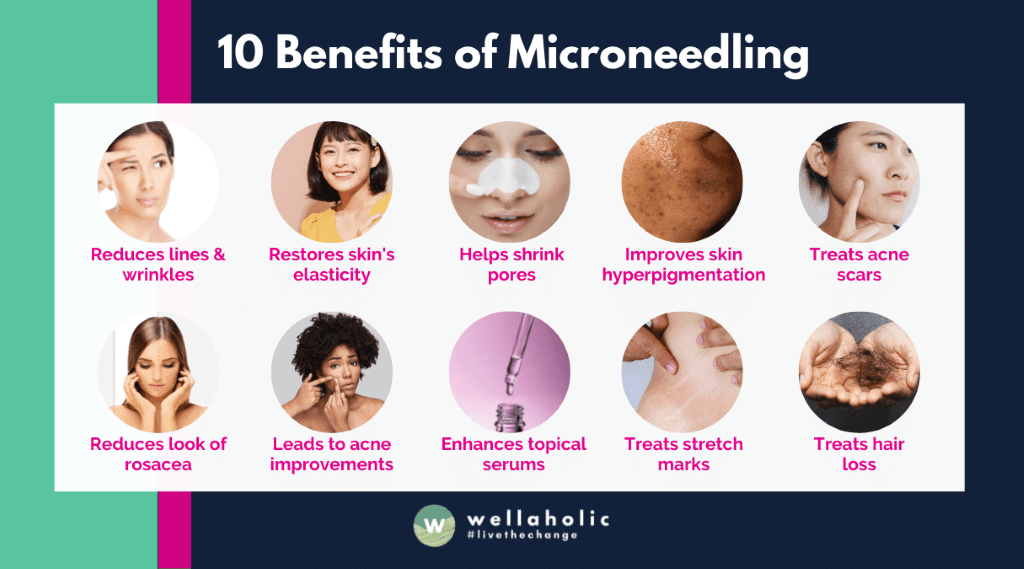 See Over 1800 Positive Reviews of Wellaholic (Customer Verifiable)
Pricing of Facial Treatments by Wellaholic
Wellaholic believes in providing pricing transparency, and hence all our prices are published and updated on its website. Choose from a single-session plan or choose a multi-session plan for greater discounts. Wellaholic's facial treatments are generally divided into the following categories: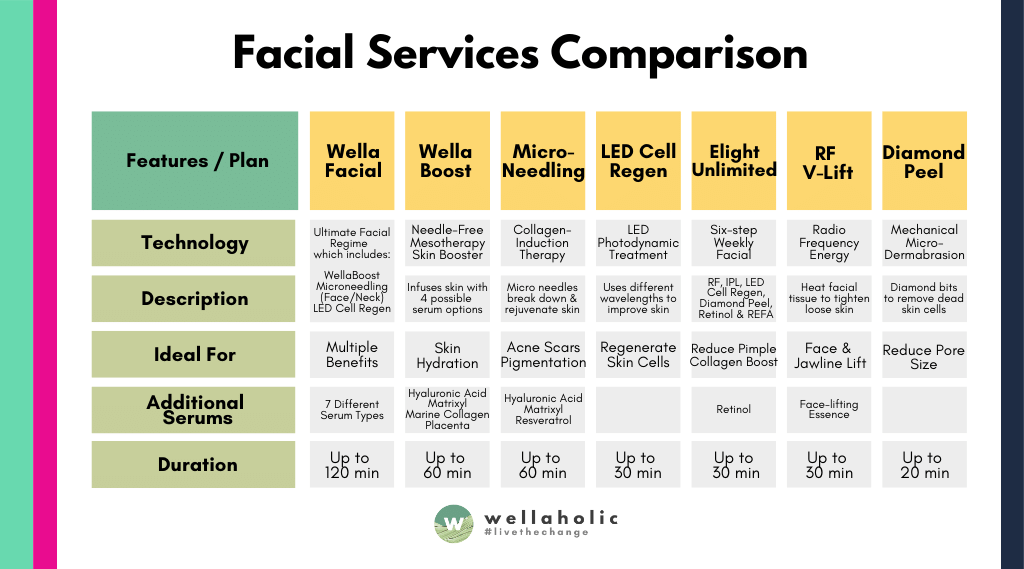 Please click on the menu below to see the pricing for the various facial treatments by Wellaholic. Wellaholic is well-known in the industry for our transparent pricing and no hard selling. In fact, Wellaholic is well-known for not only our transparent and cheap pricing but also without any hidden costs. All prices are nett and inclusive of GST, and are actual prices (i.e. not trial prices).
---
---