Is Fat Freezing Effective for Fat Loss?
Does fat freeze really work?
Well, that depends on what you mean by "work." Will it help to sculpt your body and replace a healthy diet and regular exercise? Definitely not. Will it make you lose weight? Nope, it does not work like that either. What it will do, however, is reduce small amounts of fat in the most stubborn areas.
It does actually work, and there's good science and results from research case studies behind it. If you reduce the temperature of fat to a certain degree, cells go into what's called apoptosis (fat cell death), which means they kill themselves and your body digests its by-products. The magic of it is you're cooling down the skin to a temperature where it hurts the fat, but it doesn't hurt the skin, and that's why it works so well as an effective fat reduction treatment.
CoolSculpting and other forms of cryolipolysis have a high success rate. They are effective for removing areas of fat from the body, and have fewer side effects than other procedures, such as liposuction. Though this procedure can remove areas of fat, it is not a miracle cure, and people should not expect to see a complete removal of fat. The procedure will not work for everybody, and some people may experience worse side effects than others.
Who is a good candidate for fat freezing?
Cryolipolysis or fat freezing appears to be a safe and effective treatment for fat loss for almost everyone without the downtime of liposuction or surgery. But it is important to note that cryolipolysis is intended for fat loss, not weight loss. The ideal candidate is already close to their ideal body weight, but has stubborn, pinchable areas of fat (also known as subcutaneous fat) that are difficult to get rid of with diet and exercise alone. Cryolipolysis also doesn't target visceral fat, so it won't improve your overall health. But it may help you fit into your favourite pair of skinny jeans.
What's the run down on body fats?
Let's start with the basics. Not all fat is created equal. We have two distinct types of fat in our bodies: subcutaneous fat (the kind that may roll over the waistband of your pants) and visceral fat (the stuff that lines your organs and is associated with diabetes and heart disease). A recent study showed that the body's ability to remove subcutaneous fat decreases with age, which means we are fighting an uphill battle with each birthday we celebrate.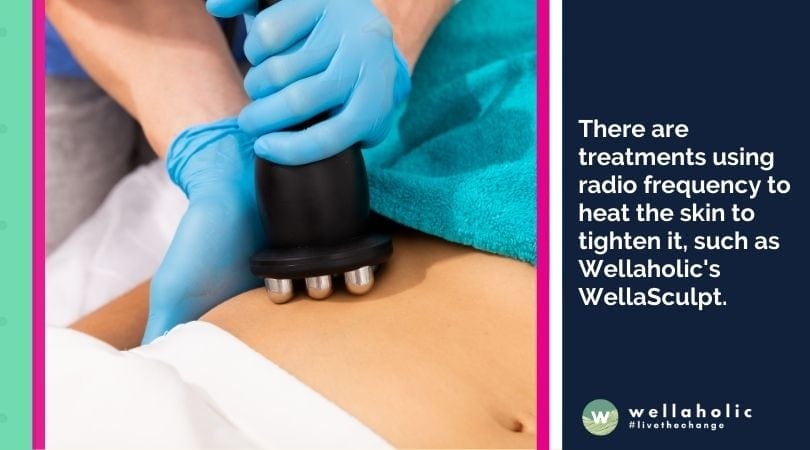 Does fat freezing tighten loose skin?
Well, kind of, but not really. While there is a natural contraction that occurs when you remove fat with any treatment, there's nothing specific about the CoolSculpting technology that causes skin tightening . There are treatments using radio frequency to heat the skin to tighten it, such as Wellaholic's WellaSculpt. But CoolSculpting does not have that. Lifestyle and other factors may also play a role. A person who continues to eat an unhealthful diet and remains sedentary while undergoing CoolSculpting can expect less fat reduction.
How is the cryolipolysis procedure like?
Cryolipolysis isn't surgery and doesn't use needles. The device holds the part of your body your doctor wants to target between two paddles. The paddles cool quickly and your doctor leaves them in place for about 35 minutes to 1 hour and 15 minutes. During that time, the process destroys about 20%-25% of the fat cells in the area that's targeted.
At Wellaholic, we offer the traditional fat freezing machines with probes that contain two paddles. We also have our revolutionary WellaFreeze 360, which is the top-range, best-performing cryolipolysis machine. WellaFreeze 360 increase absolute fat removal by up to 19% more (in addition to the usual 14% to 28% fat reduction from each session). Also painless and no downtime; the body will naturally dispose dead fat cells. What's special about WellaFreeze 360 is that up to 4 probes or applicators can be used concurrently at one session (as short as 30 minutes due to its efficiency and effectiveness) hence saving both time and money for the patient.
How many treatments does it take to see results?
It often takes a few treatments to get to your optimum results. A single treatment will yield very minimal change, sometimes imperceptible to clients. One of the downsides of [CoolSculpting] is there's a range for any one person. All hope is not lost, however, because both experts agree that the more treatments you have, the more results you will see. What will happen eventually is an up to 25 percent fat reduction in a treatment area. At best you get mild fat reduction a slightly improved waistline, less bulging of any particular area that's concerning.
---
WellaFreeze 360 Advanced Fat Freeze by Wellaholic
WellaFreeze 360 uses the latest fat freeze technology and is designed for customers who are looking to fat freeze 4 body parts at once. Similar to Clatuu 360 or CoolSculpting 360, our WellaFreeze 360 cryolipolysis device is equipped with 4 probes or applicators for concurrent usage. Further more, the latest innovation in our fat freeze 360 probes increases the coverage area – meaning that you can freeze a larger surface area per probe.
What is WellaFreeze™ 360 Advanced Fat Freezing?
WellaFreeze™ 360 Fat Freezing is the latest innovation in fat freezing. It uses a newer device over the traditional WellaFreeze cryo machine. 
WellaFreeze™ 360 Fat Freezing helps target the stubborn fat and cellulite areas of your body that do not react well to exercise and dieting.
Fat cells are "dissolved" by non-surgical means and controlled cooling at sub-zero temperatures.
WellaFreeze™ 360 Fat Freezing with its newer technology can increase in absolute fat removal by up to 19%, in addition to the 14% to 28% fat reduction from each session.
In addition, customer can treat 4 body parts at one time with WellaFreeze™ 360 Fat Freezing.
Each session is also reduced from 60 minutes to only 30 minutes, due to the increase freezing ability.
WellaSmooth™ is your ultimate all-inclusive hair removal treatment in Singapore complete with shaving and post-treatment care.
WellaFreeze™ Fat Freezing Can be Done for the Following Body Parts
Stomach / Belly / Tummy / Abdomen
Love Handles / Flanks
Under the Neck / Double Chin
Back / Bra Area
Thighs
Male Chest (Pseudogynecomastia)
Arms
Under Buttocks (Banana Roll)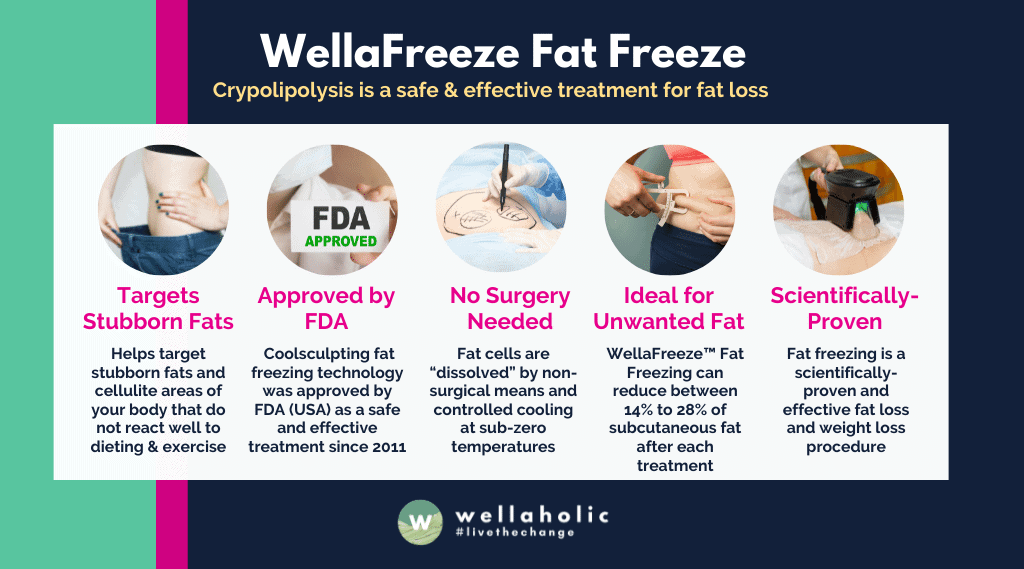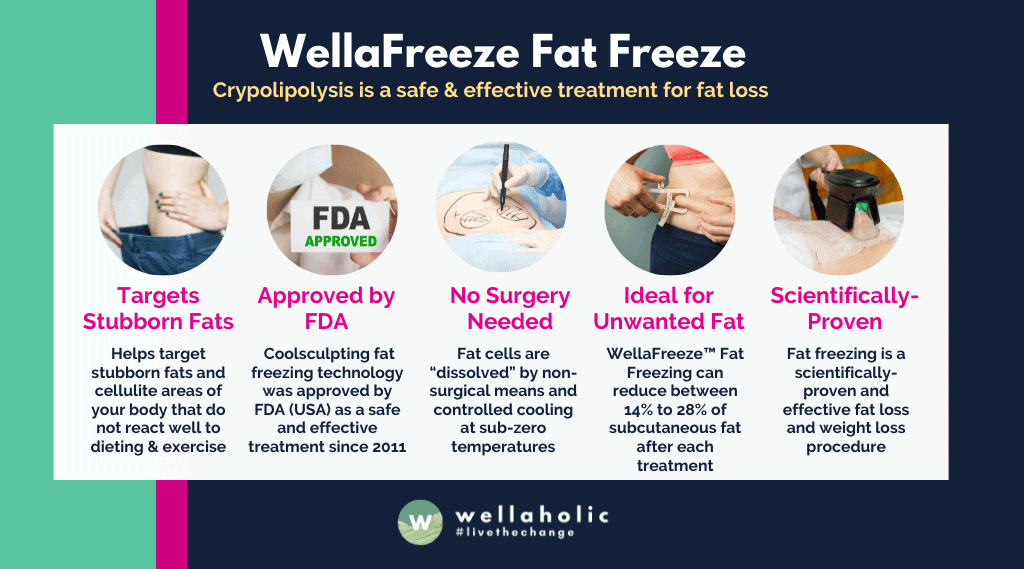 See Over 1800 Positive Reviews of Wellaholic (Customer Verifiable)
Pricing of Slimming Treatments by Wellaholic
Wellaholic believes in providing pricing transparency, and hence all prices are published and updated on its website. Choose from a single-session plan or choose a multi-session plan for greater discounts. Wellaholic's slimming treatmentes are generally divided into the following categories: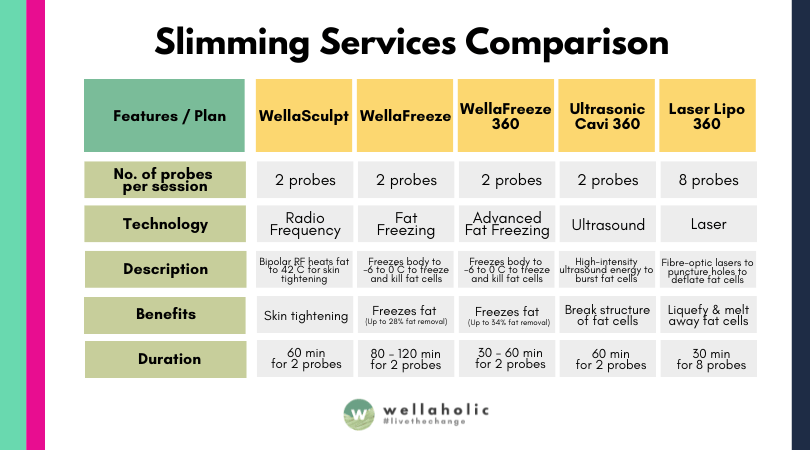 Please click on the menu below to see the pricing for the various slimming treatments by Wellaholic. Prices are nett and inclusive of GST.
---
---

​