How to Achieve the Best Results with WellaFreeze fat Freeze Cryolipolysis
How can I maximise my fat freeze or Coolsculping results?
A common question that we get from our WellaFreeze Fat Freeze Cryolipolysis Singapore customers is, "What results will I get from WellaFreeze? How can I maximise my results from the treatments?" In this in-depth article, we are going to provide some guidelines and tips on how to optimise your results from your fat freezing treatments.
What is WellaFreeze Fat Freeze?
WellaFreeze Fat Freeze Cryolipolysis is an effective, non-surgical treatment for the reduction of body fat. You could achieve a visible reduction of the pocket or bulge of fat following a fat freeze or fat freezing treatment.
Everyone is different and results can vary depending on:
How your body naturally responds to the treatment
The original size of the fat pocket
Your lifestyle habits following the treatment
​During the slimming treatment in Singapore, the fat cells are frozen, causing the cells to crystalise and then die. Your body naturally removes the dead cells through its normal elimination process via the lymphatic system. We always recommend you allow about 4 to 8 weeks after WellaFreeze Fat Freeze Cryolipolysis to see your results; results can continue to improve for up to 12 weeks following your treatment. However, we have some clients who start to see results appearing from as early as 3 or 4 weeks. It is important to be patient as the body needs time to purge the frozen cells away. Each treatment time ranges between 30 minutes to 60 minutes.
Wellaholic provides the cheapest Coolscupting or Fat Freezing in Singapore, with transparent pricing. You can check out our fat freeze or fat freezing prices via this link. ​
The most helpful way to maximise WellaFreeze Fat Freeze results
Here are the recommended tips gleaned from 33 Board-certified doctors and qualified medical professionals:
​Have a thorough consultation with careful evaluation of the "fat pouches". This is so that the appropriate size, number and orientation of the probe is designed to specifically "sculpt" your body. WellaFreeze is not a "one size fits all" process, but more of an art form where experience and good eye for body shaping can improve results. [Andrea Willey, MD]
A vigorous massage for five minutes immediately after treatment likely increases the amount of fat that disappears.
Maintain a healthy aftercare post treatment (you can read more details about this below).
Note that the average patient requires at least 6 cycles to see good results, hence committing to a disciplined plan is key. [Mike Majmundar, MD]
You may want to try to use compression garments to help augment the fat freeze process. [Peter D. Geldner, MD]
Stay hydrated as it helps to flush out the dead fat cells. [Brian S. Glatt, MD, FACS]
Wearing a compression garment helps with the sculpting process, as is also seen with liposuction and abdominoplasty procedures. [Lillian Schapiro, MD]
Once treated with Coolsculpting the fat treated and the reduction is permanent. There is nothing additional that needs to be done in order maximize results. [Michelle Ellern, DO]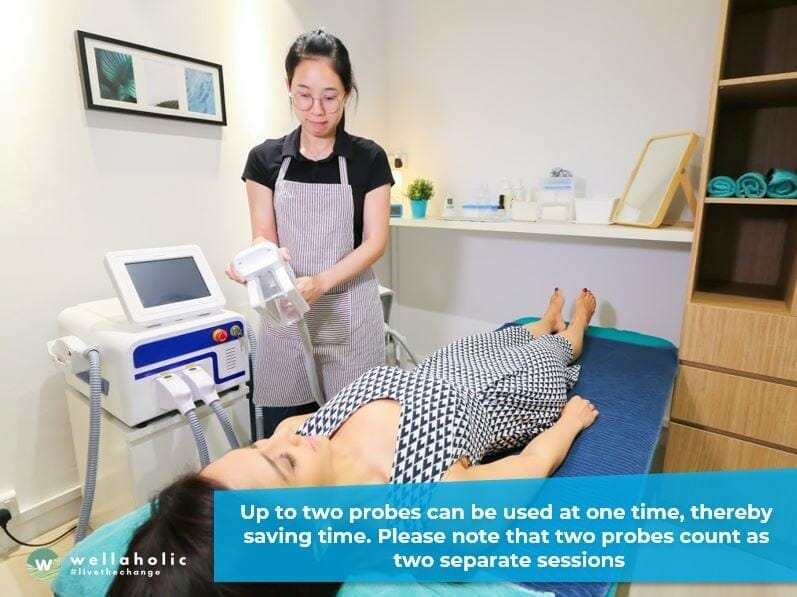 Post-treatment Care
​Post-Treatment Care – Highly Recommended
Maintain your weight
Eat a healthy diet
Drink at least 2.5 litres of water / fluid to support your lymphatic system
Reduce your intake of caffeine to no more than 2 cups a day
Reduce your alcohol intake to 1 or 2 drinks per week
Be active
Physical activity or exercise is beneficial on all levels for overall health and weight management. Regular exercise also supports your lymphatic system as the pumping action of your muscles created during movement and activity supports the lymphatic circulation. After each treatment session at Wellaholic, our consultants will also help to massage the area for a few minutes to improve blood circulation. There is no downtime or recovery time needed and your can go on with your daily activities.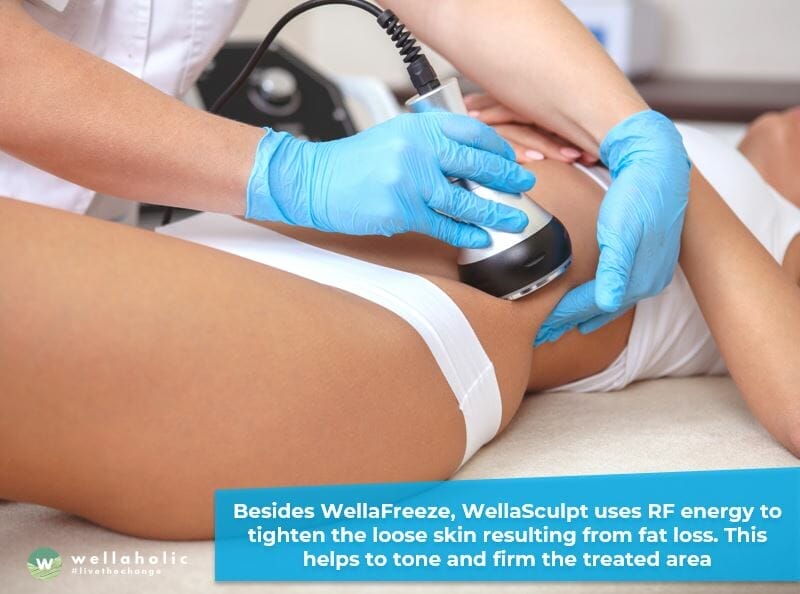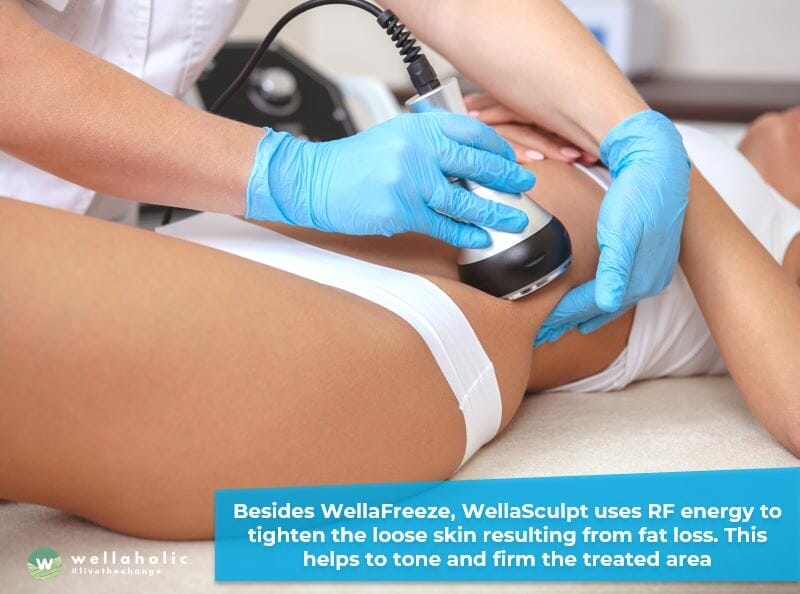 Whilst Cryolipolysis treatments do destroy fat cells, they do not remove all the fat cells in the treated area. Therefore any weight gained between your treatment and your follow-up consultation/treatment might negatively affect your results.
After 4 weeks, a further treatment is required to achieve a greater reduction of fat. The same area can be treated multiple times if required but care would be taken so that the area was not over treated.
The ideal candidate for cryolipolysis fat reduction procedure has a BMI of 30 or below, who has stubborn areas of soft subcutaneous fat that does not respond to diet and exercise. That said, fat freezing does work on clients with higher BMI's but with the understanding that multiple treatments on the same area will be required to achieve the desired results. Cryolipolysis is not a substitute for a healthy diet and regular exercise. For our larger clients we often incorporate a combination of our weight loss programme alongside a bespoke treatment programme.
More about WellaFreeze Fat Freeze
​Want to find out more about WellaFreeze?
Wellaholic's WellaFreeze™ or Fat Freeze Cryolipolysis helps target the stubborn fat areas of your body that do not react well to exercise and dieting by using intense cold. This non-invasive treatment helps customers in Singapore who have unwanted fat in targeted areas. Some key facts about our treatments:
WellaShape is our Signature Ultimate Body Contouring treatment incorporating our WellaFreeze Fat Freeze and our WellaSculpt Body Firming using radio waves. WellaFreeze uses fat freeze to reduce fat while WellaSculpt helps tighten the areas treated via WellaFreeze and tighten the loose skin (from the loss of fat cells).
WellaFreeze is backed by science. In clinical studies, cryolipolysis was shown to reduce subcutaneous fat at the treatment site by up to 25% after one treatment. Improvements were seen in 86% of treated subjects. At 73%, the patient satisfaction rate is higher than with other technologies used for non-invasive lipolysis.
For WellaSculpt, by using advanced radio frequency technology, heat is delivered to the skin accelerating the production of collagen and elastin with an immediate lifting and tightening for a healthier looking skin. Radio Frequency heats the skin to over 40 degrees which stimulate new collagen, growth and brings blood surface to the surface of the skin, plumping the skin for instant results.
Live Chat us if you are keen to find out more about our body contouring treatments, or book an appointment here.
---