What are the Best Aesthetic Treatments In Your 40s
What are the Best Aesthetic Treatments In Your 40s?
Are you in your forties and still searching for the most effective aesthetic treatments for your skin care? We take those concerns and lay out all of the essential details in this guide for Singaporeans. They say that your forties are the new thirties, so while some of these remedies may work for your estimates, on the issue you're worried over your skin, it is not quite so simple. Among crow's feet, smile lines, and sagging skin, these are the concerns most men and women in their 40s face.
Your skin undergoes a considerable amount of changes over the course of your 4th decade of life. This is when you start to see a decrease in skin firmness, wrinkles, sun damage, and sagging skin. To minimize the negative impacts these developments have on your skin, it's essential to take preventive and proactive action.
Why do you need aesthetic treatments in your 40s?
Throughout your 40th decade, various signs of aging start to show. These signs of aging are noticed beginning in your late 30s and may intensify later in life if it's not taken care of. You facial cell creation and skin renewal are subject to decline into your forties. This can bring about an increase in aged spots, discoloration, or even an uneven skin tone. One of the principal changes in your appearance is the presentation of your skin. With time it will get drier and more brittle, decreasing its toughness.
Finally, years of sun exposure can lead to a need for aesthetic treatments in your forties. In the sun's 80% of visibility, your skin might suffer from wrinkles, sagging skin, and pigmentation. These changes to your skin may seem frightening and irreversible, but one good thing is that there are easily accessible age-control treatments in your forties.
Facials to treat acne scars and pigmentation
Active breakouts are frustrating enough, but the scars acne can leave behind can feel downright diabolical. The good news is that acne scars can be treated. Get information here on the different types of scars. Atrophic scars are most common on the face . A depressed scar sits below the surrounding skin. They're formed when not enough collagen is made while the wound is healing. Some people find that acne scars are an unwanted reminder of a painful and bothersome condition. However, acne scars do not have to be permanent, as some home remedies and medical treatments can help get rid of them.
In some cases, a doctor or dermatologist may suggest a chemical peel or microdermabrasion to help improve the appearance of scarred areas. These milder treatments can be done right in the office. For serious scarring from previous bouts with acne, several types of treatment can help: Laser resurfacing.
Safe, minimally invasive, and effective as an aesthetic treatment, Microneedling is ideal for several different dermatologic conditions including acne and other scars. With minimal or no downtime, research case studies with microneedling treatments have seen extensive positive clinical results. Microneedling is a valuable alternative to more invasive procedures such as laser skin resurfacing and deep chemical peeling. A 2015 study of microneedling's effect on atrophic acne scars revealed that patients experienced noticeable clinical improvement in the look of their post-acne scarring after three months of microneedling treatments.
Facials for Face-lifting
The most effective energies for this purpose are ultrasound and radiofrequency (RF). The best non-surgical facelift device using ultrasound is Ultherapy. There are many device options for RF treatments. The most effective RF devices deliver energy internally using a small probe placed under the skin.
Wellaholic offers RF V-lift or radiofrequency v-lifting. Radio Frequency (RF) V-Lift uses RF energy to heat tissue and stimulate sub-dermal collagen production. In order to reduce the appearance of fine lines and loose skin. This face lifting technique induces tissue re-modelling and production of new collagen and elastin. The process provides an alternative to facelift and other cosmetic surgeries.
Focused radio frequency energy heats the collagen fibres in the skin, causing them to contract. Resulting in immediate skin tightening. The overall texture of the face would be smoothened in the process, giving long-term firmness. For long-term lifting and tightening benefits, start the RF V-Lift treatment for at least 8 sessions, spaced two weeks apart.
Facials for treating wrinkles and fine lines
Anti-aging facials use products and techniques designed to slow the aging process, brighten skin and reduce wrinkles. If you long for a more youthful complexion, select from a variety of anti-aging facial treatments ranging from vitamin-infused serums to light therapy and collagen facials. If you're not ready to commit to the cost and recovery time associated with a heavy-duty laser, you can still find other, gentler alternatives. Low-level lasers can improve the look of fine lines, even out your skin tone and minimize the appearance of pores.
WellaBoost™ by Wellaholic is a non-invasive facial skin booster. Combines two different technologies. Infuses the skin with 4 different types of facial serums. Helps to promote the increased hydration, collagen production, skin regeneration and healing, leading to healthier and more supple skin. WellaBoost™ skin booster nourishes the skin with 4 possible serum options. Hyaluronic Acid is always used as the base serum, and customers can choose to add on one or more of the following serums: hyaluronic acid, Matrixyl, Marine Collagen and Placenta serum.
Facials to treat pimples, zits, spots and acne?
Those with minor acne or pimple breakouts may find that a facial works wonders when used alongside suitable skin care products. Those with moderate to severe acne at least 30 lesions in total may want to avoid facials or team them with something stronger like prescription medication.
Mild inflammatory acne , characterized by localized areas of redness and swelling, can usually be successfully treated by an acne facial. So, if you have a few pimples or only break out occasionally, an acne facial may be right for you. During a facial treatment, the esthetician will manually release pore blockages and comedones in a process called comedonal extractions . Although your aesthetician won't be able to remove every pesky blackhead and whitehead during the first visit, enough should be done to give you an immediate improvement in the look and feel of your skin.
Do acne facials work? Unfortunately, there's no clear-cut answer. Most importantly, know that you won't clear your skin with just one treatment. As with any acne treatment medications and procedures , getting results from facials takes time and typically requires a series of acne facials. Typically, facials are scheduled once a week to once every other week. But you can't rely on facials alone to get your skin clear. To keep the benefits going, you'll need to be consistent with your acne treatment and skincare routine at home during your "off days." The skill of the facial consultant performing your anti-acne facial treatment also plays a huge role in the improvement you see. If your goal is to improve blemishes, you'll get the best results from a therapist who specializes in treating problem skin. Don't be afraid to ask the aesthetician about their experience with treating acne.
Conclusion
In conclusion, there are many great aesthetic treatments available for those in their 40s. Treatment options can help to reduce the appearance of wrinkles, fine lines, and age spots. Treatment options can also help to improve skin texture and complexion. If you are looking for ways to improve the appearance of your skin, consult with a dermatologist to find the best treatment options for you.
---
Pricing of Facial Treatments by Wellaholic
Wellaholic believes in providing pricing transparency, and hence all our prices are published and updated on its website. Choose from a single-session plan or choose a multi-session plan for greater discounts. Wellaholic's facial treatments are generally divided into the following categories: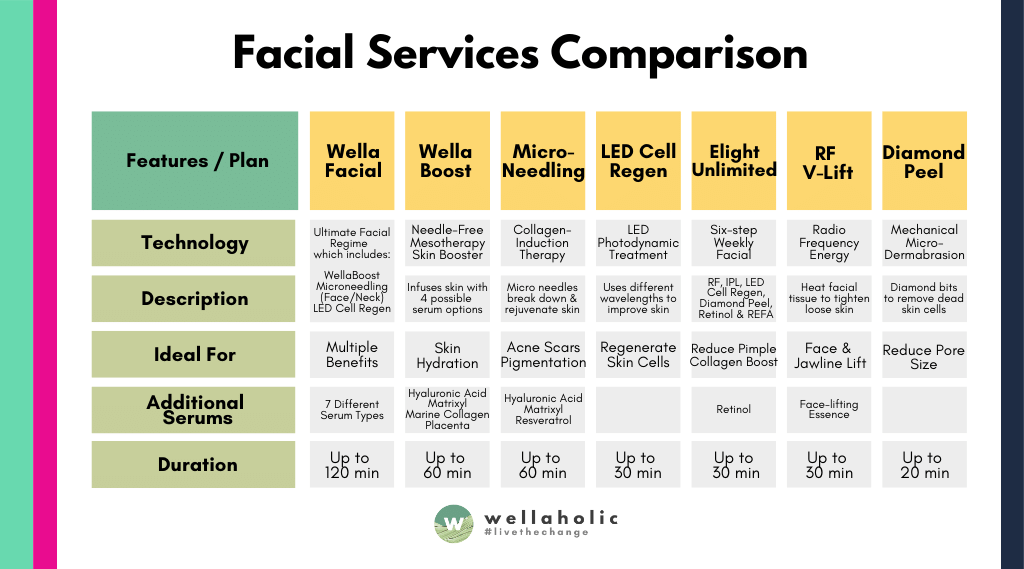 Please click on the menu below to see the pricing for the various facial treatments by Wellaholic. Wellaholic is well-known in the industry for our transparent pricing and no hard selling. In fact, Wellaholic is well-known for not only our transparent and cheap pricing but also without any hidden costs. All prices are nett and inclusive of GST, and are actual prices (i.e. not trial prices).