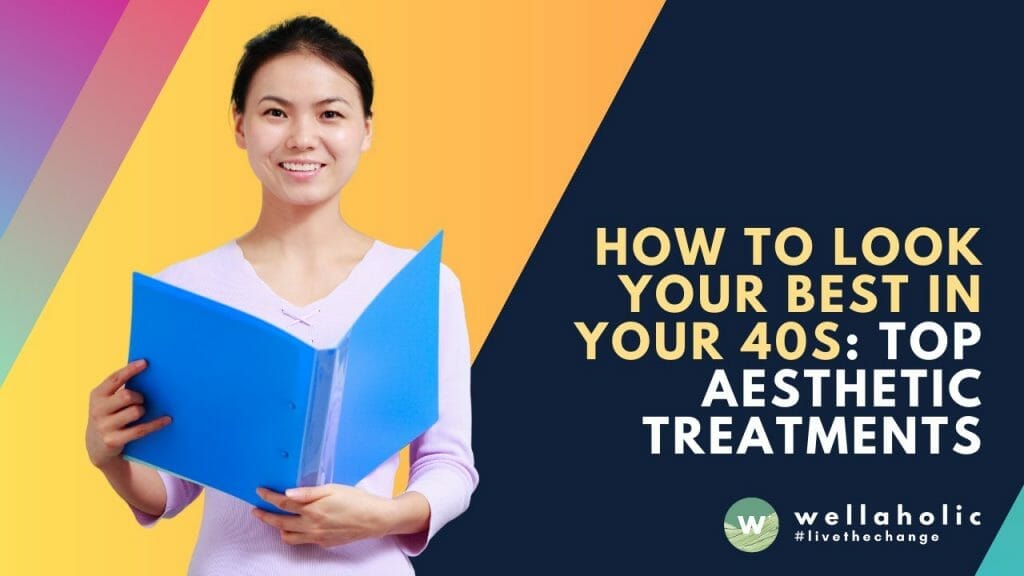 How to Look Your Best in Your 40s: Top Aesthetic Treatments
TL:DR Summary
Laser Love: Rejuvenate skin and stimulate collagen with laser treatments.
Ultherapy Uplift: Non-surgical ultrasound treatments to lift and tighten facial skin.
Filler Fabulous: Restore volume to cheeks and lips with injectable fillers.
Botox Bliss: Smooth out expression lines around eyes and forehead effortlessly.
WellaFacial Wonders: A luxurious skincare experience offering three customized treatments.
Why Wait?: Signs of aging intensify in your 40s—act now for a youthful glow.
Why do I need aesthetic treatments in my 40s?
Throughout your 40th decade, various signs of aging start to show. These signs of aging are noticed beginning in your late 30s and may intensify later in life if it's not taken care of. You facial cell creation and skin renewal are subject to decline into your forties. This can bring about an increase in aged spots, discoloration, or even an uneven skin tone.
One of the principal changes in your appearance is the presentation of your skin. With time it will get drier and more brittle, decreasing its toughness. During your fourth decade of life, you may observe several indications of getting older. These signs typically become noticeable in your late thirties and can become more pronounced if not properly addressed as you age.
The production of cells in your facial skin and its ability to renew itself may decline in your forties. This can result in the appearance of more aged spots, uneven skin tone, or discoloration. One of the key transformations in your physical appearance is the condition of your skin. Over time, it tends to become drier and more fragile, which reduces its resilience.
Gender Differences: Women tend to get facials more frequently than men. According to a survey by Wellaholic, 52% of spa-goers are women, and facials are one of the most popular treatments among female clients.
Here's a table that shows the different age brackets, their skin concerns and possible remedies:
Age Bracket
Skin Concerns
Possible Remedies
20s
– Acne
– Blackheads
– Oily skin
– Uneven skin tone
– Consistent cleansing
– Exfoliating
– Oil-free moisturizers
– Acne-fighting ingredients such as salicylic acid or benzoyl peroxide
30s
– Fine lines
– Wrinkles
– Uneven skin tone
– Sun damage
– Retinoids
– Vitamin C serums
– Chemical peels
– Sunscreen
40s
– Deeper wrinkles
– Age spots,
– Dryness
– Dullness
– Hydrating moisturizers
– Peptides
– Antioxidants
– Glycolic acid peels
– Laser & microneedling treatments
50s
– Sagging skin
– Loss of elasticity
– Age spots
– Dryness
– Growth factors
– Collagen-boosting treatments
– Facial massages
– Dermal fillers
60s+
– Thinning skin
– Fragility
– Deep wrinkles
– Age spots
– Gentle cleansers
– Thick moisturizers
– Gentle chemical exfoliants
– Collagen supplements
– Non-invasive skin-tightening treatments
Various Age Brackets, Skin Concerns and Possible Skincare Remedies
It's important to note that these are general guidelines and that everyone's skin is different. However, understanding the typical skin concerns associated with each age bracket can help guide skincare routines and treatment options. Regular consultations with a skincare professional can also provide personalized recommendations for maintaining healthy and youthful-looking skin at any age.
"Age gracefully and enjoy the beauty of life; aesthetic treatments in your 40s can help you look and feel your best!"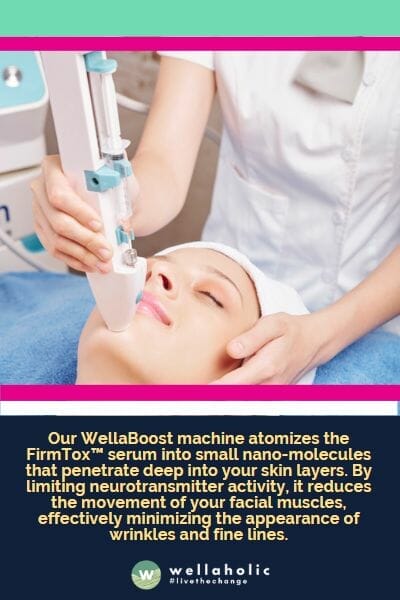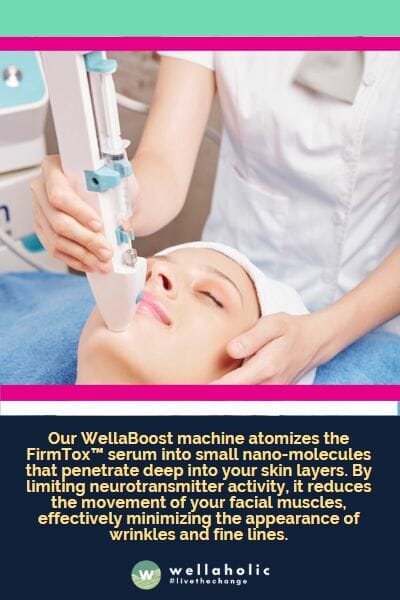 What are the best facial treatments for people in their 40s?
When it comes to facial treatments for people in their 40s, there are several options to address specific concerns such as skin texture, anti-wrinkle, and skin pigmentation. Singapore is known for its advanced aesthetic treatments and offers a wide range of services to tackle these issues. One of the top treatments for improving skin texture is microdermabrasion, which exfoliates the skin and reduces the appearance of fine lines and roughness.
To combat wrinkles, popular options include Botox injections and dermal fillers. For skin pigmentation, laser treatments, such as intense pulsed light therapy, can help to even out skin tone and reduce the appearance of pigmented spots. Prior to undergoing any treatment, it is recommended to have a thorough skin analysis done to determine the most suitable treatment plan for individual needs. Overall, by seeking professional advice and selecting the right treatments, individuals in their 40s can significantly improve their skin's appearance and maintain a youthful glow. 
Ageing in your 20s, 30s, 40s and beyond: Skin and hair health concerns and how to treat them
As we age, our skin and hair health concerns change. In our 20s, the top layer of our skin remains smooth and hydrated, with minimal signs of aging. However, as we enter our 30s, fine lines and wrinkles begin to appear, and our skin may lose its natural moisture. To maintain smooth skin and prevent premature aging, it is essential to focus on hydration. Incorporating hydrating serums and moisturizers into our skincare routine can help restore moisture and keep the skin plump and supple.
In our 40s and beyond, skin elasticity decreases, and age spots and sagging may become more noticeable. Aesthetic treatments in Singapore such as laser resurfacing or chemical peels can address these concerns by stimulating collagen production and improving skin tone and texture. Additionally, regular trims and deep conditioning treatments are crucial for maintaining healthy hair as we age. Overall, staying consistent with a good skincare and hair care routine can help mitigate the effects of aging and keep our skin and hair looking their best. 
How can I get flawless skin at 40?
As we age, maintaining flawless skin can become more challenging, but it is definitely possible to achieve even at 40. One key factor to focus on is improving skin texture. Regular exfoliation can help remove dead skin cells and promote cell turnover, resulting in smoother and more vibrant skin. Additionally, incorporating a skincare routine with products that contain collagen and hyaluronic acid can help improve elasticity and hydration.
Aesthetic treatments for women can also be beneficial, such as chemical peels, laser resurfacing, or microdermabrasion, which can target specific skin concerns and enhance overall skin appearance. If you are in Singapore, you are in luck, as there are numerous skincare clinics offering the best facials in Singapore. These facials are customized to address individual skin needs and can provide deep cleansing, hydration, and brightening effects, leaving you with a youthful and radiant complexion. 
How can I maintain the results of my aesthetic treatments?
To maintain the results of aesthetic treatments, it is recommended to follow a consistent skincare routine that promotes a youthful appearance. This includes using gentle cleansers, exfoliating regularly, and applying moisturizers and serums that hydrate the skin. Drinking plenty of water is also essential to maintain a smooth and supple complexion. For aging skin, anti-aging creams containing ingredients like retinol or hyaluronic acid can be beneficial, as well as procedures like dermal fillers or micro-needling. By following these tips, individuals can sustain the positive results of their aesthetic treatments and enjoy a youthful complexion.
Conclusion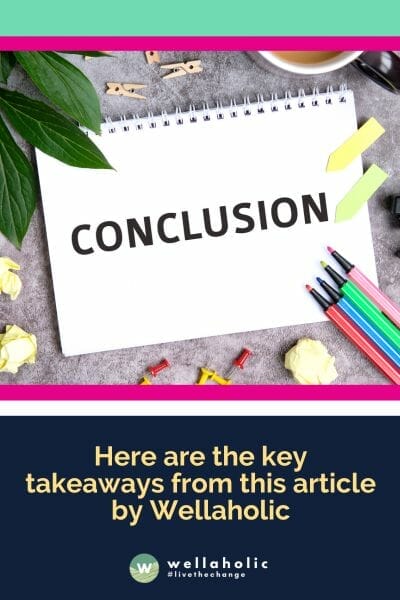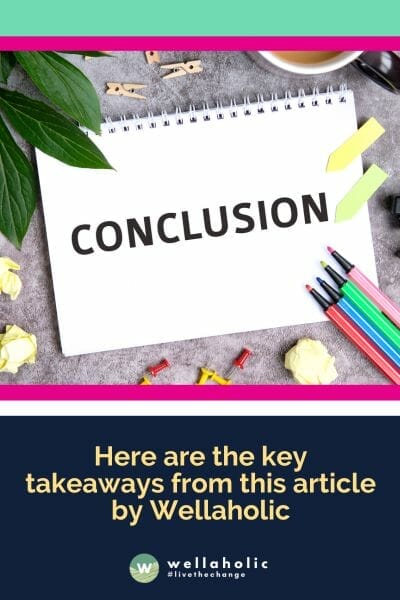 Looking your best in your 40s requires a different approach compared to your younger years. By the time you reach your 40s, your skin has been exposed to the sun, pollution, and other environmental factors for decades. This can lead to fine lines, wrinkles, and a loss of volume, all of which can make you look older than you feel. A well-planned aesthetic treatment strategy can work wonders in rejuvenating your appearance.
In your 40s, you may want to consider treatments like Botox or fillers for tackling fine lines and wrinkles. Botox works by paralyzing the underlying muscles, preventing them from contracting and forming wrinkles. Fillers, on the other hand, add volume to sagging skin and can be used to plump up areas like the lips and cheeks. Skin rejuvenation therapies like microdermabrasion or chemical peels can also be highly effective. These treatments remove the top layer of dead skin, revealing a fresher, younger-looking complexion underneath. For more targeted solutions, laser treatments can address issues like age spots and hyperpigmentation.
As far as body sculpting is concerned, treatments like CoolSculpting or radiofrequency treatments can help remove stubborn fat deposits and tighten loose skin. Don't overlook the power of nutritional supplements either; quality supplements can nourish your skin from within, making it easier for topical treatments to do their job effectively.
Frequently Asked Questions (FAQ)
What are some common aesthetic treatments for individuals in their 40s?

Some popular aesthetic treatments for individuals in their 40s include laser treatments for skin rejuvenation, injectables like Botox and fillers, chemical peels, and anti-aging facials. Each of these treatments address common skin concerns that arise in your 40s, like fine lines, wrinkles, uneven skin tone, and loss of volume.
How can I maintain the results of my aesthetic treatments?

Maintaining the results of your aesthetic treatments involves a combination of regular touch-ups, a good skincare routine, a healthy lifestyle, and adequate sun protection. It's best to discuss with your aesthetician or doctor about the maintenance plan that suits your specific needs.
Are aesthetic treatments enough to make me look my best in my 40s?

Aesthetic treatments can greatly help in enhancing your appearance, but to truly look your best in your 40s, it's also important to maintain a healthy lifestyle. Regular exercise, a balanced diet, and sufficient rest can contribute greatly to your overall well-being and appearance.
Are aesthetic treatments safe for people in their 40s?

Most aesthetic treatments are safe for individuals in their 40s. However, the safety and efficacy of the treatment depend on the individual's health status, the expertise of the professional performing the treatment, and the quality of the products or devices used. Always consult a trusted professional before undergoing any aesthetic treatment.
How do I choose the right aesthetic treatments for me?

Choosing the right aesthetic treatment involves understanding your skin concerns, discussing your goals with a professional, and considering your lifestyle and budget. A qualified aesthetician or dermatologist can guide you in selecting the most suitable treatments for your needs.
What is the recovery period for these aesthetic treatments?

The recovery period for aesthetic treatments varies depending on the treatment. Non-invasive treatments usually have little to no downtime, while more invasive procedures may require a recovery period. Always consult with your aesthetician or doctor to understand the expected downtime.
Gold RF Microneedling Facial by Wellaholic
Gold RF Microneedling is an innovative skincare procedure that produces impressive outcomes in reducing signs of aging. This method combines fractional radiofrequency (RF) with microneedling to effectively address concerns such as acne, acne scars, pigmentation issues, stretch marks, and enlarged pores. Additionally, Gold RF Microneedling has the ability to uplift sagging skin and rejuvenate a lackluster complexion with uneven skin tone.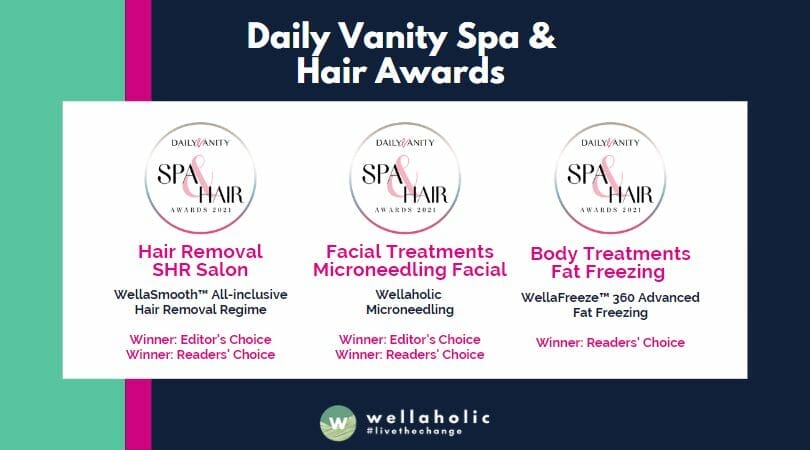 What is Gold RF Microneedling Facial Treatment?
If you are in search of an efficient way to eliminate your acne scars, wrinkles or skin discoloration, or if you desire to firm up loose skin like jowl lines and nasolabial folds without resorting to surgery, then the ideal solution for you is Gold RF Microneedling. Gold RF Microneedling merges two validated methods, microneedling and fractional radiofrequency (RF), to address a range of skin conditions.
⭐ Uses Up to 64 Micro Needles. Gold RF Microneedling: Ultimate anti-aging treatment with 64 needles to penetrate the skin, release RF energy, and trigger collagen and elastin production for a clearer complexion and firmer skin
⭐ Safe and Minimally Invasive. Gold RF Microneedling is a safe, minimally invasive.
⭐ Effectively Treats Acne Scars, Pigmentation & Wrinkles. Extremely effective aesthetic treatment for treating acne scars, pigmentation, fine lines and wrinkles.
⭐ Stimulates Collagen Growth. Gold RF Microneedling stimulates collagen and elastin for new, youthful-looking skin.
⭐ Positive Clinical Results. Gold RF Microneedling is clinically proven to be more effective than microneedling or radiofrequency alone.
What are the Benefits of Gold RF Microneedling Facial?
Gold RF Microneedling has all the skin resurfacing benefits of traditional microneedling, but with the added technology of insulated needles that deliver RF energy to the skin, creating new microchannels linking your skin's layers.
⭐ Create Tiny Wounds to Replace Skin Cells. Gold RF Microneedling create tiny wounds in your skin to prompt your body to replace old skin cells with healthy new ones.
⭐ RF Encourages Collagen Growth. RF energy heats deep layers of your dermis to encourage collagen growth and tissue tightening, leading to visibly healthier skin that continues to improve over the following months.
⭐ Faster Cell Turnover. Gold RF Microneedling leads to faster cell turnover and quicker results than traditional microneedling.
⭐ Shorter Recovery Time. Gold RF Microneedling has a shorter recovery time as compared to traditional microneedling, laser resurfacing treatments and chemical peels. There is also less risk of hyperpigmentation.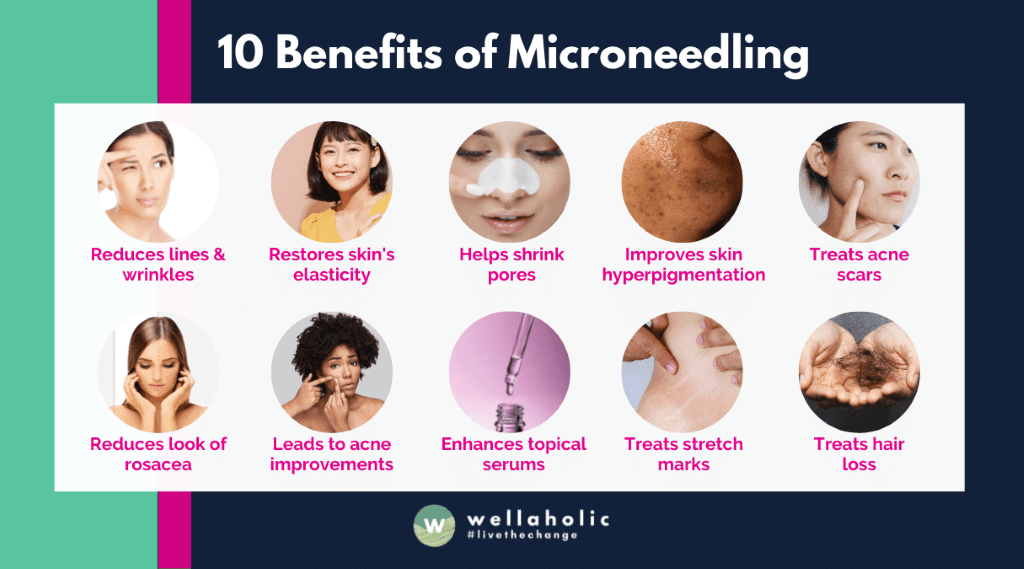 Pricing of Facial Treatments by Wellaholic
💎 Price Transparency. Wellaholic offers pricing transparency by publishing and updating all prices on our website.
💎 Flexible Per-Session or Unlimited Plans. Customers can choose from unlimited monthly facial plans for added cost savings, or per-session plans.
💎 Mix and Match Easily. Wellaholic's facial plan prices are divided into different categories for easy selection.
💎 No Price Shocks. Customers can expect to pay only for the treatments provided instead of being surprised by additional fees or charges at the end of their facial session.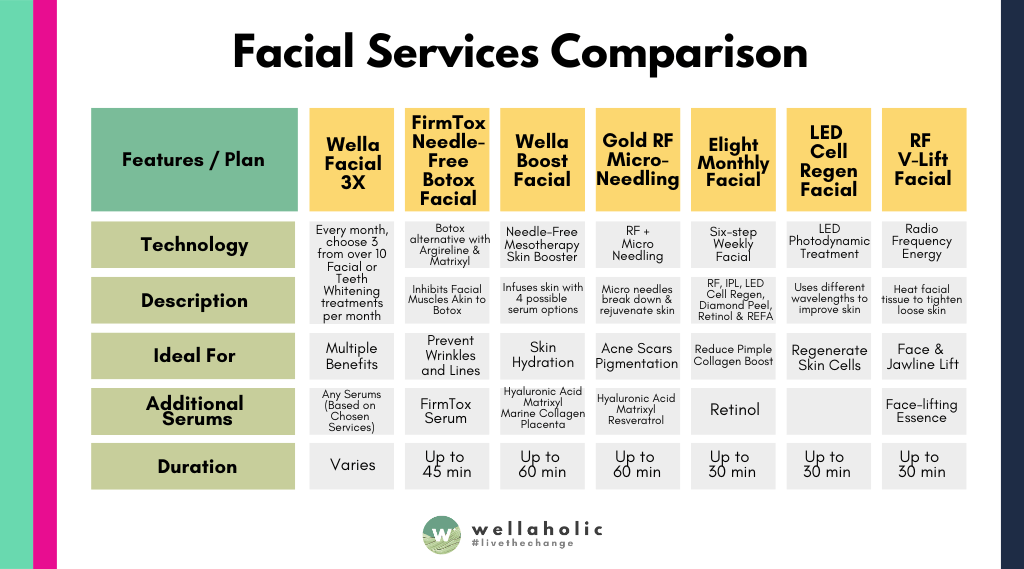 GET IN TOUCH
Book Now Pay Later
Why Wellaholic is One of the Best Facial Providers in Singapore?
✅ Leading Facial Aesthetic Chain in Singapore. Wellaholic is a leading facial and aesthetic chain in Singapore that is highly sought after by customers.
✅ Quality & Safe Treatments. Wellaholic is committed to providing quality and safe treatments with experienced staff.
✅ Wide Range of Facial Treatments. Wellaholic offers a wide range of facial treatments for various skin concerns, and using different technologies such as microneedling, RF, Elight, IPL and mesotherapy.
✅ Trained & Experienced Consultants. All treatments are performed by trained professionals who understand the skincare needs of both female and male customers.
✅ Advanced Facial Technology. Advanced facial technology is used to ensure a safe experience with no downtime or discomfort during the entire process.
✅ Most Affordable Provider. Wellaholic provides competitive pricing for its treatments which makes it one of the most affordable providers in Singapore.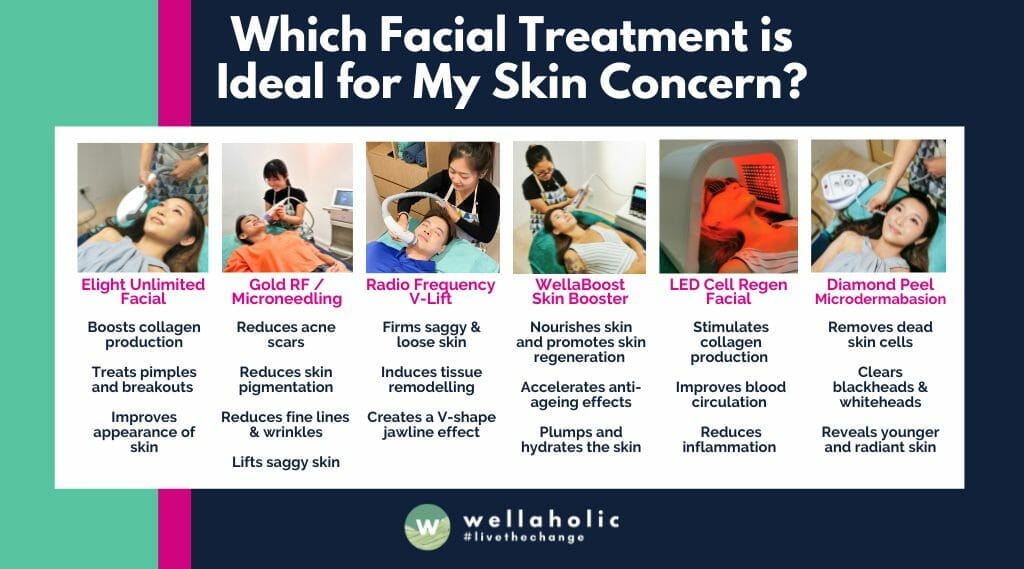 Reason 1: Wellaholic Offers Comprehensive Facial Services and Expertise
Wellaholic offers many types of facial services for your facial and skin needs. Our facials can be broken down into the following categories:
✅ WellaFacial™ 3X Ultimate Facial Plan
✅ FirmTox™ Needle-Free Botox Alternative Facial
✅ WellaBoost™ Skin Booster
✅ Gold RF Microneedling / Microneedling
✅ LED Cell Regen Facial
✅ Elight Monthly Facial
✅ RF V-Lift Facial
✅ Diamond Peel Facial
Reason 2: Wellaholic Has Over 50 Awards and 2000 Genuine Customer Reviews
✅ Over 50 Awards. Wellaholic's WellaSmooth and SHR Hair Removal have been recognized by top beauty publications such as Daily Vanity, Beauty Insider, and Tropika Club Magazine, earning prestigious awards from 2018 to 2023.
✅ Over 2000 Verified Customer Reviews. Wellaholic has over 2000 verified positive reviews from our customers in Singapore and beyond.
✅ Verifiable Reviews. The reviews are verified and positive, which indicates the high level of customer satisfaction (see reviews below).
✅ Over 50% Repeat Customers. More than 50% of Wellaholic's customers are repeat and recurring customers.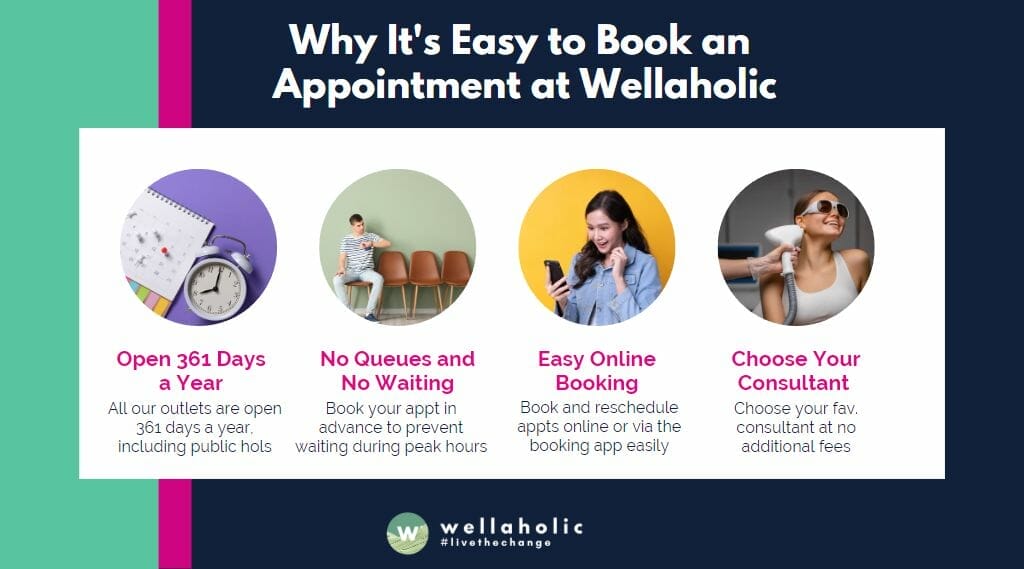 Reason 3: It's Easy to Book an Appointment at Wellaholic
✅ Open 361 Days Per Year. Wellaholic's 8 outlets are open 361 days a year, including public holidays, so that customers can easily book an appointment.
✅ No Queues. All appointments are booked in advanced to prevent the need to queue and wait unnecessarily during peak hours.
✅ Easy Online Booking. Customers can conveniently book and reschedule appointments online or via the booking app.
✅ No Extra Cost for Choosing Consultant. Customers can select their preferred consultant without having to pay any additional fees.