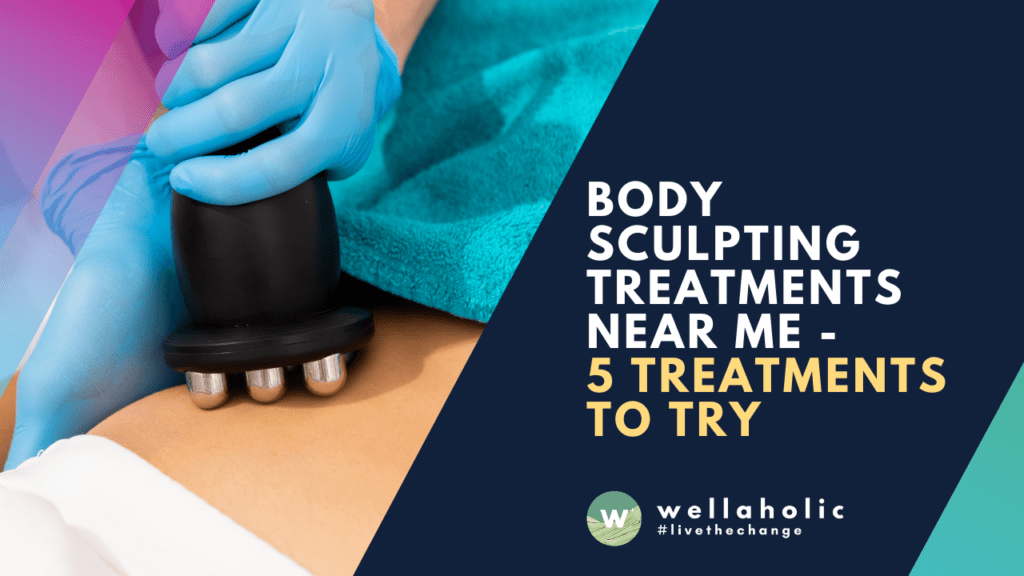 Body Sculpting Treatments Near Me – 5 Treatments to Try
---
What is Body Sculpting?
Body sculpting is a controlled fat reduction and body contouring procedure. It's a non-surgical treatment that safely removes stubborn fat deposits from the body. Body sculpting is the process of destroying fat cells with extreme temperatures, sonic vibrations, or acid injections in order to help the body flush them out of pesky areas. There are many methods to body sculpting, using a range of different innovative technologies, with the aim to help patients eliminate cellulite and create a desired sculpted body contour as part of your slimming treatment as well as weight loss treatment. Read about 5 great slimming technologies that can effectively help reduce cellulite without much effort.
---
How is Body Sculpting Done?
Depending on your personal body contouring or body sculpting objectives and preferences, there are typically five different types of body contouring treatments which you can choose from. While you may get similar results with each type, these methods can look and feel vastly different. Once you understand the specifics of each procedure, you can choose your body sculpting treatments with confidence.
The most common forms of body contouring or body sculpting include the following:
Cryolipolysis or Fat Freezing
Radio frequency body sculpting
Ultrasound fat reduction
Laser lipo treatment
Deoxycholic acid injections
---
1. Cryolipolysis or Fat Freezing
Cryolipolysis, commonly referred to by the brand name CoolSculpting, and also known by many as fat freeze or fat freezing, destroys fat cells and cellulite by using low temperatures to freeze them. The sub-zero temperatures at which fat freezes is low enough that it won't cause any harm or impact to the skin, making it an ideal option for body contouring in areas that have been typically resistant with dieting and exercise.
Fat freezing is performed via a fat freezing machine that sucks up the targeted portions of your body. This is typically ideal for areas such as the belly, thighs, butt, or other areas where there are higher levels of fat or cellulite. The cryolipolysis device then cools these areas to the proper temperature, leaving the destroyed fat cells in a frozen-like state. While typical fat freeze treatment such as WellaFreeze has been found to effectively reduce body fat and cellulite in targeted areas by 20-25%, or newer technologies such as WellaFreeze 360 can reduce body fat by 27% to 34%, results are not instant. This is because it takes time for dead fat cells to be removed from the body and for significant weight loss to be noticeable. Cryolipolysis is one of the best slimming treatments available in the market at the moment.
---
2. Radio frequency body sculpting
On the opposite end of the thermometer, body contouring or sculpting can also be achieved through heat. WellaSculpt can help solve issues with skin laxity, loose skin or saggy skin resulting from successful fat freezing treatments. The treatment has also an anti-ageing effect through tissue remodelling by producing new collagen as well as elastin via advanced radio frequency heating of the layers of the skin.
The consultant will use a RF probe and make gentle rolling motions around the treated area to heat the subdermal areas. The RF energy as part of the body sculpting will heat the tissue, which induces tissue remodeling and production of new collagen and elastin. A 2017 study found that 24 of the 25 people who underwent 5 to 8 sessions of RF therapy sessions saw an improvement in their body shape. This pain-free procedure reduces cellulite, boosts collagen production and gets rid of fatty deposits that fail to go with exercise.
---
3. Ultrasound fat reduction
Ultrasound fat reduction is able to effectively break down fat cells using highly focused sonic waves or ultrasound energy which helps your body metabolize the fat and cellulite and reduce unwanted fat pockets through ultrasonic vibrations. This form of body contouring is rubbed across your abdomen, or other parts of your targeted body parts.
Wellaholic's Ultrasonic Cavi 360 uses ultrasound fat cavitation to break apart the fat deposits in your body. Also known as ultrasonic lipolysis, this body contouring treatment is also known by other names such as Ultrashape or Liponix. Ultrasonic Cavi 360 is a much safer alternative to surgical options, such as liposuction. This cavitation treatment is most ideal for targeting small areas of fat and pockets of cellulite to help you contour and sculpt your body.
---
4. Laser lipo treatments
Laser liposuction is a minimally invasive cosmetic procedure that uses a laser to melt away fat under the skin. It's also called laser lipolysis. Lasers may also stimulate the production of collagen and elastin, which results in firmer, tighter, and smoother skin. Laser lipo can really be used to non-invasively remove excess fat cells from your body. However, it's important to note that it is most effective when you have at least an inch of pinchable fat and cellulite.
Similar to Zerona and i-Lipo, up to 8 laser plates are placed around the target areas. The low level "cold" lasers via photomodulation will induce the fat cells to release their fat contents via the lymphatic system. The fat cells will then be processed by the deoxycholic acid it the gut and removed from the body via urine. On average, each treatment session removes between 20% and 26% of localized fat cells and cellulite when large areas are being treated. When small areas are being treated, up to 80% of localized fat cells can be removed.
---
5. Deoxycholic Acid Injections
This non-invasive form of body contouring is a bit more invasive its predecessors. Deoxycholic acid is a naturally occurring bile in the body that helps break down fat and cellulite during digestion. For body sculpting purposes, this acid can be injected into targeted areas using a syringe. Because this is the only form of nonsurgical body sculpting that requires an injection, the procedure will typically be done under local anesthesia. The only FDA approved brand of deoxycholic acid injections is known as Kybella® (an Allergan product), and it is currently allowed to be administered to the area under the chin, only.
---