Wellaholic Cancellation Policy
---
Adjustment to Wellaholic's Cancel/Reschedule Policy
In early 2018, we saw a sharp increase of customers cancelling and rescheduling their appointments at the last moment, as well as customers who did not turn up for their appointments and who remained un-contactable when our staff tried calling them on their mobile. In addition, there are some customers who had took advantage of our online booking system by making multiple bookings of the same treatment type either for the same day or across a week, but with the intention of only coming for one of the bookings 'depending on their availability' (as quoted by these customers). These instances had unfortunately resulted in slots wastage, denied our regular and new customers an opportunity to book their preferred slots, and adversely impacted the overall customer experience that we at Wellaholic strive to provide.
Therefore, to ensure we are able to consistently provide excellent services to all customers, with effect from 1 May 2018, any rescheduling and/or cancellations (including 'no-shows') made less than 24 hours prior to the pre-arranged appointment's start time, will result in a shortening by 1 week of the customer's existing package's validity for Unlimited treatment plans, or by 1 session for session-based packages.
We will offer a one-time waiver for the benefit of all customers.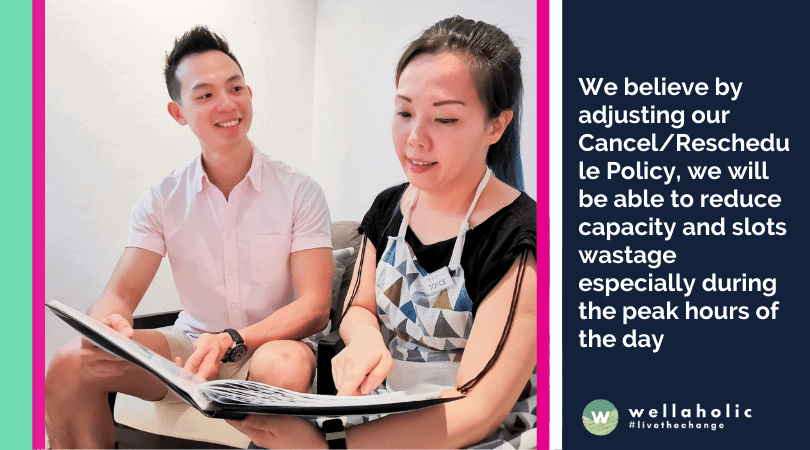 ---
How will this benefit our customers?
We believe by adjusting our Cancel/Reschedule Policy, we will be able to reduce capacity and slots wastage especially during the peak hours of the day, thereby paving the way for more customers to be able to come for their treatments at their preferred slots. We will also be able to reflect a more accurate status of our slots availability in our online booking system on a real-time basis, hence allowing customers to have more slots to choose from.

Customers are encourage to make their cancellations/rescheduling at least 24 hours before their appointments. Please also remember to arrive on time – in the event that you are late, there might be a possibility that we might attend to the customer next-in-line first, as customers who are punctual for their appointments should not be penalised and have their treatments delayed substantially.

Our online booking system will also send all customers reminder emails on their appointments. Please do check your email inboxes, including Spam/Junk mailboxes, for the email reminders.
---
Ways to Cancel or Reschedule appointments
For any changes to your bookings, please kindly:
a. Call us at our hotline +65 81811814 or at directly to our outlets during office hours
b. Email us at [email protected]
c. Reach out to us via our online chat

Please do not hesitate to reach out to us at [email protected] should you have any queries or clarifications to make.

We sincerely thank you for your deep understanding on this. We believe with your kind support, we can create more ideal slots for all our customers. Thank you!
---