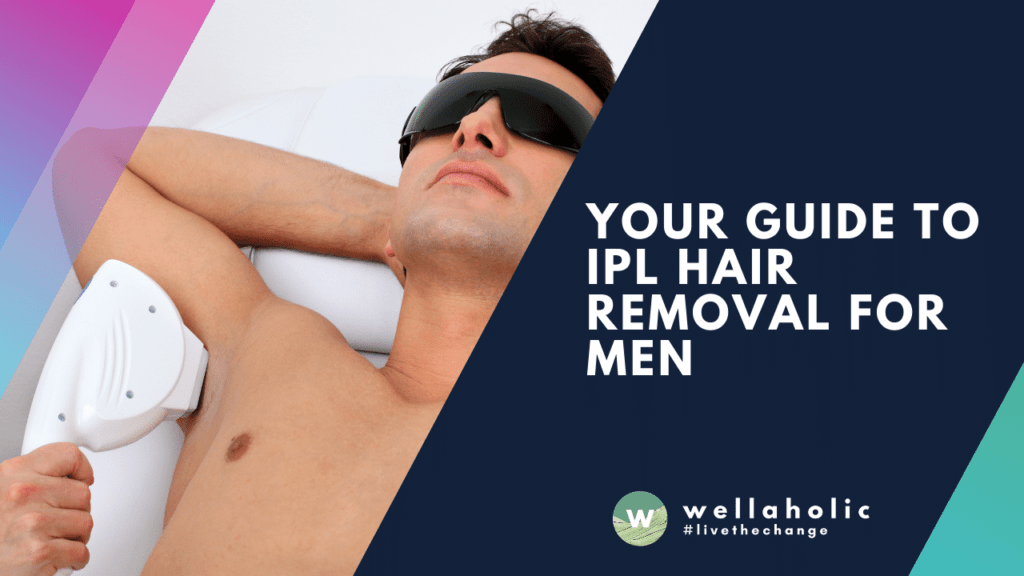 Be a Smooth Operator: A Men's Guide to IPL Hair Removal
TL:DR Summary
IPL for Men: Intense Pulsed Light (IPL) is an effective, widely used technology for permanent hair reduction in men.
Key Benefits: IPL can lead to smoother skin, improved hygiene, and enhanced muscular definition, with relatively minimal discomfort.
Safety and Efficacy: IPL hair removal is generally safe and effective, but requires multiple sessions for best results.
Area Versatility: IPL can target hair on various body parts, from facial hair to larger areas like back and chest.
Potential Side Effects: While generally safe, IPL might cause temporary redness, swelling or skin sensitivity post-treatment.
Professional Consultation: Always consult with a professional before starting IPL treatments to ensure it's suitable for your skin and hair type.
Introduction: Your Guide to IPL Hair Removal for Men
Gentlemen, are you tired of the never-ending battle against unwanted hair? Look no further than IPL hair removal, the latest innovation in the world of smooth skin. Say goodbye to those pesky razor bumps and ingrown hairs, and hello to a sleek and suave look that will leave you feeling confident and carefree. But before you dive in headfirst, let's take a closer look at what IPL hair removal is all about, and why it might just be the perfect solution for you, whether you are a dude living in Singapore or anywhere else in the world.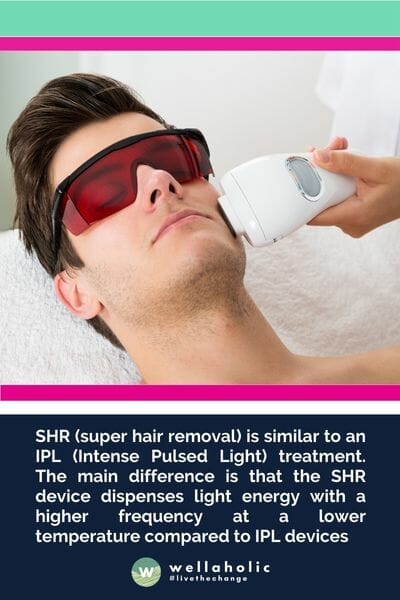 Introduction to IPL Hair Removal
IPL Hair Removal for Men.
IPL hair removal was initially introduced as a body hair removal treatment for women, but it is now also widely used by men. Men typically have more hair than women, making personal grooming more difficult, so IPL hair removal is a sensible option for those who want a hair-free and tidy body. One of the most common areas for men to use IPL hair removal is the underarms. Underarm hair removal is a popular choice because it creates a clean and polished appearance.
Benefits of IPL Hair Removal for Men
While there are other grooming tools available for removing underarm hair, they are not as effective as IPL hair removal. Shaving can leave an unsightly and uncomfortable feeling, while waxing can cause injuries and lead to ingrown hairs. IPL hair removal is a permanent hair removal method that achieves a hair-free and clean look. It is effective and does not cause much discomfort. If you are looking to achieve smooth, hair-free skin, then IPL hair removal is an ideal option for you.
How Does IPL Hair Removal Work?
How IPL Works for Hair Removal
IPL (Intense Pulsed Light) technology uses high-intensity light energy that targets hair follicles and melanin in the skin. The light energy is released into the dermis in multiple wavelengths, which can damage hair roots without causing harm to the skin. This makes IPL a suitable hair removal option for individuals with darker and coarser hair. Popular facilities that offer IPL include Japan IPL, Musee Platinum, and Mode Aesthetics.
Suitability for Different Skin Types
Individuals with fairer skin may require more IPL hair removal sessions as the technology is less effective on them. Conversely, individuals with darker skin may experience more discomfort during the session due to their skin absorbing more heat. This can translate into pain when the heat affects the nerves. If you have sensitive skin and are concerned about pain and dark spots from flash intensity, IPL might not be the ideal hair removal option for you.
Side Effects of IPL Hair Removal to Consider
IPL (Intense Pulsed Light) hair removal is generally considered safe and effective, but there are some potential side effects that should be taken into consideration before undergoing the treatment. Some of the most common side effects of IPL hair removal include redness, swelling, and itching in the treated area. In rare cases, blistering, scarring, or changes in skin pigmentation may occur. It is important to note that these side effects are typically temporary and can be minimized by following proper aftercare instructions and avoiding sun exposure. It is also recommended to consult with a trained and experienced professional to ensure safe and effective treatment.
Skin irritation: Redness, itching, and swelling can occur immediately after the treatment.
Burns: The heat from the IPL device can cause burns if not used correctly, leading to blisters and scarring.
Changes in skin color: IPL can sometimes cause hyperpigmentation or hypopigmentation, where the skin becomes darker or lighter than usual.
Eye damage: IPL can be harmful to the eyes, so proper eye protection is essential during treatment.
Hair regrowth: Although IPL is intended to permanently reduce hair growth, it may not be 100% effective, and some regrowth may occur.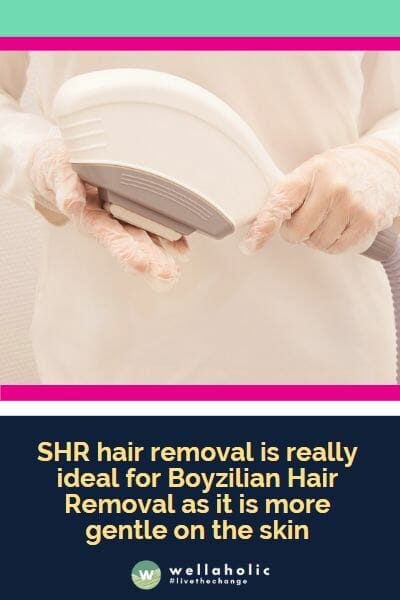 What is SHR or Super Hair Removal?
What is SHR Laser Hair Removal? Super Hair Removal or SHR is a newer technology used for hair removal that utilizes gentler pulses of energy at a higher frequency compared to IPL. This technology allows for the skin to be heated up gently, but with rapid pulses of light energy that are then accumulated by the skin.
How Does SHR Laser Hair Removal Work? While 50% of the energy targets the melanin like IPL, the other 50% targets the stem cells responsible for hair production. This means that SHR targets both fine and coarse hairs, resulting in less pain and discomfort and improved efficacy. SHR is more effective for all hair colours and skin types compared to IPL, making it suitable for dark hair, light hair, dark skin tones, and light skin tones.
Benefits of SHR Laser Hair Removal Because of the gradual build-up of energy into the skin, there is less trauma and irritation, making it perfect for everyone, regardless of complexion and even for customers with sensitive skin. SHR hair removal is ideal for Boyzilian Hair Removal, targeting the pubic hair removal area, as it is more gentle on the skin. With the numerous technologies available, SHR is often considered one of the best laser hair removal treatments in Singapore.
Why is SHR Hair Removal Better Than IPL Hair Removal?
SHR (Super Hair Removal) is a newer technology for hair removal that is considered to be more effective and less painful than traditional IPL (Intense Pulsed Light) hair removal. The main reason for this is that SHR uses a lower energy level and a more gradual heating process, which means that it can treat a larger area of skin at once without causing discomfort or damaging the skin. Additionally, SHR can be used on all skin types, including darker skin tones, which is not always the case with IPL. Overall, SHR is a more advanced and versatile hair removal option that is quickly gaining popularity in the industry.
The table below summarises the advantages of SHR hair removal over IPL hair removal:
Advantages of SHR Hair Removal Over IPL Hair Removal
SHR is much more comfortable for the client
SHR carries no risk of burning the skin
SHR has a higher success rate in permanently removing hair
SHR treatment time is faster than IPL
SHR is suitable for all skin types
SHR can be used on all parts of the body
SHR has no downtime, allowing for immediate resumption of normal activities
SHR can be used on tanned skin
SHR requires fewer treatments than IPL
SHR is less painful than IPL
SHR produces better results in fewer treatments
Advantages of SHR Hair Removal over IPL Hair Removal
How is a SHR Permanent Hair Removal Session Like?
SHR In-Motion Technology for Hair Removal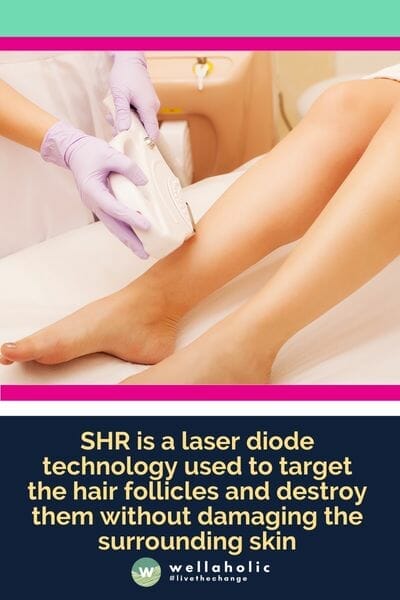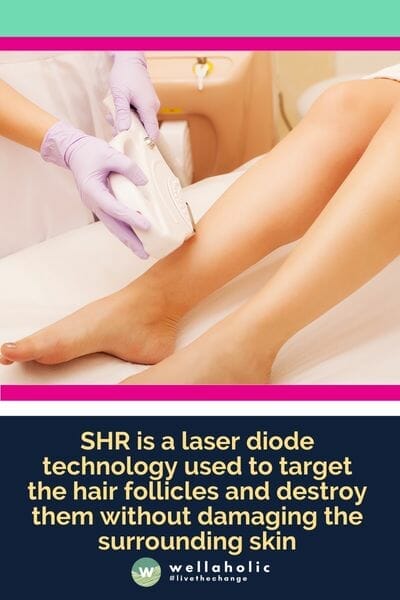 The SHR In-Motion laser hair removal technology is designed to cover larger areas of the body, making it suitable for all body parts such as the face, arms, legs, and underarms. Unlike other laser hair removal treatments, SHR targets the stem cells and hair responsible for hair growth, making it more effective.
Effective for All Hair and Skin Types
One of the advantages of SHR is its ability to target different types of hairs, regardless of hair color, skin color, or sensitivity. With an effective range of 640nm to 1200nm, SHR can treat various hair colors and skin tones in a few minutes, firing 10 shots per second. This saves time and makes the treatment more efficient.
Ideal for All Skin Tones
SHR is suitable for all skin tones, including sensitive skin, and is effective for hair removal on different body parts, such as chest hair, facial hair, and hair in private regions. Whether you have fair or dark skin, SHR is a gentle and effective way to achieve hair removal.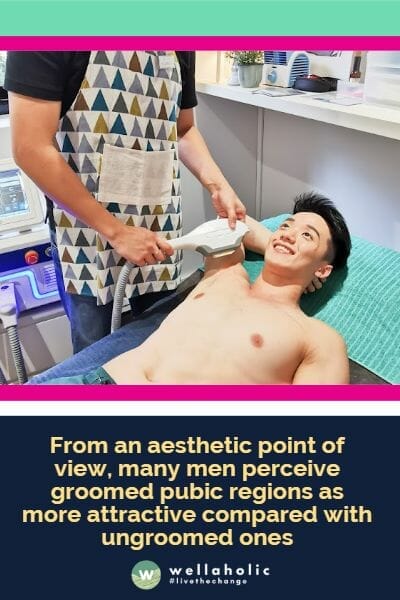 Wellaholic is the pioneer for SHR Hair Removal
Wellaholic is pleased to be among the first few establishments to use SHR Laser Hair Removal since 2016. In order to assist our customers with their objective of attaining a smooth skin, Wellaholic offers cost-competitive Monthly Unlimited Packages which permits consumers hair elimination on all body areas (consisting of Brazilian or Boyzilian) at an inexpensive monthly cost.
In addition, Wellaholic's SHR devices are serviced and adjusted regularly to ensure optimum efficacy. Our personnel are likewise trained to make sure that the best experience towards permanent hair removal for our customers.
Pricing of SHR Hair Removal Treatments by Wellaholic
Wellaholic believes in providing pricing transparency, and hence all prices are published and updated on its website. Choose from unlimited monthly hair removal plans (with unlimited SHR hair removal shots) for unlimited body parts, or choose from per-session hair removal price plans. Wellaholic's hair removal prices are generally divided into the following categories: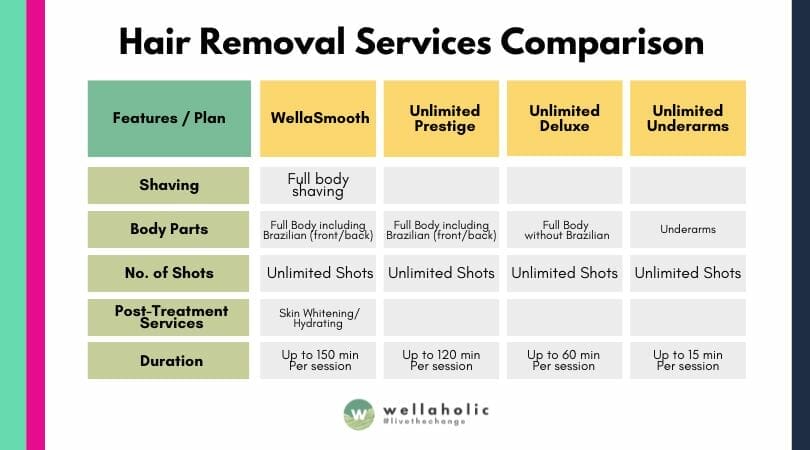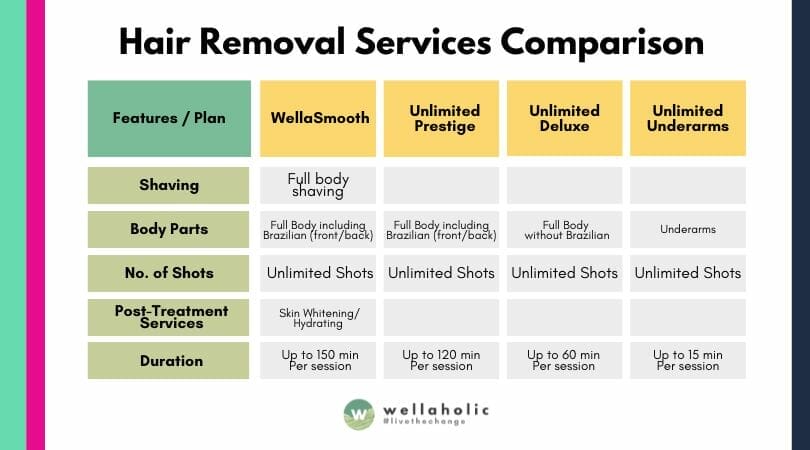 Why Wellaholic is One of the Best Hair Removal Providers in Singapore?
Wellaholic Hair Removal Services in Singapore. Wellaholic is a prominent hair removal company in Singapore that offers high-quality and sought-after services to its customers. With its experienced staff and commitment to safety, Wellaholic stands out from its competitors.
Range of Laser Hair Removal Treatments Offered by Wellaholic. Wellaholic provides a comprehensive range of laser hair removal treatments, including Brazilian & Bikini, Underarm, Arms, Back & Shoulder Hair Removal, and Leg Hair Removal. All these treatments are conducted by certified and trained professionals who cater to the skincare needs of both male and female customers.
Advanced Technology and Tailored Sessions for Maximum Results. Wellaholic uses advanced technology that ensures a safe and comfortable experience with no downtime or discomfort during the entire process. Moreover, each session is customized to meet individual needs so that customers get maximum results from each treatment. Besides quality services, Wellaholic also provides competitive pricing for its treatments, making it one of the most affordable hair removal providers in Singapore.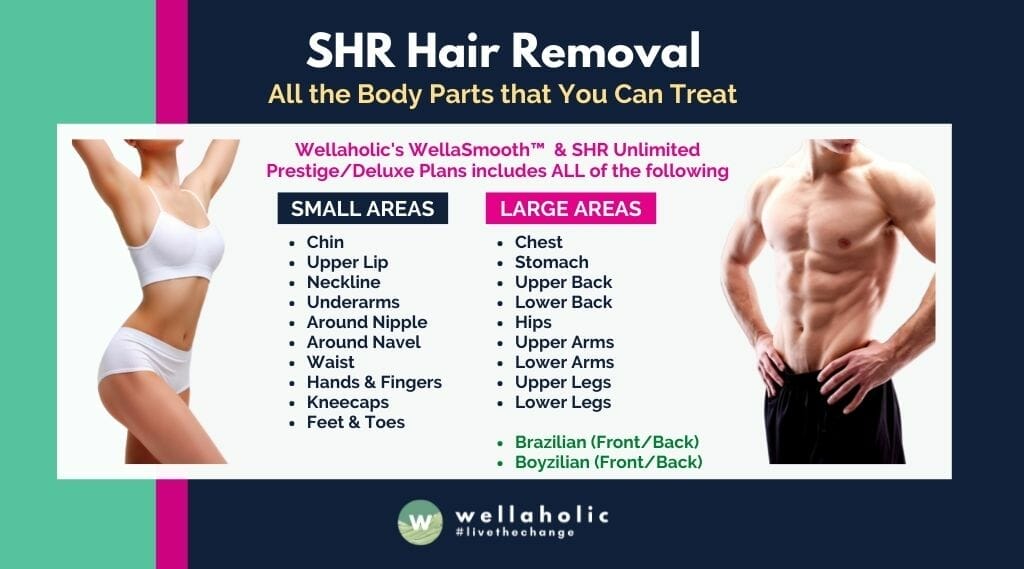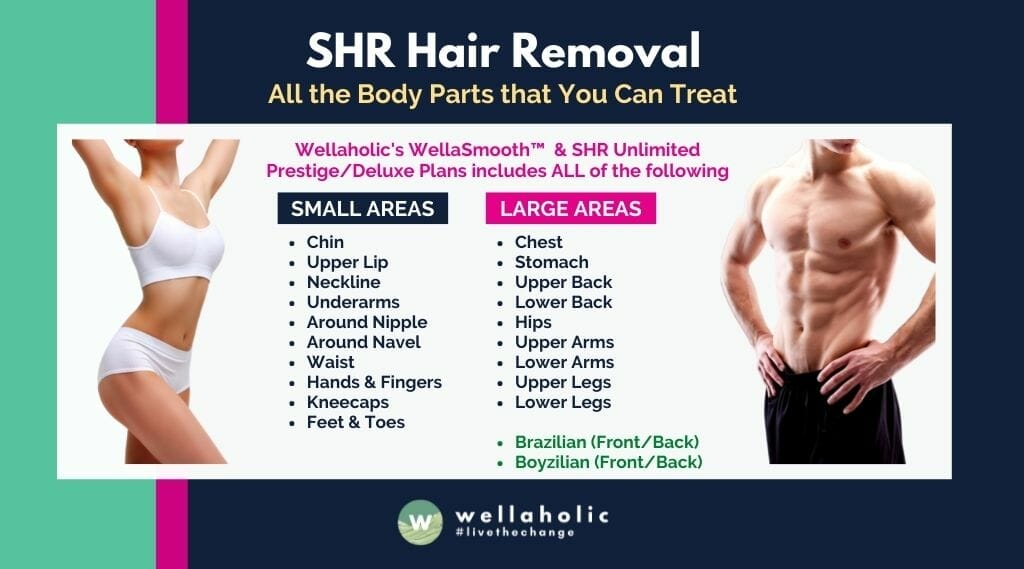 Reason 1: Wellaholic Offers Comprehensive Hair Removal Services and Expertise
Wellaholic offers different types of hair removal services for your needs. Our hair removal packages can be broken down into the following categories:
WellaSmooth All-inclusive Hair Removal Regime – WellaSmooth is our flagship signature treatment designed for an all-inclusive full-body permanent hair removal experience. It includes all-that-you-require shaving service for all body parts, SHR Unlimited Prestige plan (which includes SHR hair removal for all body parts including Brazilian/Boyzilian front/back), and our Post-Treatment Therapy (PTT) with AfterGlow which will help whitening and hydrate your skin for the oomph factor. WellaSmooth is ideal for both men and women, and is delivered by our male and female therapists at all Wellaholic outlets.
SHR Unlimited Prestige / Deluxe Plan – SHR Unlimited Prestige/Deluxe is our monthly plans which allows you treatments on unlimited body parts. SHR Unlimited Prestige covers SHR hair removal for all body parts including Brazilian/Boyzilian (front & back), while SHR Unlimited Deluxe covers SHR hair removal for all body parts with the exception of Brazilian/Boyzilian. With both plans, customers can just pay a small monthly fee and enjoy fuss-free hair removal treatments without having to worry about separate payments for different body parts, or worry about counting the number of shots used. At Wellaholic, we provided unlimited SHR hair removal shots.
SHR Unlimited Underarms Plan – SHR Unlimited Underarms plan is ideal for customers who are only looking at permanent hair removal for their underarms. Wellaholic is offering an attractive annual underarms hair removal plan at only $169 nett per year with no hidden costs. Customers can purchase the package and then utilise this plan at any of our outlets island wide. This is likely the best and most affordable underarm hair removal plan in Singapore, with great reviews from thousands of satisfied customers.
Reason 2: Wellaholic Has Over 2000 Genuine Customer Reviews & Testimonials
With over 2000 verified positive reviews from customers all over Singapore and beyond, Wellaholic continues to be the go-to destination for those seeking out professional beauty and wellness treatments.
The reviews received by Wellaholic are reflective of their commitment to customer satisfaction. Customers consistently cite friendly staff with excellent knowledge and professionalism as a highlight of the experience at Wellaholic. Furthermore, customers have commented on the wide range of treatments available at competitive prices – giving people access to premium services without having to break the bank!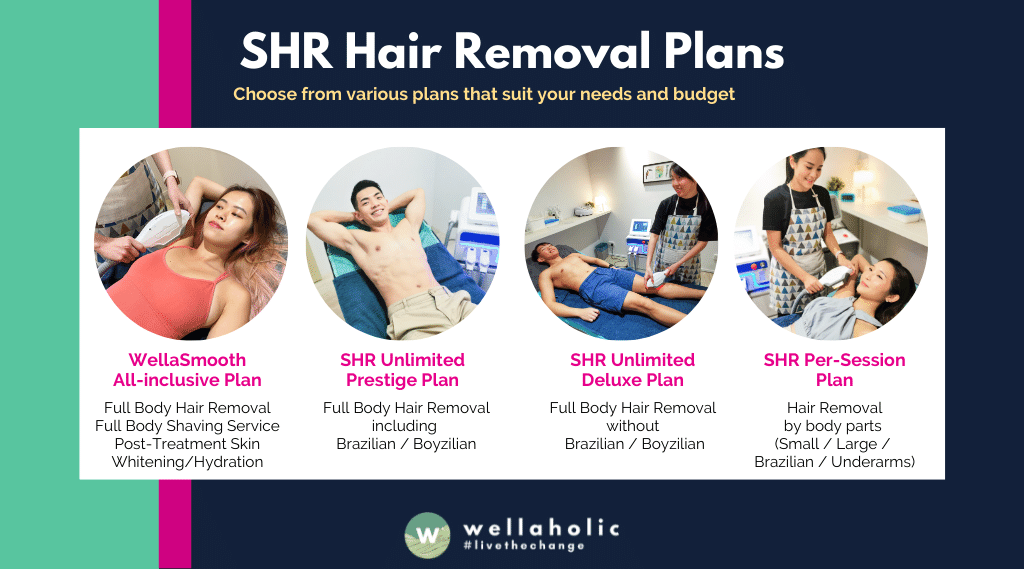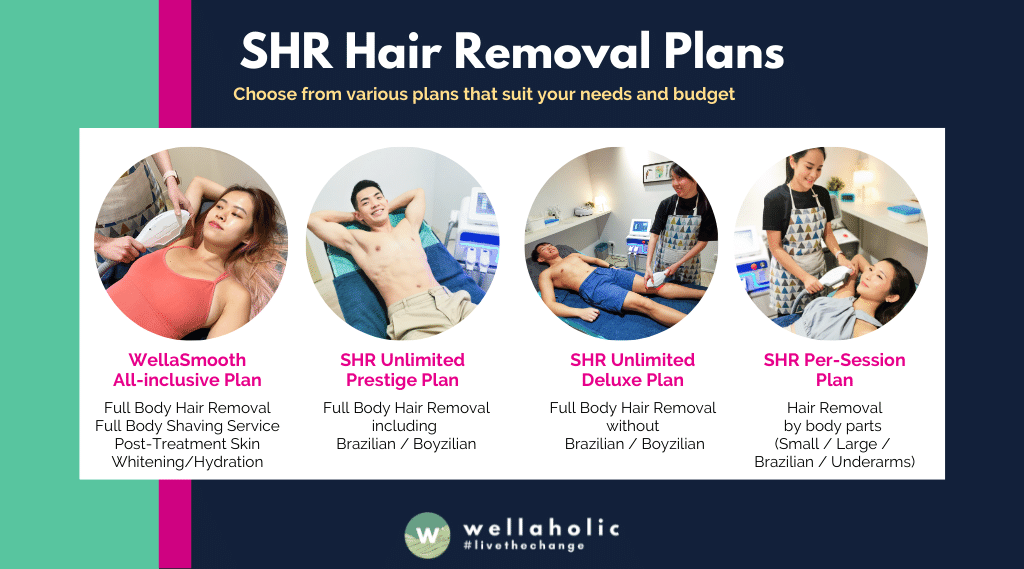 Reason 3: Wellaholic Hair Removal Package Prices are Transparent and Affordable with No Hidden Costs
Wellaholic believes in publishing our prices online affordably and with no hidden costs. Customers can expect to pay only for the treatments provided instead of being surprised by additional fees or charges at the end of their hair removal session.
We have always been committed to providing quality services and products at reasonable prices. Our pricing structure is designed in such a way that customers can easily compare different packages available according to their budget and needs. This makes Wellaholic the ideal choice for both budget-conscious individuals as well as those seeking luxurious pampering sessions without breaking the bank.
Wellaholic has Won Numerous Awards for our Hair Removal Treatments
Wellaholic has been recognised as a leader of our WellaSmooth and SHR Unlimited plans, winning annual awards, such as the Best SHR Hair Removal Treatment by Daily Vanity Spa & Hair Awards in 2022, 2021, 2020 and 2019. Wellaholic has also won the Best Hair Removal for our WellaSmooth plan by Beauty Insider Spa & Salon Awards from 2018 to 2023.
---
---