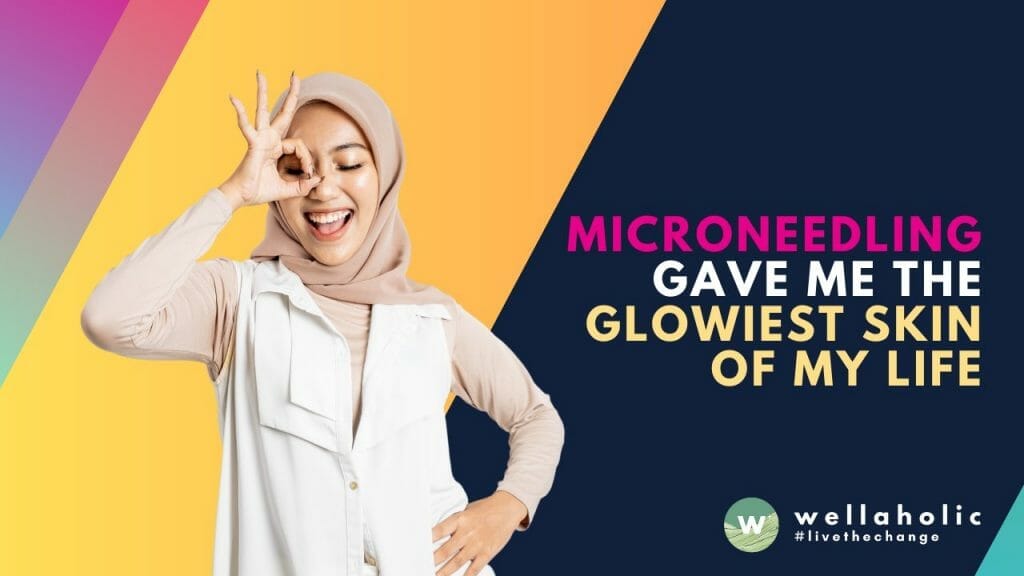 Microneedling Gave Me the Glowiest Skin of My Life
TL:DR Summary
What is Microneedling? A cosmetic procedure that involves creating tiny punctures in the skin with fine needles to stimulate collagen and elastin production.
Why did the author try Microneedling? The author wanted to improve her skin texture, reduce her acne scars, and achieve a natural glow without makeup or filters.
How was the Microneedling experience? The author described the Microneedling process as painless, quick, and relaxing. She felt a slight tingling sensation and some pressure on her skin during the treatment.
What were the immediate results of Microneedling? The author noticed that her skin was slightly red and swollen right after the treatment, but it subsided within a few hours. She also felt that her skin was smoother and softer to the touch.
What were the long-term results of Microneedling? The author observed that her skin became more radiant, plump, and even-toned after a few days. She also saw a significant improvement in her acne scars and pores after a few weeks.
Would the author recommend Microneedling? The author highly recommended Microneedling to anyone who wants to enhance their skin quality and appearance. She said that it was worth the investment and that she would definitely do it again.
Introduction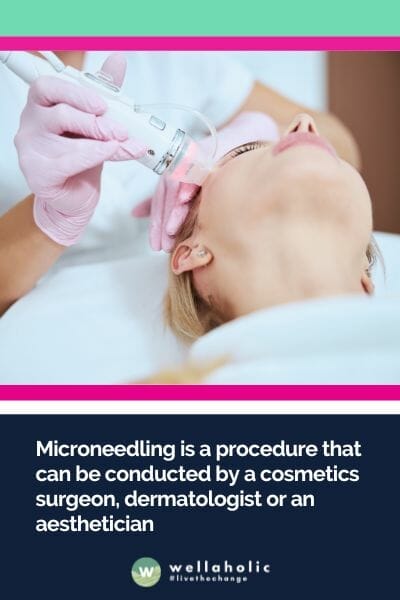 The Evolution of Skin Care
As we draw closer to the end of the year, it's clear that skin care has become more important than ever. We've moved beyond just applying face lotions, we now seek retinol-containing night-time moisturisers. We no longer blindly follow three-step solutions, we turn the box over and scrutinise the ingredients.
The Rise of Microneedling
In tandem with our growing sophistication in skin care, our facial treatments have also advanced. You've probably heard the praise surrounding microneedling, a medical facial that is quickly taking the place of classic spa facials that may feel pleasant but don't deliver significant results. Microneedling is a procedure that can be conducted by a cosmetic surgeon, dermatologist, or an aesthetician.
My Microneedling Experience
To explore the world of microneedling, I visited plastic surgeon Dr. Melissa Doft in her Park Avenue office. Our discussion covered everything microneedling-related, and I even got to experience the treatment for myself. It quickly became apparent how much control you have in ensuring a positive microneedling experience.
Microneedling can improve the appearance of acne scars on Asian skin – A study by Hassan 14 and compiled by by Wellaholic included 70 patients who reported to be Asian with "dark skin" and found that microneedling alone or with subcision significantly improved the appearance of atrophic acne scars
Before You Microneedle
"Watch out for overexfoliation or anything that's a bit harsher," Dr. Doft advised. "You want to have your skin in its most calm state beforehand." (This is also the reason why Wellaholic's Elight customers are advised to stay off Diamond Peel during the week they are doing Microneedling.) The last thing I wanted to do before dragging a bunch of needles across my face was send my skin to a freak-out spiral using too many actives.
The Microneedling Experience
The Numbing Phase
In the privacy of Dr. Doft's office, I felt my face start to numb. She had just applied a topical numbing cream, leading to a slack sensation that spread across my cheeks, forehead, and chin. After twenty minutes, she wiped the lidocaine off my face, setting the stage for the microneedling process.
Microneedling: Precision and Control
Dr. Doft began the microneedling procedure, using a handheld device that resembled a pen to "draw lines" across my face. "The depth of the needles is controllable," she informed me. She highlighted the significant difference between receiving treatment at a specialised centre versus using an at-home needling kit. With professional treatment, you gain the advantage of deeper needle penetration and greater control.
Customised Treatment for Your Skin
Throughout the procedure, as sections of my face were completed, Dr. Doft applied a proprietary hyaluronic acid-based serum on my skin. She explained, "These teeny needles open up the skin barrier and also stimulate collagen production. Once the skin barrier is open, it's an ideal time to infuse targeted treatments based on the patient's skin needs." While my session focused on hydration and collagen production, the treatment can be customised to address various skin concerns with the use of different topical solutions.
"I've been doing microneedling facials for years, and I'm always impressed with the results," says celebrity makeup artist, Bobbi Brown. "It's a great way to get a more youthful-looking complexion."
Risks of Microneedling at Home
Considering At-Home Microneedling
While my microneedling experience was conducted by a professional, it's also possible to use at-home tools such as a dermaroller. If you're considering this, it's important to be aware of the potential risks to avoid long-term damage to your skin.
Expert Advice: Depth Matters
Dr. Doft highlighted the importance of depth control when microneedling. "There are certain parts of your face where you can go deeper, and certain parts where you need to be more shallow," she said. Understanding these nuances can significantly impact the success and safety of your at-home treatment.
Specific Areas to Avoid
For instance, Dr. Doft advised, "Over the forehead, you can't microneedle quite as much as you could over your cheek, which is much thicker. I usually don't microneedle anywhere around the eyes." She further mentioned that microneedling around the mouth would be fine, but advised against microneedling on the lips. She recommended starting with less depth to test your skin's tolerance before going deeper.
After the Microneedling Treatment
"After you've had microneedling, your skin is like a sponge — it will soak up whatever you want it to soak up, but it also soaks it up pretty quickly, so you want to keep it very moist and hydrated." She wasn't kidding. When I got home after leaving the clinic, my skin was already thirsty for more moisture. A week later, I'm truly shook by just how poreless my cheeks still look and feel. My skin seems to have levelled up it's ability to retain moisture, as it stays plump and hydrated throughout the day. Friends have commented unprompted on how healthy my skin looks, only to have me launch into my newly adopted diatribe about how everyone can benefit from microneedling. If you're looking to take your glow to the next level, microneedling (plus proper home care), is it.
[Adapted from Laura Reilly, InStyle}
Wellaholic Microneedling – Winner of Daily Vanity Spa & Hair Awards
Do you have wrinkles? Acne scars? Pigmentation? Microneedling is your answer! Wellaholic's Microneedling treatments can help rejuvenate your skin and get rid of these problems. Microneedling is a collagen-stimulating treatment great for general skin rejuvenation. It treats textural issues dealing with pores, acne scars, wrinkles and pigmentation and has seen extensive positive clinical results, making this treatment a great alternative to laser skin resurfacing.
Wellaholic's Microneedling is the winner of Daily Vanity Spa & Hair Awards for the Best Microneedling Facial in Singapore.
Frequently Asked Questions (FAQ)
What is microneedling?

Microneedling, also known as collagen induction therapy, is a non-surgical procedure that involves puncturing the skin with tiny, sterile needles to induce the body's natural healing process, resulting in increased collagen and elastin production. This treatment can help rejuvenate your skin, giving it a healthier and glowier appearance.
What is the difference between microneedling and RF microneedling?

Regular microneedling uses tiny needles to create controlled micro-injuries on the skin's surface, whereas RF (Radio Frequency) microneedling combines this process with radio frequency technology. The RF energy is delivered via small needles. In addition to the benefits of standard microneedling, RF microneedling provides skin tightening and more substantial scar reduction due to the additional heat energy.
Where can I get microneedling done in Singapore?

You can get microneedling done at Wellaholic. As a leading aesthetic clinic in Singapore, Wellaholic provides state-of-the-art microneedling and RF microneedling services for a glowing, youthful complexion.
How long does it take to see results from microneedling?

Results from microneedling vary between individuals, but you can typically see improvements in skin texture and tone within a few weeks of your first treatment. It's important to remember that collagen production takes time, so patience is key.
How many sessions of microneedling will I need?

The number of microneedling sessions needed depends on your specific skin concerns and desired results. Generally, for moderate acne scars, you might need between three and six treatments, while deeper scars and wrinkles might require upwards of six sessions. Consultation with a Wellaholic aesthetician can help determine the best treatment plan for you.
Are there any side effects to microneedling?

Like any skincare treatment, microneedling can have potential side effects, including redness and sensitivity post-treatment. These effects are usually temporary and subside within a few days.
Gold RF Microneedling Facial by Wellaholic
Gold RF Microneedling is a revolutionary skin treatment that delivers dramatic anti-ageing results by combining fractional radiofrequency (RF) with microneedling to effectively treat acne, acne scar, pigmentation, stretch marks & enlarged pores. Gold RF Microneedling can also lift saggy skin and revitalise dull and uneven skin tone.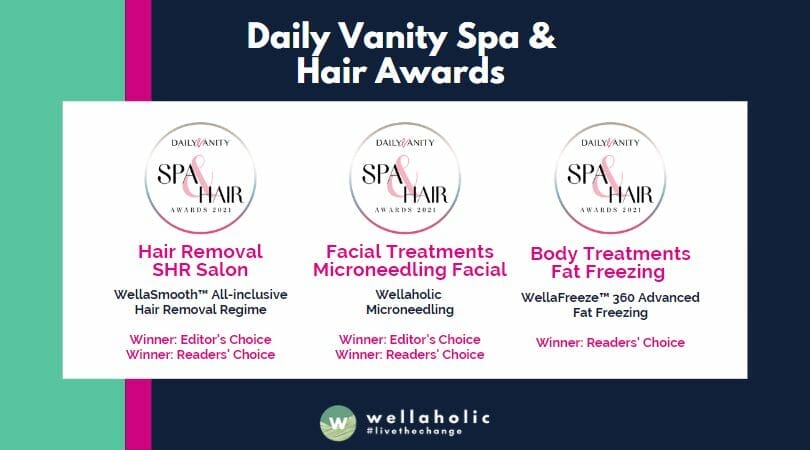 What is Gold RF Microneedling Facial Treatment?
If you are looking for an effective method to clear your acne scars, wrinkles or pigmentation, or if you are looking to tighten saggy skin such as jowl lines and nasolabial folds without any invasive surgery, then Gold RF Microneedling is the right treatment for you. Gold RF Microneedling combines two scientifically-proven techniques, microneedling and fractional radiofrequency (RF) to treat a variety of skin conditions.
⭐ Uses Up to 64 Micro Needles. Gold RF Microneedling: Ultimate anti-aging treatment with 64 needles to penetrate the skin, release RF energy, and trigger collagen and elastin production for a clearer complexion and firmer skin
⭐ Safe and Minimally Invasive. Gold RF Microneedling is a safe, minimally invasive.
⭐ Effectively Treats Acne Scars, Pigmentation & Wrinkles. Extremely effective aesthetic treatment for treating acne scars, pigmentation, fine lines and wrinkles.
⭐ Stimulates Collagen Growth. Gold RF Microneedling stimulates collagen and elastin for new, youthful-looking skin.
⭐ Positive Clinical Results. Gold RF Microneedling is clinically proven to be more effective than microneedling or radiofrequency alone.
What are the Benefits of Gold RF Microneedling Facial?
Gold RF Microneedling has all the skin resurfacing benefits of traditional microneedling, but with the added technology of insulated needles that deliver RF energy to the skin, creating new microchannels linking your skin's layers.
⭐ Create Tiny Wounds to Replace Skin Cells. Gold RF Microneedling create tiny wounds in your skin to prompt your body to replace old skin cells with healthy new ones.
⭐ RF Encourages Collagen Growth. RF energy heats deep layers of your dermis to encourage collagen growth and tissue tightening, leading to visibly healthier skin that continues to improve over the following months.
⭐ Faster Cell Turnover. Gold RF Microneedling leads to faster cell turnover and quicker results than traditional microneedling.
⭐ Shorter Recovery Time. Gold RF Microneedling has a shorter recovery time as compared to traditional microneedling, laser resurfacing treatments and chemical peels. There is also less risk of hyperpigmentation.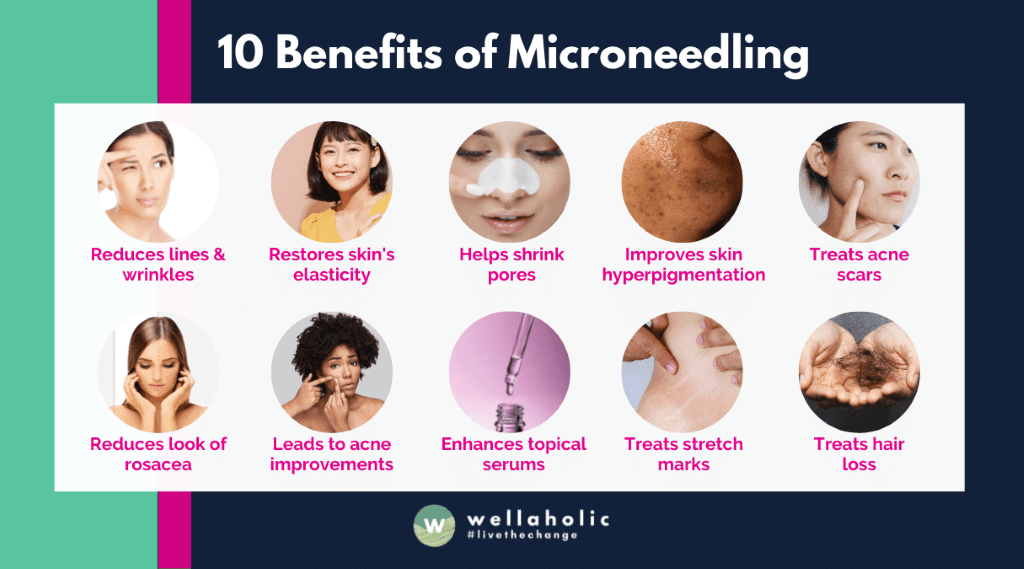 Pricing of Facial Treatments by Wellaholic
💎 Price Transparency. Wellaholic offers pricing transparency by publishing and updating all prices on our website.
💎 Flexible Per-Session or Unlimited Plans. Customers can choose from unlimited monthly facial plans for added cost savings, or per-session plans.
💎 Mix and Match Easily. Wellaholic's facial plan prices are divided into different categories for easy selection.
💎 No Price Shocks. Customers can expect to pay only for the treatments provided instead of being surprised by additional fees or charges at the end of their facial session.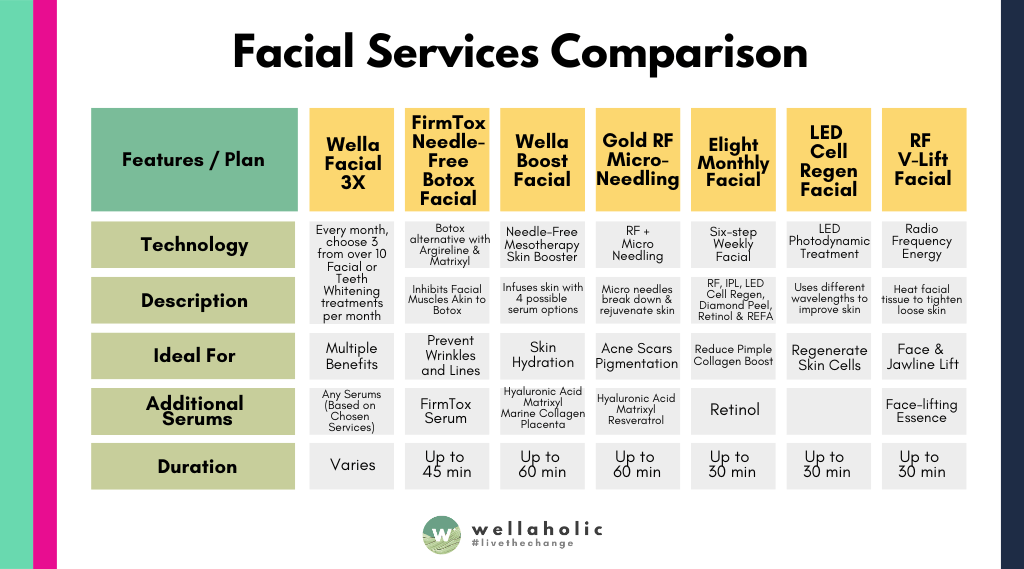 GET IN TOUCH
Book Now Pay Later
Why Wellaholic is One of the Best Facial Providers in Singapore?
✅ Leading Facial Aesthetic Chain in Singapore. Wellaholic is a leading facial and aesthetic chain in Singapore that is highly sought after by customers.
✅ Quality & Safe Treatments. Wellaholic is committed to providing quality and safe treatments with experienced staff.
✅ Wide Range of Facial Treatments. Wellaholic offers a wide range of facial treatments for various skin concerns, and using different technologies such as microneedling, RF, Elight, IPL and mesotherapy.
✅ Trained & Experienced Consultants. All treatments are performed by trained professionals who understand the skincare needs of both female and male customers.
✅ Advanced Facial Technology. Advanced facial technology is used to ensure a safe experience with no downtime or discomfort during the entire process.
✅ Most Affordable Provider. Wellaholic provides competitive pricing for its treatments which makes it one of the most affordable providers in Singapore.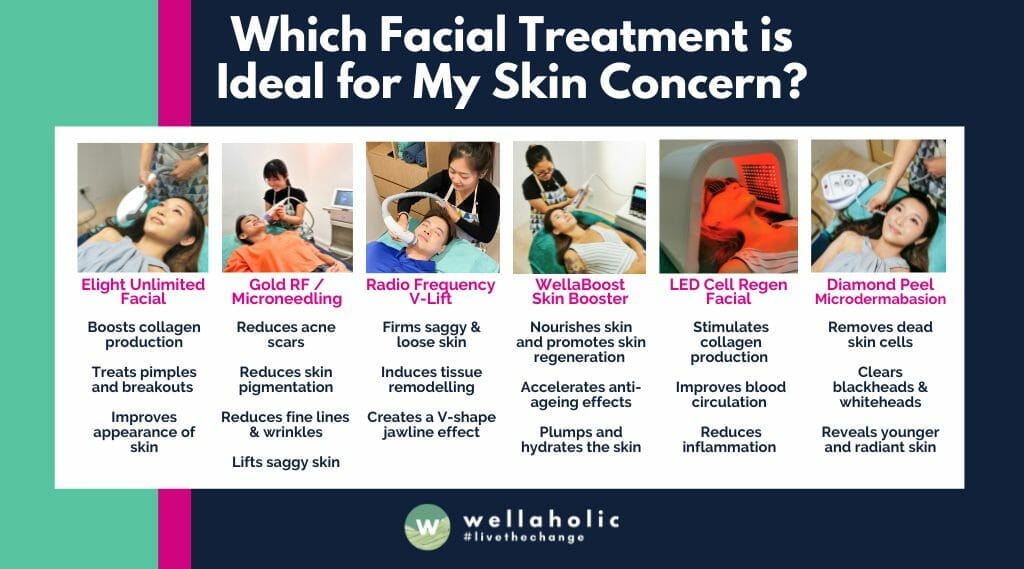 Reason 1: Wellaholic Offers Comprehensive Facial Services and Expertise
Wellaholic offers many types of facial services for your facial and skin needs. Our facials can be broken down into the following categories:
✅ WellaFacial™ 3X Ultimate Facial Plan

Meticulously crafted to help our customers embrace a youthful and radiant appearance through top-tier treatments.
We let customers choose any three treatments from our selection more than 10 exceptional options (Facial and Teeth Whitening categories).
Guarantees access to high-end treatments at a surprisingly affordable price, offering an exceptional blend of luxury and value

✅ FirmTox™ Needle-Free Botox Alternative Facial

Needle-free alternative to traditional botox, achieving comparable results without the associated pain
Unique blend of Argireline and Matrixyl peptides work to inhibit facial muscle movements, smoothing out wrinkles
Users can expect to see a significant reduction in the appearance of fine lines and wrinkles
FirmTox™'s potent ingredient blend promises exceptional results, revealing a radiant, youthful complexion.

✅ WellaBoost™ Skin Booster

Non-invasive facial skin booster which is injection-free.
Combines two different technologies.
Infuses the skin with 4 different types of facial serums.
Helps to promote the increased hydration, collagen production, skin regeneration and healing

✅ Gold RF Microneedling / Microneedling

Revolutionary skin treatment that delivers dramatic anti-ageing results.
Combines fractional radiofrequency (RF) with microneedling.
Effectively treats acne, acne scar, pigmentation, stretch marks & enlarged pores.
Lifts saggy skin and revitalises dull and uneven skin tone.

✅ LED Cell Regen Facial

Uses different wavelengths to target the skin for various beneficial effects.
Able to improve skin elasticity, produce collagen, minimise blemishes and pimples.
Soothes aggravated skin and even reduce scarring.

✅ Elight Monthly Facial

Six-step technology facial backed by scientific research
Incorporates various technology treatments (RF, IPL, Diamond Peel microdermabrasion, LED Cell Regeneration, Retinol, REFA facial massage, etc.)
Designed as an affordable unlimited monthly package with weekly visits.
Brings out the best consistent results in flawless, younger-looking skin.

✅ RF V-Lift Facial

Uses RF energy to heat tissue and stimulate sub-dermal collagen production.
Reduces appearance of fine lines and loose skin.
Induces tissue re-modelling and production of new collagen and elastin.
Provides an alternative to facelift and other cosmetic surgeries.

✅ Diamond Peel Facial

Non-invasive and mechanical procedure using diamond bits.
Helps to remove dead skin cells, dirt and excess oil on the skin surface.
Improves the appearance of skin, by revealing younger and radiant skin underneath in an instant.
Reason 2: Wellaholic Has Over 50 Awards and 2000 Genuine Customer Reviews
✅ Over 50 Awards. Wellaholic's WellaSmooth and SHR Hair Removal have been recognized by top beauty publications such as Daily Vanity, Beauty Insider, and Tropika Club Magazine, earning prestigious awards from 2018 to 2023.
✅ Over 2000 Verified Customer Reviews. Wellaholic has over 2000 verified positive reviews from our customers in Singapore and beyond.
✅ Verifiable Reviews. The reviews are verified and positive, which indicates the high level of customer satisfaction (see reviews below).
✅ Over 50% Repeat Customers. More than 50% of Wellaholic's customers are repeat and recurring customers.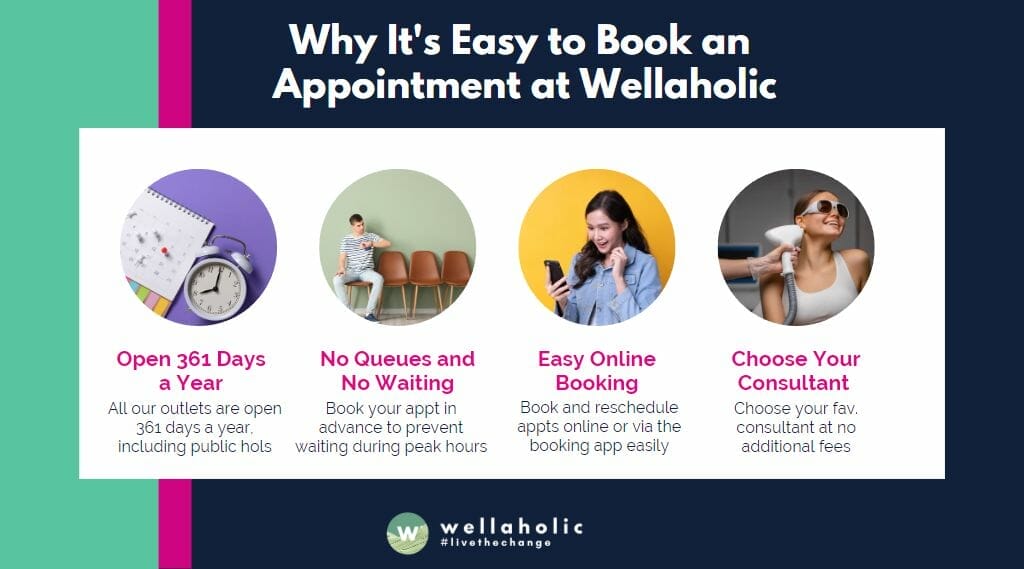 Reason 3: It's Easy to Book an Appointment at Wellaholic
✅ Open 361 Days Per Year. Wellaholic's 8 outlets are open 361 days a year, including public holidays, so that customers can easily book an appointment.
✅ No Queues. All appointments are booked in advanced to prevent the need to queue and wait unnecessarily during peak hours.
✅ Easy Online Booking. Customers can conveniently book and reschedule appointments online or via the booking app.
✅ No Extra Cost for Choosing Consultant. Customers can select their preferred consultant without having to pay any additional fees.