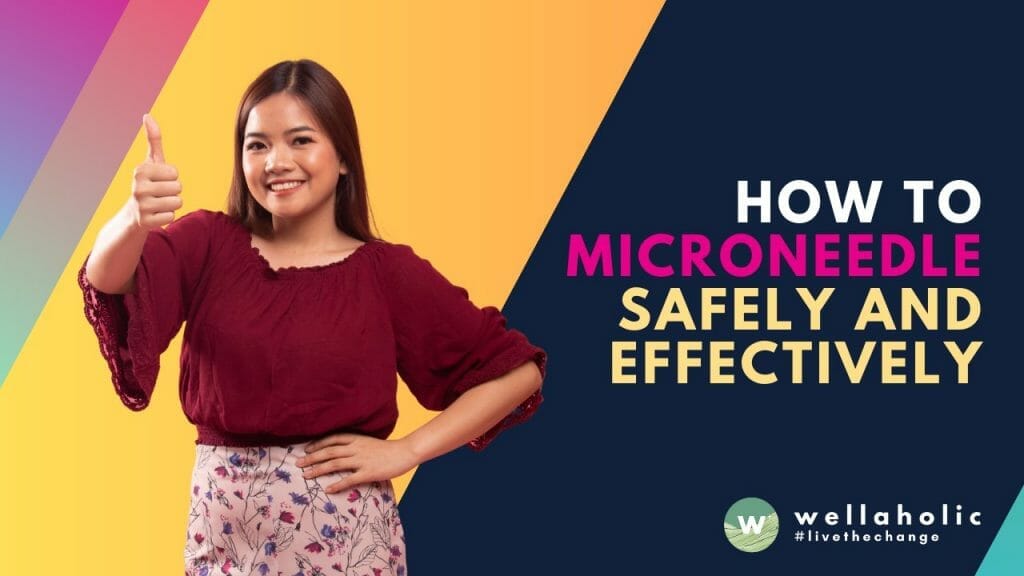 How to Microneedle Safely and Effectively: Tips and Tricks
TL:DR Summary
What is microneedling: A cosmetic procedure that involves creating tiny punctures in the skin with fine needles to stimulate collagen production and improve skin texture.
Benefits of microneedling: It can help with acne scars, wrinkles, stretch marks, pigmentation, enlarged pores and hair loss.
Risks of microneedling: It can cause bleeding, bruising, infection, inflammation, allergic reactions and scarring if not done properly or with unsterile equipment.
How to prepare for microneedling: Consult a doctor before the procedure, avoid sun exposure, exfoliation and retinoids for a week before and after the treatment, and hydrate your skin well.
What to expect during microneedling: The procedure takes about 30 minutes to an hour, depending on the area treated. A topical numbing cream is applied before the treatment. The microneedling device is moved over the skin in a circular or linear motion. You may feel some discomfort or pain during the process.
How to care for your skin after microneedling: Apply a soothing moisturizer and sunscreen after the treatment. Avoid makeup, alcohol, spicy food and exercise for 24 hours. Expect some redness, swelling and dryness for a few days. Follow the aftercare instructions given by your provider. Repeat the treatment every 4 to 6 weeks for optimal results.
Introduction
Are you curious about microneedling and want to learn more about how to do it safely and effectively? Look no further! Microneedling is a popular skincare treatment that involves using a small device called a dermaroller or microneedling pen to create tiny punctures in the skin. These punctures stimulate the skin's natural healing response and can improve the appearance of fine lines, wrinkles, acne scars, and hyperpigmentation. However, it's important to do it right to avoid any complications or injuries. In this article, we'll share some tips and tricks to help you microneedle safely and effectively at home.
About 4 to 6 Microneedling sessions with a gap of 4 to 8 weeks per session are required for the most effective results, including acne scars, pigmentation and wrinkles.
What Exactly is Microneedling Facial?
The Magic Behind Microneedling
Hello there, skincare enthusiast! Curious about microneedling facials? Let's explore this fantastic treatment that has everyone at Wellaholic raving!
The process: Microneedling is a minimally invasive procedure using tiny needles to create micro-channels in your skin.
Boost collagen: This controlled micro-injury stimulates collagen production, leading to plumper, smoother, and younger-looking skin.
Tackle skin issues: Say goodbye to wrinkles, acne scars, and uneven skin tone. Microneedling facials can work wonders for a wide range of concerns!
Wellaholic's Approach to Microneedling
At Wellaholic, we take microneedling to the next level:
Expertise: Our experienced therapists are dedicated to making your microneedling facial a delightful and comfortable experience.
Tailored treatments: We customize each session according to your skin type and goals, ensuring the best possible results.
Aftercare: We provide top-notch aftercare advice, so your skin stays radiant long after you've left our cozy clinic.
So, are you ready to roll into a world of radiant skin? Trust Wellaholic to make your microneedling facial a truly unforgettable experience!
Advantages of Microneedling Treatments
Roll Your Way to Radiant Skin
Hey there, beauty aficionado! Wondering what all the fuss is about microneedling? Let's discover the fabulous advantages of this popular treatment at Wellaholic:
Boosts collagen production: Microneedling stimulates collagen and elastin, making your skin plumper, firmer, and more youthful.
Reduces wrinkles and fine lines: Bye-bye, pesky wrinkles! Microneedling helps to smooth out those lines for a more refreshed look.
Improves skin texture: Uneven skin, be gone! This treatment evens out your skin tone, revealing a radiant and smooth complexion.
Minimizes acne scars: Microneedling can work magic on reducing the appearance of acne scars, leaving you with clearer, smoother skin.
Enhances product absorption: Those tiny channels created during the treatment allow your favorite skincare products to penetrate deeper and work more effectively.
Is Microneedling Effective for Acne Scars?
Battling Acne Scars? Microneedling to the Rescue!
Hey beautiful! Are you tired of acne scars stealing the spotlight? Fret not, because microneedling is here to save the day! Let's see how this amazing treatment can help banish those pesky scars:
Stimulates collagen: Microneedling encourages collagen production, which helps fill in and smooth out acne scars.
Improves skin texture: By evening out the skin surface, microneedling makes acne scars less noticeable.
Safe and effective: Our skilled therapists ensure microneedling is performed safely, leading to fantastic results without major side effects.
Safety Guidelines for Microneedling
Microneedling Precautions
Hey there, gorgeous! Before you embark on your microneedling journey, let's make sure you're well-prepped. Follow these simple steps for a smooth, worry-free experience:
Consult a professional: Our friendly and experienced team at Wellaholic can guide you, ensuring the treatment is suitable for your skin type.
Avoid the sun: Keep sun exposure to a minimum and apply SPF before and after your session.
Ditch the makeup: Arrive at your appointment with a clean, makeup-free face.
During the Treatment
While you're in our safe and skilled hands, remember these tips for a needle-ssly enjoyable experience:
Speak up: If you feel discomfort during the session, let your therapist know right away.
Stay relaxed: Breathe and stay calm, trust in our expert team to work their magic.
Post-Microneedling Care
Congratulations, you did it! Now, let's talk about aftercare to ensure your skin remains happy and healthy:
Pamper your skin: Keep your skin clean and moisturized with gentle products recommended by our experts.
Hands off: Resist the urge to touch, pick or scratch the treated area to avoid irritation or infection.
Say no to sweating: Avoid intense workouts and hot environments for at least 24 hours after the treatment.
So, are you ready to get rolling on your microneedling journey? Trust in our Wellaholic team to prioritize your safety while helping you achieve fabulous results!
---
Gold RF Microneedling Facial by Wellaholic
Gold RF Microneedling is a revolutionary skin treatment that delivers dramatic anti-ageing results by combining fractional radiofrequency (RF) with microneedling to effectively treat acne, acne scar, pigmentation, stretch marks & enlarged pores. Gold RF Microneedling can also lift saggy skin and revitalise dull and uneven skin tone.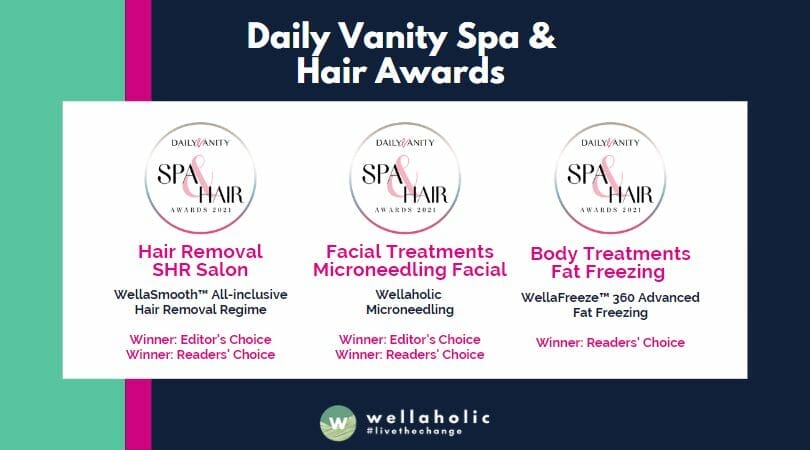 What is Gold RF Microneedling Facial Treatment?
If you are looking for an effective method to clear your acne scars, wrinkles or pigmentation, or if you are looking to tighten saggy skin such as jowl lines and nasolabial folds without any invasive surgery, then Gold RF Microneedling is the right treatment for you. Gold RF Microneedling combines two scientifically-proven techniques, microneedling and fractional radiofrequency (RF) to treat a variety of skin conditions.
⭐ Uses Up to 64 Micro Needles. Gold RF Microneedling uses up to 64 needles to penetrate the skin, releasing RF energy to trigger collagen and elastin production for the ultimate anti-ageing treatment for a clearer complexion and firmer skin.
⭐ Safe and Minimally Invasive. Gold RF Microneedling is a safe, minimally invasive.
⭐ Effectively Treats Acne Scars, Pigmentation & Wrinkles. Extremely effective aesthetic treatment for treating acne scars, pigmentation, fine lines and wrinkles.
⭐ Stimulates Collagen Growth. Gold RF Microneedling has the ability to stimulate the growth of collagen and elastin using the combination of Microneedling with Radiofrequency, which is the key to new, youthful-looking skin.
⭐ Positive Clinical Results. Gold RF Microneedling has a dermatological treatment has seen extensive positive clinical results. This is an improvement over just doing a Microneedling or Radiofrequency treatment on its own.
What are the Benefits of Gold RF Microneedling Facial?
Gold RF Microneedling has all the skin resurfacing benefits of traditional microneedling, but with the added technology of insulated needles that deliver RF energy to the skin, creating new microchannels linking your skin's layers.
⭐ Create Tiny Wounds to Replace Skin Cells. Gold RF Microneedling create tiny wounds in your skin to prompt your body to replace old skin cells with healthy new ones.
⭐ RF Encourages Collagen Growth. RF energy heats deep layers of your dermis to encourage collagen growth and tissue tightening, leading to visibly healthier skin that continues to improve over the following months.
⭐ Faster Cell Turnover. Gold RF Microneedling leads to faster cell turnover and quicker results than traditional microneedling.
⭐ Shorter Recovery Time. Gold RF Microneedling has a shorter recovery time as compared to traditional microneedling, laser resurfacing treatments and chemical peels. There is also less risk of hyperpigmentation.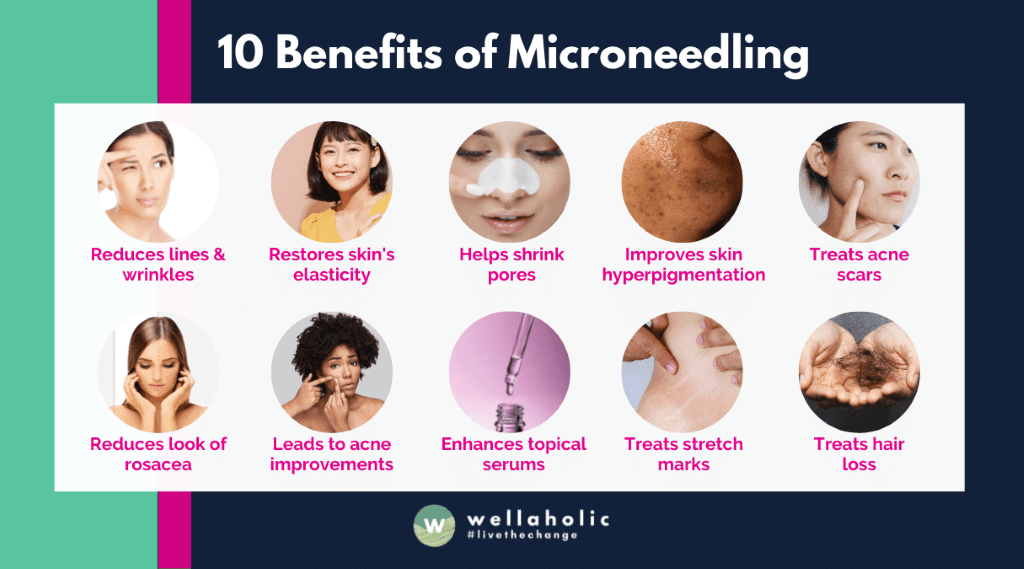 Pricing of Facial Treatments by Wellaholic
💎 Price Transparency. Wellaholic offers pricing transparency by publishing and updating all prices on our website.
💎 Flexible Per-Session or Unlimited Plans. Customers can choose from unlimited monthly facial plans for added cost savings, or per-session plans.
💎 Mix and Match Easily. Wellaholic's facial plan prices are divided into different categories for easy selection.
💎 No Price Shocks. Customers can expect to pay only for the treatments provided instead of being surprised by additional fees or charges at the end of their facial session.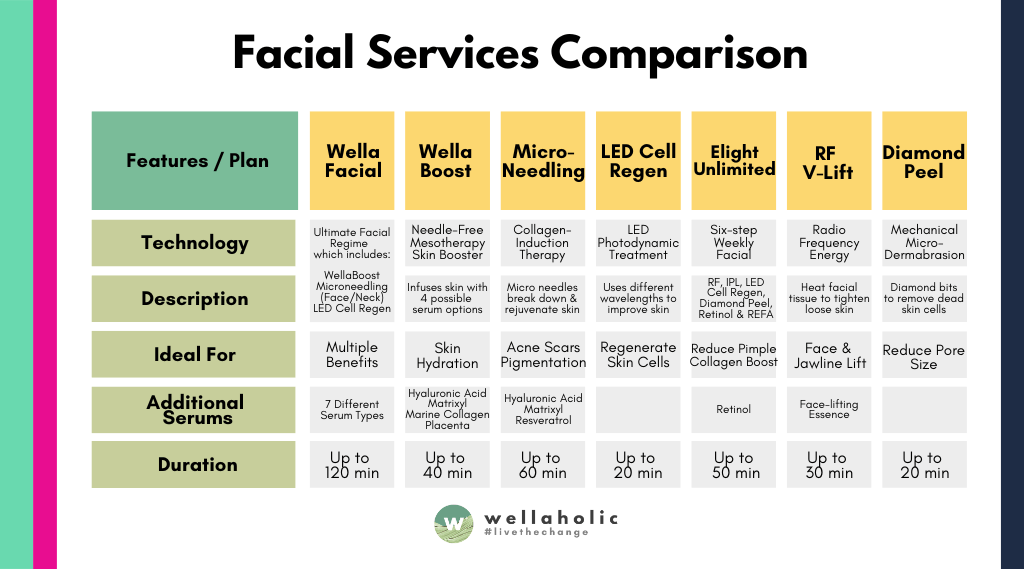 GET IN TOUCH
Book Now Pay Later
Why Wellaholic is One of the Best Facial Providers in Singapore?
✅ Leading Facial Aesthetic Chain in Singapore. Wellaholic is a leading facial and aesthetic chain in Singapore that is highly sought after by customers.
✅ Quality & Safe Treatments. Wellaholic is committed to providing quality and safe treatments with experienced staff.
✅ Wide Range of Facial Treatments. Wellaholic offers a wide range of facial treatments for various skin concerns, and using different technologies such as microneedling, RF, Elight, IPL and mesotherapy.
✅ Trained & Experienced Consultants. All treatments are performed by trained professionals who understand the skincare needs of both female and male customers.
✅ Advanced Facial Technology. Advanced facial technology is used to ensure a safe experience with no downtime or discomfort during the entire process.
✅ Most Affordable Provider. Wellaholic provides competitive pricing for its treatments which makes it one of the most affordable providers in Singapore.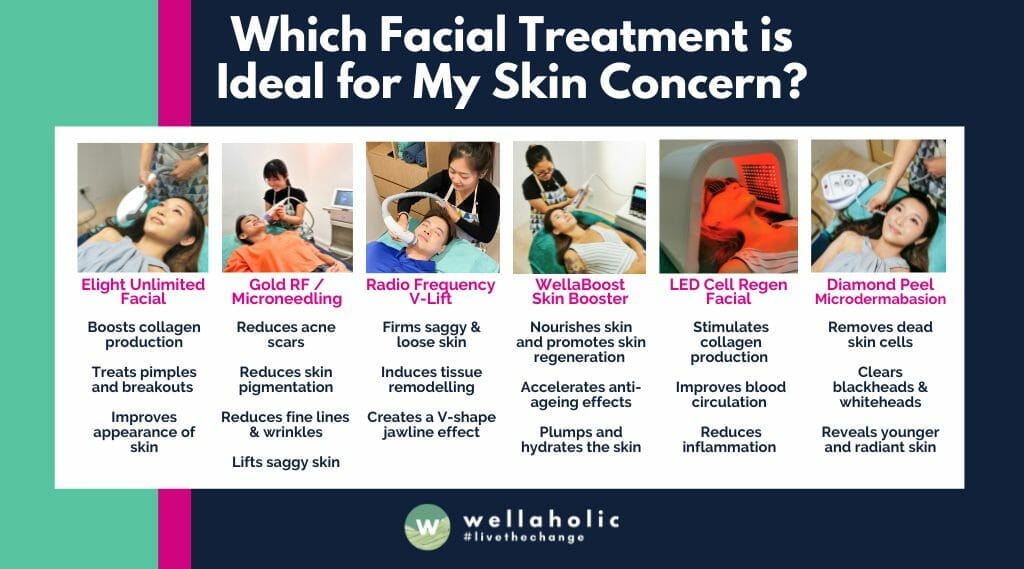 Reason 1: Wellaholic Offers Comprehensive Facial Services and Expertise
Wellaholic offers 7 different types of facial services for your facial and skin needs. Our facials can be broken down into the following categories:
✅ WellaFacial Signature Facial Regime

Extensive all-inclusive facial regime that includes the latest technologies.
Promote cellular renewal and anti-aging.
Ccombines WellaBoost + Microneedling (Face/Neck) + LED Cell Regen Facial to provide multiple benefits at an affordable price.

✅ WellaBoost Skin Booster

Non-invasive facial skin booster which is injection-free.
Combines two different technologies.
Infuses the skin with 4 different types of facial serums.
Helps to promote the increased hydration, collagen production, skin regeneration and healing

✅ Gold RF Microneedling / Microneedling

Revolutionary skin treatment that delivers dramatic anti-ageing results.
Combines fractional radiofrequency (RF) with microneedling.
Effectively treats acne, acne scar, pigmentation, stretch marks & enlarged pores.
Lifts saggy skin and revitalises dull and uneven skin tone.

✅ LED Cell Regen Facial

Uses different wavelengths to target the skin for various beneficial effects.
Able to improve skin elasticity, produce collagen, minimise blemishes and pimples.
Soothes aggravated skin and even reduce scarring.

✅ Elight Unlimited Facial

Six-step technology facial backed by scientific research
Incorporates various technology treatments (RF, IPL, Diamond Peel microdermabrasion, LED Cell Regeneration, Retinol, REFA facial massage, etc.)
Designed as an affordable unlimited monthly package with weekly visits.
Brings out the best consistent results in flawless, younger-looking skin.

✅ RF V-Lift Facial

Uses RF energy to heat tissue and stimulate sub-dermal collagen production.
Reduces appearance of fine lines and loose skin.
Induces tissue re-modelling and production of new collagen and elastin.
Provides an alternative to facelift and other cosmetic surgeries.

✅ Diamond Peel Facial

Non-invasive and mechanical procedure using diamond bits.
Helps to remove dead skin cells, dirt and excess oil on the skin surface.
Improves the appearance of skin, by revealing younger and radiant skin underneath in an instant.
Reason 2: Wellaholic Has Over 50 Awards and 2000 Genuine Customer Reviews
✅ Over 50 Awards. Wellaholic's WellaSmooth and SHR Hair Removal have been recognized by top beauty publications such as Daily Vanity, Beauty Insider, and Tropika Club Magazine, earning prestigious awards from 2018 to 2023.
✅ Over 2000 Verified Customer Reviews. Wellaholic has over 2000 verified positive reviews from our customers in Singapore and beyond.
✅ Verifiable Reviews. The reviews are verified and positive, which indicates the high level of customer satisfaction (see reviews below).
✅ Over 50% Repeat Customers. More than 50% of Wellaholic's customers are repeat and recurring customers.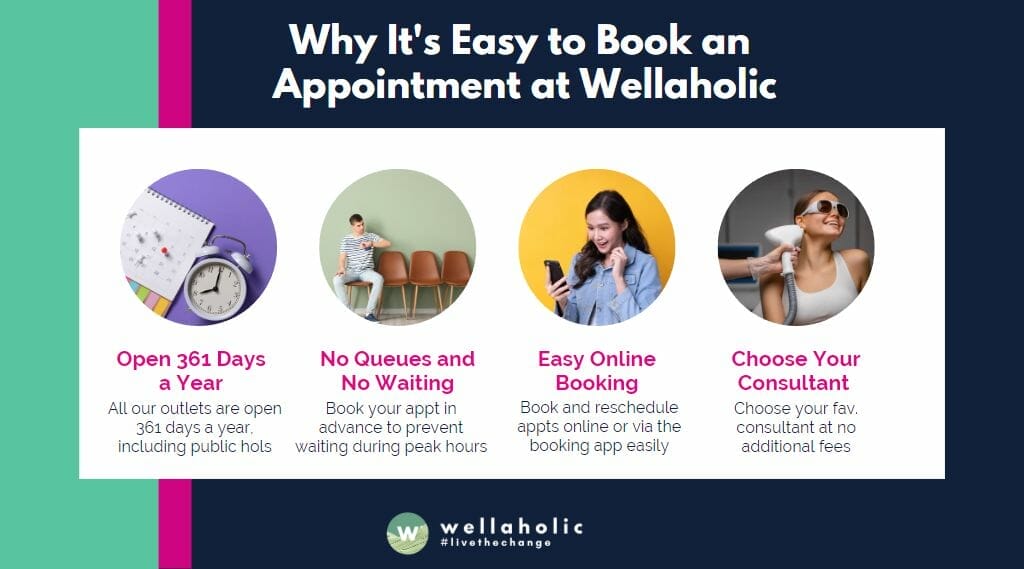 Reason 3: It's Easy to Book an Appointment at Wellaholic
✅ Open 361 Days Per Year. Wellaholic's 8 outlets are open 361 days a year, including public holidays, so that customers can easily book an appointment.
✅ No Queues. All appointments are booked in advanced to prevent the need to queue and wait unnecessarily during peak hours.
✅ Easy Online Booking. Customers can conveniently book and reschedule appointments online or via the booking app.
✅ No Extra Cost for Choosing Consultant. Customers can select their preferred consultant without having to pay any additional fees.