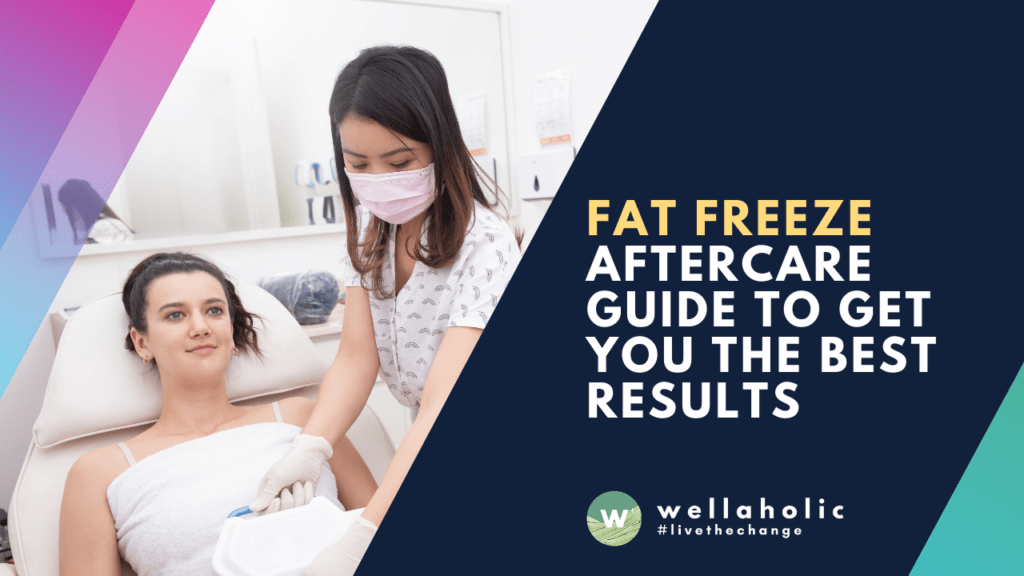 Fat Freeze Aftercare Guide to Get You the Best Results
Fat Freezing Aftercare Guide
Fat freezing is a medical procedure mainly called CoolSculpting or cryolipolysis, and is an FDA approved method to securely eliminate the excess of fat, particularly stubborn fats around the belly or tummy, thighs, arms, back as well as chin. Coolsculpting is a fashionable procedure of fat freezing in Singaporeans since it is a safe medical treatment that effectively and safely removes fat by freezing the deposits. This treatment is extremely quick and reliable, non-invasive and no requires downtime or recovery time.
Research studies have revealed that clients who took the cryolipolysis manifested a fat reduction from 20 to 25 percent. Fat freezing strategies are really effective in removing additional fat from trouble locations considering that it helps to eliminate fat cells by using sub-zero temperatures. Then, these dead fat cells are efficiently and naturally eliminated from your system by your liver as organic waste, thus making these treatments the most safe way to get rid of the excess of fat in many problem locations like the back, arms, thighs, belly, hips, butt and calves.
Unlike liposuction, many individuals can use this approach to eliminate saved fat because cold simply affect fat cells and any other, in consequence, it doesn't trigger any damage to your skin or underlying tissue.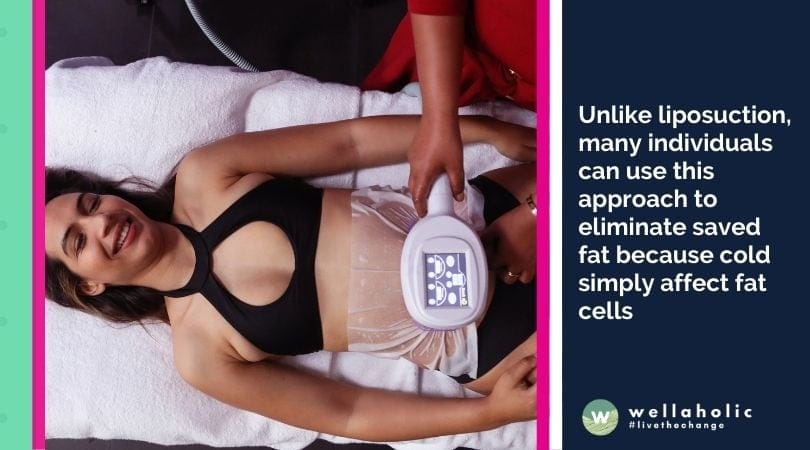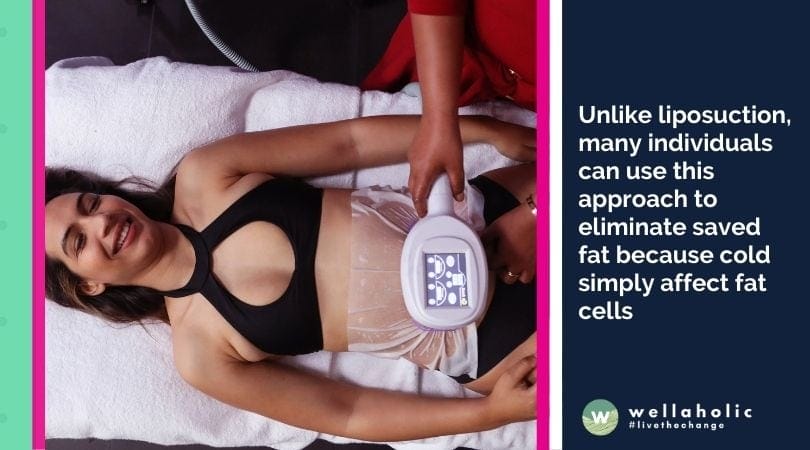 Fat Freeze Results Depends On Your Body and Way of Life
Fat freeze treatment is quickly becoming one of the most popular methods for eliminating stubborn fat deposits. Through this process, a patient's skin cells are exposed to extreme cold temperatures, causing a process called apoptosis or cell death that results in the destruction of these unwanted pockets of fat.
The procedure works by attaching a device to the area where the fat exists on a person's body. During this time, it will lower temperatures below freezing and cause cell death in the targeted areas. This ultimately leads to permanent reduction in those fatty deposits as well as improved contours and smoother skin texture over time.
This type of non-invasive fat removal treatment is an attractive option for many people looking to reduce localized pockets of fat without having to endure surgery or invasive procedures.
Fat Freezing is an innovative new alternative to liposuction. It is a non-invasive procedure, meaning there are no needles or incisions required in order to achieve the desired results. This form of body contouring has quickly become popular due to its affordability and convenience.
The fat freezing process works by using a device that emits extreme cold temperatures, commonly known as cryolipolysis, to target specific pockets of unwanted fat. The cold temperatures cause these cells to die off over time and be naturally eliminated from the body. This method can help reduce stubborn areas such as the stomach, hips and thighs with lasting results.
Fat freezing best results depend on your body and your way of life options, Given that all the bodies are various in addition to underlying health conditions, outcomes may differ from various physique. Your results will depend from these factors:
Age
Family history of weight problems
Skin type
How your body reacts to treatment
The size of the fat pocket you want to eliminate
Your lifestyle routines right after the treatment
In these conditions, WellaFreeze fat freezing is the most efficient method to get rid of shop fat, without any downtime, no scarring, no surgical adverse effects, and very little to no recovery time; assisting you to go back to your daily life and tasks practically instantly. Nevertheless, expert concurs that the ideal prospect for these types of treatments have a BMI of 30 or below, and has persistent areas of soft subcutaneous fat that does not respond to diet and exercise.
With fat freezing, your stored fat cells will die when exposed to cold temperatures in a biological procedure called apoptosis already being gotten rid of through the lymphatic system.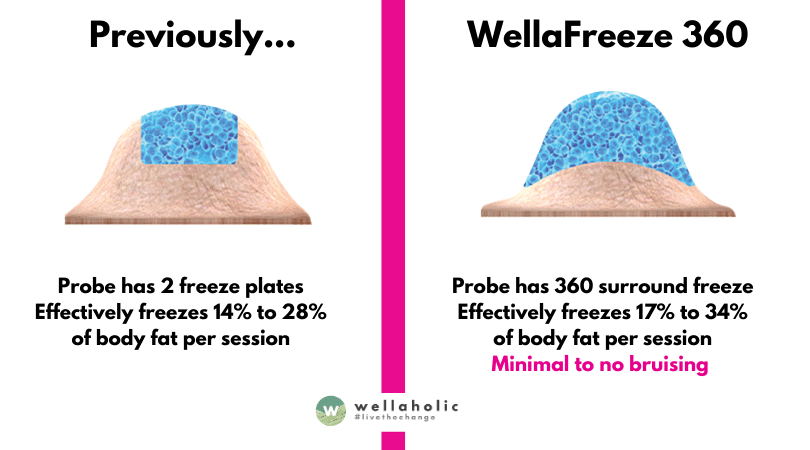 The cryolipolysis procedure takes between one or two hours depending upon the area and the size of the fat pocket you wish to eliminate; it likewise depends on the preferred results you want to attain and the caring procedure you will take throughout the sessions and after the treatment is done. Wellaholic has WellaFreeze 360, which is the most advanced form of fat freezing which can freeze up to 4 body parts at the same time in just 30 minutes.
19% More Effective: Increase in absolute fat removal by up to 19%, in addition to the 14% to 28% fat reduction from each session.
More Time Saved: Customer not only can treat 4 body parts at one time, but each session is reduced from 60 minutes to only 30 minutes, due to the increase freezing ability.
Cheaper Fat Freezing: Pay from $279 for WellaFreeze 360 Advanced Fat Freeze with 2 handles for 2 body parts
It can take between 6 to 8 weeks to see the first outcomes and 12 weeks to see the last ones; which is why a number of professionals highly recommend following a diet plan and workout regime to support the final result over time.
Prior to starting any fat freezing process, an aesthetician or any other expert requires to examine your body to help you pick the very best approach for your fat storage issues in addition to figuring out the number of sessions you will require to accomplish all your body goals.
What should you do prior to fat freezing treatment?
Fat freezing treatments do not require much preparation prior to getting started. Nevertheless, you require to ensure that you are close to your perfect weight along with being healthy to take in the outcomes of the process.
Still, some professional may recommend you prevent the following:
Taking any medication-related with thinning your blood such as aspirin, since they can make you more susceptible to bruising. If it is necessary, talk with your medical professional if you can substitute them throughout the treatment.
Harming the skin from the targeted area by cutting or bruising it Considering that the treatment involves heavy massaging in your skin, it can worsen your bruising, so you will require to wait to recuperate from it.
Tanning the skin from the targeted location because this procedure makes skin more sensitive and will make the treatment agonizing.
Not appropriate for people who experience cryoglobulinemia, cold agglutinin disease, or paroxysmal cold haemoglobinuria.
What can you do to improve the results of fat freezing?
Follow a healthy lifestyle like well balanced meals or dieting considering that a healthy body– in shape, well hydrated and near to the ideal weight– will process results faster and much better.
Stop smoking cigarettes and reducing your caffeine intake because it can prevent the recovery process, delaying your outcomes.
At the day of your sessions, make sure to check all these from your list:

Usage loose clothes in addition to comfortable underwear that assists you to feel relieved while preventing staining your hot underclothing with the gel used for the process. Though, you can bring another set of clothes– just in case -.
Do not come to your session hungry. Arrive with a light meal to get you through the session
What can you do after the fat freezing treatment for better results?
Keep a healthy and well balanced diet plan.
Keep yourself well hydrated by drinking a minimum of 2.5 litres of water so you can help your lymphatic system to removed dead fat cells.
Minimize your weekly caffeine and alcohol intake.
Incorporate working out regimens given that keeping yourself active will contribute to increase and preserve your lymphatic blood circulation.
Though different methods of fat freezing can efficiently damage fat cells, they do not remove all the fat cells in the cured area; which is the primary reason any weight gained in between your treatment and your 8-week review might adversely impact your outcomes.
WellaFreeze 360 Advanced Fat Freeze by Wellaholic
WellaFreeze 360 uses the latest fat freeze technology and is designed for customers who are looking to fat freeze 4 body parts at once. Similar to Clatuu 360 or CoolSculpting 360, our WellaFreeze 360 cryolipolysis device is equipped with 4 probes or applicators for concurrent usage. Further more, the latest innovation in our fat freeze 360 probes increases the coverage area – meaning that you can freeze a larger surface area per probe.
What is WellaFreeze™ 360 Advanced Fat Freezing?
WellaFreeze™ 360 Fat Freezing is the latest innovation in fat freezing. It uses a newer device over the traditional WellaFreeze cryo machine. 
WellaFreeze™ 360 Fat Freezing helps target the stubborn fat and cellulite areas of your body that do not react well to exercise and dieting.
Fat cells are "dissolved" by non-surgical means and controlled cooling at sub-zero temperatures.
WellaFreeze™ 360 Fat Freezing with its newer technology can increase in absolute fat removal by up to 19%, in addition to the 14% to 28% fat reduction from each session.
In addition, customer can treat 4 body parts at one time with WellaFreeze™ 360 Fat Freezing.
Each session is also reduced from 60 minutes to only 30 minutes, due to the increase freezing ability.
WellaSmooth™ is your ultimate all-inclusive hair removal treatment in Singapore complete with shaving and post-treatment care.
WellaFreeze™ Fat Freezing Can be Done for the Following Body Parts
Stomach / Belly / Tummy / Abdomen
Love Handles / Flanks
Under the Neck / Double Chin
Back / Bra Area
Thighs
Male Chest (Pseudogynecomastia)
Arms
Under Buttocks (Banana Roll)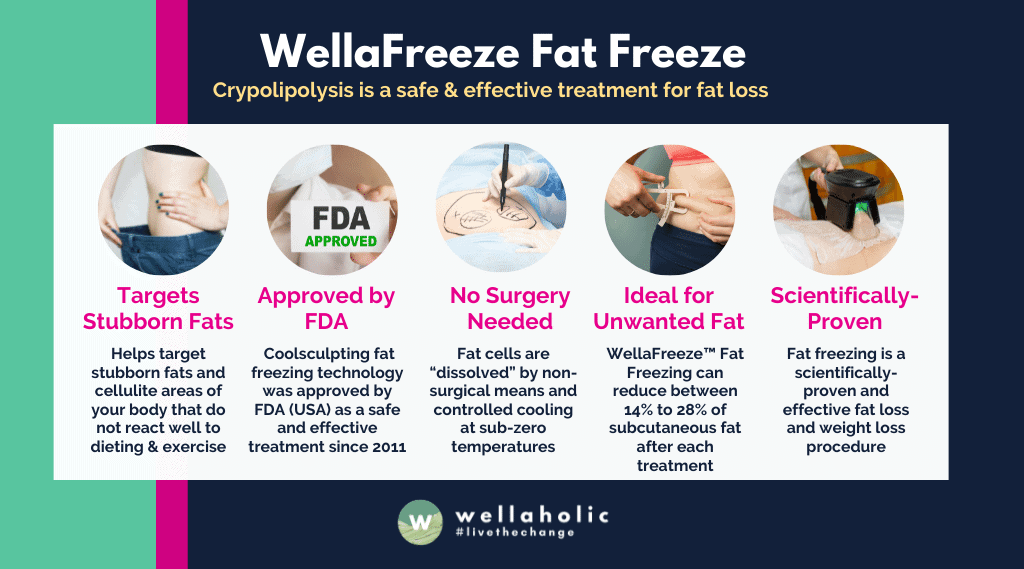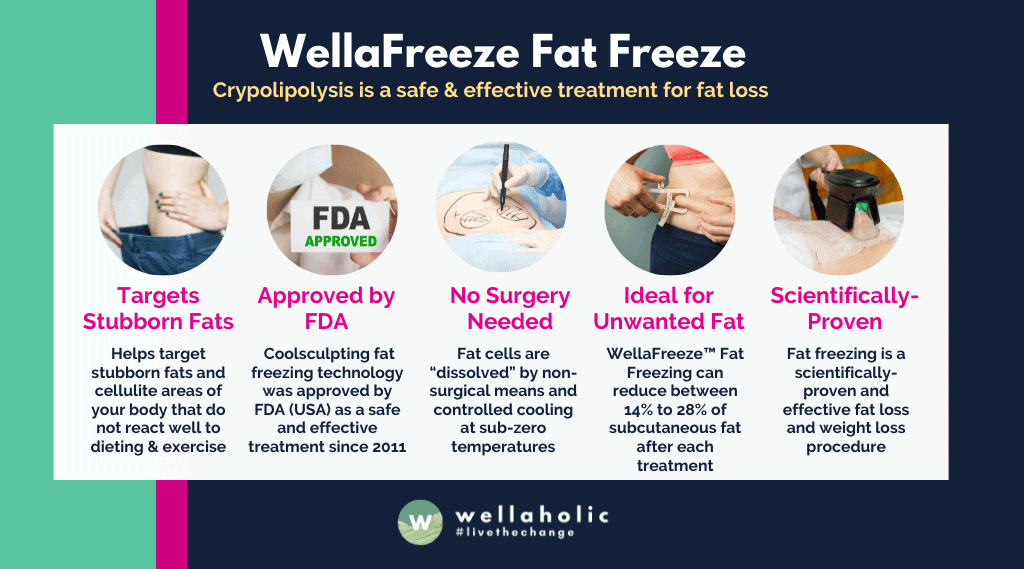 See Over 1800 Positive Reviews of Wellaholic (Customer Verifiable)
Pricing of Slimming Treatments by Wellaholic
Wellaholic believes in providing pricing transparency, and hence all prices are published and updated on its website. Choose from a single-session plan or choose a multi-session plan for greater discounts. Wellaholic's slimming treatmentes are generally divided into the following categories: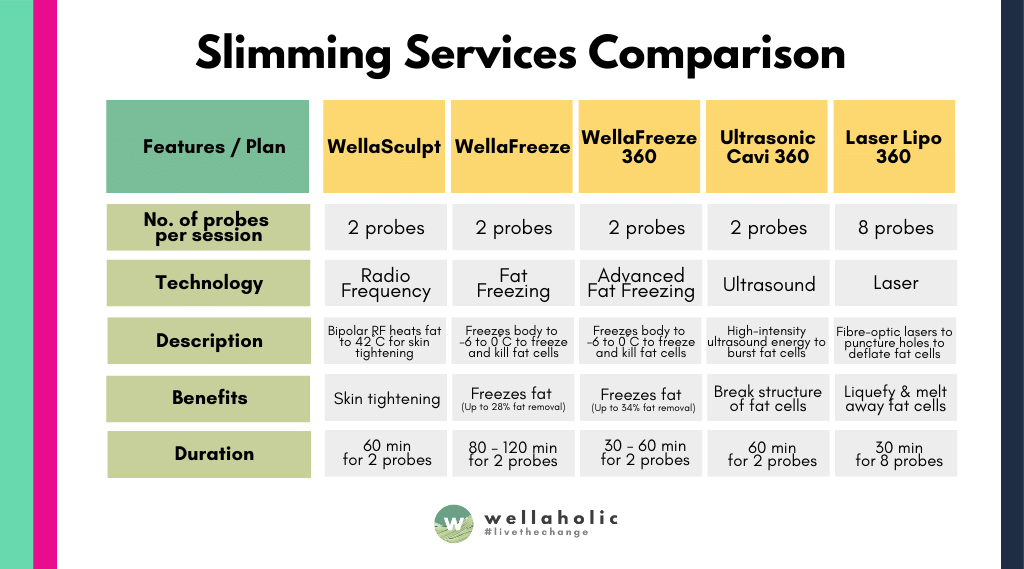 Please click on the menu below to see the pricing for the various slimming treatments by Wellaholic. Prices are nett and inclusive of GST.
---
---