From chubby to chic: How can I slim down in Singapore?
---
Introduction: Why Singaporeans are gaining weight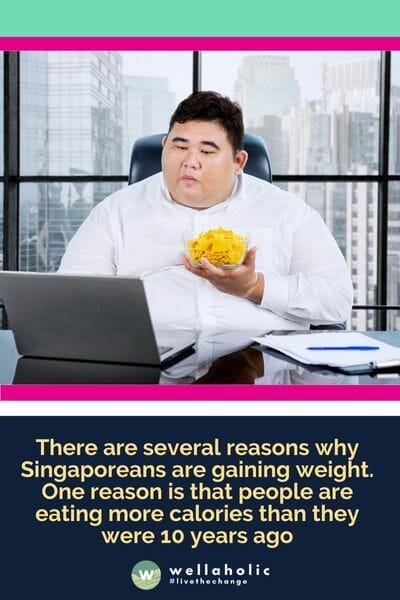 A new study has found that Singaporeans are gaining weight. The study, which was conducted by the National University of Singapore, found that the average weight of Singaporeans has increased by 2kg over the past 10 years. The study also found that the percentage of Singaporeans who are overweight or obese has increased from 18% to 24%.
There are several reasons why Singaporeans are gaining weight. One reason is that people are eating more calories than they were 10 years ago.
Blame it on our lifestyle: long work hours, little exercise.
---
The "healthy" food options aren't really helping
The "healthy" food options at most restaurants aren't really helping when it comes to calorie or fat content. And, even though some restaurants are now offering healthier alternatives, those choices are often more expensive.
Well, first of all, don't assume that just because a restaurant offers healthy options, that those are the only good choices. There are usually plenty of good options on the regular menu – you just have to know what to look for.
Fad diets don't work
Fad diets don't work.
We've all been there. You start the new year off with good intentions, vowing to finally lose those last 10 pounds. So you try a fad diet, lose a few pounds quickly and feel great… for about a week or two. And then the weight starts creeping back on, often plus a few extra pounds. Sound familiar?
The problem with fad diets is that they're not sustainable in the long term. Sure, you might lose a few pounds initially, but as soon as you go back to eating normally, the weight will come right back on. And in the meantime, you likely won't be getting the nutrients your body needs to function properly.
---
What does work: a slow and steady approach to fat loss
When it comes to fat loss, there is no one-size-fits-all approach. What works for one person may not work for another. However, there is one approach that seems to work for most people: a slow and steady approach.
A slow and steady approach to fat loss means making small changes to your diet and lifestyle that you can stick with for the long term. These changes may include eating more whole foods, cutting back on processed foods, and getting more exercise.
Making these changes may not lead to rapid weight loss, but they will help you lose fat slowly and steadily over time. And since these changes are sustainable, you're more likely to keep the weight off for good.
---
Ultrasonic Cavitation Fat Reduction by Wellaholic
Wellaholic's Ultrasonic Cavi 360 Fat Reduction Treatment uses ultrasound fat cavitation to break apart the fat deposits in your body. Also known as ultrasonic lipolysis, this body contouring treatment is also known by other names such as Ultrashape or Liponix.
What is Ultrasonic Cavitation 360 Fat Reduction?
Ultrasonic Cavi 360 uses ultrasound cavitation technology to break down fat deposits in body.
Patients can see immediate result and will continue to see results in reduction of fat over a few weeks.
Ultrasonic Cavi 360 is a much safer alternative to other surgical options such as liposuction.
This fat cavitation treatment is ideal for targeting small areas of fat for better body contouring and sculpting.
Ultrasonic Cavi 360 works well on upper arms, belly, love handles, thighs, and back—where fat cells accumulate.
The consultant will glide the cavitation machine's handheld probe over the desired area, delivering low-frequency sound waves.
The wave will "vibrate" the walls of the fat cells until they burst and turn into free fatty acids the body can expel.
Ultrasonic Cavi 360 works extremely well with WellaFreeze and WellaSculpt to accelerate fat disposal via the lymphatic system.
Ultrasonic Cavitation actually destroys fat cells by causing the fat cells the implode. The fat cells are permanently destroyed, making Ultrasonic Cavitation a safe, painless and effective treatment.
Am I Ideal for Ultrasonic Cavitation Fat Reduction Treatments?
Ideal candidate for Ultrasonic Cavi 360 should be in good general health.
Should be a casual smoker or not be smoking at all. 
Ideally within 8kg of target or optimal weight. 
Patients who have more than mild excess fat in areas to be treated tend to see less improvements from one treatment.
In this case, multiple treatments are needed to see great results. 
See Over 1800 Positive Reviews of Wellaholic (Customer Verifiable)
Pricing of Slimming Treatments by Wellaholic
Wellaholic believes in providing pricing transparency, and hence all prices are published and updated on its website. Choose from a single-session plan or choose a multi-session plan for greater discounts. Wellaholic's slimming treatments are generally divided into the following categories: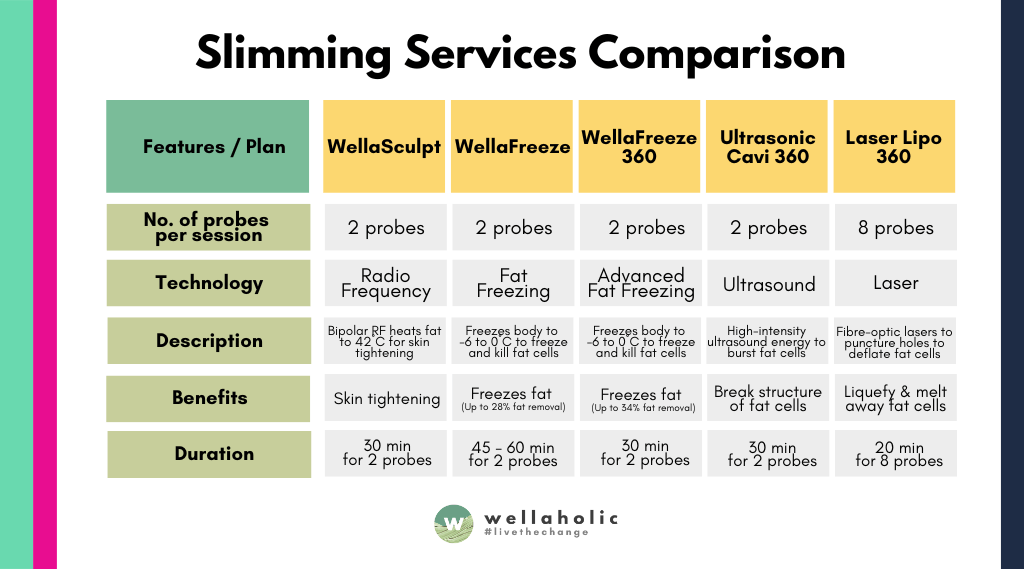 Please click on the menu below to see the pricing for the various slimming treatments by Wellaholic. Prices are nett and inclusive of GST.
---
---