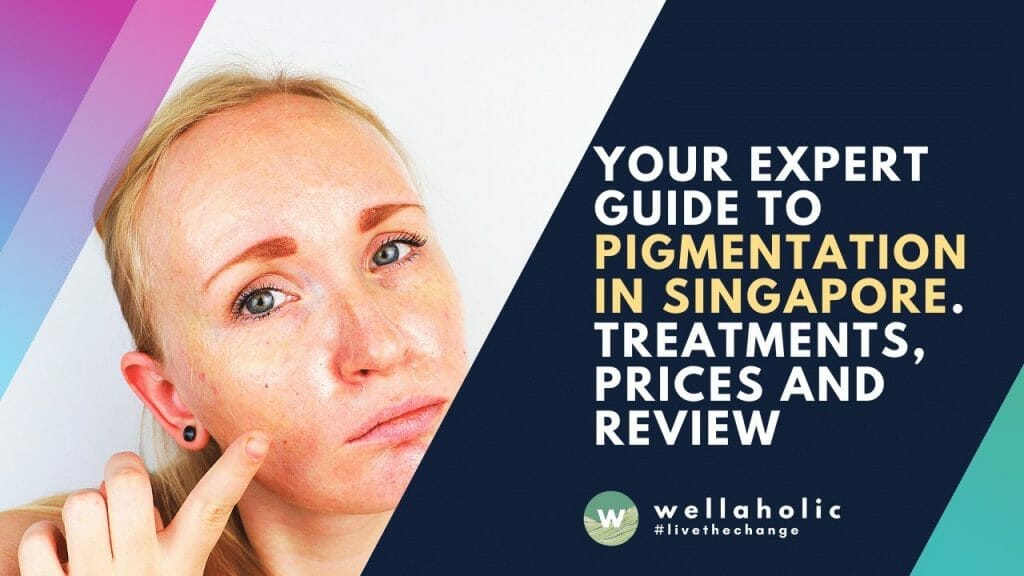 Your Expert Guide to Pigmentation in Singapore. Treatments, Prices and Review
Your Expert Guide to Pigmentation in Singapore
Looking to improve your skin's complexion in Singapore? Here's what you need to know about pigmentation, treatments and prices. Pigmentation refers to the natural variation of skin colour and can occur due to a variety of factors like age, genetics and sun exposure. While there is no one-size-fits-all solution, here are some tips for improving your complexion.
Question: How is pigmentation formed?
The pigment known as melanin is responsible for the colour of your skin, hair and eyes. Depending on genetics, melanin produced by your body may occur in various shades. Pigmentation refers to the hue of the hair, skin, and eyes as melanin is a substance that produces pigmentation. Based on your genes, all the shades of melanin produced are influenced by pigment genes.
Melanin, the remaining pigment after an initial production of dopamine, formed often by a variety of factors, such as sun exposure, aging, or hormonal issues, may vary from one person to the next. Pigmentation is among the more common types of coloration, and in many instances, a skin condition may be the underlying cause. If you think you may be ill, you can simply contact your doctor.
Question: What about Acne Scars?
Acne scars are a common side effect of acne. While most people think of acne as being a problem with the skin, acne actually affects the hair follicles and oil glands underneath the skin. When these become clogged, pimples form.
Acne can cause scarring because of the way it damages the skin. Pimples form when the follicle wall ruptures, spilling oil and dead skin cells into the surrounding area. This can irritate and inflame the skin, causing redness and swelling. If left untreated, this can lead to permanent scarring. There are several different types of acne scars, including hypertrophic scars, atrophic scars, and keloid scars. Hypertrophic scars are caused by excessive collagen production in the area around the wound. They are raised bumps on the skin that can be red or purple in color.
Question: What about Melasma?
Melasma is a common skin condition that causes brown patches on the face. It is often called the "mask of pregnancy" because it is more common in pregnant women, but it can occur in anyone. Melasma is caused by an increase in pigmentation, and it can be treated with topical creams or lasers.
Singapore has a high incidence of melasma, and many patients seek treatment for the condition. Topical creams are usually the first line of treatment, and they can be effective in reducing the appearance of melasma. Lasers can also be used to treat melasma, and they are particularly effective in cases that are resistant to topical treatments.
Question: What about Age Spots?
Melasma and age spots are two of the most common skin conditions that affect the face. Melasma is a darkening of the skin that usually appears on the cheeks, forehead, nose, and chin. Age spots are small, dark spots that typically appear on the hands and face.
Both conditions are caused by a combination of genetic and environmental factors. Exposure to the sun is the biggest contributor to both melasma and age spots. Other contributing factors include hormones, certain medications, and exposure to chemicals.
There is no cure for either condition, but there are treatments available that can help improve the appearance of the skin. Sun protection is essential for both conditions, and it's important to seek treatment from a dermatologist if you have melasma or age spots.
Question: What about Freckles?
A face is often described as being beautiful if it is symmetrical and has no blemishes. However, many people consider freckles to be a cute imperfection. In fact, some people find them so attractive that they seek out partners with freckles.
Freckles are small brown spots that can appear anywhere on the skin, but they are most commonly found on the face and arms. They are caused by an overproduction of melanin, which is the pigment that gives skin its color. Freckles usually fade in the winter and reappear in the summer, but they can also fade with age.
While there is no medical reason to remove freckles, some people choose to do so because they find them unattractive or because they think they make them look older.
Question: What are the Types of pigmentation treatments in Singapore?
Skin treatment has improved tremendously in recent years, therefore there are many ways in which you may correct your tanning, no matter its degree or degree. Your pigmentation can now be dealt with through the advancement of dermatology. There are methods that help you treat skin conditions, regardless of where they may be on the spectrum.
Answer: Possible Home Remedies to Treat Pigmentation
Mostly recommended for the milder cases of pigmentation, some do-it-yourself home remedies can be helpful in lightening the skin, thus reducing the appearance of pigmentation. Research shows that products like apple cider vinegar can help in lightening the dark spots, as it contains acetic acid, which acts as a mild chemical peel.
Answer: Possible Off-the-shelf Treatments to Treat Pigmentation
When looking for skincare products that can help even out your skin tone and reduce the appearance of pigmentation, look for ingredients like vitamins C or E. These vitamins are also antioxidants, which help in rejuvenating your skin and protect it from free radicals. When selecting skin care products to help even out your skin's tone, think about searching for ingredients like Vitamins C or E. These vitamins are also called antioxidants, and they help in protecting your skin from free radicals.
Answer: Non-invasive Skin Treatments
Although in some people the possibility of a correct scar formation is considerable, you may not want to put up with the possibility of enduring permanent marks. Certain in-office treatments include light therapies in which the skin is not subjected to the damaging effects of invasive procedures. If you have concerns about scarring or dislike the idea of having to undergo painful treatments, you might want to take advantage of non-invasive procedures. With the option of having it done via a simple outpatient procedure, some non-invasive treatments include light therapies that can be accomplished without inducing further damage to the skin.
Gold RF Microneedling by Wellaholic is a revolutionary skin treatment that delivers dramatic anti-ageing results by combining fractional radiofrequency (RF) with microneedling to effectively treat acne, acne scar, pigmentation, stretch marks & enlarged pores. Gold RF Microneedling can also lift saggy skin and revitalise dull and uneven skin tone.
Gold RF Microneedling combines radiofrequency with microneedling to stimulate tissue remodelling, thereby triggering the production of collagen. By repairing, remodelling and resurfacing the skin at a cellular level, Gold RF Microneedling can improve a variety of skin conditions, including acne scars, fine lines and wrinkles, skin laxity, hyperpigmentation, skin tone and texture.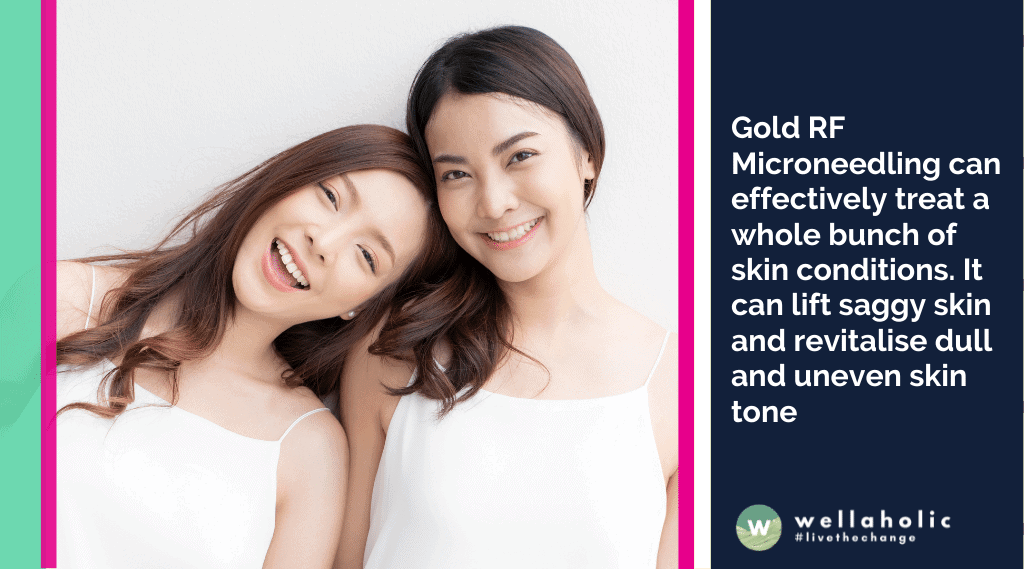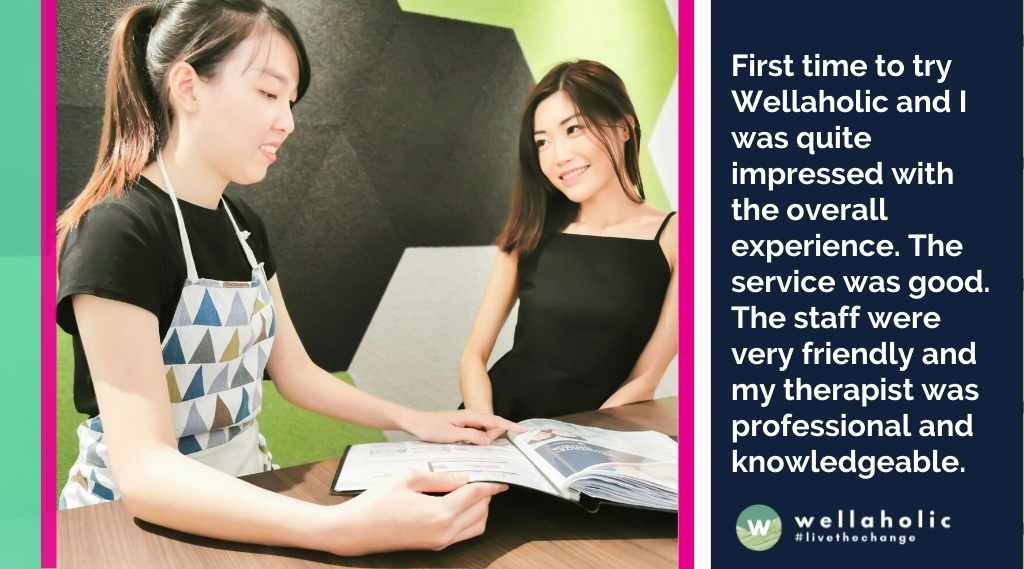 Why Choose Wellaholic?
At Wellaholic, all our treatments are backed by scientific research and case studies. Before we launch any new treatments, we conduct in-house testing and training to model our treatments to mimic and replicate the successes of the the various case studies. In fact, in our website, we have shared a useful collection of research reports that show the effectiveness and efficacy of the treatments. Because of this, we also constantly level ourselves with the latest research findings in order to improve our treatment processes.
At Wellaholic, we believe in offering transparent pricing so that our customers know how much we are charging before making an appointment. All prices are nett and inclusive of GST with no hidden charges. In fact you can refer to our online Wellaholic price list here.
In addition, customers never have to worry about being pressured into buying any packages at Wellaholic. In fact, we encourage customers to come for a free consultation before making any payment. This is to ensure that our customers are satisfied with the treatment process and procedure. And what if the customer is not keen to proceed after the consultation? They are welcome to decide and return on another day, with no strings attached.
Pricing of Facial Treatments by Wellaholic
Wellaholic believes in providing pricing transparency, and hence all our prices are published and updated on its website. Choose from a single-session plan or choose a multi-session plan for greater discounts. Wellaholic's facial treatments are generally divided into the following categories: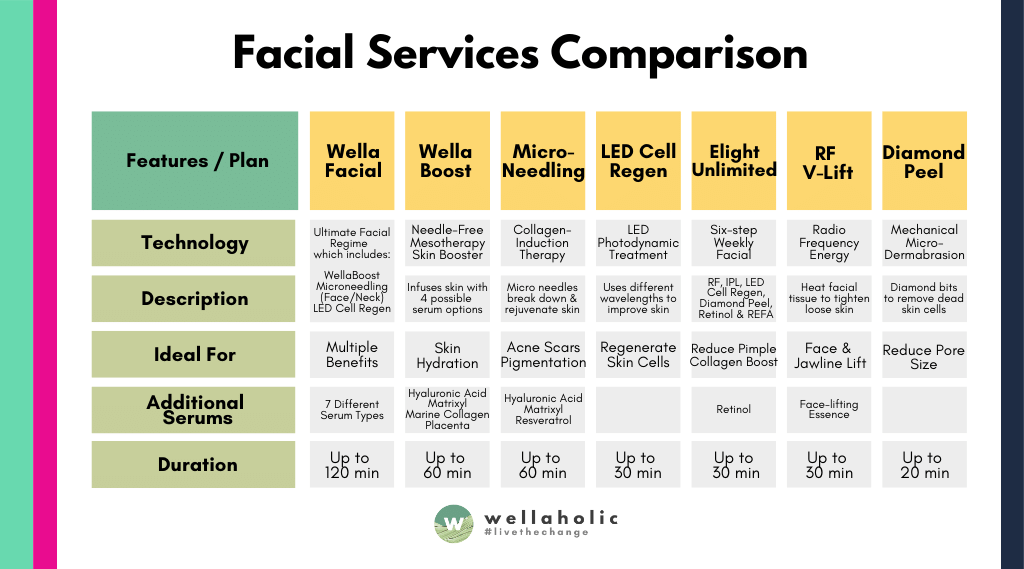 Please click on the menu below to see the pricing for the various facial treatments by Wellaholic. Wellaholic is well-known in the industry for our transparent pricing and no hard selling. In fact, Wellaholic is well-known for not only our transparent and cheap pricing but also without any hidden costs. All prices are nett and inclusive of GST, and are actual prices (i.e. not trial prices).
---