How Does Microneedling Work?
What is Microneedling?
​Microneedling is a minimally invasive cosmetic procedure that's used around the world to treat skin concerns and improve skin care by inducing collagen production. Also known as collagen induction therapy, this treatment may help those looking to reduce the appearance of acne scars and stretch marks.
According to a 2009 study, almost 100 percent of micro-needling participants reported a noticeable difference and vast improvement in the appearance of their acne scars after a treatment. In fact, some tout microneedling as a non-invasive alternative to plastic surgery with no or minimal side effects. Microneedling isn't invasive like plastic surgery, so the recovery time is minimal. In fact, most people require very little downtime, if any at all.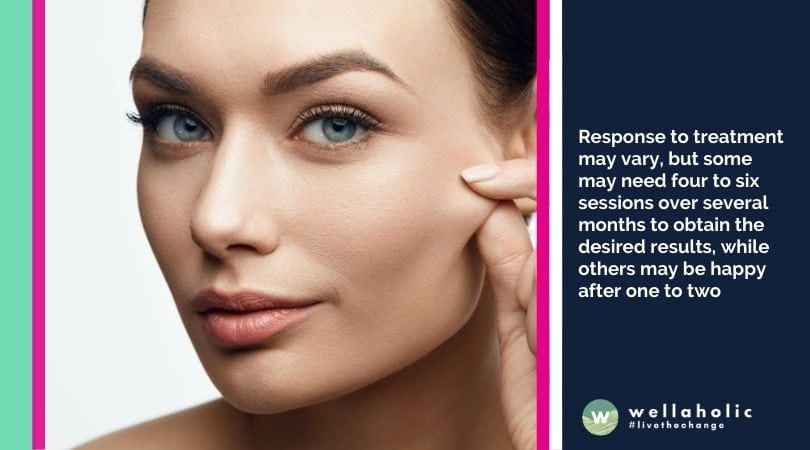 How does Microneedling Work?
Microneedling involves puncturing the skin with many tiny needles, according to Emory Aesthetic Center . If you are having the procedure done in a dermatologist's office, the skin will likely be numbed with a topical numbing cream for about 30 minutes before treatment to eliminate or at least decrease pain and prevent discomfort. And then a pen-like tool also known as a dermaroller or a dermapen is utilised in order to insert tiny stainless-steel needles into the skin to cause micro-injuries or punctures. It can be as many as 36 needles puncturing the skin at the same time.
Rollers used at home use shorter, duller needles than professional microneedling devices. They temporarily stimulate blood vessels to brighten the skin. But home rollers usually wont give you the same results as microneedling done at a dermatologists office or medical spa.
As a result of these tiny abrasions, the skin amps up collagen production in order to heal, according to a study published in March 2017 in Dermatological Surgery . The goal is for the damage caused by the needles to stimulate your body to send healing agents in the form of elastin and collagen to the area of treatment to repair and renew the skin.
More attention is now being paid to what you apply to the skin after the procedure. Microneedling disrupts the skin barrier function, allowing both helpful and potential harmful molecules beneath the surface. Using an anti-oxidant containing topical can augment results after microneedling, but it's also important to avoid harsh topicals and environments that are dirty or polluted.
Microneedling may help address wrinkles, acne, scarring, and stretch marks. Microneedling increases the production of collagen and other healing factors by causing trauma to the skin.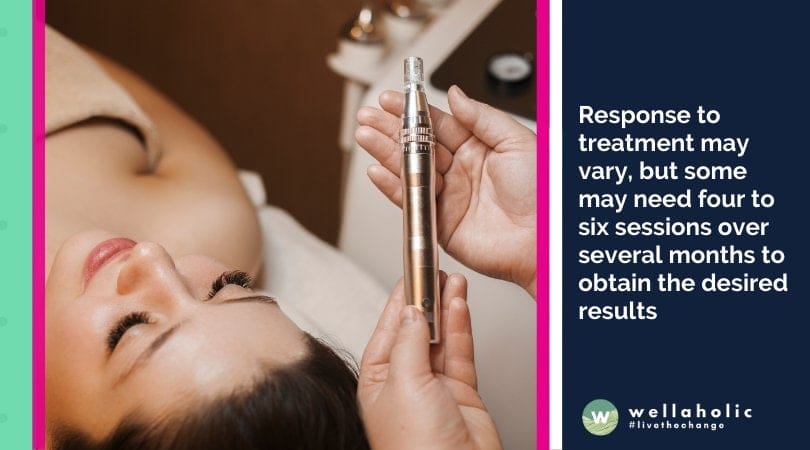 How Long Does It Take to See Results from Microneedling?
"Response to treatment may vary, but some may need four to six sessions over several months to obtain the desired results, while others may be happy after one to two," aesthetic doctor Dr. Gohara explains. "But maintenance treatments may be necessary to keep the progress up and prevent further damage." In between, your dermatologist or consultant can advise you on whether you should continue your regular skincare regimen, including other types of exfoliating and skin resurfacing products while receiving microneedling treatments.
For Facial Rejuvenation/Collagen Stimulation: Plan 3-5 sessions, each 2-4 weeks apart
For Perioral (around the mouth) wrinkles: Plan 5 sessions, each 2-4 weeks apart.
For Acne Scars: Plan 3-6 sessions, each 3-6 weeks apart
For Stretch Marks: Plan 3-6 sessions, each 4-6 weeks apart
​With in salon treatments the final results might not be noticeable until you hit the three to twelve months mark as boosting collagen and elastin within the dermis takes time. However, as with most treatments it depends on the individual.
How Can Your Prepare for Microneedling?
​If you're using any intense topical treatments (such as those containing retinol or retinyl palmitate), you are highly recommended to discontinue its use a few days before your micro-needling treatment. Harsh products could aggravate the skin, so milder is the key. In addition to having a cleansed and toned face, you should also avoid using retinol at least 48 hours prior and avoid direct sun exposure for about three days prior and three days following. Also try to avoid chemical peels, Diamond Peel microdermabrasion or any exfoliation a few days before or after the microneedling treatment.
What are the Possible Side-Effects of Microneedling?
​Like all cosmetic procedures, microneedling is not without some risks. The most common side effect is minor skin irritation immediately following the procedure. You may also see redness for a few days, similar to that of a sun-burn. For some customers, the redness will be very mild.
Recovery is minimal, though people with sensitive skin should be careful when applying moisturisers and serums. After the treatment, your skin will be inflamed and more sensitive than usual.
---
Gold RF Microneedling Facial by Wellaholic
Gold RF Microneedling is a revolutionary skin treatment that delivers dramatic anti-ageing results by combining fractional radiofrequency (RF) with microneedling to effectively treat acne, acne scar, pigmentation, stretch marks & enlarged pores. Gold RF Microneedling can also lift saggy skin and revitalise dull and uneven skin tone.
What is Gold RF Microneedling Facial Treatment?
If you are looking for an effective method to clear your acne scars, wrinkles or pigmentation, or if you are looking to tighten saggy skin such as jowl lines and nasolabial folds without any invasive surgery, then Gold RF Microneedling is the right treatment for you. Gold RF Microneedling combines two scientifically-proven techniques, microneedling and fractional radiofrequency (RF) to treat a variety of skin conditions.
Gold RF Microneedling uses up to 64 needles to penetrate the skin, releasing RF energy to trigger collagen and elastin production for the ultimate anti-ageing treatment for a clearer complexion and firmer skin.
Gold RF Microneedling is a safe, minimally invasive, and extremely effective aesthetic treatment for treating acne scars, pigmentation, fine lines and wrinkles.
Gold RF Microneedling has the ability to stimulate the growth of collagen and elastin using the combination of Microneedling with Radiofrequency, which is the key to new, youthful-looking skin.
Gold RF Microneedling has a dermatological treatment has seen extensive positive clinical results. This is an improvement over just doing a Microneedling or Radiofrequency treatment on its own.
Gold RF Microneedling combines radiofrequency with microneedling to stimulate tissue remodelling, thereby triggering the production of collagen.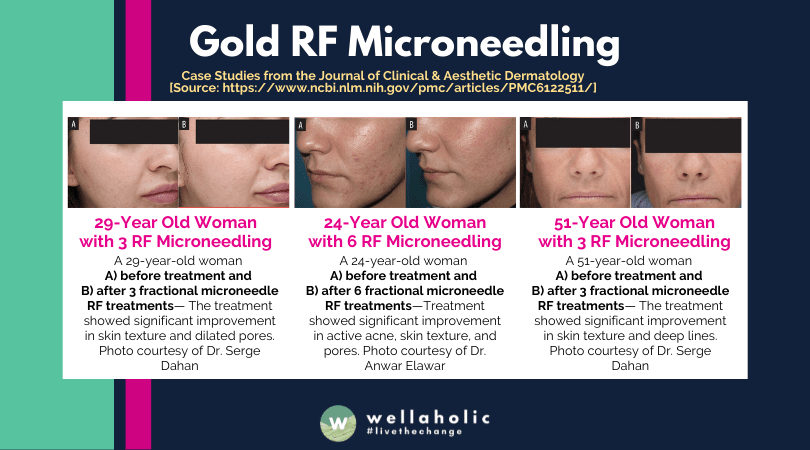 What are the Benefits of Gold RF Microneedling Facial?
Gold RF Microneedling has all the skin resurfacing benefits of traditional microneedling, but with the added technology of insulated needles that deliver RF energy to the skin, creating new microchannels linking your skin's layers.
Gold RF Microneedling create tiny wounds in your skin to prompt your body to replace old skin cells with healthy new ones, the RF energy heats deep layers of your dermis to encourage collagen growth and tissue tightening, leading to visibly healthier skin that continues to improve over the following months.
Gold RF Microneedling leads to faster cell turnover and quicker results than traditional microneedling.
Gold RF Microneedling has a shorter recovery time as compared to traditional microneedling, laser resurfacing treatments and chemical peels. There is also less risk of hyperpigmentation.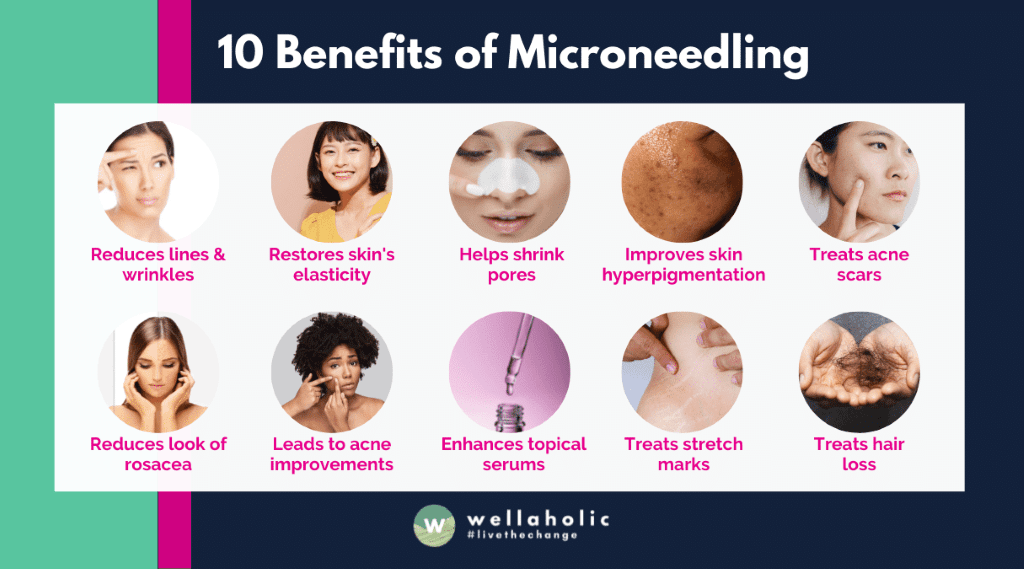 Pricing of Facial Treatments by Wellaholic
Wellaholic believes in providing pricing transparency, and hence all our prices are published and updated on its website. Choose from a single-session plan or choose a multi-session plan for greater discounts. Wellaholic's facial treatments are generally divided into the following categories: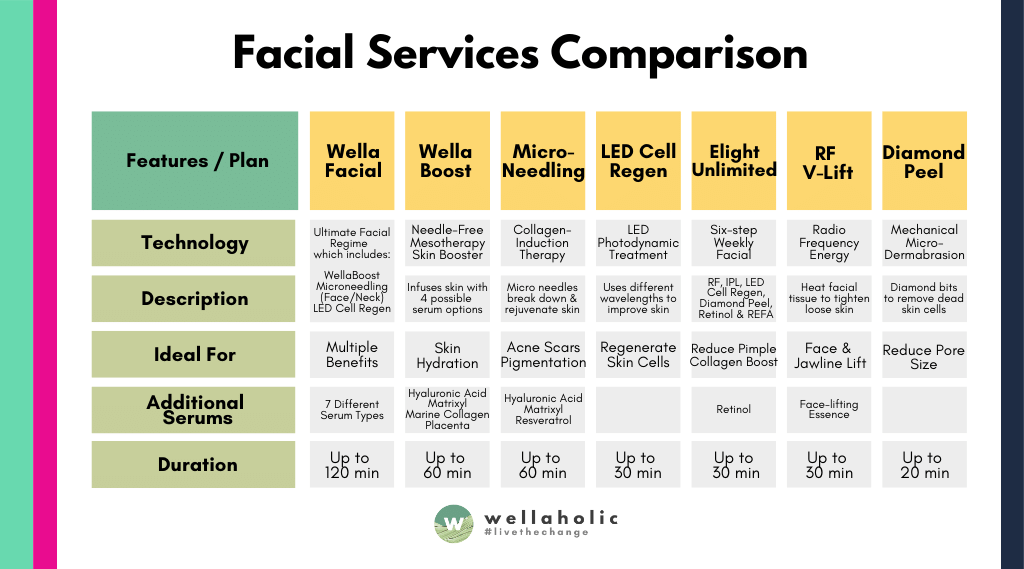 Please click on the menu below to see the pricing for the various facial treatments by Wellaholic. Wellaholic is well-known in the industry for our transparent pricing and no hard selling. In fact, Wellaholic is well-known for not only our transparent and cheap pricing but also without any hidden costs. All prices are nett and inclusive of GST, and are actual prices (i.e. not trial prices).
---
---