How to Prepare for a Microneedling Treatment
Wellaholic Monitors Customer Booking Patterns
Do you have issues with acne scars, pigmentation or even wrinkles? Microneedling can be the answer! Our microneedling treatments are recommended for rejuvenating your skin and eliminating this kind of issue. Microneedling is a collagen-stimulating treatment to treat textural issues, including acne scar removal, pore refinement, wrinkles pigmentation and augment positive results. Read on to find out more how you can prepare for a microneedling treatment.
Microneedling: Before the Treatment
Consult with a physician to determine if microneedling is the right treatment for you and to learn about the risks and benefits.
Microneedling is a treatment option that has been shown to improve the appearance of skin and reduce the appearance of wrinkles. However, like any other type of treatment, there are risks and benefits associated with microneedling. If you are considering this treatment, it is important to consult with a physician to determine if it is the right treatment for you and to learn about the risks and benefits. At Wellaholic, we provide consultation to assist you with any pre-treatment queries.
Preparation Guidelines for Microneedling
Avoid Direct Sun Exposure
Avoid direct sun exposure for at least 24 hours unless you are wearing strong SPF to protect your skin. You should avoid tanning beds for 24 hours after your skin care treatment.
Avoid Acid-based Skincare, such as Retinoids
While addressing your skin, you may have to forgo using various skincare remedies, including retinoids and acid-based ones, like azelaic acid, glycolic acid, and salicylic acid. These products may have excellent benefits for your skin, but they should be avoided prior to and immediately after a fractional and microneedle treatment to prevent it from undergoing irritation or over drying.
Avoid Blood Thinning Medication
If you are taking blood-thinning medication, then you may need to temporarily stop taking it for one to three days before the appointment. You should avoid NSAIDs in the week leading up to your treatment session. Bruising is caused by internal bleeding and NSAIDs thin the blood, making internal bleeding more likely to occur.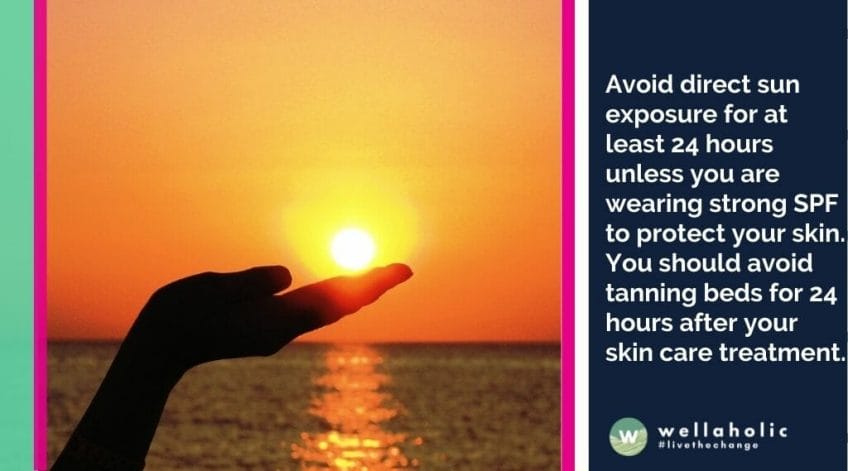 On Your Microneedling Appointment
On the day of your appointment, wash your face with a gentle facial cleanser. Try to show up to your treatment with clean skin free of make-up or products. Doing so will make sure that you are fully prepared to begin your treatment as soon as you get there. We will provide facial wet wipes for you to self-cleanse your face. During the start of the treatment, we will also be doing an additional cleansing with a facial toner to remove any impurities.
For Your Comfort During Microneedling
For people who suffer from sensitive skin, it can be useful to take Tylenol or painkillers about an hour before your appointment to alleviate possible discomfort from your procedure. And you can also take extra steps for the convenience and safety of our patients, such as an application of numbing cream many hours before the procedure starts. Nevertheless, at Wellaholic, we are able to gradually increase the intensity (and needle depth) of our microneedling treatments such that there is no need to take any painkillers nor opt for numbing cream. In fact, we do not advocate the use of numbing cream for microneedling treatments.
People who use large amounts of skin-numbing creams and lotions, often in conjunction with cosmetic procedures, are at risk of irregular heartbeats, seizures and even death, as reported by US health officials (source). This is because a lethal dose of chemicals can enter the bloodstream, especially when when microneedling is used right after the application of numbing cream. We have seen several patients with averse effects, and hence would strongly recommended not to use numbing cream before microneedling treatments.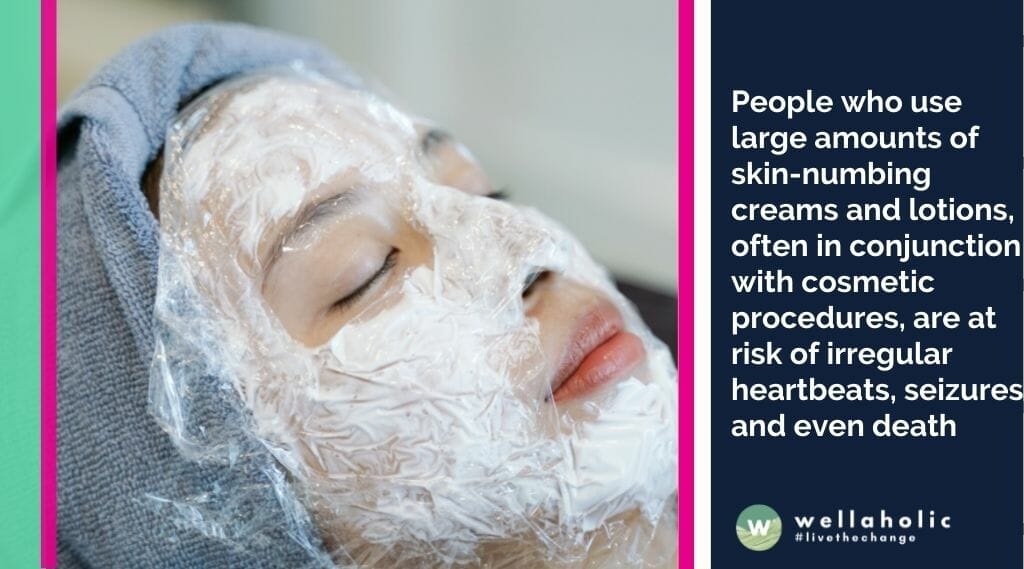 Does the Microneedling Treatment Hurt?
Microneedling procedures are not painful, but they can be uncomfortable for patients who may be afraid to have blood drawn or who are concerned about needles. Microneedling involves placing small needles into the skin; doing so stimulates collagen production, to produce younger, more attractive skin.
The microneedling tool is sterilized and intended only for single use. Once the microneedling treatment begins, our consultant will move the dermapen across your face. The most common sensation during the procedure is a warm, scratching feeling as the tool is moved around the face. You may also notice some pain on the "bonier" areas of your face, such as your hairline, forehead, and jawline.
After the Microneedling Procedure
After the microneedling procedure, choose from three possible facial serums to reap the best benefits of your microneedling treatment:
HYALURONIC ACID 2% + VITAMIN B5
This formula uses three forms of HA with varying molecular weights, as well as an HA Crosspolymer.
This offers full-depth hydration and visible plumping without drawing water out of the skin.
B5 further enhances surface hydration.
USAGE: HYDRATION AND PLUMPING
RESVERATROL 3% + FERULIC ACID 3%
This formula combines very high concentrations of two of the most powerful and important antioxidants in skincare: Resveratrol and Ferulic Acid.
Skincare formulations generally incorporate Resveratrol at 1% or less and Ferulic Acid at 0.5% or less.
This formula an exceptionally high concentration of resveratrol.
USAGE: ANTI-AGEING
MATRIXYL™ 10% + HYALURONIC ACID
Matrixyl™ is a trademarked peptide composition developed by Sederma Inc. in France.
This highly-effective composition has been shown to reduce the look of static and dynamic wrinkles.
This formula contains two generations of Matrixyl™, at a combined concentration of 10% by weight in a specialized Hyaluronic Acid delivery system.
USAGE: INTERNAL PLUMPING TO FILL UP SCARS AND WRINKLES
Gold RF Microneedling Facial by Wellaholic
Gold RF Microneedling is a revolutionary skin treatment that delivers dramatic anti-ageing results by combining fractional radiofrequency (RF) with microneedling to effectively treat acne, acne scar, pigmentation, stretch marks & enlarged pores. Gold RF Microneedling can also lift saggy skin and revitalise dull and uneven skin tone.
What is Gold RF Microneedling Facial Treatment?
If you are looking for an effective method to clear your acne scars, wrinkles or pigmentation, or if you are looking to tighten saggy skin such as jowl lines and nasolabial folds without any invasive surgery, then Gold RF Microneedling is the right treatment for you. Gold RF Microneedling combines two scientifically-proven techniques, microneedling and fractional radiofrequency (RF) to treat a variety of skin conditions.
Gold RF Microneedling uses up to 64 needles to penetrate the skin, releasing RF energy to trigger collagen and elastin production for the ultimate anti-ageing treatment for a clearer complexion and firmer skin.
Gold RF Microneedling is a safe, minimally invasive, and extremely effective aesthetic treatment for treating acne scars, pigmentation, fine lines and wrinkles.
Gold RF Microneedling has the ability to stimulate the growth of collagen and elastin using the combination of Microneedling with Radiofrequency, which is the key to new, youthful-looking skin.
Gold RF Microneedling has a dermatological treatment has seen extensive positive clinical results. This is an improvement over just doing a Microneedling or Radiofrequency treatment on its own.
Gold RF Microneedling combines radiofrequency with microneedling to stimulate tissue remodelling, thereby triggering the production of collagen.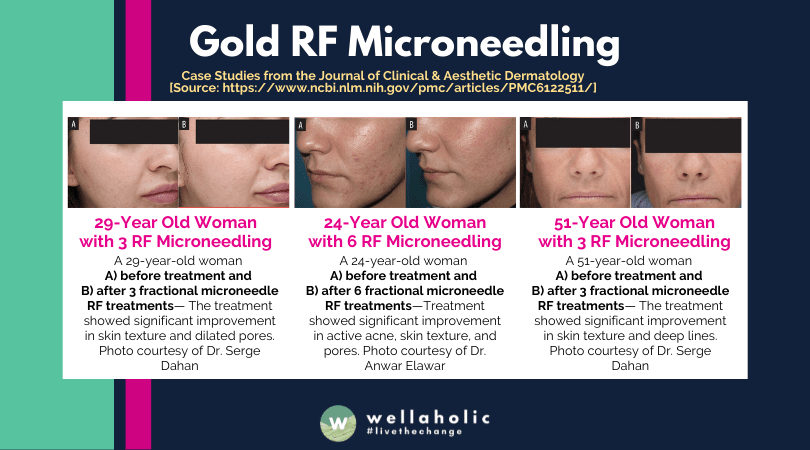 What are the Benefits of Gold RF Microneedling Facial?
Gold RF Microneedling has all the skin resurfacing benefits of traditional microneedling, but with the added technology of insulated needles that deliver RF energy to the skin, creating new microchannels linking your skin's layers.
Gold RF Microneedling create tiny wounds in your skin to prompt your body to replace old skin cells with healthy new ones, the RF energy heats deep layers of your dermis to encourage collagen growth and tissue tightening, leading to visibly healthier skin that continues to improve over the following months.
Gold RF Microneedling leads to faster cell turnover and quicker results than traditional microneedling.
Gold RF Microneedling has a shorter recovery time as compared to traditional microneedling, laser resurfacing treatments and chemical peels. There is also less risk of hyperpigmentation.
See Over 1800 Positive Reviews of Wellaholic (Customer Verifiable)
Pricing of Facial Treatments by Wellaholic
Wellaholic believes in providing pricing transparency, and hence all our prices are published and updated on its website. Choose from a single-session plan or choose a multi-session plan for greater discounts. Wellaholic's facial treatments are generally divided into the following categories: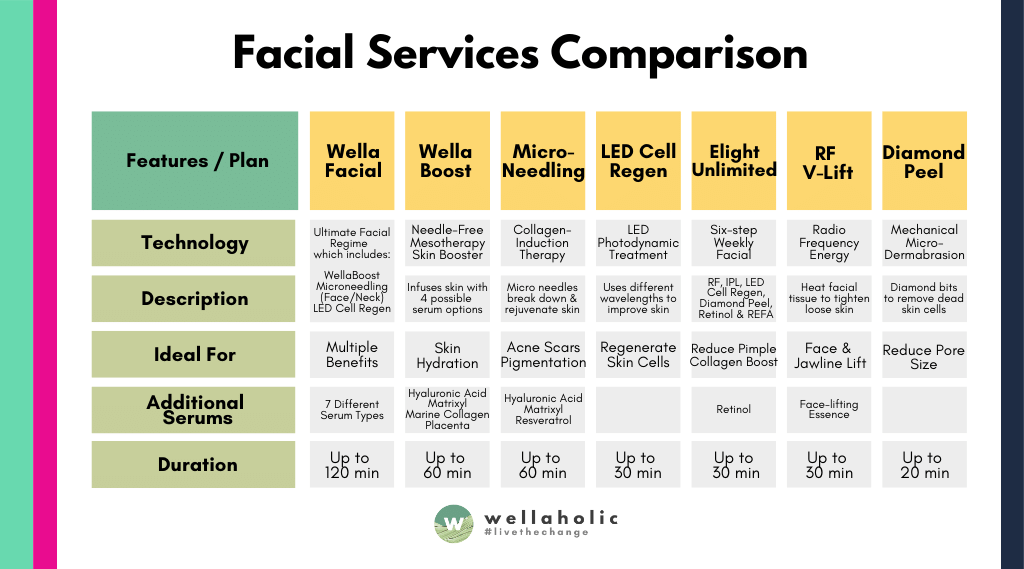 Please click on the menu below to see the pricing for the various facial treatments by Wellaholic. Wellaholic is well-known in the industry for our transparent pricing and no hard selling. In fact, Wellaholic is well-known for not only our transparent and cheap pricing but also without any hidden costs. All prices are nett and inclusive of GST, and are actual prices (i.e. not trial prices).
---
---