Laser Hair Removal for Dark Skin Types – What's the Best Method?
Introduction
There are a few different methods of hair removal that work well for people with darker skin. Shaving is the most popular and cheapest method, but it can cause razor burn, bumps, and ingrown hairs. Waxing is another option, but it can be painful and can cause skin irritation. Depilatory creams are another option, but they can also be irritating to the skin.
Laser hair removal is a newer technology that uses lasers to remove hair. There are many different laser hair removal methods available, but which one is best for darker skin? Some laser hair removal methods work well on lighter skin tones, but can be dangerous for those with darker skin. Here is a look at what's the most effective methods for laser hair removal for darker skin types.
What is laser hair removal?
Laser hair removal is a process where hair is removed from the body using a laser. The laser emits a light that is absorbed by the pigment in the hair follicle. This damages the follicle and prevents the hair from growing back. Laser hair removal is a popular treatment for removing unwanted hair. It is effective, safe, and relatively affordable.
Using wrong type of laser for darker skin can be serious consequences
If you have darker skin, you will need to choose the right laser hair removal. What makes laser hair removal tricky for dark skin lies with the fact that laser mainly targets the melanin (or pigment) in your skin besides the hair follicle itself. Using the wrong type of laser can have negative side effects and consequences. You might get unintended burns, scarring or permanent skin pigmentation or discoloration – which can affect you for a very long time.
---
How to pick the right laser hair removal for darker skin?
If you have darker skin, you will need to choose a laser with 1064nm long-pulse laser. The 1064nm laser is a non-ablative laser — this means that the laser does not remove the top layer of the skin. Instead, the laser targets the underlying skin tissue beneath the top layer of the skin to encourage the skin to naturally produce more collagen.
Wellaholic's SHR combines 755nm, 808nm and 1064nm laser wavelengths for all skin tones
Wellaholic's SHR or Super Hair Removal technology is a newer technology as compared to IPL. Developed by Alma Lasers, SHR combines 755nm, 808nm and 1064nm laser wavelengths to target all skin types. In addition, simultaneous contact cooling prevents burns and allows for a more comfortable treatment. This is ideal for skin and hair of all types and causes minimal irritation to the skin. Wellaholic's SHR Prestige plan allows you hair reduction treatments on all body parts.
At Wellaholic, we administer as many SHR shots as needed for the most effective hair removal. You only pay a single price and relax while our experienced consultants do their magic to target hair follicles to help you achieve smooth skin. Research shows that permanent hair reduction is better achieved with a slower by longer process of heating, which makes SHR hair removal a more preferred choice than IPL.
WellaSmooth All-inclusive Laser Hair Removal for Darker Skin Tones
WellaSmooth™ All-Inclusive Hair Removal is designed for an all-inclusive fuss-free full-body permanent hair removal experience with a 5-star rating. WellaSmooth™ All-Inclusive Hair Removal includes all-that-you-require shaving service, followed by SHR Unlimited Prestige hair removal which includes unlimited SHR shots for the entire body (including Brazilian/Boyzilian). Also included is our Skin Whitening / Hydrating post-treatment therapy (PTT) followed by our AfterGlow Red Light therapy.
WELLASMOOTH™ INCLUDES ALL THE KEY HAIR REMOVAL SERVICES:
SHR Permanent Hair Removal PRESTIGE Unlimited – Enjoy our bestseller SHR hair reduction treatment for all body parts
Unlimited Shaving Service – Enjoy unlimited shaving service on all body parts
See Over 1800 Positive Reviews of Wellaholic (Customer Verifiable)
Pricing of SHR Hair Removal Treatments by Wellaholic
Wellaholic believes in providing pricing transparency, and hence all prices are published and updated on its website. Choose from unlimited monthly hair removal plans (with unlimited SHR hair removal shots) for unlimited body parts, or choose from per-session hair removal price plans. Wellaholic's hair removal prices are generally divided into the following categories: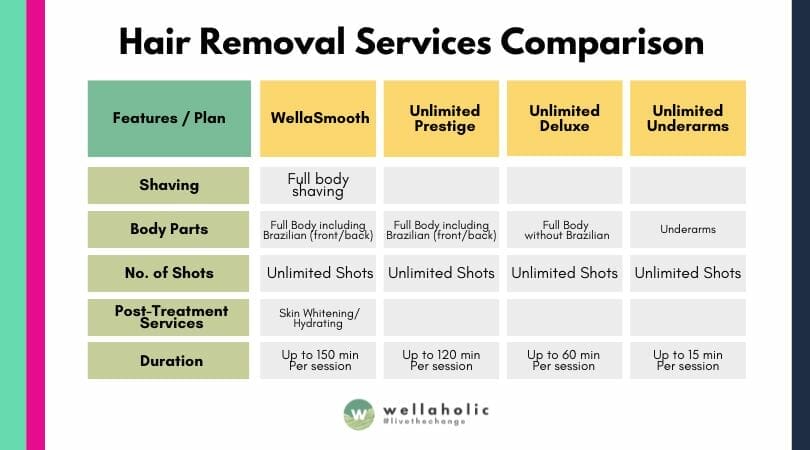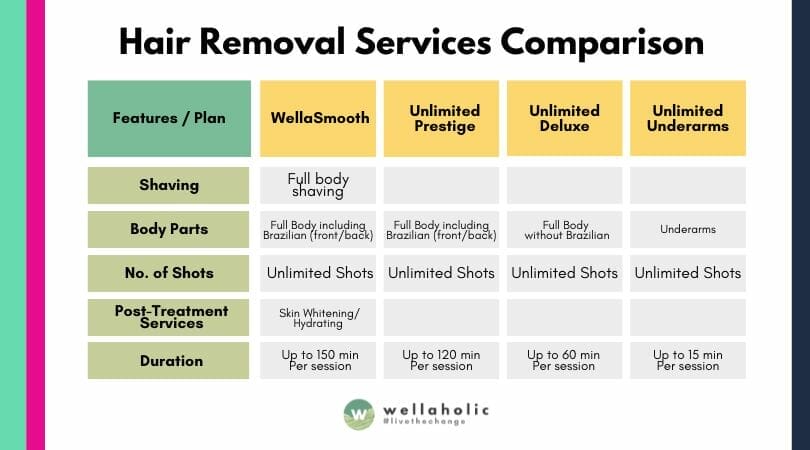 ---
---