Laser Hair Removal Treatments – Why WellaSmooth is Effective Yet Cheap in Price
Introduction
Do you have problem with getting rid of unwanted hair on certain body areas, as well as typically find yourself resorting to temporary approaches like tweezing or shaving? While these hair removal approaches can be seemingly cost-effective as well as practical, they typically cause adverse effects like breakouts, in-grown hair as well as folliculitis. Further, they can be very time consuming too.
The good news is that advances in hair removal technology has lead to various forms of permanent hair removal via laser hair removal and its sub-classes such as SHR hair removal, IPL hair removal and DPL hair removal. As a matter of fact, Wellaholic believes that laser hair elimination must be the hair elimination therapy of selection if you're looking for something that's risk-free, effective as well as permanent for all skin tones, skin types as well as hair types. Yet, cost seems to be a deterrent factor for most people who might want to consider laser hair removal. In this article, we will give an overview of laser hair removal and then explain why our WellaSmooth Ultimate Hair Removal regime is both effective as well as affordable especially if you are looking for hair removal for several body parts including shaving.
---
What exactly is laser hair removal?
Laser hair elimination is a hair elimination approach that uses light power from laser machines to completely destroy or harm hair roots. This light energy gives off a wavelength of light consisting of a particular single colour. When targeted to hair pigment melanin on skin, it warms up and concentrates on the hair shaft, thus getting rid of hair without causing damages to bordering cells and skin.
With lasers, hair can either be completely eliminated or its thickness permanently minimized. Long-term decrease in hair density means while hair is considerably lower, some hair will still regrow unless patients undertake consistent laser treatments. Long-term hair elimination obviously suggests hair is completely eliminated and will not regrow.
---
What is the effectiveness of laser hair removal?
The efficiency of laser hair removal treatments is affected by:
The thickness and also colour of hair being treated
The colour of your skin
The top quality as well as sort of laser used
The training and also competence of the individual running the laser
It deserves adding that unlike IPL, lasers such as SHR deal with all hair and skin colours, including darker skin. As a matter of fact, lasers call for coloured pigments to function well; the beam of light is filtered into a certain wavelength as well as absorbed by pigment within hair. In a manner, the pigment functions as a target for the laser. Keeping that stated, if you have grey or white hair with no melanin pigmentation, existing laser modern technologies do not work as well.
---
What are the different kinds of lasers for hair removal?
At present, there are three key types of laser technologies utilized for hair removal in Singapore:
Alexandrite Laser (735nm) – used on fair to mid-toned skin with medium to coarse hair
ND:YAG Laser (1064nm) – used on darker skin with coarse hair
Diode Laser (810nm) – used on fair to dark skin with fine hair
Worth noting is the diode laser (810nm) that's made use of in a preferred laser hair elimination treatment referred to as Super Hair Elimination. This low-powered laser delivers brief pulses at high repeating rates, hence removing hair without destructive skin. It's likewise geared up with an anti-reflective sapphire crystal modern technology which functions as a cooling system, making sure that the pulses are added mild on skin. This is a reason to why Wellaholic uses SHR hair removal technology over other older technologies such as IPL hair removal. Do note that there are emerging hair removal such as OLED hair removal, which has not been validated by scientific case studies.
---
How many laser hair removal treatments are needed to see good results?
The amount of laser hair removal or SHR hair removal treatments you need is mainly determined by your hair growth cycle as well as your Fitzpatrick skin type:
Fitzpatrick skin type 1 and also 2: Those with dark hair typically require 4-6 treatments spaced out every 4-6 weeks to accomplish long-term hair removal, while those with lighter hair may only achieve a permanent decrease in hair density after 6-12 treatments, each spaced a month apart.
Fitzpatrick skin type 3: Those with dark hair typically require 6-10 therapies done every 4-6 weeks for irreversible hair elimination, while those with lighter hair need 3-6 therapies done a month apart for permanent hair decrease.
Fitzpatrick skin type 4, 5 and 6: Those with dark hair typically need 6-10 therapies arranged every 4-6 weeks apart for long-term hair decrease. Maintenance sessions done every 3-6 months are needed.
Based on thousands of customers who have completed their hair removal treatments over at Wellaholic, a customer typically takes about 8 to 12 sessions of hair removal treatments to see permanent hair reduction. Sometimes, they may need to return for maintenance hair removal sessions. We provide Lifetime Maintain Mode treatments for our regular customers.
---
WellaSmooth All-inclusive Hair Removal by Wellaholic
WellaSmooth™ All-Inclusive Hair Removal is designed for an all-inclusive fuss-free full-body permanent hair removal experience with a 5-star rating. WellaSmooth™ All-Inclusive Hair Removal includes all-that-you-require shaving service, followed by SHR Unlimited Prestige hair removal which includes unlimited SHR shots for the entire body (including Brazilian/Boyzilian). Also included is our Skin Whitening / Hydrating post-treatment therapy (PTT) followed by our AfterGlow Red Light therapy.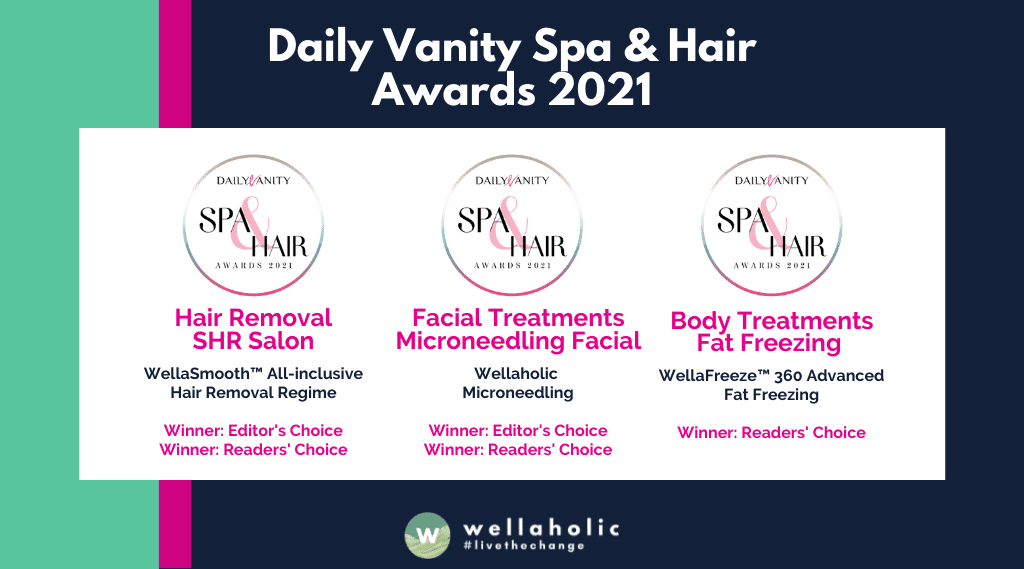 What is WellaSmooth™ All-inclusive Hair Removal Regime?
Voted Best Hair Removal Treatment by Daily Vanity Spa and Beauty Awards 2021.
WellaSmooth™ All-Inclusive Hair Removal is designed for an all-inclusive fuss-free full-body permanent hair reduction experience.
WellaSmooth™ All-Inclusive Hair Removal is ideal for all skin color, hair color, and all forms of hair.
Also include is all-that-you-require shaving service for all body parts including your private regions.
WellaSmooth™ All-Inclusive Hair Removal also includes the Skin Whitening / Hydrating (PTT) with AfterGlow™, which includes post-hair-removal skin whitening or skin hydration followed by our AfterGlow Red Light therapy for enhanced skin rejuvenation.
Achieve smooth and glowing skin that will wow everyone.
This treatment is ideal for both men and women, by male and female therapists.
Get a package and choose your shaving, SHR permanent hair removal and post-treatment whitening and hydration done at any of our multiple outlets across Singapore.
WellaSmooth™ is your ultimate all-inclusive hair removal treatment in Singapore complete with shaving and post-treatment care.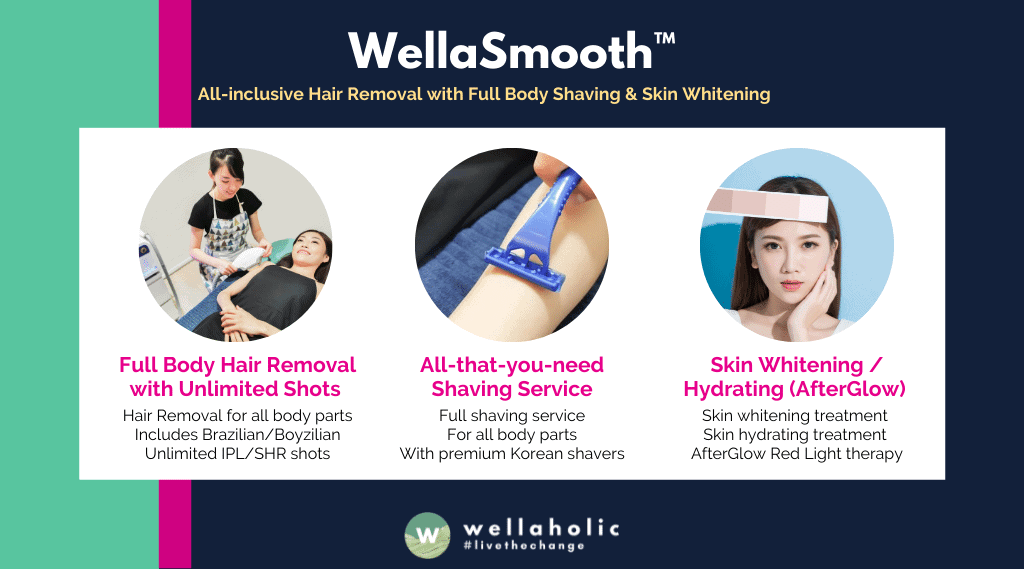 WellaSmooth™ Includes the Following Three Hair Removal Services
SHR Permanent Hair Removal PRESTIGE Unlimited – Enjoy our bestseller SHR hair reduction treatment for all body parts
Unlimited Shaving Service – Enjoy unlimited shaving service on all body parts
Skin Whitening/Hydrating (PTT) with AfterGlow – Enjoy post-treatment whitening or hydrating therapy followed by AfterGlow red-light treatment to rejuvenate your skin
See Over 1800 Positive Reviews of Wellaholic (Customer Verifiable)
Pricing of SHR Hair Removal Treatments by Wellaholic
Wellaholic believes in providing pricing transparency, and hence all prices are published and updated on its website. Choose from unlimited monthly hair removal plans (with unlimited SHR hair removal shots) for unlimited body parts, or choose from per-session hair removal price plans. Wellaholic's hair removal prices are generally divided into the following categories: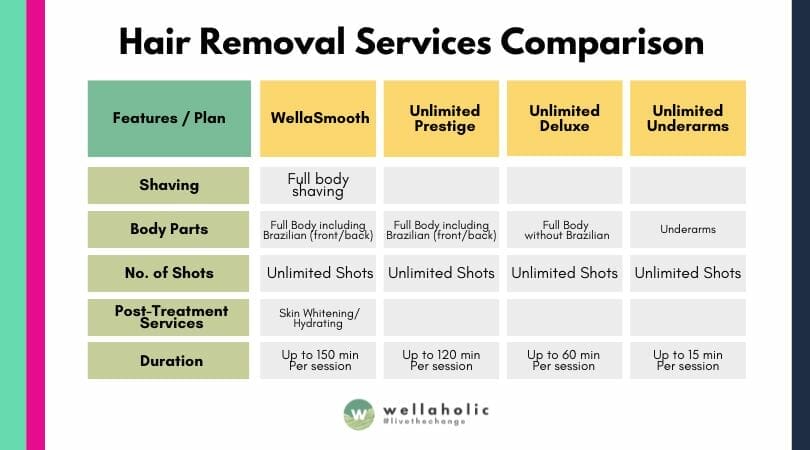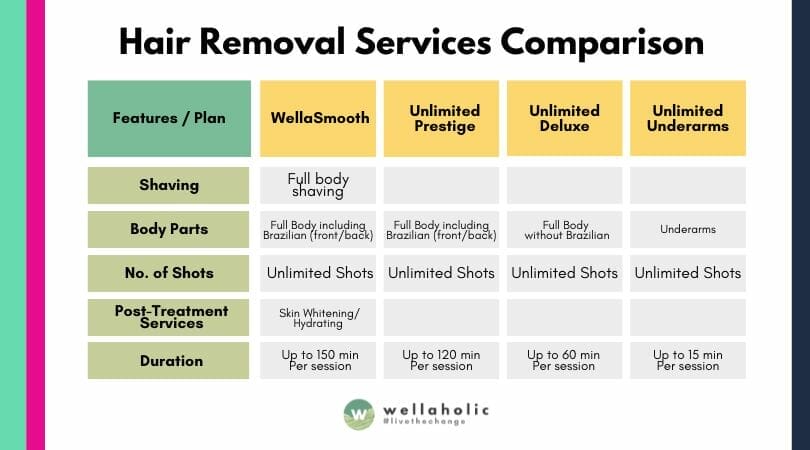 ---
---