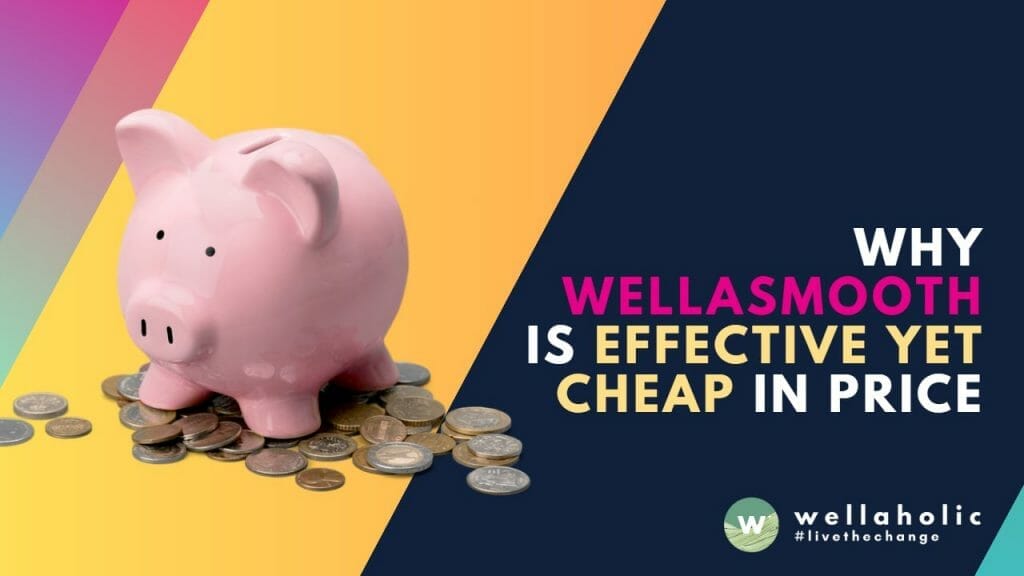 Laser Hair Removal Treatments – Why WellaSmooth is Effective Yet Cheap in Price
TL:DR Summary
Laser hair removal is a safe and effective way to get rid of unwanted hair permanently and achieve smooth and hairless skin.
Wellaholic offers Wellasmooth, a comprehensive hair removal plan that includes unlimited sessions of SHR laser hair removal, post-treatment whitening or hydration, and lifetime maintenance.
SHR stands for Super Hair Removal, a technology that uses low-intensity pulses of light to target the hair follicles without damaging the surrounding skin. It is faster, painless, and suitable for all skin types.
Post-treatment whitening or hydration helps to soothe and nourish the skin after laser hair removal. Whitening reduces pigmentation and evens out the skin tone, while hydration moisturizes and replenishes the skin.
Lifetime maintenance ensures that you can enjoy smooth and hairless skin forever. If you ever experience any hair regrowth after completing your Wellasmooth plan, you can return for free touch-up sessions.
Wellaholic has eight outlets in Singapore and offers flexible pricing options. You can choose from monthly, quarterly, or annual plans, or pay per session. You can also switch between outlets and enjoy unlimited bookings.
Introduction
Permanent Hair Removal with Laser Technology at Wellaholic
Are you tired of using temporary hair removal methods such as tweezing or shaving? Well, Wellaholic has a solution for you. Laser hair removal is a cost-effective, practical, and safe method to permanently remove hair from your body.
What is Laser Hair Removal?
Laser hair removal is a non-invasive hair removal technique that uses laser technology to damage the hair follicles and prevent hair growth. The laser targets the melanin in the hair follicles, heating and damaging them. The hair follicles are then unable to produce hair, resulting in permanent hair removal. At Wellaholic, we offer SHR hair removal, IPL hair removal, and DPL hair removal techniques for all skin types and hair types.
Why Choose Laser Hair Removal at Wellaholic?
Laser hair removal has many benefits over temporary hair removal methods. These benefits include:
No more breakouts, in-grown hair or folliculitis
Permanent hair reduction
Saves time and effort in the long run
Cost-Effective Hair Removal with WellaSmooth Ultimate Hair Removal Regime
At Wellaholic, we understand that cost can be a major factor in choosing permanent hair removal with laser technology. That's why we offer WellaSmooth Ultimate Hair Removal Regime, a cost-effective and comprehensive package that covers multiple body parts. It is an affordable and effective solution for permanent hair removal that saves you time and effort in the long run.
"WellaSmooth offers powerful, effective hair removal at an affordable price – giving you the best of both worlds!"
What exactly is laser hair removal?
Laser Hair Elimination: How it Works and Its Benefits
Laser hair elimination is a procedure that involves using light energy to permanently destroy hair roots. Wellaholic believes that it is a safe and effective hair removal option for all skin tones, skin types, and hair types. Here are some key points to know about laser hair elimination: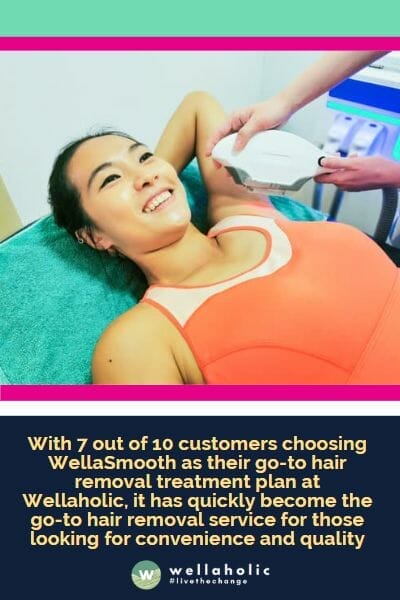 Laser machines emit a specific wavelength of light that targets hair pigment melanin on the skin.
The light energy heats up and concentrates on the hair shaft, destroying or damaging hair roots without causing harm to surrounding cells and skin.
Laser hair elimination can permanently reduce hair thickness or completely eliminate hair growth.
Consistent laser treatments are necessary for long-term hair elimination.
Laser hair elimination is a safe and effective option for all skin tones, skin types, and hair types.
At Wellaholic, we offer the WellaSmooth Ultimate Hair Removal regime which is not only effective but also affordable especially if you are looking for hair removal for several body parts. So say goodbye to temporary hair removal methods that cause adverse effects like breakouts, in-grown hair, and folliculitis.
What is the effectiveness of laser hair removal?
The efficiency of laser hair removal treatments is affected by:
The thickness and also colour of hair being treated
The colour of your skin
The top quality as well as sort of laser used
The training and also competence of the individual running the laser
It deserves adding that unlike IPL, lasers such as SHR deal with all hair and skin colours, including darker skin. As a matter of fact, lasers call for coloured pigments to function well; the beam of light is filtered into a certain wavelength as well as absorbed by pigment within hair. In a manner, the pigment functions as a target for the laser. Keeping that stated, if you have grey or white hair with no melanin pigmentation, existing laser modern technologies do not work as well.
What are the different kinds of lasers for hair removal?
At present, there are three key types of laser technologies utilized for hair removal in Singapore:
Alexandrite Laser (735nm) – used on fair to mid-toned skin with medium to coarse hair
ND:YAG Laser (1064nm) – used on darker skin with coarse hair
Diode Laser (810nm) – used on fair to dark skin with fine hair
Wellaholic's Take on Laser Hair Removal Technologies
Diode laser (810nm) is used in the popular laser hair removal treatment known as Super Hair Removal, which delivers short pulses at high repetition rates, removing hair without damaging the skin. The anti-reflective sapphire crystal technology acts as a cooling system, ensuring that the pulses are gentle on the skin. This is why Wellaholic believes that SHR hair removal technology is superior to other older technologies such as IPL hair removal. It's worth noting that while there are emerging hair removal technologies such as OLED hair removal, they have not yet been validated by scientific case studies.
How many laser hair removal treatments are needed to see good results?
The amount of laser hair removal or SHR hair removal treatments you need is mainly determined by your hair growth cycle as well as your Fitzpatrick skin type: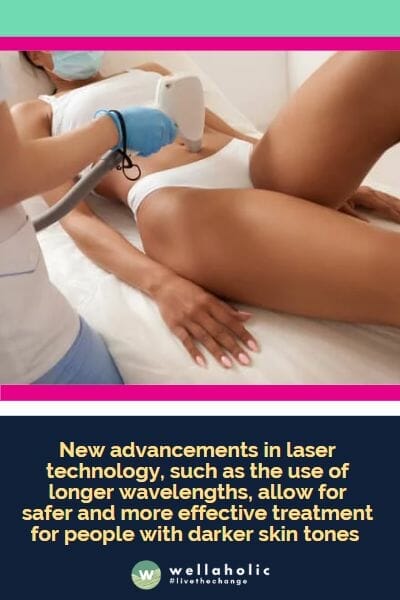 Fitzpatrick skin type 1 and also 2: Those with dark hair typically require 4-6 treatments spaced out every 4-6 weeks to accomplish long-term hair removal, while those with lighter hair may only achieve a permanent decrease in hair density after 6-12 treatments, each spaced a month apart.
Fitzpatrick skin type 3: Those with dark hair typically require 6-10 therapies done every 4-6 weeks for irreversible hair elimination, while those with lighter hair need 3-6 therapies done a month apart for permanent hair decrease.
Fitzpatrick skin type 4, 5 and 6: Those with dark hair typically need 6-10 therapies arranged every 4-6 weeks apart for long-term hair decrease. Maintenance sessions done every 3-6 months are needed.
Based on thousands of customers who have completed their hair removal treatments over at Wellaholic, a customer typically takes about 8 to 12 sessions of hair removal treatments to see permanent hair reduction. Sometimes, they may need to return for maintenance hair removal sessions. We provide Lifetime Maintain Mode treatments for our regular customers.
---
Unleash the Power of Three: Beauty, Confidence, Perfection with WellaSmooth™ 3X
⭐ Tailored Beauty Experience: Select three personalized treatments with WellaSmooth 3X™.
⭐ Quality Skin Solutions: Enjoy our signature hair removal with full body shaving and skin whitening, and more.
⭐ Enhanced Confidence Options: Lift and enhance your bust and butt for a confident new look.
⭐ Luxury at Your Fingertips: Experience luxury with a flexible triple-choice treatment plan.
⭐ Affordable Body Perfection: Transform your body positively and affordably.
⭐ Unbeatable Value & Efficacy: Benefit from high-quality treatments at exceptional value.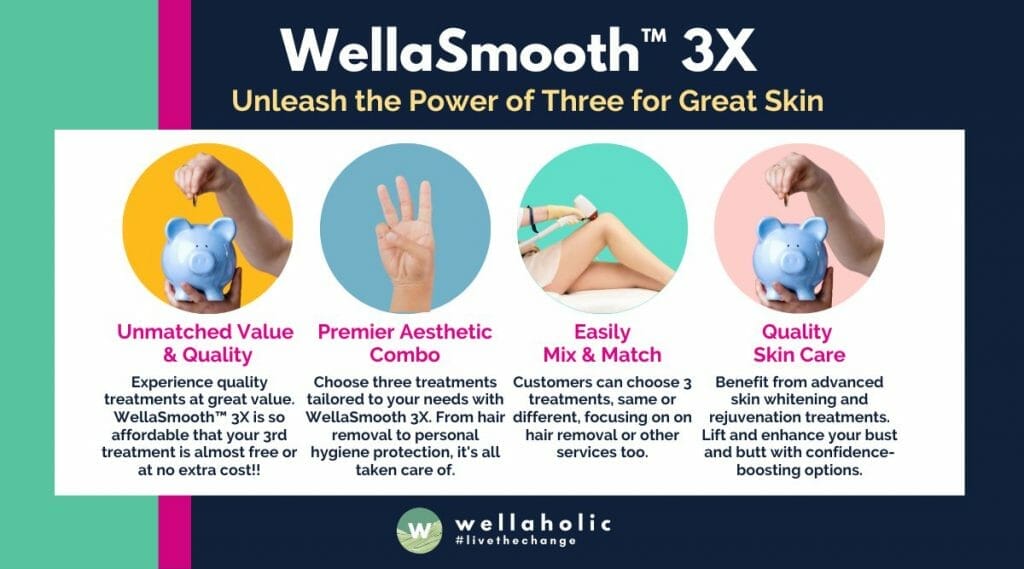 What Treatments Can I Choose with WellaSmooth™ 3X?
For a modest monthly fee, customers can indulge in premium treatments to remove hair, whiten skin, lift and enhance the bust, lift the butt and safeguard the private regions:
⭐ Personalized Hair Removal: Opt for SHR hair removal treatment with WellaSmooth™ 3X.
⭐ All-that-you-need Shaving: Achieve a sleek look with professional full body shaving.
⭐ Advanced Skin Whitening: Experience innovative skin whitening techniques for radiant skin.
⭐ Butt Lifting Treatments: Sculpt and lift your butt for a perfectly contoured appearance with EMS technology.
⭐ Bust Enhancement Options: Enhance your bust size and shape with specialized ultrasonic treatments.
⭐ Expert Bust Lifting: Choose professional bust lifting via RF microneedling for a youthful, uplifted appearance.
⭐ Premium Personal Hygiene Protection: Improve personal hygiene with specialized Blue Light protective treatments.
⭐ Flexible Combo Selection: WellaSmooth™ 3X allows you to select any three of the above treatments.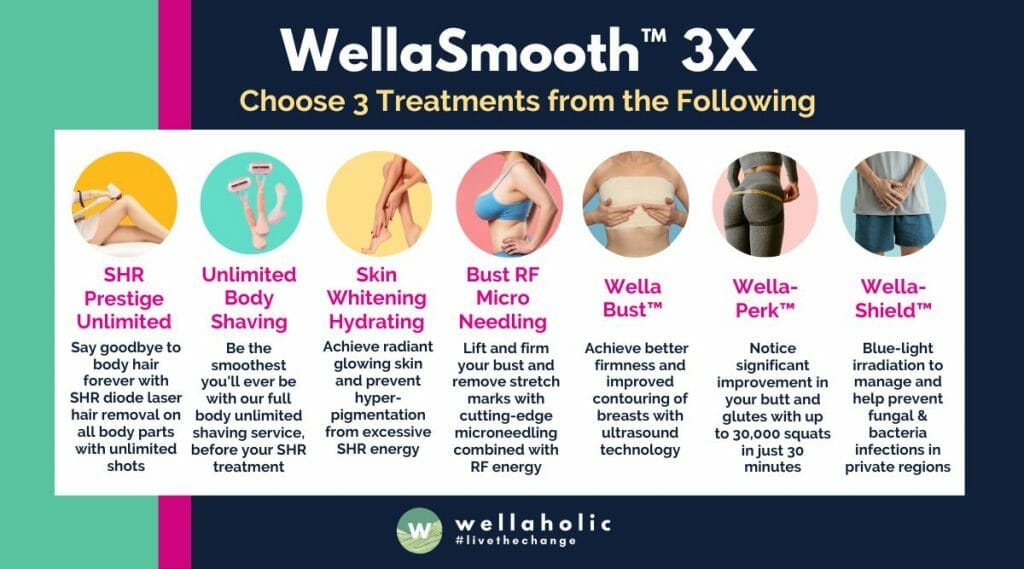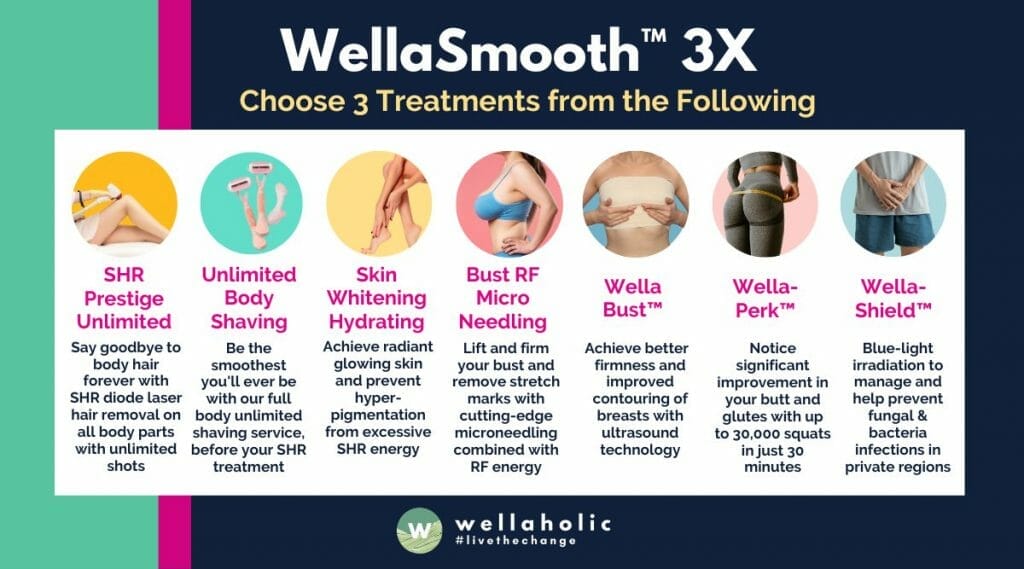 Why Choose SHR Prestige Unlimited Hair Removal?
⭐ SHR Diode Laser. Targets all skin types with 755nm, 808nm, and 1064nm laser wavelengths..
⭐ SHR is better than IPL for Asian skin. It is more effective, less painful, and without the discomfort associated with IPL.
⭐ Unlimited Shots. We use as many as needed to target hair follicles effectively.
⭐ Award-Winning. Wellaholic's WellaSmooth and SHR Hair Removal have won multiple awards from top beauty publications.
⭐ Ideal for All Skin and Hair Colors. WellaSmooth works on everyone.
⭐ For Everyone. Wellaholic has a team of skilled therapists, both male and female, to attend to your needs.
Pricing of Aesthetic Treatments by Wellaholic
💎 Price Transparency. All prices are published and updated on our website.
💎 Flexible Plans. Choose from unlimited monthly or per-session hair removal plans.
💎 Easy to Choose. Mix and match treatments from different categories.
💎 No Hidden Fees. Pay only for the treatments you receive.
GET IN TOUCH
Book Now Pay Later
Why Wellaholic is One of the Best Aesthetic Service Providers in Singapore?
✅ Leading Singapore Aesthetic Chain. Wellaholic is a popular aesthetic chain with 8 outlets around Singapore.
✅ Quality & Safe Treatments. Wellaholic is committed to quality, safe treatments with experienced staff.
✅ Wide Range of Treatments. Wellaholic offers a large range of treatment from hair removal, skin whitening, bust enhancement, butt lifts and more.
✅ Trained & Experienced Consultants. All treatments are performed by trained professionals who understand skincare needs for both genders.
✅ SHR Technology. Advanced SHR technology provides a safe, comfortable, and painless hair removal experience.
✅ Most Affordable Provider. Wellaholic offers competitive pricing, making it one of the most affordable providers in Singapore.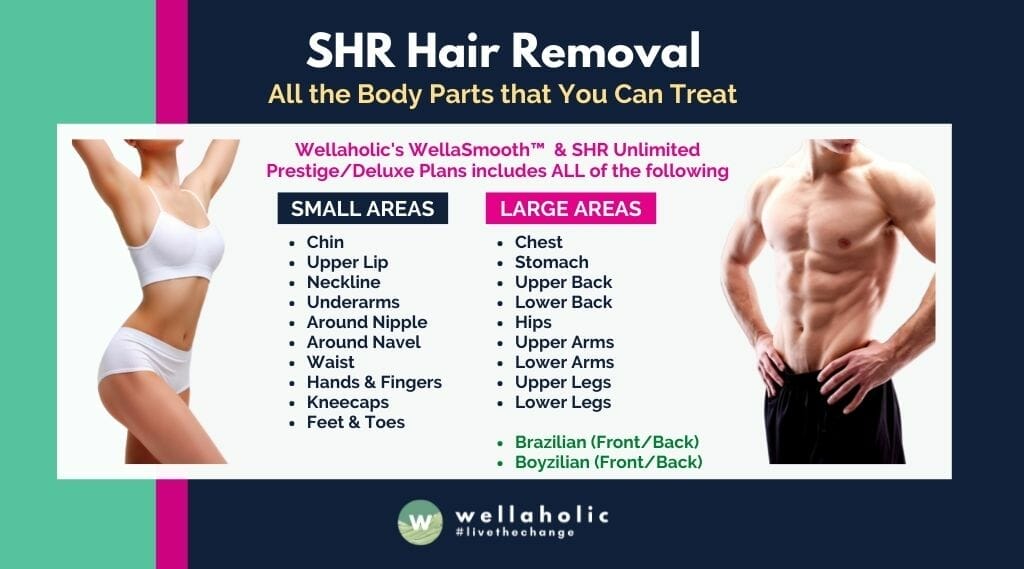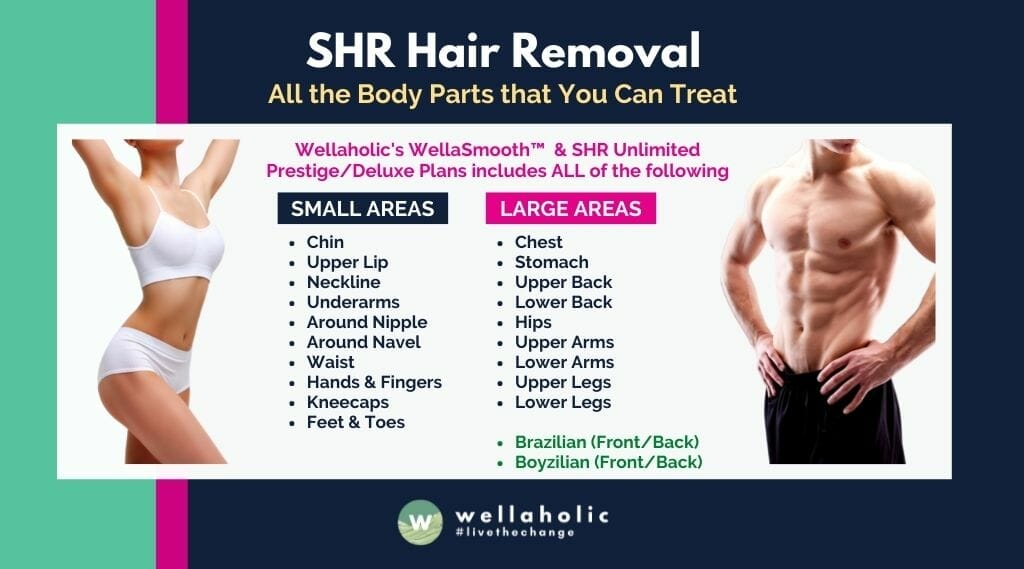 Reason 1: Wellaholic's Unlimited Plans Save You Money
✅ WellaSmooth 3X. Pay a small monthly subscription and choose 3 treatments from the WellaSmooth 3X family of services.
✅ Unlimited Hair Removal. Choose a SHR Prestige Unlimited or SHR Deluxe Unlimited to enjoy hair removal with unlimited shots.
✅ Pay One Price for All Body Parts. For hair removal, pay one price for unlimited hair removal on all body parts.
✅ Huge Cost Savings. Huge cost savings with monthly unlimited plans. No price shocks from hidden costs!
Reason 2: Wellaholic is a Trusted and Award-winning Aesthetic Chain with Over 2000 Positive Reviews.
✅ Over 50 Awards. Wellaholic's WellaSmooth and SHR Hair Removal have won over 50 awards from top beauty publications since 2018.
✅ Over 2000 Verified Customer Reviews. Wellaholic has over 2000 positive reviews from customers around the world. .
✅ Verifiable Reviews. Positive reviews indicate high customer satisfaction. (See reviews below).
✅ Over 50% Repeat Customers. More than 50% of Wellaholic's customers are repeat and recurring customers.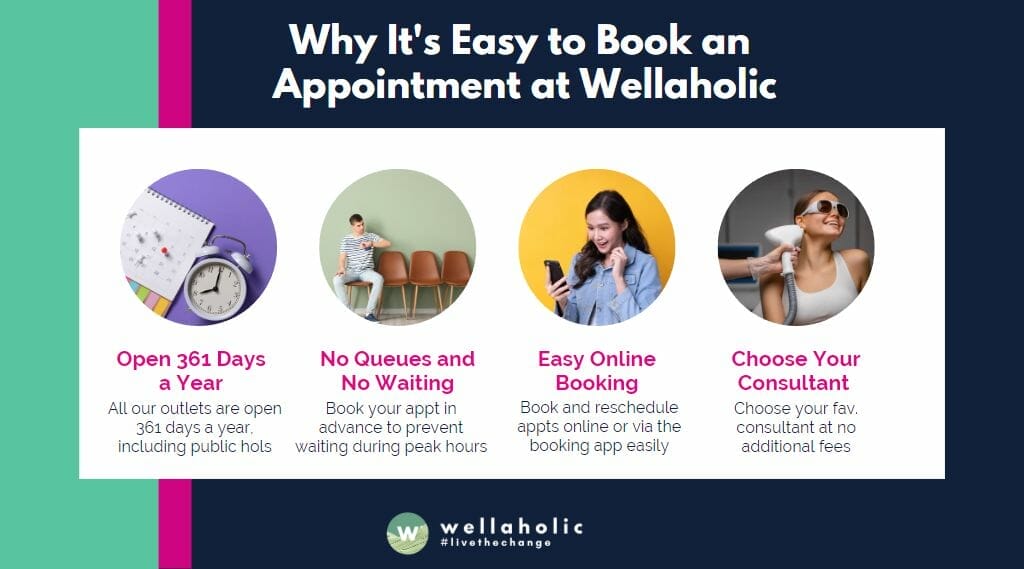 Reason 3: It's Easy to Book an Appointment at Wellaholic
✅ Open 361 Days Per Year. Wellaholic's 8 outlets are open 361 days a year, including public holidays for easy bookings.
✅ No Queues. Book appointments in advance to avoid long wait times.
✅ Easy Online Booking. Customers can conveniently book and reschedule appointments online or via the booking app.
✅ No Extra Cost for Choosing Consultant. Customers can choose their preferred consultant for free.