How Does Microneedling Help with Hair Loss?
What is Microneedling?
Microneedling very first obtained its online reputation as an effective treatment for scars and pigmentation during the 1990s. Since then, it's been studied as a potential option or adjunctive therapy for androgenic alopecia and alopecia areata as well as all forms of hair loss and pattern baldness.
Aside from collagen production in the skin, which is believed to underlie among the reasons it may be useful for acne scars and all skin conditions, it's believed that microneedling can additionally help generate stem cells
What about microneedling with a dermaroller?
Microneedling with a dermaroller involves rolling the tool across the skin with firm pressure This repeated, multidirectional rolling creates tiny bleeding pinpoints on the scalp, in the case of microneedling for hair loss.
The purpose of microneedling in the case of loss of hair is to boost papilla, or the stem cells in hair roots and hair bulbs, to motivate hair growth or hair regrowth. The idea is that by creating micro injuries, the body's all-natural defenses will urge wound healing, to allow hair re-growth and improvements in the baseline hair count, making this an ideal hair loss therapy.
Generally, a microneedling pen works better than a derma roller for several reasons. The microneedling pen's needle depth can be adjusted, so that it targets the scalp at the right depth. Also, the microneedling pen's cartridge is disposable, and hence it will not cause any infection or any other risk of infection due to the accumulation of bacteria (which typically will happen for a dermaroller when derma rolling).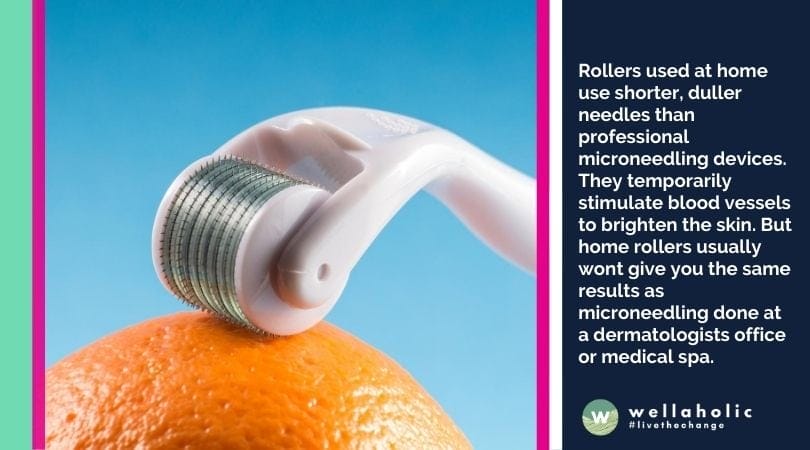 Is there evidence that microneedling can help with hair loss?
There have been several studies on the effectiveness of microneedling treatment of androgenetic alopecia, also known as pattern hair loss (in men and women) or male pattern baldness.
For instance, a 12-week 2013 randomized blinded study of 100 men in Mumbai was the first to examine the hair growth results of microneedling in humans.
Previously, researchers had seen promising results in mice. In this study, half of the participants were given minoxidil (a topical FDA-approved hair loss solution) and the other half underwent microneedling procedures once per week, with the topical treatment minoxidil.
According to the researchers, participants who used microneedling in conjunction with minoxidil saw greater hair count changes and overall patient satisfaction. Eight months after the human studies, the participants still showed positive results as a response.
Why you should never do microneedling on your own
It may seem appealing to try DIY microneedling in the privacy of your own bathroom. Tools are deceptively cheap, and the procedure may seem as simple. But at-home microneedling is too risky and can paradoxically result in increased hair loss, rather than the hair growth you hope for.
To prevent infection and ensure you're achieving the correct needle depth to encourage new hair growth, you should see an expert with experience using microneedling for hair regeneration. While it will cost more than doing it at home ), the potential damage of DIY microneedling at home is far too risky.
Microneedling for Scalp – 5X More Effective for Hair Regrowth
What is Microneedling for Scalp Treatment for Hair Regrowth?
Microneedling for Scalp helps treat hair loss and promote hair regrowth.
Microneedling for Scalp is a Collagen Induction Therapy hair loss treatment in Singapore which is also able to cause controlled trauma in the scalp to promote hair growth.
Together with the use of Minoxidil 5%, Microneedling can lead to positive effects on hair growth over a 12-week period.
How is Microneedling for Scalp Treatment Conducted?
The Microneedling for Scalp procedure is comfortable and easy with no downtime.
Prior to the treatment, please keep your hair washed and cleaned. Avoid applying wax, gel, clay, etc.
Before your treatment, our friendly consultant will check to find areas with hair loss and make a note of it.
The treated area is cleaned with alcohol to disinfect the area.
The Microneedling for Scalp treatment is started. This may take between 20 to 40 minutes depending on the size of the area.
The consultant will apply the 5% Minoxidil and gently massage the area for 5 minutes.
Pricing of Hair Loss Treatments by Wellaholic
Wellaholic believes in providing pricing transparency, and hence all prices are published and updated on its website. Choose from a single-session plan or choose a multi-session plan for greater discounts. Wellaholic's hair loss treatments are generally divided into the following categories:
Please click on the menu below to see the pricing for the various hair loss treatments by Wellaholic. Prices are nett and inclusive of GST.
How Do I Choose the Right Hair Loss Treatment Plan for Me?
Depending on your hair regrowth needs you can choose the following plans:
Wellaholic is well-known in the industry for our transparent pricing and no hard selling.
In fact, we are probably the only aesthetic establishment in Singapore that publishes our prices openly.
All prices are nett and inclusive of GST, and are actual prices (i.e. not trial prices).
You can read our amazing reviews here.
HairGrow™ Unlimited (4 x Microneedling for Scalp + 4 x HairGrow Scalp Booster + 4 x LLLT per month)
---
---