Science of Elight Facials (In-Depth Series) Part #1
Introduction
As part of our Elight In-Depth Series, we will be discovering the science behind each part of our Elight Facial Collagen Boost Facial Treatment. This educational series aims to uncover the mechanics behind each technology treatment based on collated findings from the various dermatological reports and case studies from universities and research organisations around the world.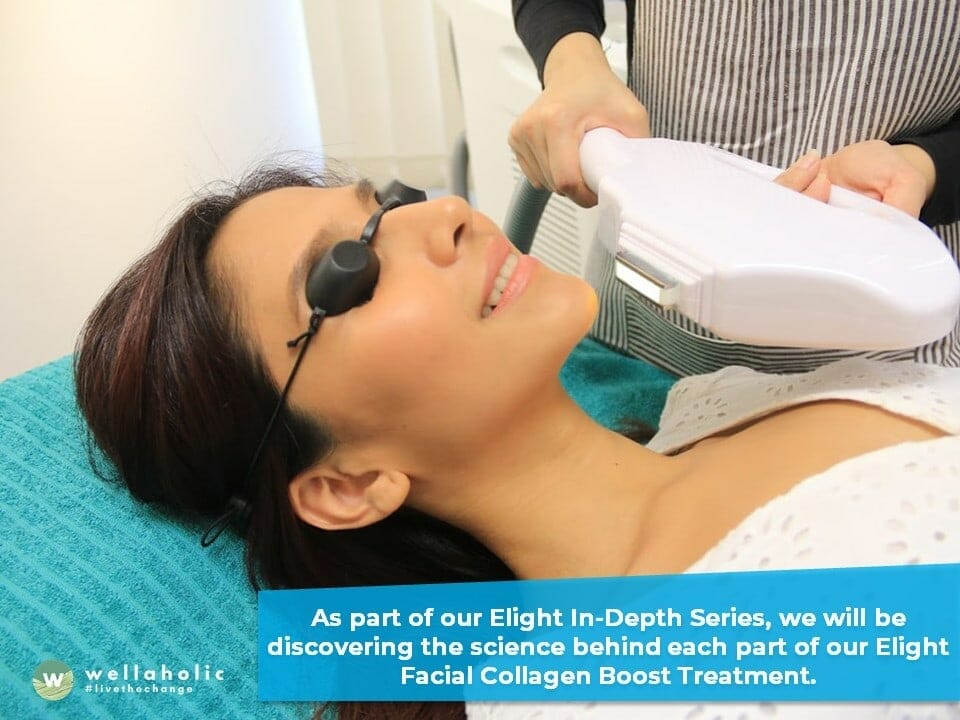 What is Elight Facial?
Elight is a Combination of Radio Frequency and IPL treatment
Elight includes three advanced technologies that combine to deliver effective treatments without sacrificing comfort. Elight includes both the Radio Frequency (RF) as well as Intense Pulse Light (IPL) as well as a "Cool Touch" mechanism.
Elight Facial uses Radio frequency (RF) waves and Intense Pulsed Light (IPL) Helps improve skin texture.
Elight Facial emits intense pulses of non-coherent light over a range of wavelengths from 500nm to 1200nm, which helps to improve skin qualities.
Radio Frequency
Radio Frequency (RF) skin tightening is an aesthetic technique that uses radio frequency or radio wave energy to heat tissue and stimulate subdermal collagen production. This is effective in reducing fine lines, wrinkles and loose skin. The nature of RF is such that they are operating at a lower frequency than the light waves used in lasers, RF can go beyond the skin surface more safely to improve skin tone and structure. RF generates an electromagnetic field between two poles, passing through the deepest parts of the skin, resulting in cellular movement. With repeated treatments, it helps to dramatically tighten skin, resulting in a more defined jaw contour, non-sagging cheeks, etc. Because of the nature of RF, it greatly complements IPL and hence enhances the treatment effect.
Evidence-Based Effect of RF Facial Rejuvenation
In a study by the Department of Dermatology by Al-Minya Univeristy, Egypt concluded that Monopolar radiofrequency (RF) is emerging as a gentler, nonablative skin-tightening treatment that is able to deliver uniform heat to the dermis at a controlled depth. For the study, Six individuals of Fitzpatrick skin type III to IV and Glogau class I to II wrinkles were subjected to 3 months of treatment (6 sessions at 2-week intervals). Standard photographs and skin biopsy specimens were obtained at baseline, and at 3 and 6 months after the start of treatment. We performed quantitative evaluation of total elastin, collagen types I and III, and newly synthesized collagen using computerized histometric and immunohistochemical techniques. Blinded photographs were independently scored for wrinkle improvement.
​RF produced noticeable clinical results, with high satisfaction and corresponding facial skin improvement. Compared with the baseline, there was a statistically significant increase in the mean of collagen types I and III, and newly synthesized collagen, while the mean of total elastin was significantly decreased, at the end of treatment and 3 months post-treatment.
Pricing of Facial Treatments by Wellaholic
Wellaholic believes in providing pricing transparency, and hence all our prices are published and updated on its website. Choose from a single-session plan or choose a multi-session plan for greater discounts. Wellaholic's facial treatments are generally divided into the following categories: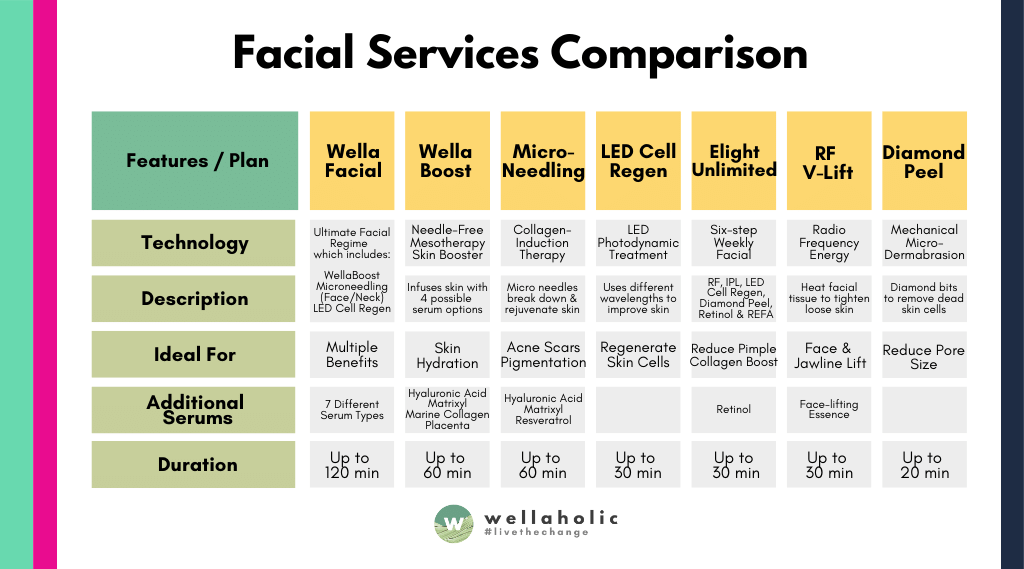 Please click on the menu below to see the pricing for the various facial treatments by Wellaholic. Wellaholic is well-known in the industry for our transparent pricing and no hard selling. In fact, Wellaholic is well-known for not only our transparent and cheap pricing but also without any hidden costs. All prices are nett and inclusive of GST, and are actual prices (i.e. not trial prices).
---