7 WOW Benefits of Hair Removal for Men
Introduction
Gentlemen, are you tired of feeling like a sasquatch every time you take off your shirt? Do you cringe at the thought of revealing your unkept body hair at the beach? Fear not, because we've got some good news for you. Hair removal isn't just for the ladies anymore, and there are some serious benefits that come with it. So sit back, relax, and get ready to discover the seven "WOW" benefits of hair removal for men. Trust us, by the end of this article, you'll be running to book your next hair removal appointment.
"Removing unwanted hair can give men the confidence to show off their true self and help them feel more comfortable in their own skin."
1. No More Shaving Rash or Ingrown Hairs
Shaving can be a real pain in the neck, and not just figuratively speaking. The dreaded shaving rash and ingrown hairs are a nightmare for any man who wants to look his best. But with hair removal, you can say goodbye to the irritation, bumps, and painful ingrowns. You'll have smooth skin that's free of any blemishes, and you'll feel confident to bare it all without the fear of unsightly rashes or painful bumps. It's time to ditch the razor and embrace the magic of hair removal.
According to a survey by Braun, about 62% of men now manscape regularly, with those that do saying it makes them feel cleaner, sexier and also enhances the appearance of their muscle. While shaving and waxing are the more common forms of hair removal in the past, they do not lead to permanent hair reduction, and there are many horror stories of ingrown hairs.
2. Added Confidence with Hair Removal
With about 8 to 12 sessions of treatments spaced about 28 days apart to align with the anagen hair growth cycle, you are able to achieve long-term hair free results. At most, you will need to do a top up or a maintenance session once or twice a year to keep those unwanted hairs away. Being overly hairy can sometimes make some guys feel a little self conscious. The hairs might also prevent you from wearing what you want to wear. Hence, by going all smooth will help provide you the freedom to wear whatever you want to wear as a boost of confidence. Say goodbye to unwanted body hair! Read about the tips and tricks for effective hair removal for males.
3. Better Care for Your Skin
Hair removal isn't just about aesthetics – it can also be a vital part of skincare for men. Removing hair from certain parts of the body can help to prevent buildup of sweat, dirt, and oil, which can clog pores and lead to acne or other skin problems. Hair removal can also help to exfoliate the skin, removing dead skin cells and promoting healthier skin. And let's not forget about the fact that smooth, hairless skin just feels better. So if you're looking for a simple yet effective way to take better care of your skin, hair removal is definitely worth considering. Your skin will thank you for it.
4. Less time spent on maintenance
You would certainly agree that shaving, trimming and waxing are pretty mundane tasks which are also time consuming. With permanent hair removal, whether it is laser hair removal or epilation, you don't have to repeat these tasks, or even worry if your stubble is growing out. Your smooth skin is here to stay for a long, long time! Focus on permanent hair removal for long-term results. Say goodbye to daily hair removal such as shaving.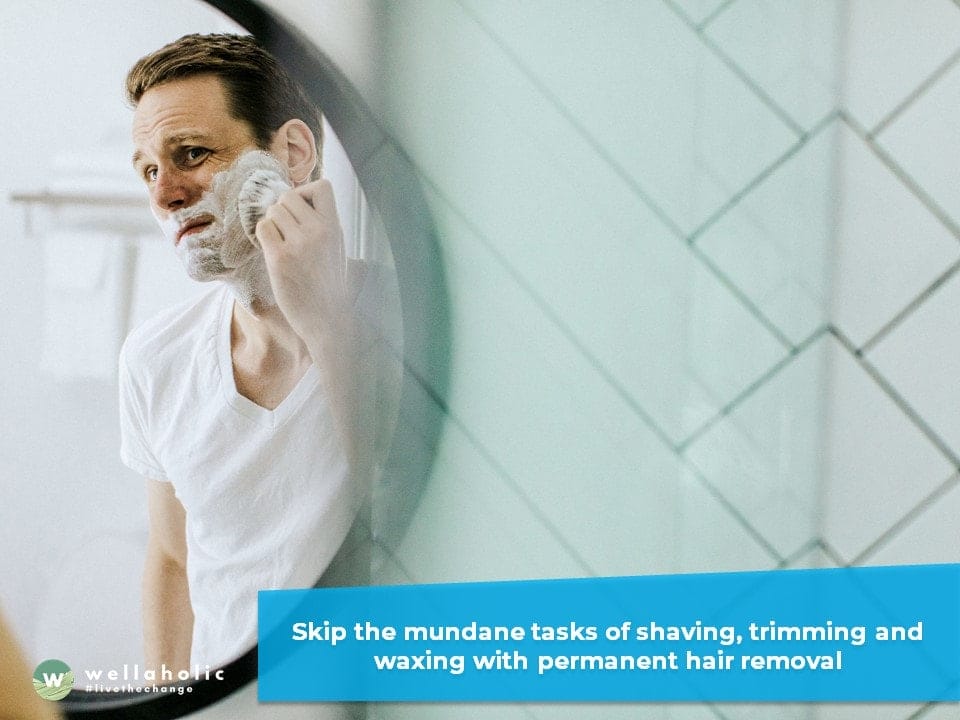 5. Be always ready for a holiday
Going for a spontaneous adventure? Or got invited for a pool party? Or indulging in some water sports? You never know what comes up, so by going all smooth permanently you can be ready for any outdoor activities with any attire without the the need to shave and prepare for it. No hairy chests. And definitely no ugly hairs sticking our of your trunks!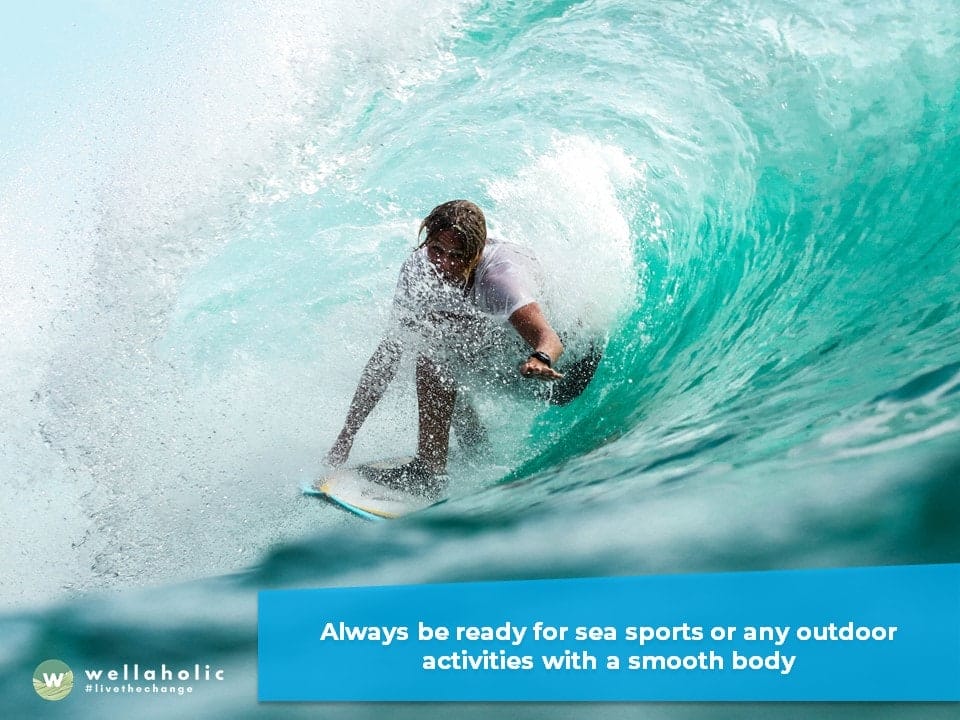 6. Avoid the pain
Waxing can be very painful, and the hot wax ripped at speed away from your sensitive skin areas does not only cause a lot of pain, it is also not good for the skin. With newer technologies such as Wellaholic's SHR hair removal, permanent hair removal does not need to be a painful affair. In fact, we have many customers falling asleep during the SHR hair removal treatment!
7. Time to be kind to your skin
Because SHR hair removal targets both the melanin and the stem cells responsible for hair growth, the energy pulses safely destroy the hair follicles at the root and does very little damage to the skin or the surrounding tissue. Once the root and follicle are destroyed, hair can no longer grow, and the result is permanent hair reduction.
As a bonus, laser body hair removal for men means your ingrown hairs will disappear from the very first appointment and you do not have to wait for regrowth to get treated again.
---
WellaSmooth™. Pay One Low Price for Hair Removal for All Body Parts with Unlimited SHR Shots
Unbeatable in Value and Quality. WellaSmooth offers a all-inclusive hair removal solution that is unbeatable in both value and quality.
One Price for All Body Parts. Pay just one low price for a complete hair removal experience for all body parts, including unlimited SHR shots.
Shaving + Hair Removal + Whitening. WellaSmooth also includes full body shaving service and post-treatment whitening/hydration to prevent hyperpigmentation.
Permanent Fuss-Free Solution. Say goodbye to the hassle of expensive and ineffective hair removal methods and trust WellaSmooth to deliver a permanent and fuss-free solution for all your hair removal needs.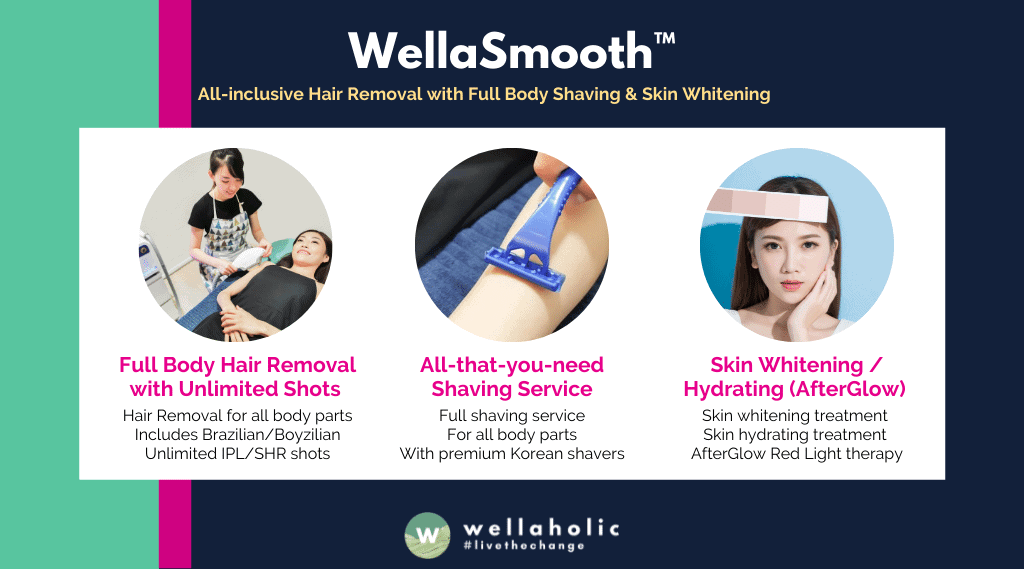 WellaSmooth™ Includes the Following 3 Hair Removal Services
SHR Permanent Hair Removal PRESTIGE Unlimited – Enjoy our bestseller SHR hair reduction treatment for all body parts
Unlimited Shaving Service – Enjoy unlimited shaving service on all body parts
Skin Whitening/Hydrating (PTT) with AfterGlow – Enjoy post-treatment whitening or hydrating therapy followed by AfterGlow red-light treatment to rejuvenate your skin


Why Choose Wellaholic WellaSmooth™?
Diode Laser Technology. Developed by Alma Lasers, SHR combines 755nm, 808nm and 1064nm laser wavelengths to target all skin types.
SHR is Better Than IPL. SHR has been shown to be more effective and less painful, particularly for individuals with Asian skin, without the discomfort associated with IPL.
Unlimited Shots. We use as many shots as needed to effectively target the hair follicles.
Award-Winning. Wellaholic's WellaSmooth and SHR Hair Removal have been recognized by top beauty publications such as Daily Vanity, Beauty Insider, and Tropika Club Magazine, earning prestigious awards from 2018 to 2023.
Ideal for All Skin and Hair Colors. WellaSmooth is perfect for individuals with any skin color or hair color.
For Men and Women. Wellaholic caters to both men and women with our team of skilled therapists, ensuring that every outlet has a diverse and inclusive environment with male and female professionals readily available to attend to your needs.
See Over 2000 Positive Reviews of Wellaholic (Customer Verifiable)
If you're looking for a reliable and trustworthy aesthetic chain, Wellaholic might just be the perfect fit for you. With over 2000 genuine customer reviews and testimonials, you can see for yourself why our hair removal services have won numerous awards.
Pricing of Hair Removal Treatments by Wellaholic
Price Transparency. Wellaholic offers pricing transparency by publishing and updating all prices on our website.
Flexible Per-Session or Unlimited Plans. Customers can choose from unlimited monthly hair removal plans with unlimited SHR hair removal shots for all body parts, or per-session hair removal price plans.
Mix and Match Easily. Wellaholic's hair removal prices are divided into different categories for easy selection.
No Price Shocks. Customers can expect to pay only for the treatments provided instead of being surprised by additional fees or charges at the end of their hair removal session.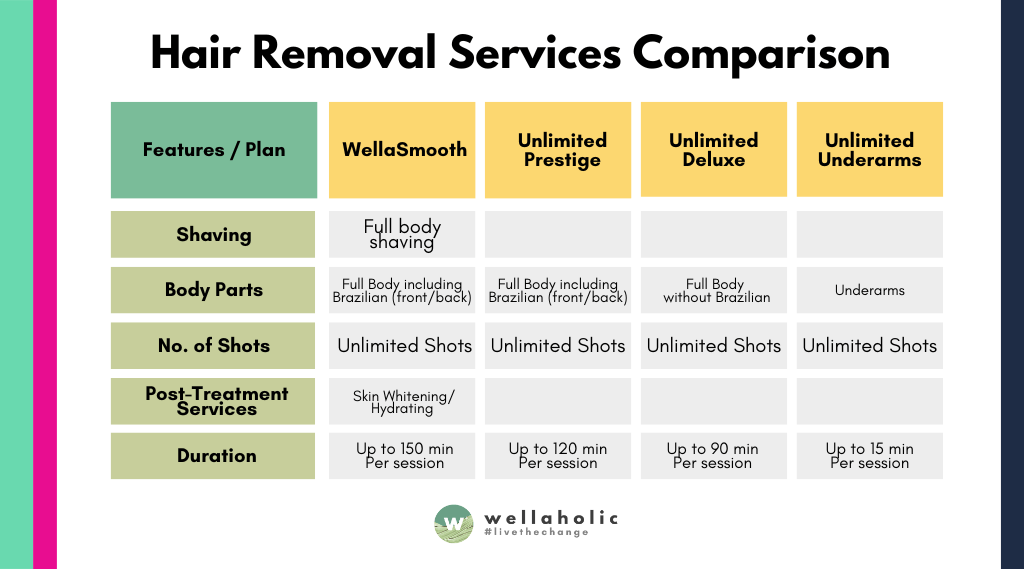 ---
Why Wellaholic is One of the Best Hair Removal Providers in Singapore?
Leading Hair Removal Chain in Singapore. Wellaholic is a leading hair removal company in Singapore that is highly sought after by customers.
Quality & Safe Treatments. The company is committed to providing quality and safe treatments with experienced staff.
Wide Range of Hair Removal Treatments. Wellaholic offers a wide range of laser hair removal treatments for various body parts including Brazilian & Bikini, Underarm, Arms, Back & Shoulder Hair Removal, and Leg Hair Removal.
Trained & Experienced Consultants. All treatments are performed by trained professionals who understand the skincare needs of both female and male customers.
Advanced SHR Technology. Advanced SHR technology is used to ensure a safe experience with no downtime or discomfort during the entire process.
Most Affordable Provider. Wellaholic provides competitive pricing for its treatments which makes it one of the most affordable providers in Singapore.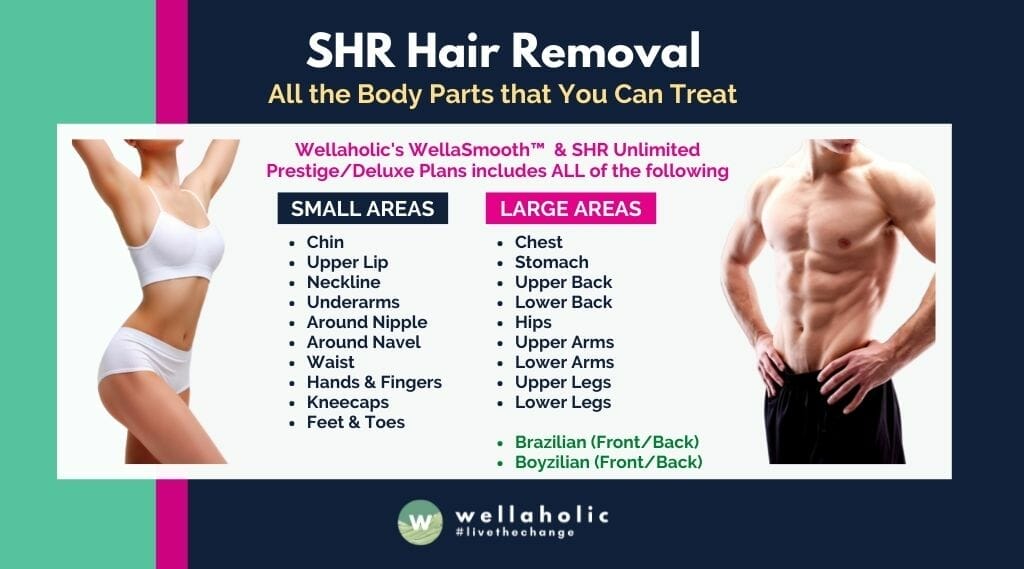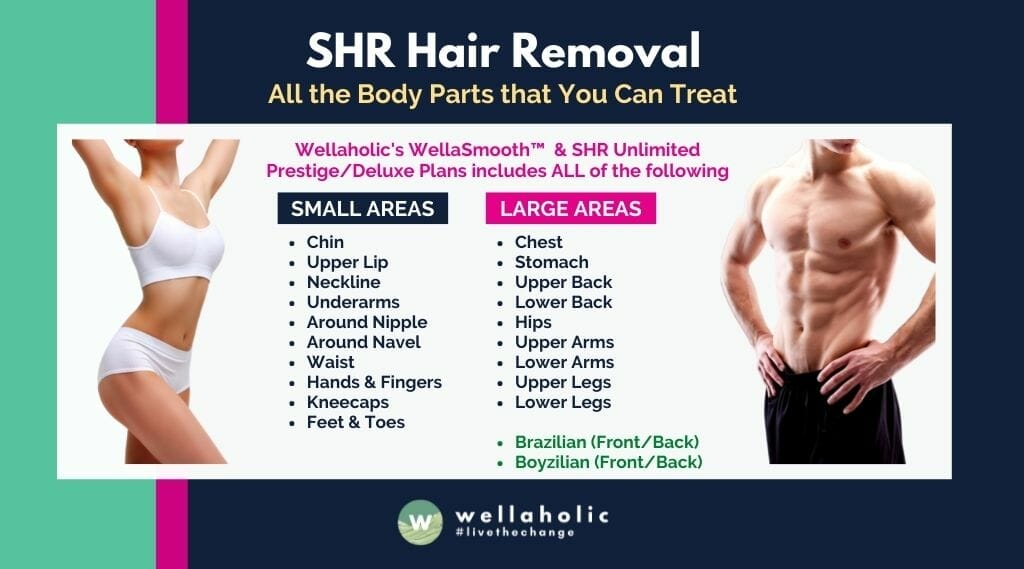 Reason 1: Wellaholic's Unlimited Plans Save You Lots of Money
Unlimited Hair Removal Plans. Wellaholic offers unlimited plans for permanent hair removal with unlimited shots.
Pay One Price for All Body Parts. Customers pay one nett price for hair removal on all body parts, including chin, lips, underarms, back, chest, stomach, legs, and private regions (both front and back).
Huge Cost Savings. With the unlimited plan, there are no separate fees for hair removal on different body parts, leading to huge cost savings.
Reason 2: Wellaholic Has Over 50 Awards and 2000 Genuine Customer Reviews
Over 50 Awards. Wellaholic's WellaSmooth and SHR Hair Removal have been recognized by top beauty publications such as Daily Vanity, Beauty Insider, and Tropika Club Magazine, earning prestigious awards from 2018 to 2023.
Over 2000 Verified Customer Reviews. Wellaholic has over 2000 verified positive reviews from our customers in Singapore and beyond.
Verifiable Reviews. The reviews are verified and positive, which indicates the high level of customer satisfaction (see reviews below).
Over 50% Repeat Customers. More than 50% of Wellaholic's customers are repeat and recurring customers.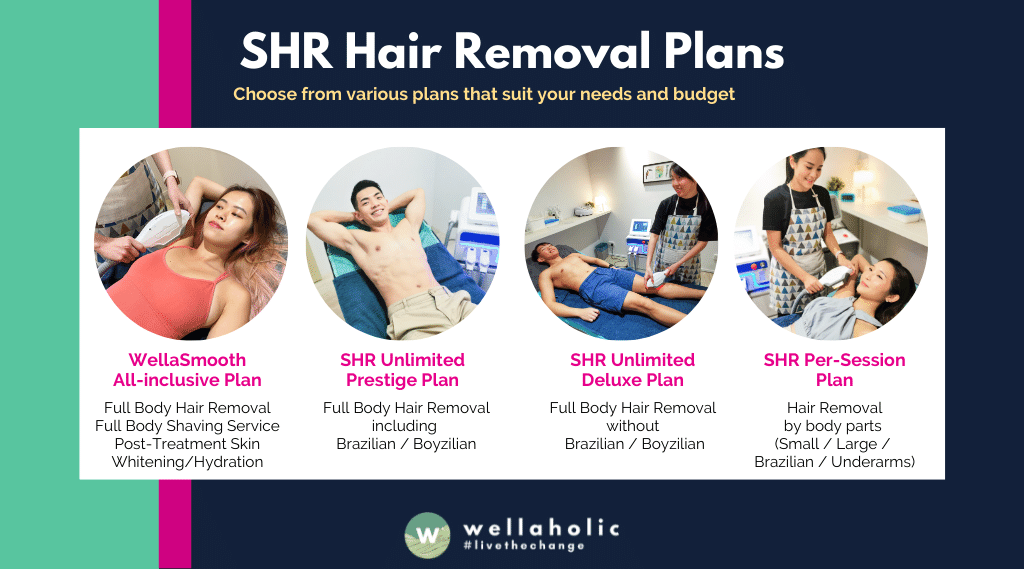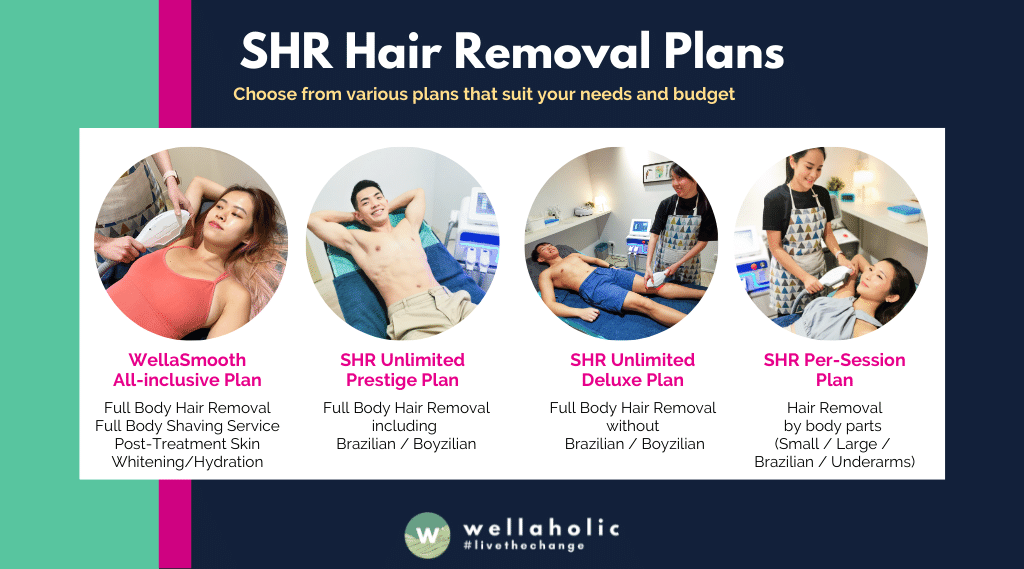 Reason 3: It's Easy to Book an Appointment at Wellaholic
Open 361 Days Per Year. Wellaholic's 8 outlets are open 361 days a year, including public holidays, so that customers can easily book an appointment.
No Queues. All appointments are booked in advanced to prevent the need to queue and wait unnecessarily during peak hours.
Easy Online Booking. Customers can conveniently book and reschedule appointments online or via the booking app.
No Extra Cost for Choosing Consultant. Customers can select their preferred consultant without having to pay any additional fees.
---