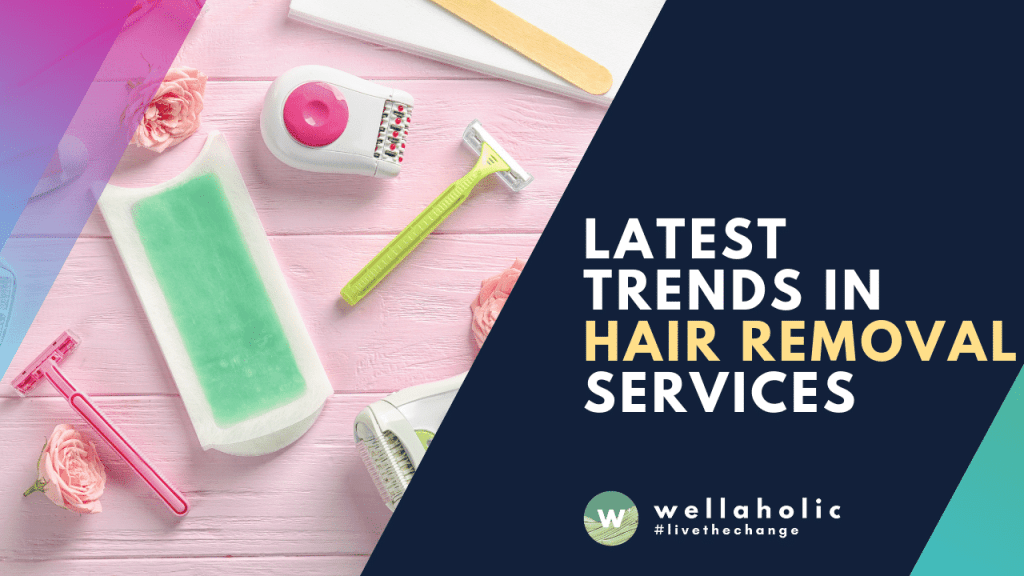 Latest Trends in Hair Removal Services
Introduction to Trends in Hair Removal
As COVID-19 vaccinations are launched and also organizations adapt to the New Normal, people throughout the globe are starting to appreciate some of their past enjoyments — such as aesthetic treatments as well as beauty salon to alleviate stress and also anxiety.
A boost in disposable revenue and recognition of visual and aesthetic beauty has caused a rise in customers' investing on personal care, specifically in the areas of hair removal. As a matter of fact, The post-pandemic global clinical aesthetics market is projected to reach 15.9 billion by 2025, at a CAGR of 10.9%.
As an aesthetic chain specialising in hair removal treatments, it's essential for Wellaholic to keep up with the technology patterns in laser hair elimination trends to continually adapt, specifically during the pandemic. From male grooming to eyebrow virtuosity, we share with you what the most prominent patterns are shaping the international beauty market, and also which areas have actually grown in popularity
Trend #1 – Male Hair Removal or "Boyzilian"
While hair removal elimination is usually a female problem, male grooming, in some cases described as "manscaping" or "boyzilian", has actually made its position at the leading trend. This can be attributed to the transforming lifestyles and technologies in male and men grooming products. The hair removal sector has actually managed to attract guys, prolonging its reach from the unbiased to males with more scheduled fashion tastes. The popularity of personal pet grooming for men is at an all-time high, primary in countries such as the united state, the UK, China, India, and also Brazil. Wellaholic has also seen an increase in customer interest in male hair removal at our outlets.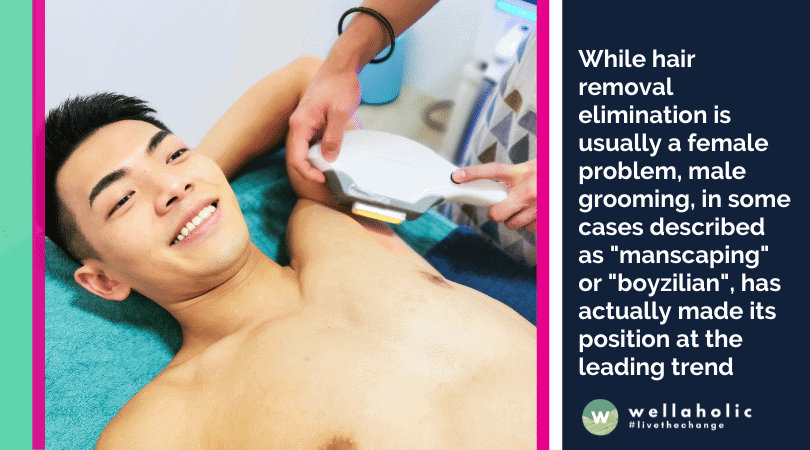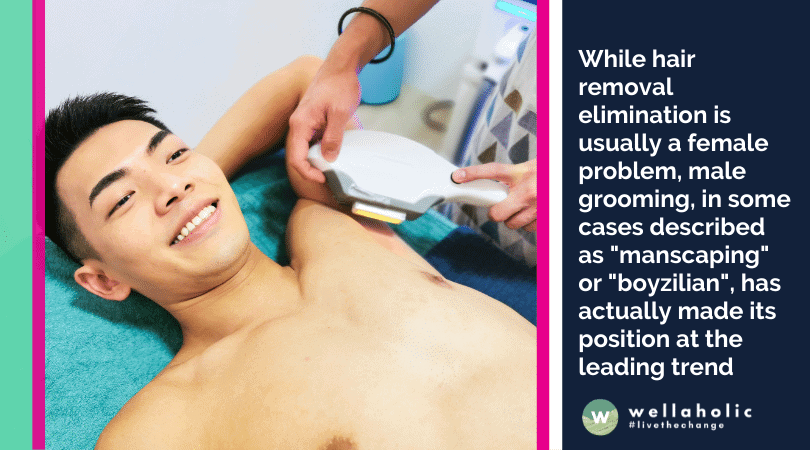 Trend #2 – Innovations in Laser Hair Removal
Ingenious and innovative light-based gadgets have actually revolutionized the practice of hair elimination worldwide. Men and women alike look for laser hair elimination for its convenience of use, effectiveness, and fast action. Among emerging patterns in laser innovation, white laser modern technology has actually obtained spotlight, significantly in the United States and Canada. This unique technology additionally asserts skin bleaching, scar decrease, and generation of collagen in many skin types. Fundamentally, laser development has redefined the concept of aesthetic options worldwide.
SHR or Super Hair Removal is a relatively newer technology which uses low energy and rapid pulsing diode laser but at a higher frequency. Developed by Alma Lasers, this diode laser hair removal technology allows the skin to be heated gently, but with the rapid pulses, the energy is then accumulated by the skin. While 50% of the energy is targeted at the melanin (similar to IPL), the other 50% targets the stem cells responsible for hair production.
​This is a very important point to note as SHR thereby targets both fine and coarse hairs. Ultimately, this leads to less discomfort and pain, yet an improved efficacy. SHR is most effective during the active growth phase (anagen stage of hair growth) hence shaving a day before treatment or just before the hair removal treatment is most recommended.
Trend #3 – Eyebrow Grooming
Eyebrow grooming has actually acquired prevalent appeal owing to the expanding need for well-rounded brows with improved arcs, as consumers show raising preference for eyebrow shaping as a face lift choice. There has been an incredible increase in the variety of estheticians around the world that have taken creativity to a brand-new measurement. The demand has actually resulted in exponential growth of brow pet grooming organization in nations such as Australia and India.
Trend #4 – Wax Beads for Waxing
Typical hair elimination products usually cause pain among individuals, not to mention the ability needed to peel off or carry out the undesirable hair. Wax beads have involved the rescue as a pain-free alternative to shaving or peeling. What's even more? These beads are available in various scents and also colors to make the act of hair elimination an enjoyable experience or a tolerable one. Suppliers of wax grains around the world have focused on the manufacturing of items with fewer products, therefore minimizing the price of production.
Trend #5 – Herbal Hair Removal Products
The negative effects associated with the chemical-related hair removal product have sparked the need for organic hair elimination products, particularly in the United States, Canada, and also Brazil. Furthermore, the Indian market has actually witnessed a significant need for these items, substantially sustained by the appeal of Ayurveda as well as interest in religious compliance. This high need in India has likewise urged vital personal treatment producers to increase their portfolio of organic products.
---
WellaSmooth All-inclusive Hair Removal by Wellaholic
WellaSmooth™ All-Inclusive Hair Removal is designed for an all-inclusive fuss-free full-body permanent hair removal experience with a 5-star rating. WellaSmooth™ All-Inclusive Hair Removal includes all-that-you-require shaving service, followed by SHR Unlimited Prestige hair removal which includes unlimited SHR shots for the entire body (including Brazilian/Boyzilian). Also included is our Skin Whitening / Hydrating post-treatment therapy (PTT) followed by our AfterGlow Red Light therapy.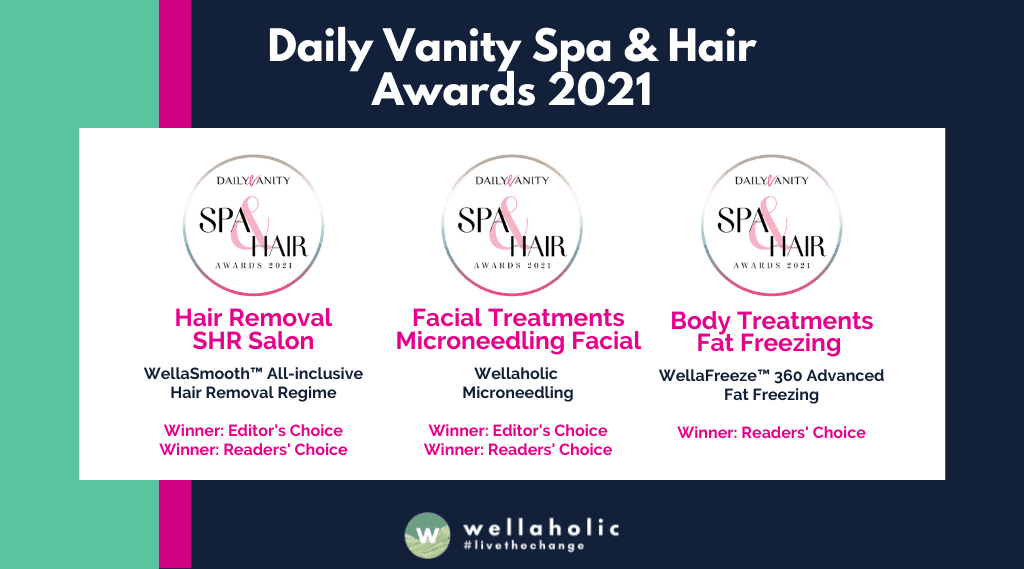 What is WellaSmooth™ All-inclusive Hair Removal Regime?
Voted Best Hair Removal Treatment by Daily Vanity Spa and Beauty Awards 2021.
WellaSmooth™ All-Inclusive Hair Removal is designed for an all-inclusive fuss-free full-body permanent hair reduction experience.
WellaSmooth™ All-Inclusive Hair Removal is ideal for all skin color, hair color, and all forms of hair.
Also include is all-that-you-require shaving service for all body parts including your private regions.
WellaSmooth™ All-Inclusive Hair Removal also includes the Skin Whitening / Hydrating (PTT) with AfterGlow™, which includes post-hair-removal skin whitening or skin hydration followed by our AfterGlow Red Light therapy for enhanced skin rejuvenation.
Achieve smooth and glowing skin that will wow everyone.
This treatment is ideal for both men and women, by male and female therapists.
Get a package and choose your shaving, SHR permanent hair removal and post-treatment whitening and hydration done at any of our multiple outlets across Singapore.
WellaSmooth™ is your ultimate all-inclusive hair removal treatment in Singapore complete with shaving and post-treatment care.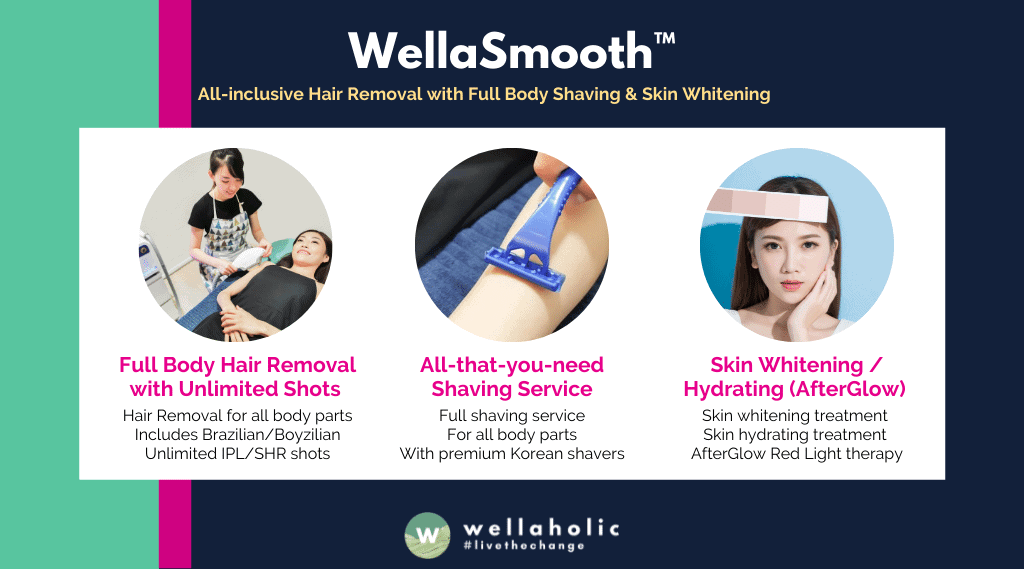 WellaSmooth™ Includes the Following Three Hair Removal Services
SHR Permanent Hair Removal PRESTIGE Unlimited – Enjoy our bestseller SHR hair reduction treatment for all body parts
Unlimited Shaving Service – Enjoy unlimited shaving service on all body parts
Skin Whitening/Hydrating (PTT) with AfterGlow – Enjoy post-treatment whitening or hydrating therapy followed by AfterGlow red-light treatment to rejuvenate your skin
Pricing of SHR Hair Removal Treatments by Wellaholic
Wellaholic believes in providing pricing transparency, and hence all prices are published and updated on its website. Choose from unlimited monthly hair removal plans (with unlimited SHR hair removal shots) for unlimited body parts, or choose from per-session hair removal price plans. Wellaholic's hair removal prices are generally divided into the following categories: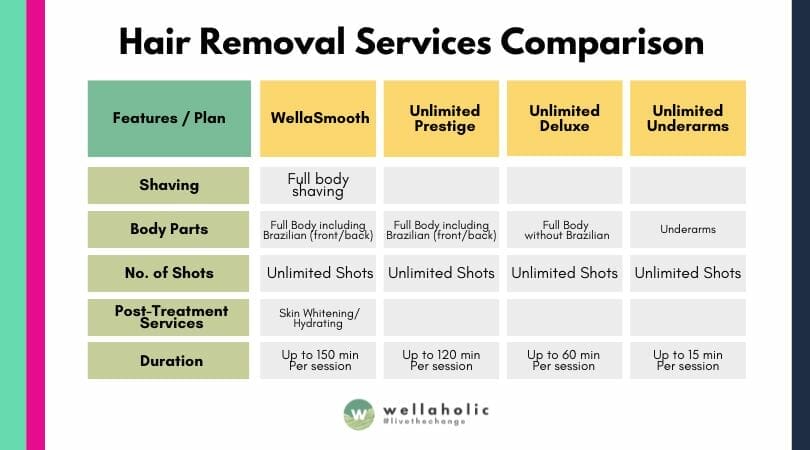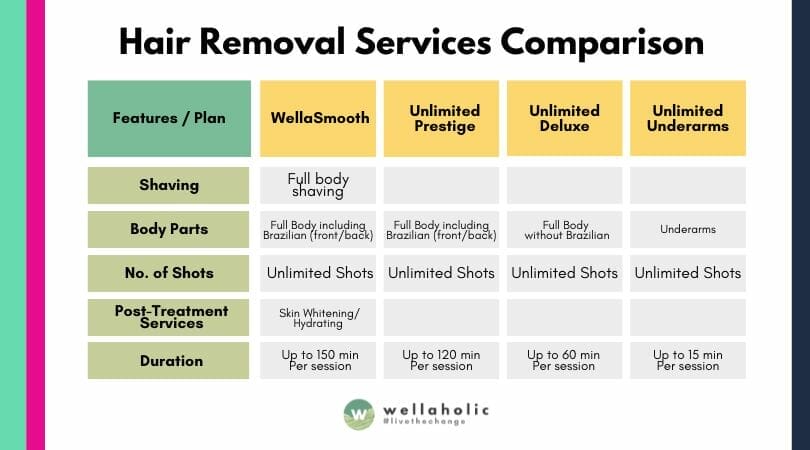 ---
---
---