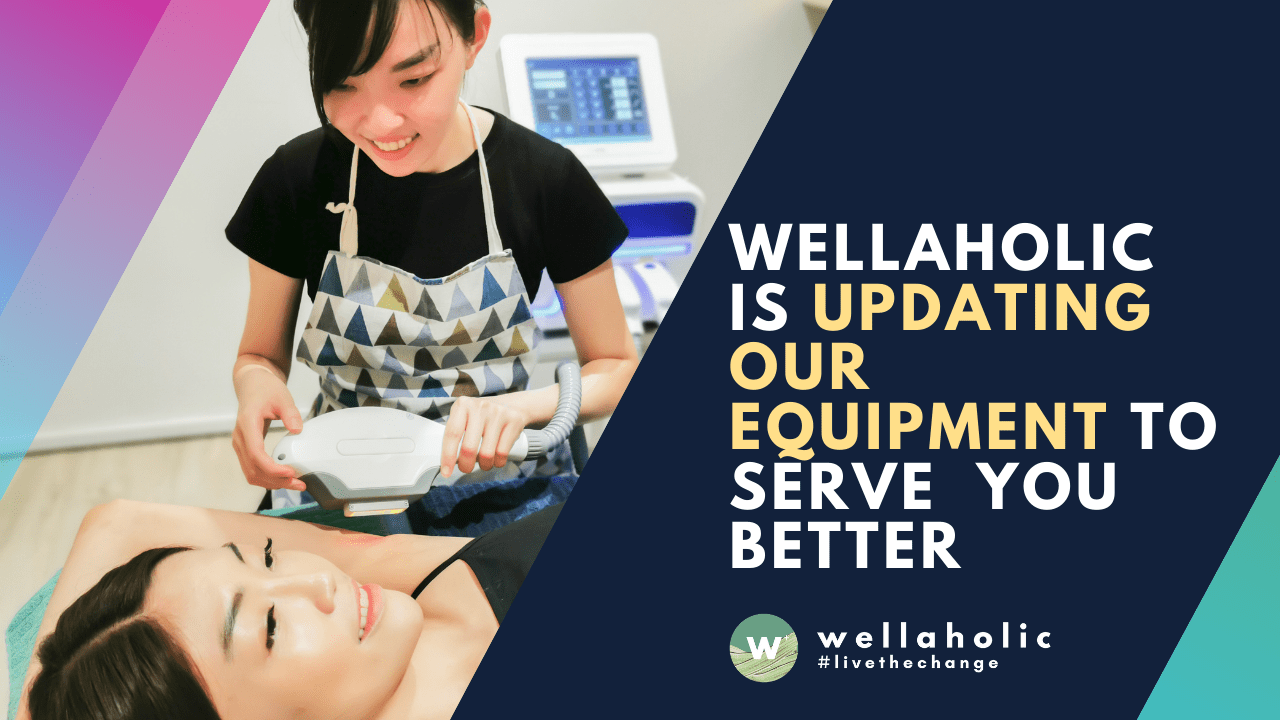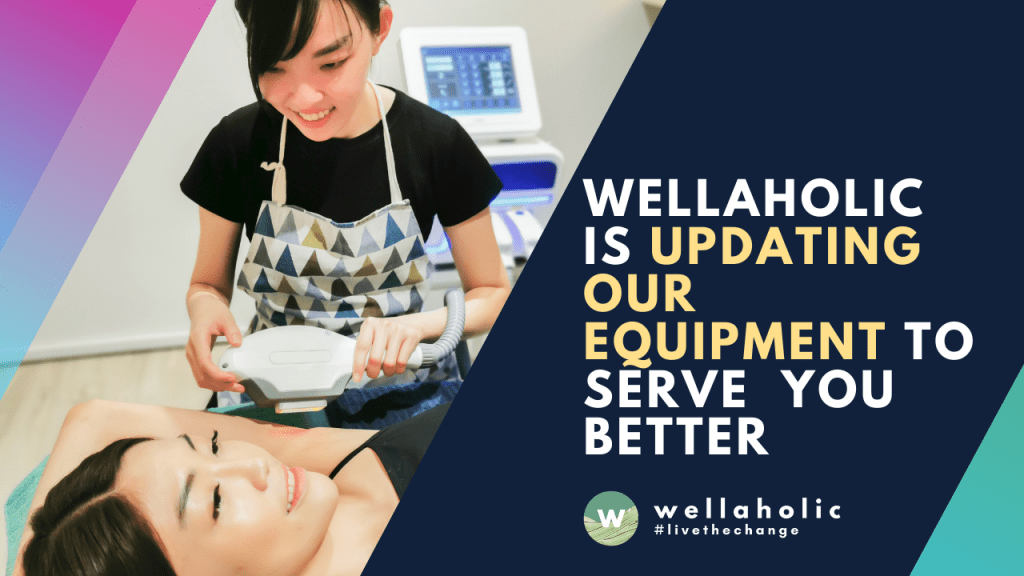 Wellaholic is Updating Our Equipment to Serve You Better
Introduction
As part of Wellaholic's vision and philosophy to help customers to see results with our treatments which are backed by science and research, we will be making upgrades and improvements in our equipment to serve our customers better. In the next few months, our customers will be experiencing enhanced treatments due to equipment and parts upgrade.
---
1. Hair Removal – Full Upgrade of All SHR Equipment to Next-Generation
Wellaholic's equipment for hair removal uses SHR or Super Hair Removal technology, which is a combination of laser technology and pulsed light for painless yet effect results. Developed by Alma Lasers, SHR technology uses an "in-motion" technique where the consultant uses gliding motions with the laser applicator over the patient's skin. This helps to use lower energy with high repetition (instead of lasing each hair follicle with a high powered beam which is very painful) to minimise burns yet achieve superior results. This technique is also ideal for all skin tones and hair types. SHR technology is considered the best hair removal technology to date according to several independent studies comparing the existing technologies used across the world.
As such, Wellaholic will be phasing out our first-generation SHR machines and replacing them with our next-generation SHR machines. Also, we will be replacing our SHR probes with the next generation probes. While the probes may look the same, you can be assured of better energy, better coverage and extra safety. Wellaholic will continue to offer unlimited shots – we use as many shots as required for the most effective hair removal.
---
2. Slimming – Firmware Upgrade and Recalibration for all Equipment
Wellaholic's equipment for slimming uses different technologies for different body sculpting and body contouring objectives. This includes WellaFreeze fat freezing, WellaSculpt body sculpting, Ultrasonic Cavi 360 for ultrasound cavitation, Laser Lipo 360 for cold laser treatment, etc.
The firmware upgrade will better allow the machine to perform better:
Fat Freezing – the machine is able to adjust the suction pressure to prevent less bruising while achieving optimal freezing
RF Body Sculpting – the machine now uses dense woven RF energy matrix which penetrates multiple layers of the dermis thereby heating it from inside out. Improved skin penetration ensures exponentially-improved clinical efficacy
Ultrasonic Cavitation – the 40k cavitation probe is now able to have a dual vibration vacuum cavitation which improves the dissolve rate for the free fatty acid
Laser Lipo – All 8 laser plates can now be activated concurrently with 100MW per plate and up to 650nm for increased targetting and effectiveness.
---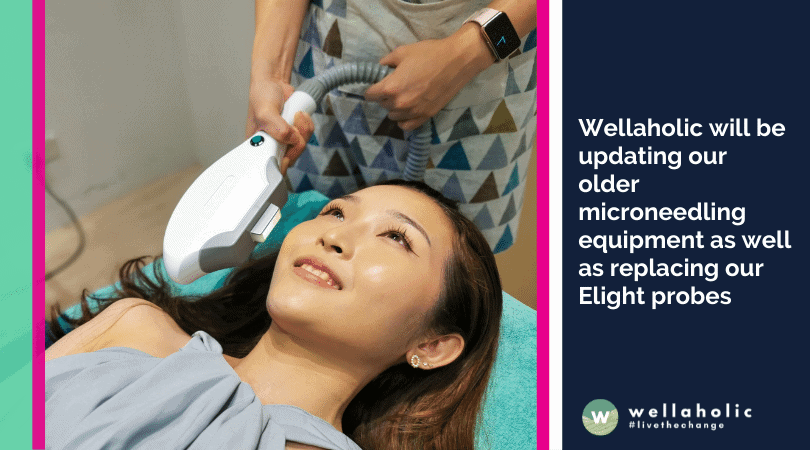 3. Facials – Upgrade of Microneedling Equipment and Facial Probes
Wellaholic will be replacing all our older/portable microneedling equipment with the cabled microneedling equipment which is consistently stronger to work together with the 36-needle cartridge (industry average is only 16-needles). This will help to better target all areas of the face for increased cell turnover and renewal.
Wellaholic will also be replacing the probes for Elight Unlimited together with our SHR probes. The Elight probes will emit stronger energy and be able to reach a better depth for increase cell rejuvenation.
---
4. Wellaholic Grows to Serve Our Customers Better
With more than six years of industry experience in hair removal, slimming, facials, teeth whitening and hair regrowth, Wellaholic continues to calibrate our treatment standards with the industry to ensure that we deliver effective yet affordable treatments for our customers. This latest exercise will help to keep all our equipment up to date, so that our customers can be rest assured of quality treatments and exceptional customer service, with transparent pricing and no hard selling. Live the change!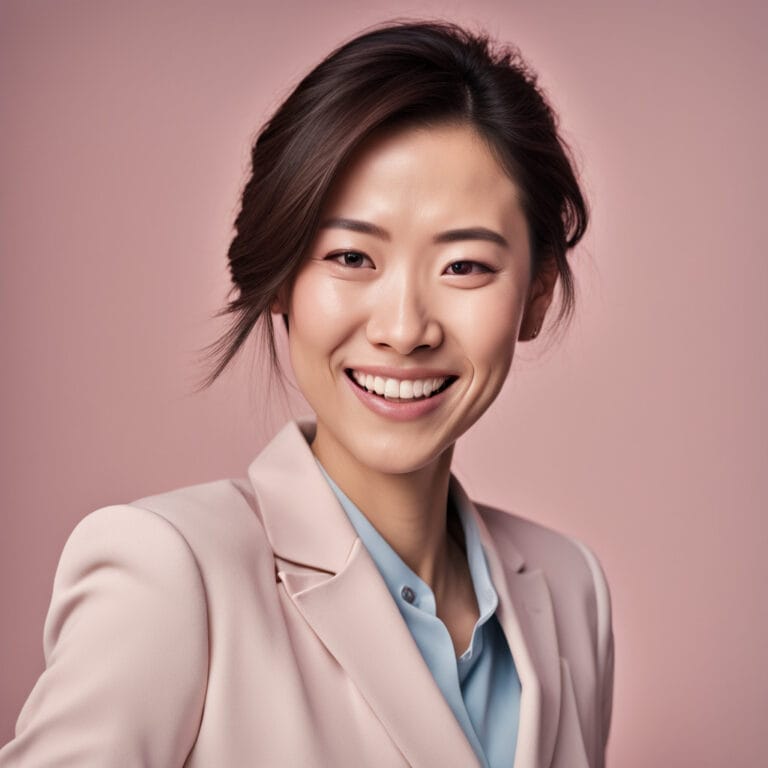 Serene Chiam, Aesthetic Director
Serene Chiam, the Aesthetic Director at Wellaholic, an acclaimed Aesthetic Chain in Singapore, brings over a decade of expertise in the aesthetics industry. With a Bachelor of Health Science (Aesthetics) and CIDESCO certifications, she expertly combines scientific knowledge with practical skills. Serene is known for her personalized approach to beauty, ensuring each Wellaholic client's journey is unique and transformative. Her significant contributions have been pivotal in establishing Wellaholic's reputation for excellence in aesthetic wellness.
GET IN TOUCH
Book Now Pay Later

Gold RF Microneedling Facial
⭐ Uses Up to 64 Micro Needles. Gold RF Microneedling: Ultimate anti-aging treatment with 64 needles to penetrate the skin, release RF energy, and trigger collagen and elastin production for a clearer complexion and firmer skin
⭐ Safe and Minimally Invasive. Gold RF Microneedling is a safe, minimally invasive.
⭐ Effectively Treats Acne Scars, Pigmentation & Wrinkles. Extremely effective aesthetic treatment for treating acne scars, pigmentation, fine lines and wrinkles.
⭐ Stimulates Collagen Growth. Gold RF Microneedling stimulates collagen and elastin for new, youthful-looking skin.
⭐ Award-Winning. Wellaholic's treatments have been recognized by top beauty publications such as Daily Vanity, Beauty Insider, and Tropika Club Magazine.
⭐ Over 2000 Verified Customer Reviews. Wellaholic has over 30 industry awards and over 2000 positive reviews from customers, and >50% are repeat customers.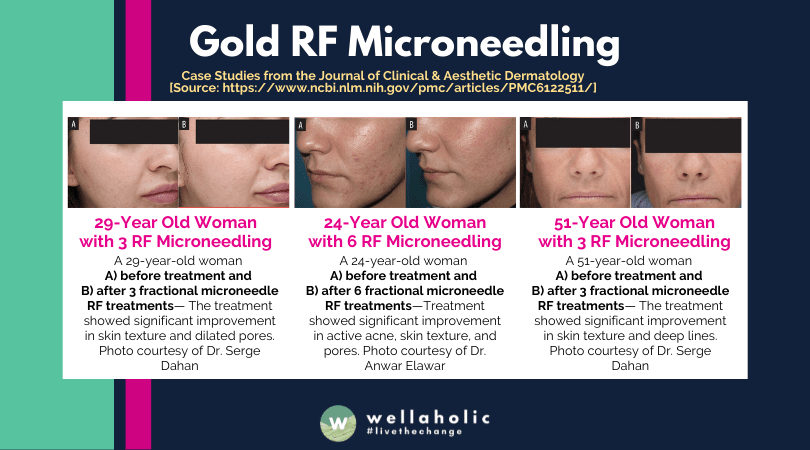 Gold RF Microneedling is a skin treatment that combines fractional radiofrequency (RF) with microneedling to treat acne, acne scar, pigmentation, stretch marks, enlarged pores, saggy skin, and dull and uneven skin tone.