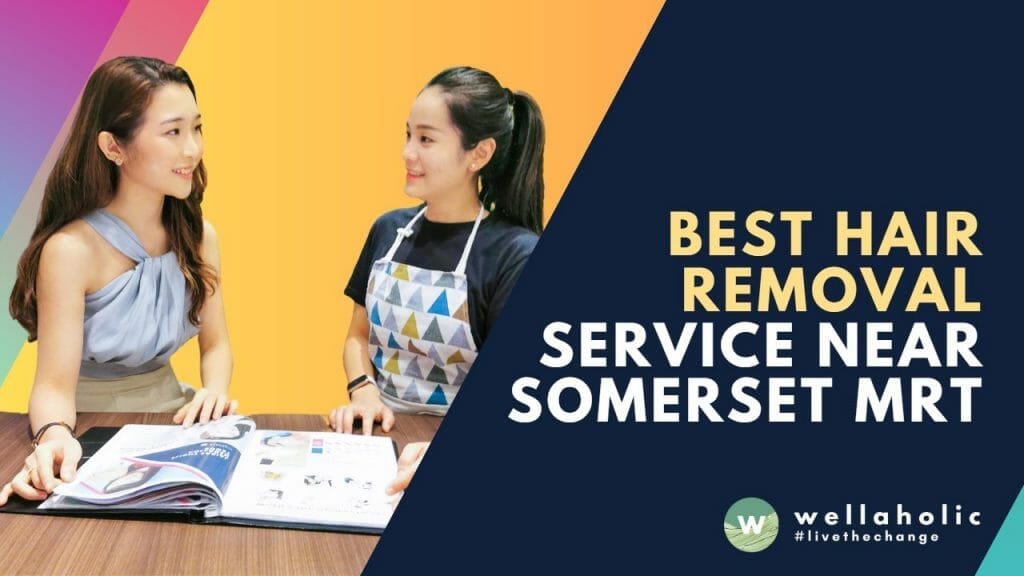 Best Hair Removal Service near Somerset MRT – Wellaholic Somerset
TL:DR Summary
Best Hair Removal in Singapore: Wellaholic Somerset offers a range of services to help you achieve smooth and hairless skin.
SHR Hair Removal: A newer and more effective technology than IPL that uses low energy and high frequency to heat the skin gently and destroy the hair follicles.
WellaSmooth: A package that includes unlimited SHR shots for all body parts, post-treatment whitening or hydration, and lifetime maintenance sessions.
Wellaholic Awards and Reviews: A reputable hair removal provider that has won over 50 awards and has over 2000 positive customer reviews
Looking for a Hair Removal Service Near Somerset MRT?
Convenient Hair Removal near Somerset MRT Looking for a hair removal service that's close to Somerset MRT? Look no further than our trusted experts at Wellaholic (Somerset)! Our team of hair removal experts provides top-notch hair removal services that are perfect for those who want to remove unwanted hair quickly and easily.
Wide Range of Affordable Hair Removal and Aesthetic Services At Wellaholic (Somerset), we offer a wide range of affordable hair removal services to cater to your needs. Our services include SHR hair removal, IPL hair removal, as well as skin whitening against hyperpigmentation. In addition to hair removal, we also provide other aesthetic services such as facials, slimming, hair regrowth, and teeth whitening.
Explore the Vibrant Shopping Precincts near Somerset Somerset is surrounded by vibrant shopping precincts in Singapore. If you're near Orchard Central, 313 Somerset, Orchard Gateway, or The Centrepoint, you're in close proximity to our Wellaholic outlet at Somerset. These shopping destinations offer a plethora of retail outlets, dining options, and entertainment choices. After your hair removal session, you can explore these vibrant areas and make the most of your visit.
"For the best hair removal service near Somerset MRT, look no further than the experts!"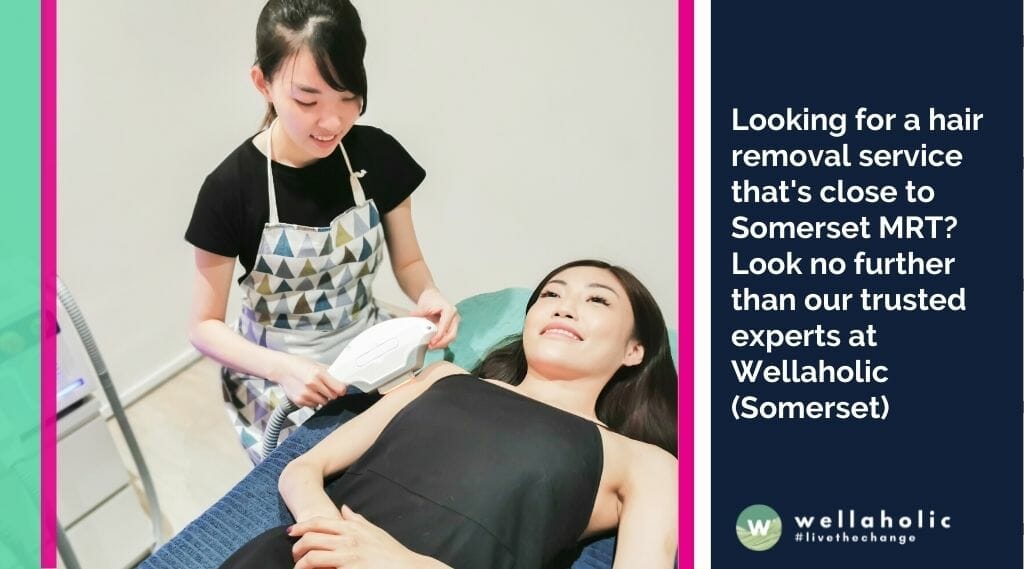 What is SHR Hair Removal?
Advanced Fluorescence Technology (AFT) In-Motion Laser Hair Removal with SHR. SHR's Advanced Fluorescence Technology (AFT) In-Motion laser hair removal technology is a breakthrough in customer comfort and effectiveness of treatments.
How SHR Works: Gentle Heating and Stem Cell Targeting. SHR or Super Hair Removal technology heats the skin gently through the melanin and the stem cells with low energy but high frequency. SHR uses only 50% of the energy for permanent hair removal. The remaining 50% is absorbed into the stem cells responsible for hair production.
Advantages of SHR over IPL Hair Removal. SHR technology is newer and more effective than IPL hair removal. SHR causes minimal pain due to the cool touch laser hair removal methodology as compared to IPL. SHR can cover all parts of the body such as hair removal for the face, arms, legs, underarms, etc. SHR causes less discomfort as compared to IPL hair removal. SHR is also suitable for all hair types and skin tones as compared to IPL, making it an effective means for permanent hair reduction.
Why Choose SHR Hair Removal over Other Types of Hair Removal?
SHR (Super Hair Removal) is a type of laser hair removal that uses low-energy, repetitive pulses to gradually heat the hair follicle, causing it to stop producing hair. Compared to other types of hair removal, such as waxing, shaving, and electrolysis, SHR has several advantages, including:
Faster treatment times: SHR can cover larger areas of the body more quickly than other types of laser hair removal, making it a more efficient choice for people with busy schedules.
Less discomfort: SHR uses low-energy pulses that gradually heat the hair follicle, making it a more comfortable option for people who are sensitive to pain.
Works on all skin types: SHR is safe and effective for all skin types, including darker skin tones, which may not be suitable for other types of laser hair removal.
Reduced risk of side effects: Because SHR uses low-energy pulses, there is a lower risk of skin irritation or burns, making it a safer option than other types of hair removal.
Overall, SHR hair removal is a safe, effective, and comfortable way to achieve long-term hair reduction, making it a popular choice for people looking to remove unwanted hair.
Factors to Consider When Choosing a Hair Removal Provider in Singapore
When choosing a hair removal provider in Singapore, there are several factors to consider, including:
Qualifications and experience: Ensure that the provider is qualified and experienced in providing hair removal services. Check if they have the necessary certifications and training to perform the procedures.
Safety protocols: Make sure that the provider follows strict safety protocols and uses sterile equipment to minimize the risk of infections.
Technology and equipment: Choose a provider that uses the latest technology and equipment for hair removal procedures to ensure effective and safe treatments.
Reputation and reviews: Check the provider's reputation and read reviews from previous clients to get an idea of the quality of their services.
Cost and packages: Compare the cost and packages of different providers and choose one that fits your budget and needs. Always consider a provider (like Wellaholic) with published prices and transparent pricing to prevent any hidden costs.
Consultation and aftercare: A good provider should provide a consultation to discuss your needs and expectations and offer aftercare advice to ensure proper healing and maintenance after the procedure.
By considering these factors, you can choose a reliable and effective hair removal provider in Singapore that meets your needs and preferences.
Wellaholic has Won Numerous Awards for our SHR Hair Removal
Pioneer of SHR Hair Removal: Wellaholic's Expertise. Wellaholic is a pioneer of SHR hair removal, launching it since 2016. Since then, Wellaholic has been recognized as a leader of SHR hair removal (invented by Alma Lasers),
Award-Winning Excellence: Best SHR Salon. Wellaholic has received numerous awards, such as the Best SHR Salon by Daily Vanity Spa & Hair Awards in 2019 to 2023. These accolades highlight the industry recognition of Wellaholic's expertise and exceptional SHR hair removal services.
Consistent Recognition: Best SHR Hair Removal. Wellaholic has also won the Best SHR Hair Removal award by Beauty Insider Beauty & Wellness Awards from 2018 to 2023. This consistent recognition further demonstrates the effectiveness of SHR hair removal treatments and the excellent customer service provided by Team Wellaholic.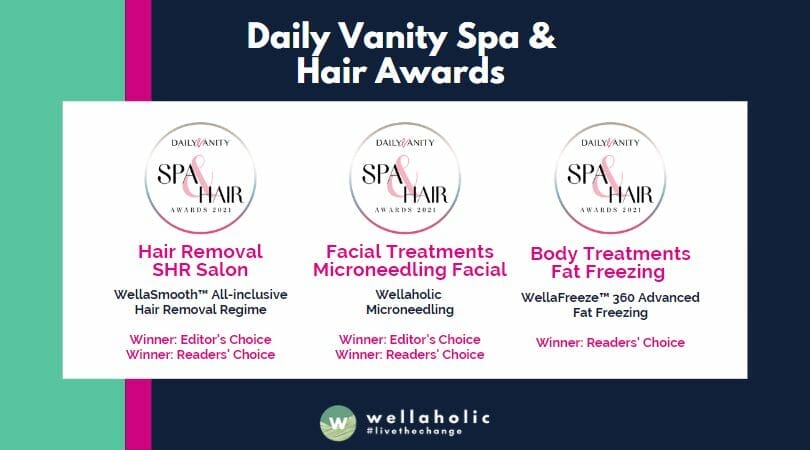 SHR Hair Removal: Packages and Pricing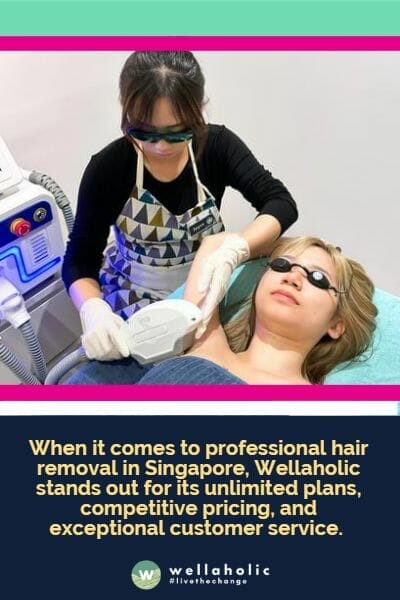 Pricing Transparency at Wellaholic. Wellaholic believes in providing pricing transparency, and hence all prices are published and updated on its website.
Unlimited Monthly Hair Removal Plans. Choose from unlimited monthly hair removal plans (with unlimited SHR hair removal shots) for unlimited body parts. These plans offer flexibility and convenience for those seeking regular and comprehensive hair removal treatments.
Per-Session Hair Removal Price Plans. Alternatively, you can choose from per-session hair removal price plans. These plans allow you to pay for individual sessions, catering to your specific needs and preferences. Whether you need hair removal for specific areas or want to try out the treatment before committing to a monthly plan.
How to Get to Wellaholic Somerset?
Wellaholic (Somerset) is conveniently located at level 3 of Cuppage Plaza, and within 5 minutes from Somerset MRT station. You can easily exit towards the Centrepoint Shopping Mall and then crossing a small lane towards Cuppage Plaza to reach us.
Wellaholic (Somerset) is located at:
Cuppage Plaza
5 Koek Road #03-21
Singapore 228796
By MRT
Exit Somerset MRT and then take the underpass exit to The Centrepoint Shopping Mall
Cross Cuppage Road into Cuppage Plaza
Time needed (3 minutes)
By Bus
Bus services to Cuppage Plaza includes the following:
Bus 7, 14, 16, 36, 65, 77, 106, 111, 123, 124, 143, 162, 167, 174, 175, 190, 502, 518, 971, 972
By Car (Parking Charges)
Monday – Friday (before 5/6pm)

$1.50 for 1st hour
$1.00 for next subsequent 30 minutes from 7am to 5pm

Weekends & Public Holidays

$2.00 for 1st hour
$1.50 for next subsequent 30 minutes from 7am to 5pm
$2.00 for 1st hour
$1.50 for next subsequent hour from 5pm to 7am the following day
Wellaholic's Commitment to Price Transparency and No Hard-selling
Wellaholic's commitment to transparency becomes a perfect complement to our quality treatments. We don't say this lightly: we don't do hard-selling. We don't have any trial sessions that distort the prices of our treatments. All our prices are stated clearly on our website, and on the brochures at our outlets. So, rest assured, you will have your peace of mind at Wellaholic.
---
Frequently Asked Questions (FAQ)
Why should I choose Wellaholic for hair removal in Singapore?

A: Wellaholic is a leading beauty and wellness brand known for its advanced hair removal services. With a customer-centric approach, cutting-edge technology, and experienced specialists, we offer effective and personalized solutions for hair removal, making us a top choice in Singapore.
What's the difference between IPL and laser hair removal?

A: IPL uses a broad spectrum of light to target hair, while laser hair removal uses a focused laser beam. Laser hair removal tends to be more precise and effective in targeting hair follicles, leading to better and quicker results. Wellaholic offers both diode laser hair removal and IPL hair removal options.
Is laser hair removal suitable for all skin types?

A: Yes, laser hair removal is suitable for various skin types, thanks to Wellaholic's experienced specialists who can customize the treatment to match your skin's unique needs.
How many sessions of hair removal are typically needed to see results?

A: The number of sessions required varies depending on factors such as hair color, thickness, and the area being treated. However, many clients notice a significant reduction in hair after a few sessions.
Is the hair removal process at Wellaholic painful?

A: Wellaholic uses modern technologies that incorporate cooling mechanisms to minimize discomfort during the hair removal process. While some individuals might experience slight discomfort, the procedure is generally well-tolerated.
Can both men and women benefit from Wellaholic's hair removal services?

A: Yes, Wellaholic's hair removal services are suitable for both men and women. They offer customized solutions for various areas of the body, catering to different needs and preferences.
Unleash the Power of Three: Beauty, Confidence, Perfection with WellaSmooth™ 3X
⭐ Tailored Beauty Experience: Select three personalized treatments with WellaSmooth 3X™.
⭐ Quality Skin Solutions: Enjoy our signature permanent hair removal with full body shaving, skin whitening, breast enhancements, butt lifts and more.
⭐ Enhanced Confidence Options: Lift and enhance your bust and butt for a confident new look.
⭐ Luxury at Your Fingertips: Experience luxury with a flexible triple-choice treatment plan.
⭐ Affordable Body Perfection: Transform your body positively and affordably.
⭐ Unbeatable Value & Efficacy: Benefit from high-quality treatments at exceptional value.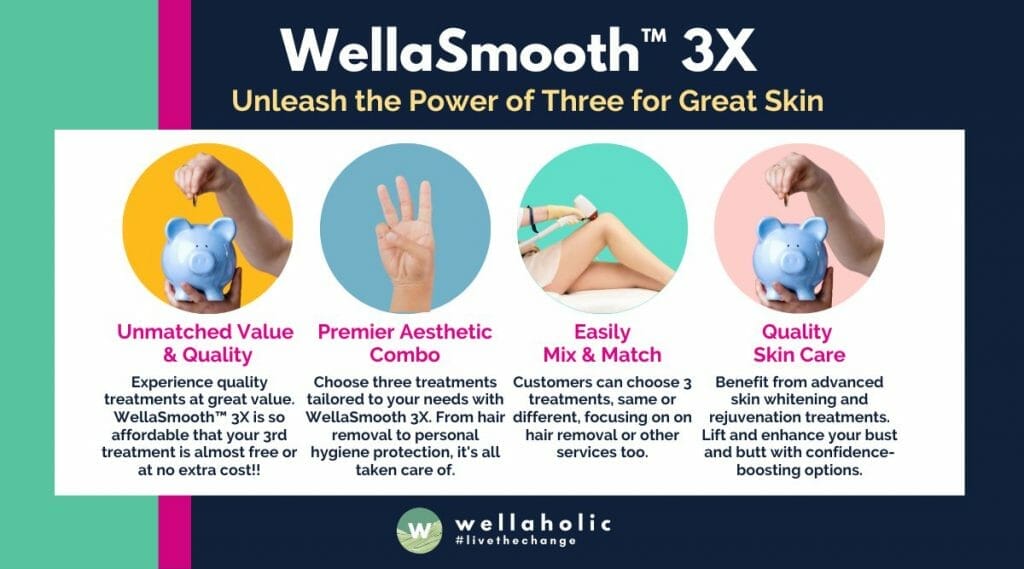 What Treatments Can I Choose with WellaSmooth™ 3X?
For a modest monthly fee, customers can indulge in premium treatments to remove hair, whiten skin, lift and enhance the boops, lift the butt and safeguard the private regions:
⭐ Personalized Hair Removal: Opt for laser hair removal for all hair types.
⭐ All-that-you-need Shaving: Achieve a sleek look with professional full body shaving to prevent ingrown hair.
⭐ Advanced Skin Whitening: Experience innovative skin whitening techniques for radiant skin.
⭐ Butt Lifting Treatments: Lift your butt for a perfectly contoured appearance with EMS technology.
⭐ Bust Enhancement Options: Enhance your bust size and shape with specialized ultrasonic treatments.
⭐ Expert Bust Lifting: Choose professional bust lifting via RF microneedling to make it look bigger and fuller.
⭐ Premium Personal Hygiene Protection: Improve personal hygiene with specialized Blue Light protective treatments.
⭐ Flexible Combo Selection: WellaSmooth™ 3X allows you to select any three of the above treatments.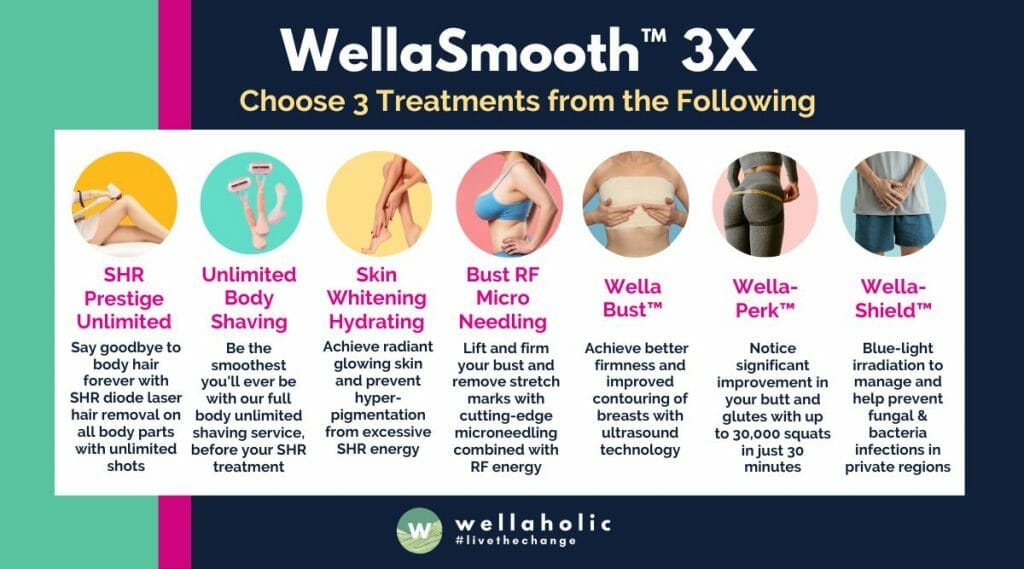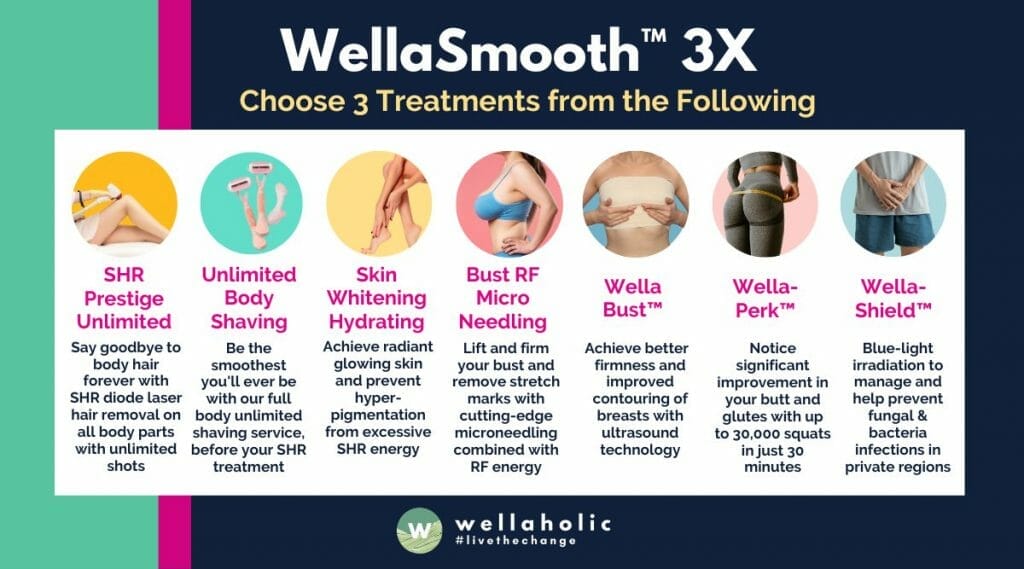 Why Choose SHR Prestige Unlimited Hair Removal?
⭐ SHR Diode Laser. Super Hair removal targets all skin types with 755nm, 808nm, and 1064nm laser wavelengths for the best hair removal treatment in Singapore.
⭐ SHR is better than IPL for Asian skin. SHR is more effective than traditional IPL technology for finer hair and coarse hair.
⭐ Unlimited Shots. Our laser removal uses as many pulses as needed to destroy hair follicles to prevent hair growth.
⭐ Award-Winning. Wellaholic's SHR Hair Removal have won multiple awards making us one of the best hair removal salons in Singapore.
⭐ Ideal for All Skin and Hair Colors. SHR laser hair removal technology works on all hair and skin types, including facial hair and body hair by targeting the melanin in the hair.
⭐ For Everyone. Wellaholic has a team of skilled therapists, both male and female, to attend to your body hair removal needs.
Pricing of Aesthetic Treatments by Wellaholic
💎 Price Transparency. All prices are published and updated on our website.
💎 Flexible Plans. Choose from unlimited monthly or per-session hair removal plans.
💎 Easy to Choose. Mix and match treatments from different categories.
💎 No Hidden Fees. Pay only for the treatments you receive.
GET IN TOUCH
Book Now Pay Later
Why Wellaholic is One of the Best Aesthetic Service Providers in Singapore?
✅ Leading Singapore Aesthetic Chain. Wellaholic is a popular aesthetic chain with 8 outlets around Singapore.
✅ Quality & Safe Treatments. Wellaholic is committed to quality, safe treatments with experienced staff.
✅ Wide Range of Treatments. Wellaholic offers a large range of treatment from effective hair removal, skin whitening, bust enhancement, butt lifts for all areas of the body.
✅ Trained & Experienced Consultants. All treatments are performed by trained professionals who understand skincare needs for both genders.
✅ SHR Technology. Advanced SHR technology provides a safe, comfortable, and painless hair removal experience.
✅ Most Affordable Provider. Wellaholic offers competitive pricing, making it one of the most affordable hair removal providers in Singapore.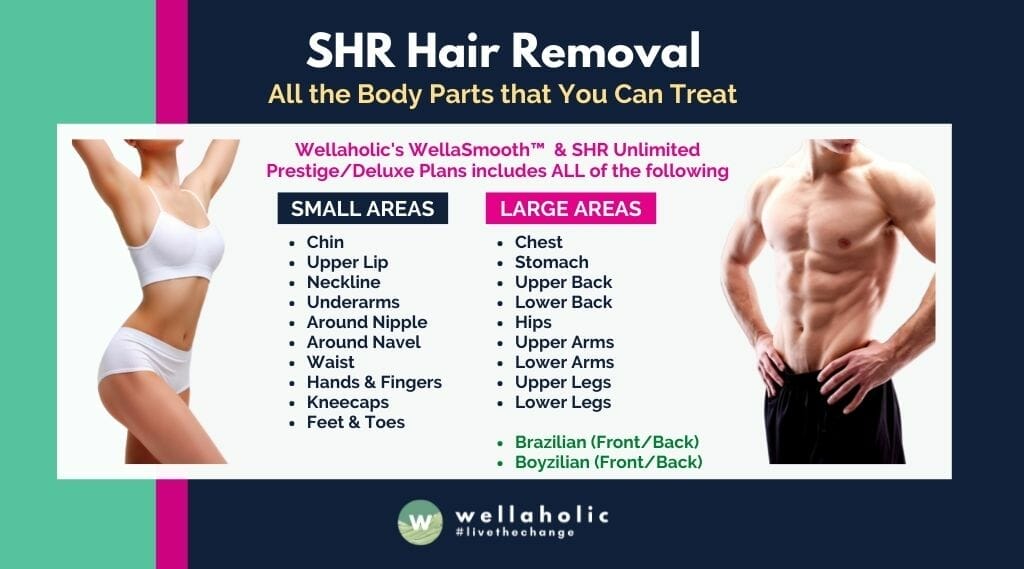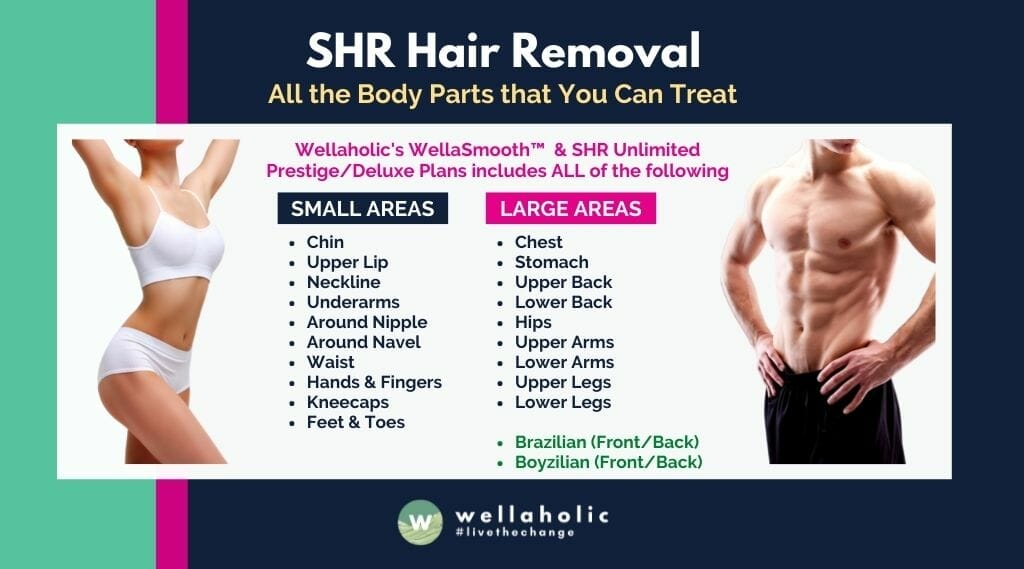 Reason 1: Wellaholic's Unlimited Plans Save You Money
✅ WellaSmooth 3X. Pay a small monthly subscription and choose 3 treatments from the WellaSmooth 3X family of services.
✅ Unlimited Hair Removal. Choose a SHR Prestige Unlimited or SHR Deluxe Unlimited to enjoy hair removal with unlimited shots.
✅ Pay One Price for All Body Parts. For hair removal, pay one price for unlimited hair removal on all body parts.
✅ Huge Cost Savings. Huge cost savings with monthly unlimited plans. No price shocks from hidden costs!
Reason 2: Wellaholic is a Trusted and Award-winning Aesthetic Chain with Over 2000 Positive Reviews.
✅ Over 50 Awards. Wellaholic's WellaSmooth and SHR Hair Removal have won over 50 awards from top beauty publications since 2018.
✅ Over 2000 Verified Customer Reviews. Wellaholic has over 2000 positive reviews from customers around the world. .
✅ Verifiable Reviews. Positive reviews indicate high customer satisfaction. (See reviews below).
✅ Over 50% Repeat Customers. More than 50% of Wellaholic's customers are repeat and recurring customers.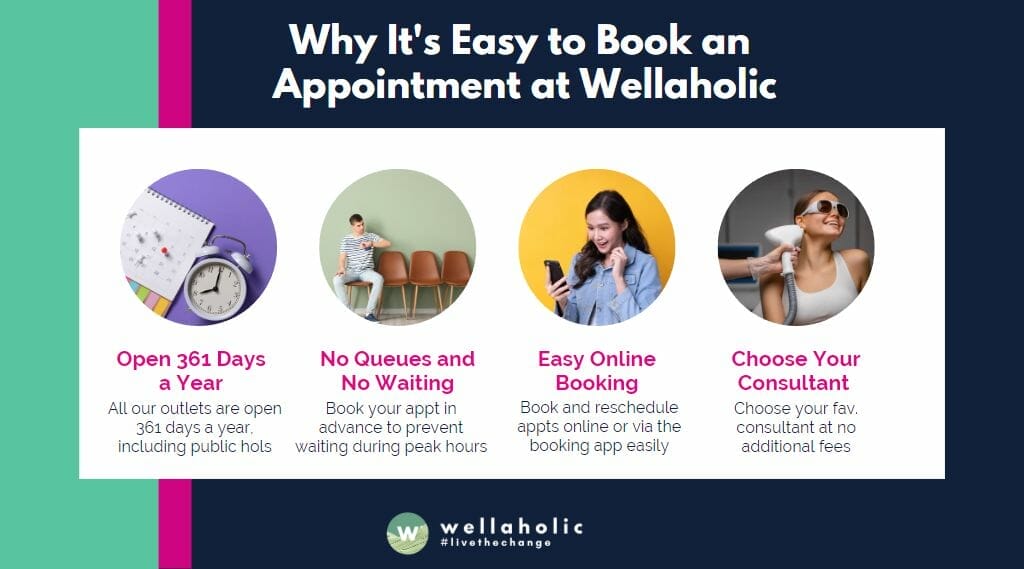 Reason 3: It's Easy to Book an Appointment at Wellaholic
✅ Open 361 Days Per Year. Wellaholic's 8 outlets are open 361 days a year, including public holidays for easy bookings.
✅ No Queues. Book appointments in advance to avoid long wait times.
✅ Easy Online Booking. Customers can conveniently book and reschedule appointments online or via the booking app.
✅ No Extra Cost for Choosing Consultant. Customers can choose their preferred consultant for free.