Why WellaFreeze™ is the Cheapest Fat Freeze in Singapore
WellaFreeze is Possibly the Most Affordable Fat Freezing in Singapore
Looking for a fat freeze that is cheap and effective in Singapore? Look no further than WellaFreeze™ fat freezing. In this article, Wellaholic is going to list the reasons why Singaporeans are choosing WellaFreeze and WellaFreeze 360 Advanced Fat Freezing as their choice of slimming treatments, based on not just affordability, but reliability as well as convenience. If you are not convinced, read on to find out more about affordable prices at Wellaholic.
Reason 1: WellaFreeze Fat Freeze Starts from Just $99.50 Per Handle
If you are not familiar with Wellaholic, you will be stoked to know that Wellaholic publishes our prices online at our website. Wellaholic offers the traditional fat freeze via WellaFreeze fat freezing, as well as the 360 cryolipolysis fat freeze treatment via WellaFreeze 360 advanced fat freezing, which uses the latest fat freeze technology to target fat cells. If you not familiar with fat freezing, it uses cold temperatures to target fat deposits of pockets of fat, leading to fat cell death. This body contouring procedure is safe, ideal for all skin types and leaves the tissues unharmed, making it an ideal alternative to liposuction.
For WellaFreeze fat freeze, each single session comes with 2 handles, so customer can purchase 1 session and use it for 2 body parts (e.g. left and right love handles, or upper and lower tummy). Prices start from just $199 per session for a 12-session treatment plan. This works out to be just an average cost of $99.50 per handle.
For WellaFreeze 360 fat freeze, each single session also comes with 2 handles. Unlike the traditional fat freezing handles, WellaFreeze 360 (as the name goes) has a 360 cup which is able to freeze the fat cells in the entire area within the cup, leading to an increase coverage area. This has proved to be very popular with customers. Prices start from just $259 per session for a 12-session treatment plan. This works out to be just an average cost of $129.50 per handle for the latest fat freezing technology.
The treatment time for WellaFreeze is about 40 to 60 minutes, while WellaFreeze takes about 30 minutes, due to its fat freezing technology.
So do drop by Wellaholic for affordable and cost-effective fat freezing fat reduction treatments.
Reason 2: All Prices are Nett and GST-inclusive with No Hidden Costs
Another strong selling point about Wellaholic's WellaFreeze and WellaFreeze 360 treatments is that all prices that you see on their website's price list, are nett and GST-inclusive. There are no hidden fees. Consultation is free and there are no additional charges.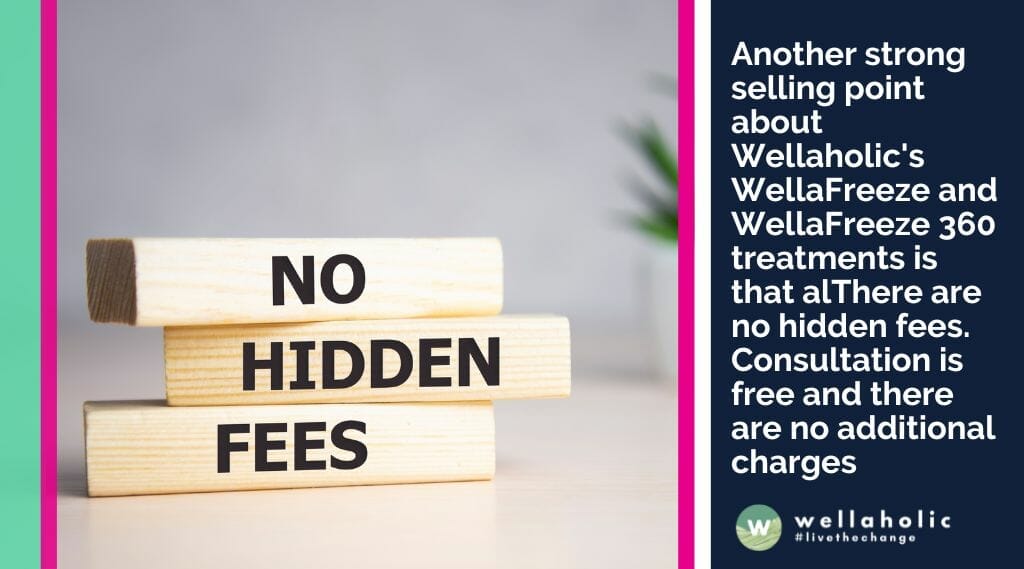 Reason 3: No Hard Selling at Wellaholic
Wellaholic has gathered more than 1000 positive customer reviews on Google Reviews and Tripadvisor from customers who are impressed by the exceptional customer service over at Wellaholic. The Wellaholic Team does not hard-sell, and customers will not be hard pressed to buy additional products or even packages throughout the treatment itself. In fact, the consultants will leave the customer alone to rest, but will be on standby in case they are needed for any assistance. This creates a comfortable and relaxing environment for the customers, as attested by their reviews.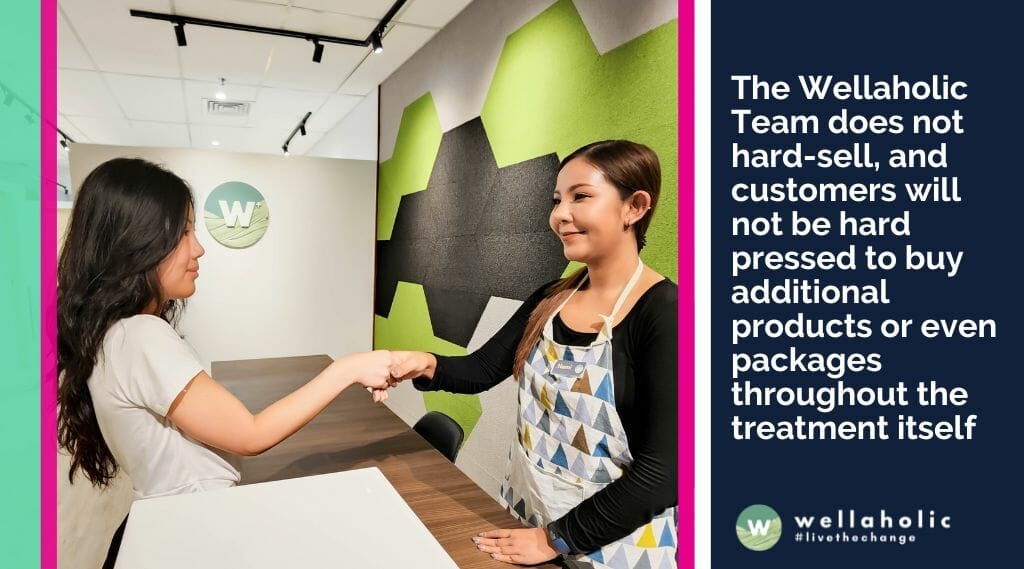 Reason 4: Customers Can Choose from 8 Outlets to do Treatment
Another strong selling point from Wellaholic is their extensive network of outlets around Singapore. Each outlet is located within minutes from a MRT station, so it is very convenient for customers (with busy schedule) to get to the outlet. In fact, customers are able to purchase a package or plan and then choose to have his or her fat freeze procedures or treatment done at any outlets. In additional, Wellaholic's outlets are open 361 days a year, including most public holidays.
Reason 5: Packages Never Expire
You will be surprised to know that the WellaFreeze and WellaFreeze 360 packages never expire. In fact, customers can choose to have a 2-year hiatus and then still return to Wellaholic to continue their fat reduction procedure, without any penalty and with no questions asked. This makes it easy for customers to consider Wellaholic as the go-to brand for their aesthetic treatments including fat removal. In fact, Wellaholic is one of the few aesthetic clinics or centres which provides this additional benefit.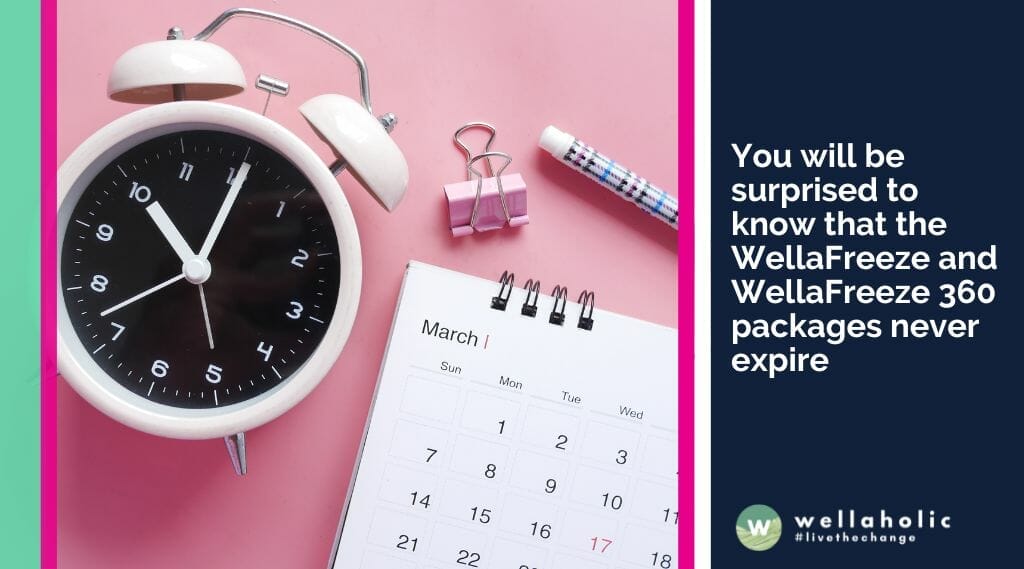 Reason 6: Lifetime Maintain Mode for WellaFreeze
Wellaholic's LIFETIME MAINTAIN MODE is our commitment to help customers who have completed 12 sessions of WellaFreeze or WellaSculpt treatments with us. Enjoy heavily discount prices for your body slimming treatments once you meet our given criteria, and continue to use WellaFreeze to target your fat layers, fat bulges and fat cells.
If you qualify for LIFETIME MAINTAIN MODE, you get to enjoy the following prices indefinitely. Enjoy as much as 50% off the usual per-session rates for WellaFreeze fat freezing or WellaSculpt Radio Frequency Body Sculpting fat reduction treatments.
WellaFreeze 360 Advanced Fat Freeze by Wellaholic
WellaFreeze 360 uses the latest fat freeze technology and is designed for customers who are looking to fat freeze 4 body parts at once. Similar to Clatuu 360 or CoolSculpting 360, our WellaFreeze 360 cryolipolysis device is equipped with 4 probes or applicators for concurrent usage. Further more, the latest innovation in our fat freeze 360 probes increases the coverage area – meaning that you can freeze a larger surface area per probe.
What is WellaFreeze™ 360 Advanced Fat Freezing?
WellaFreeze™ 360 Fat Freezing is the latest innovation in fat freezing. It uses a newer device over the traditional WellaFreeze cryo machine. 
WellaFreeze™ 360 Fat Freezing helps target the stubborn fat and cellulite areas of your body that do not react well to exercise and dieting.
Fat cells are "dissolved" by non-surgical means and controlled cooling at sub-zero temperatures.
WellaFreeze™ 360 Fat Freezing with its newer technology can increase in absolute fat removal by up to 19%, in addition to the 14% to 28% fat reduction from each session.
In addition, customer can treat 4 body parts at one time with WellaFreeze™ 360 Fat Freezing.
Each session is also reduced from 60 minutes to only 30 minutes, due to the increase freezing ability.
WellaSmooth™ is your ultimate all-inclusive hair removal treatment in Singapore complete with shaving and post-treatment care.
WellaFreeze™ Fat Freezing Can be Done for the Following Body Parts
Stomach / Belly / Tummy / Abdomen
Love Handles / Flanks
Under the Neck / Double Chin
Back / Bra Area
Thighs
Male Chest (Pseudogynecomastia)
Arms
Under Buttocks (Banana Roll)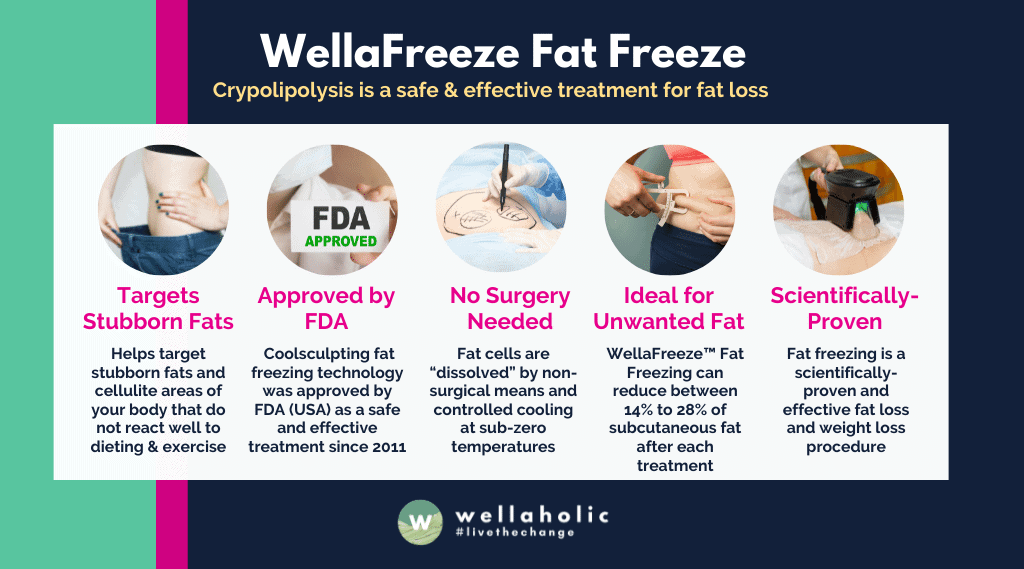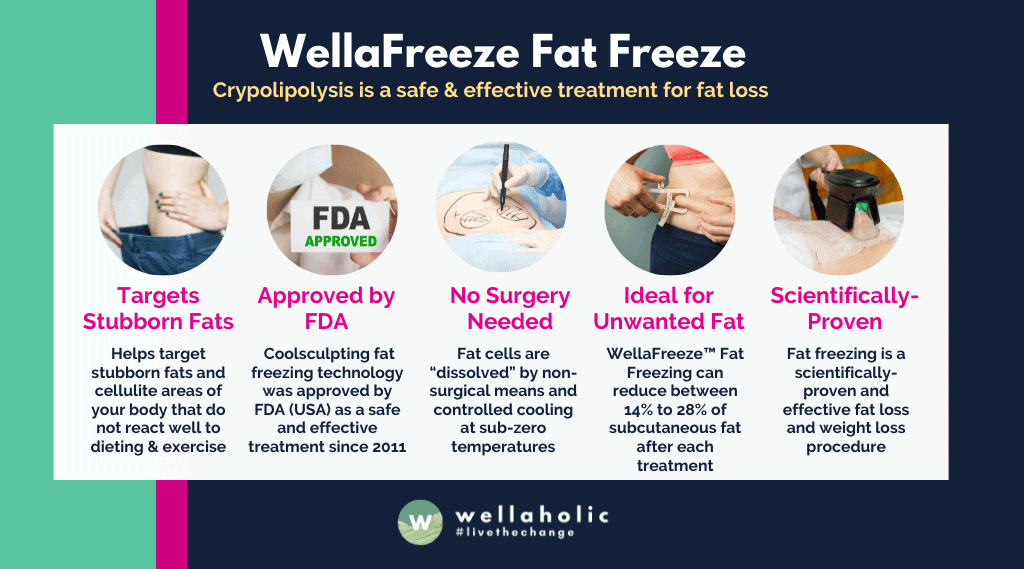 See Over 1800 Positive Reviews of Wellaholic (Customer Verifiable)
Pricing of Slimming Treatments by Wellaholic
Wellaholic believes in providing pricing transparency, and hence all prices are published and updated on its website. Choose from a single-session plan or choose a multi-session plan for greater discounts. Wellaholic's slimming treatmentes are generally divided into the following categories: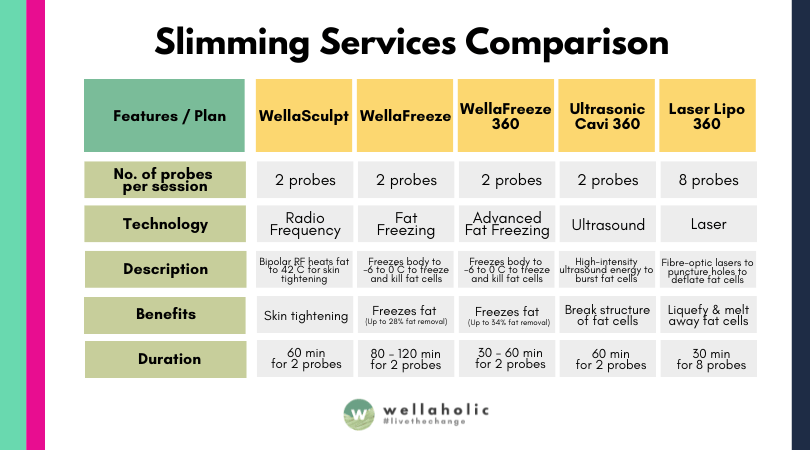 Please click on the menu below to see the pricing for the various slimming treatments by Wellaholic. Prices are nett and inclusive of GST.
---
---