Why WellaFreeze™ is the Cheapest Fat Freeze in Singapore
TL:DR Summary
What is fat freeze and how does it work? Fat freeze is a non-invasive procedure that uses controlled cooling to eliminate stubborn fat cells that are resistant to diet and exercise. The fat cells are frozen and then naturally eliminated by the body over time.
What are the benefits of fat freeze? Fat freeze can help you achieve a slimmer and more contoured body shape by reducing unwanted fat bulges in areas such as the abdomen, thighs, arms, and chin. It is painless, safe, and effective, with no downtime or side effects.
What are the factors that affect the cost of fat freeze? The cost of fat freeze depends on several factors, such as the number of sessions, the size and location of the treatment area, the type and quality of the machine, and the experience and reputation of the provider.
How to find the cheapest fat freeze in Singapore? To find the cheapest fat freeze in Singapore, you need to compare the prices of different providers and look for discounts or promotions. You also need to consider the value and quality of the service, not just the price.
Why choose Wellaholic for your fat freeze treatment? Wellaholic is one of the best providers of fat freeze in Singapore, offering affordable and transparent pricing, unlimited sessions, multiple treatment areas, advanced machines, certified therapists, and excellent customer service. Wellaholic also offers complementary treatments such as radiofrequency skin tightening and low-level laser therapy to enhance your fat reduction results.
WellaFreeze is Possibly the Most Affordable Fat Freezing in Singapore
Looking for a fat freeze that is cheap and effective in Singapore? Look no further than WellaFreeze™ fat freezing. In this article, Wellaholic is going to list the reasons why Singaporeans are choosing WellaFreeze and WellaFreeze 360 Advanced Fat Freezing as their choice of slimming treatments, based on not just affordability, but reliability as well as convenience. WellaFreeze fat freezing is ideal for eliminating fat cells in the double chin, inner thighs, outer thighs, tummy or abdomen fats, arms and back areas. If you are not convinced, read on to find out more about this affordable weight loss treatment or body contour treatment at Wellaholic.
"WellaFreeze offers the most cost-effective fat freeze in Singapore, making it the top choice for budget conscious consumers."
Reason 1: WellaFreeze Fat Freeze Starts from Just $99.50 Per Handle
Wellaholic Fat Freezing Treatments. Wellaholic offers fat freezing treatments for body contouring and reducing the appearance of pockets of fat. Customers can view the prices for these treatments on the Wellaholic website.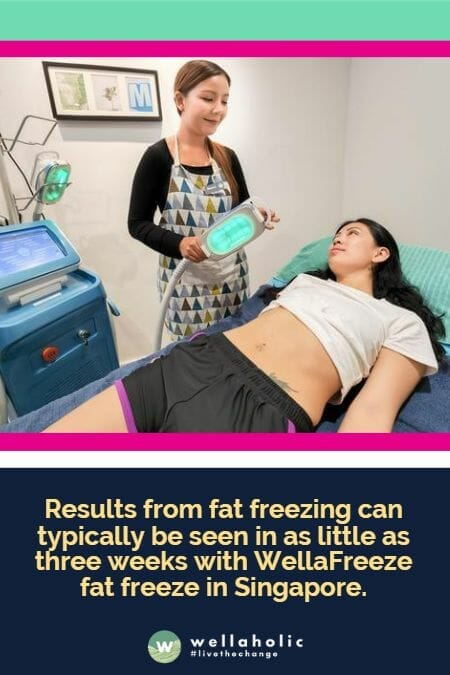 WellaFreeze Fat Freezing Treatment. WellaFreeze is the traditional fat freeze treatment offered by Wellaholic. It uses cold temperatures to target fat deposits, leading to fat cell death. This treatment is safe for all skin types and leaves tissues unharmed, making it a safe alternative to liposuction.
Pricing for WellaFreeze Fat Freezing Treatment. Each single session of WellaFreeze comes with 2 handles, allowing customers to use the session for 2 body parts. Prices start from just $199 per session for a 12-session treatment plan, which averages out to $99.50 per handle.
WellaFreeze 360 Advanced Fat Freezing Treatment. Wellaholic also offers the 360 cryolipolysis fat freeze treatment, called WellaFreeze 360. This treatment uses the latest fat freeze technology to target fat cells, and it comes with 2 handles per session, like WellaFreeze.
Pricing for WellaFreeze 360 Advanced Fat Freezing Treatment. Prices for WellaFreeze 360 start from just $259 per session for a 12-session treatment plan, averaging out to $129.50 per handle. The 360 cup of WellaFreeze 360 can freeze the fat cells in the entire area within the cup, leading to increased coverage area. The treatment time for WellaFreeze is about 40 to 60 minutes, while WellaFreeze 360 takes about 30 minutes due to its advanced fat freezing technology.
So do drop by Wellaholic for affordable and cost-effective fat freezing fat reduction treatments.
Reason 2: All Prices are Nett and GST-inclusive with No Hidden Costs
Another strong selling point about Wellaholic's WellaFreeze and WellaFreeze 360 treatments is that all prices that you see on their website's price list, are nett and GST-inclusive. There are no hidden fees. Consultation is free and there are no additional charges. Wellaholic's fat freezing has been well-reviewing on local sites such as Tropika Club, Daily Vanity, Honeycombers, as well as even other aesthetic centres such as Kosme Aesthetics.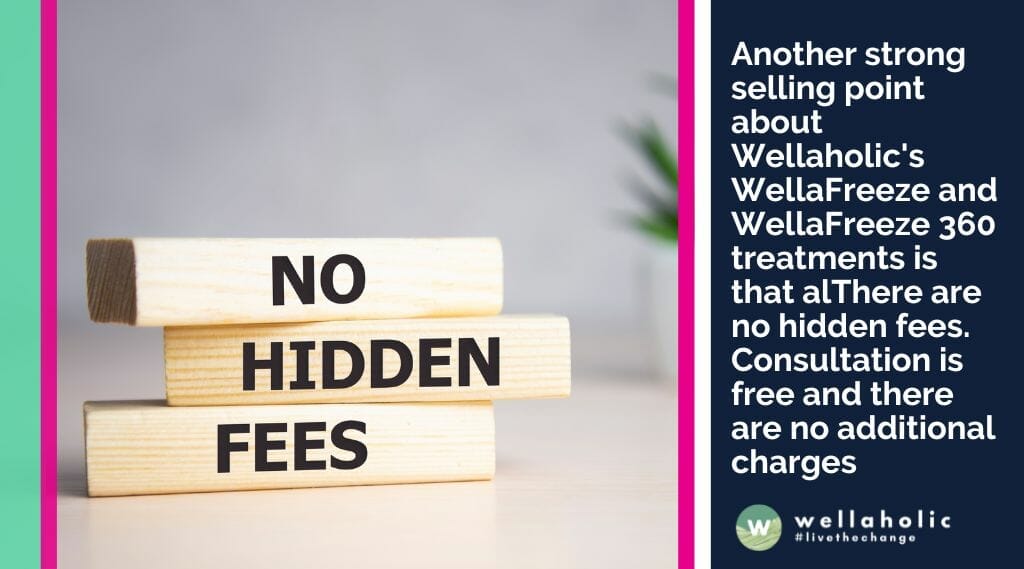 Reason 3: No Hard Selling at Wellaholic
Wellaholic has gathered more than 2000 positive customer reviews on Google Reviews and Tripadvisor from customers who are impressed by the exceptional customer service over at Wellaholic. The Wellaholic Team does not hard-sell, and customers will not be hard pressed to buy additional products or even packages throughout the treatment itself. In fact, the consultants will leave the customer alone to rest, but will be on standby in case they are needed for any assistance. This creates a comfortable and relaxing environment for the customers, as attested by their reviews.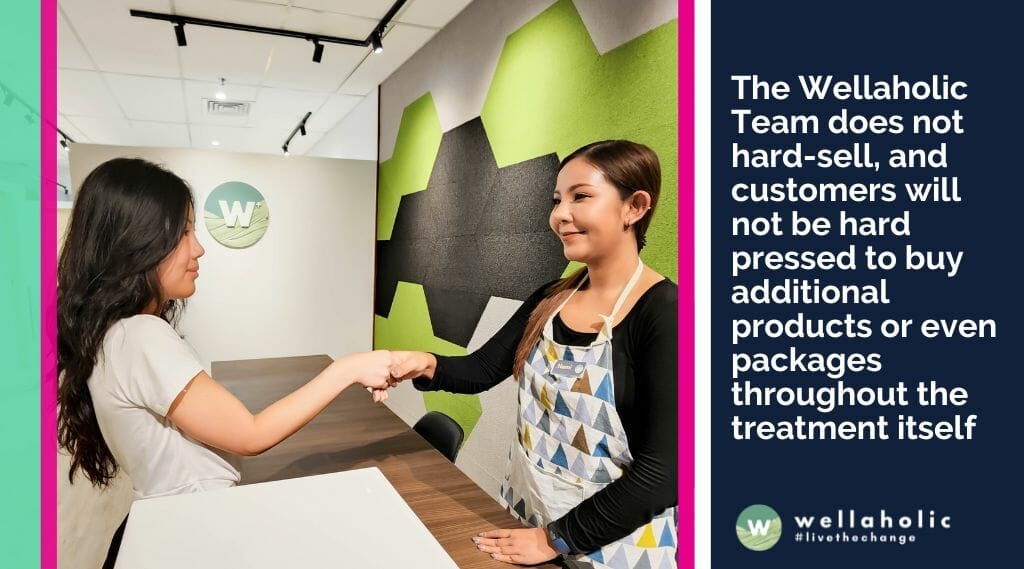 Reason 4: Customers Can Choose from 8 Outlets to do Treatment
Another strong selling point from Wellaholic is their extensive network of outlets around Singapore. Each outlet is located within minutes from a MRT station, so it is very convenient for customers (with busy schedule) to get to the outlet. We are located near the following MRT stations: Orchard, Somerset, Lavender, Tg Pagar, Jurong East, Farrer Road, Kovan and Upper Changi. In fact, customers are able to purchase a package or plan and then choose to have his or her fat freeze procedures or treatment done at any outlets. In additional, Wellaholic's outlets are open 361 days a year, including most public holidays.
Reason 5: Packages Never Expire
You will be surprised to know that the WellaFreeze and WellaFreeze 360 packages never expire. In fact, customers can choose to have a 2-year hiatus and then still return to Wellaholic to continue their fat reduction procedure, without any penalty and with no questions asked. This makes it easy for customers to consider Wellaholic as the go-to brand for their aesthetic treatments including fat removal. In fact, Wellaholic is one of the few aesthetic clinics or centres which provides this additional benefit.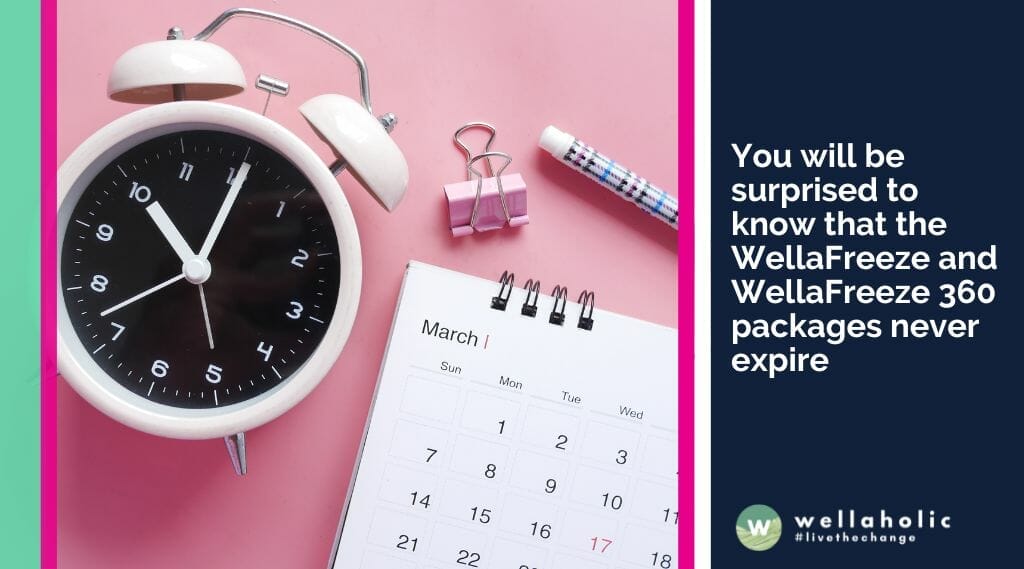 Reason 6: Lifetime Maintain Mode for WellaFreeze
Wellaholic's LIFETIME MAINTAIN MODE is our commitment to help customers who have completed 12 sessions of WellaFreeze or WellaSculpt treatments with us. Enjoy heavily discount prices for your body slimming treatments once you meet our given criteria, and continue to use WellaFreeze to target your fat layers, fat bulges and fat cells.
If you qualify for LIFETIME MAINTAIN MODE, you get to enjoy the following prices indefinitely. Enjoy as much as 50% off the usual per-session rates for WellaFreeze fat freezing or WellaSculpt Radio Frequency Body Sculpting fat reduction treatments.
Conclusion: WellaFreeze is the Coolest Deal in Town!
With prices starting at just $99.50 per handle, we're practically giving away fat reduction. And there's no need to worry about hidden costs or hard selling tactics, because we're all about transparency and customer satisfaction. Plus, with 8 outlets to choose from and packages that never expire, you can freeze your fat at your own pace. So if you're looking to trim down your love handles without breaking the bank, Wellaholic's WellaFreeze might just be the coolest deal in town.
---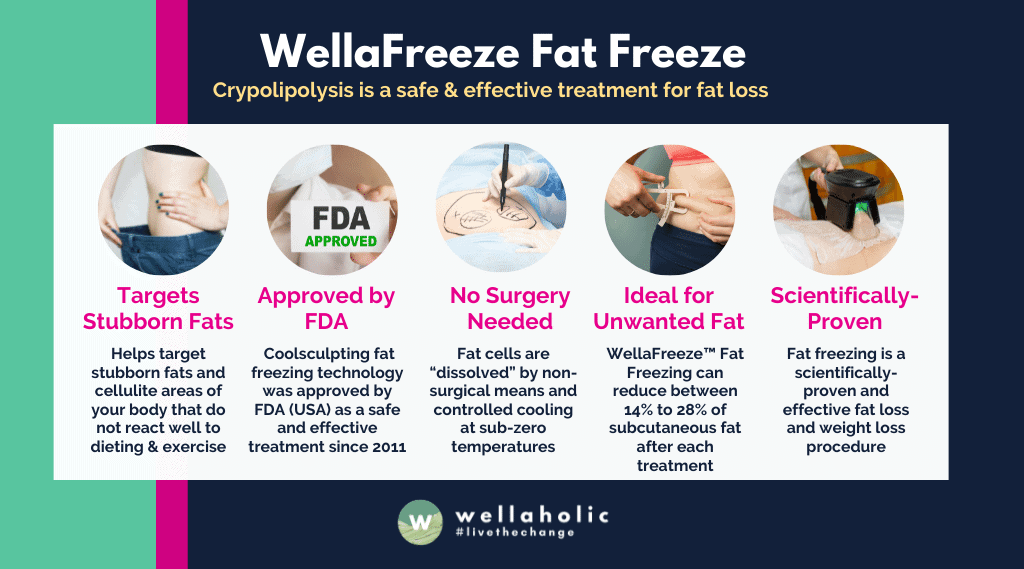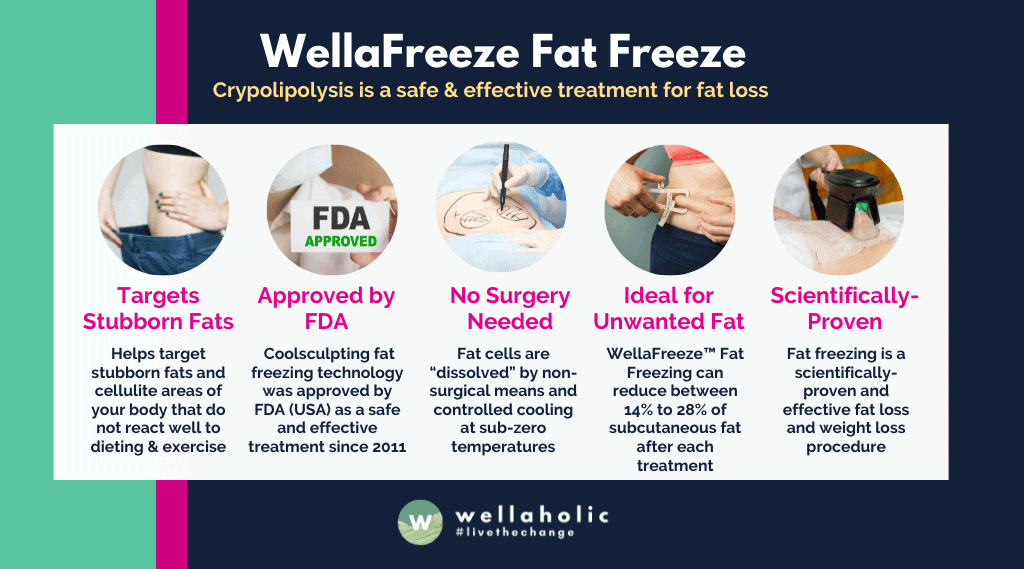 What is WellaFreeze™ 360 Advanced Fat Freezing?
WellaFreeze™ 360 Fat Freezing is the latest innovation in fat freezing. It uses a newer Cryolipolysis model over the traditional WellaFreeze cryolipolysis machine.
WellaFreeze™ 360 Fat Freezing helps target the stubborn fat and cellulite areas of your body that do not react well to exercise and dieting.
WellaFreeze™ 360 Fat Freezing "dissolves" fat cells controlled cooling at sub-zero temperatures.
WellaFreeze™ 360 Fat Freezing with its newer technology can remove between 17% to 34% of subcutaneous fat from each session.
WellaFreeze™ 360 Fat Freezing can treat up to 4 body parts concurrently.
WellaFreeze™ 360 Fat Freezing takes only 30 minutes per session, due to increased freezing efficiency.

WellaFreeze™ 360 uses 360 probes which can freeze and reduce up to 34% of body fat per session with no or minimal bruising to the body.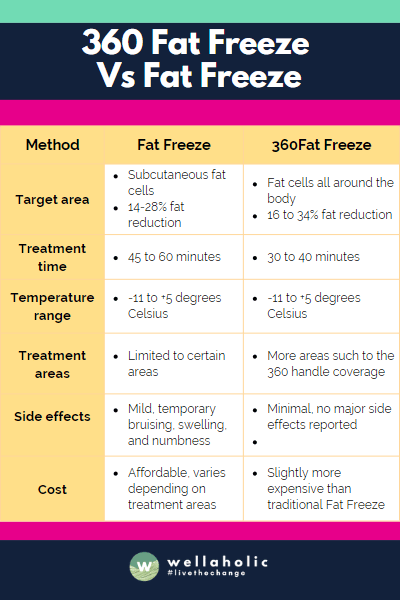 Why Choose WellaFreeze™ 360 Advanced Fat Freeze?
Latest 4th Generation Freezing. WellaFreeze™ 360 advanced fat freezing uses the latest fat freeze technology and is designed for customers who wants to achieve highest fat reduction with fat freezing.
Up to 34% Fat Loss Each Session. Increase in percentage of fat loss due to newer technology and coverage.
360° Surround Cooling Technology. The handles or cooling cups can be adjusted to fit all body curves and contouring for best freezing.
Breathing Technology Reduces Bruising. "Breathing" technology improves freeze while minimising bruising from the suction.
Shorter Time Needed. Each duration is reduced from typical 60 minutes to just 30 minutes.
WellaFreeze™ Fat Freezing Can Target the Following Body Parts
Stomach / Belly / Tummy / Abdomen
Love Handles / Flanks
Under the Neck / Double Chin
Back / Bra Area
Thighs
Male Chest (Pseudo gynecomastia)
Arms
Under Buttocks (Banana Roll)
Pricing of Slimming Treatments by Wellaholic
Price Transparency. Wellaholic offers pricing transparency by publishing and updating all prices on our website.
Flexible Per-Session or Unlimited Plans. Customers can choose from unlimited monthly or per-session slimming price plans.
Mix and Match Easily. Wellaholic's slimming prices are divided into different categories for easy selection.
No Price Shocks. Customers can expect to pay only for the treatments provided instead of being surprised by additional fees or charges at the end of their slimming session.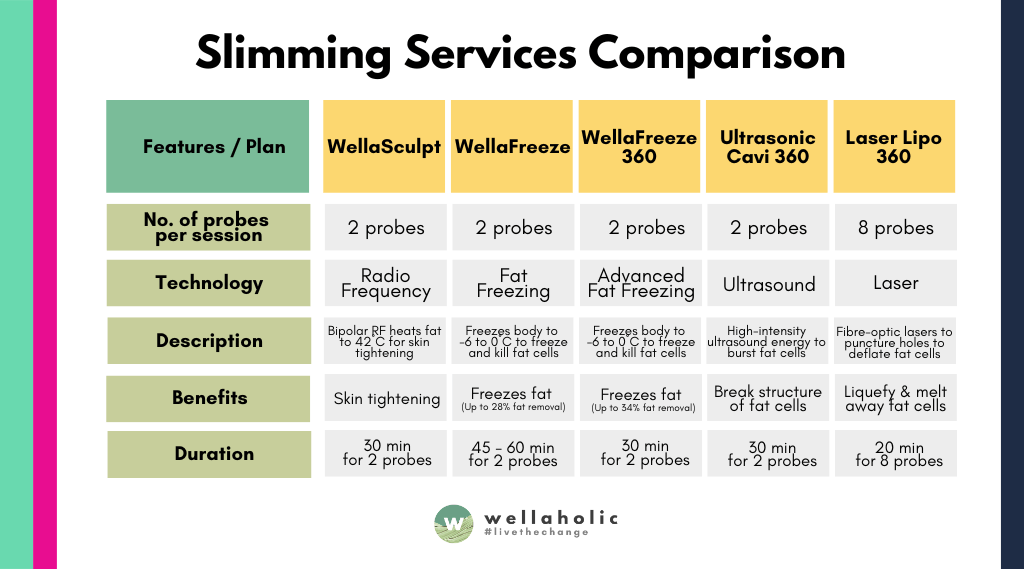 ---
Why Wellaholic is One of the Best Slimming Treatment Providers in Singapore?
Leading Slimming Chain in Singapore. Wellaholic is a leading slimming and body contouring chain in Singapore that is highly sought after by customers.
Quality & Safe Treatments. The company is committed to providing quality and safe treatments with experienced staff.
Wide Range of Slimming Treatments. Wellaholic offers a wide range of slimming treatments for various body parts including chin, upper arms, front armpit fat, bra line, gynecomastia, back, upper abdomen, lower abdomen, love handles, underbutt, thighs and knees.
Trained & Experienced Consultants. All treatments are performed by trained professionals who understand the skincare needs of both female and male customers.
Advanced Slimming Technology. Advanced slimming technologies such as ultrasound, Cryolipolysis, radio frequency and cold wave lasers are used to ensure a safe experience with no downtime or discomfort during the entire process.
Most Affordable Provider. Wellaholic provides competitive pricing for its treatments which makes it one of the most affordable providers in Singapore.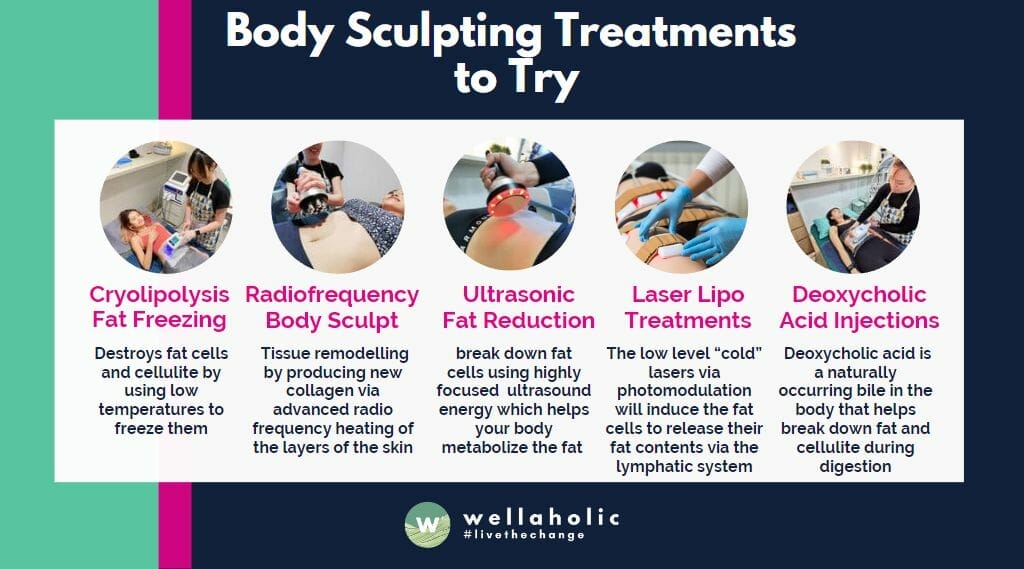 Reason 1: Wellaholic Offers Comprehensive Slimming Services and Expertise at Affordable Prices
Wellaholic offers different types of slimming treatments for your fat management needs. Our slimming packages can be broken down into the following categories:
WellaShape Double Slimming Plan

Double slimming plan combining 2 slimming technologies at a discounted price.
Freeze fat via WellaFreeze™ 360 advanced fat freezing.
Then choose 1 other slimming treatment.
Most cost-effective slimming combo plan.

WellaFreeze 360 Advance Fat Freeze

Latest fat freeze technology with improved freezing and coverage area.
Efficient freeze reduces treatment time to just 30 minutes per session.
Each session can remove up to 34% subcutaneous fat.
Each session includes 2 handles/probes to target 2 body parts concurrently.
Interchangeable probes to effectively target different body areas & curves.
"Breathing" technology regulates vacuum suction to minimise bruising.

WellaFreeze Fat Freezing

Original fat freeze technology, also known as CoolSculpting.
Uses sub-zero temperature to freeze and eliminate fat cells.
Each session can reduce up to 28% subcutaneous fat.
Each session takes about 45 minutes to 60 minutes per session.

WellaSculpt RF Body Sculpting

Advanced RF energy to heat and tighten loose skin.
Ideal for body sculpting and body sculpting.
Works well when used in conjunction with fat freezing.
Each session includes 2 body parts and takes 30 minutes.

Ultrasonic Cavi 360

Ultrasound fat cavitation to vibrate and burst the fat deposits.
Ideal for targeting fats that is less "pinchable" and deeper in the body.
Can lead to reduction of body mass (1cm to 3cm) in as little as 3 treatments.
Each session includes 2 body parts and takes 30 minutes.

Laser Lipo 360

Cold wave lasers to eliminate fat with no downtime.
Fat cells absorb laser energy, causing fat to escape from fat cell membrane.
Each session comes with 8 laser plates for various body parts.
Each session takes 25 minutes.
Compliments other slimming treatments.
You can refer to the table below for a breakdown of Wellaholic's various slimming services and how they can meet your slimming objectives. Our customers generally combine several treatments for the best slimming and body contouring outcome.
Slimming Treatment
Features
Ideal For Customers Who
WellaShape Double Slimming
WellaFreeze 360 + 1 Other Slimming Treatment
– Want quick results
– Want to combine 2 treatments at discount
WellaFreeze 360 Advance Fat Freeze
Latest fat freeze technology with 360 handle coverage
– Want up to 34% fat loss
– Want less bruising
WellaFreeze Fat Freeze
Original fat freeze technology with 2 freeze plates
– Want to try fat freezing for first time
WellaSculpt RF Body Sculpting
Advanced RF energy to tighten loose skin
– Want to get rid of loose skin
– Want to tone the body
Ultrasonic Cavi 360
Ultrasound fat cavitation to vibrate and burst the fat deposits
– Want to target fat that is less "pinchable"
Laser Lipo 360
Cold wave lasers to eliminate fat with no downtime
– Want to shrink fat cells in conjunction with other treatments
Stretch Mark Microneedling
Remove appearance of stretch marks using multiple micro-needles
– Want to remove the appearance of stretch marks (fat loss / pregnancy)
Comparison Between Wellaholic's Various Slimming Services
Reason 2: Wellaholic Has Over 50 Awards and 2000 Genuine Customer Reviews
Over 50 Awards. Wellaholic's WellaFreeze 360 and Ultrasonic Cavi 360 have been recognized by top beauty publications such as Daily Vanity, Beauty Insider, and Tropika Club Magazine, earning prestigious awards from 2018 to 2023.
Over 2000 Verified Customer Reviews. Wellaholic has over 2000 verified positive reviews from our customers in Singapore and beyond.
Verifiable Reviews. The reviews are verified and positive, which indicates the high level of customer satisfaction (see reviews below).
Over 50% Repeat Customers. More than 50% of Wellaholic's customers are repeat and recurring customers.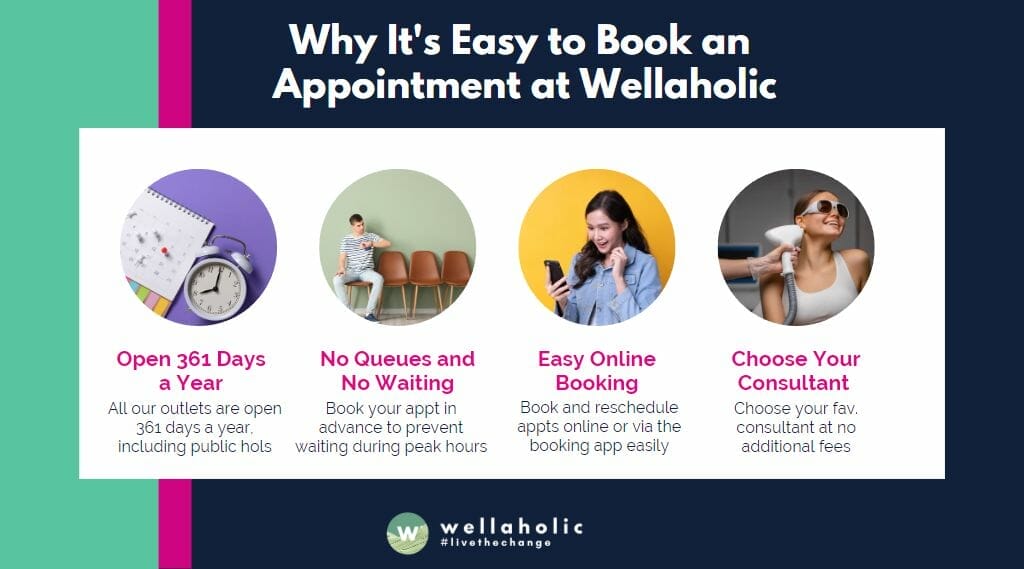 Reason 3: It's Easy to Book an Appointment at Wellaholic
Open 361 Days Per Year. Wellaholic's 8 outlets are open 361 days a year, including public holidays, so that customers can easily book an appointment.
No Queues. All appointments are booked in advanced to prevent the need to queue and wait unnecessarily during peak hours.
Easy Online Booking. Customers can conveniently book and reschedule appointments online or via the booking app.
No Extra Cost for Choosing Consultant. Customers can select their preferred consultant without having to pay any additional fees.