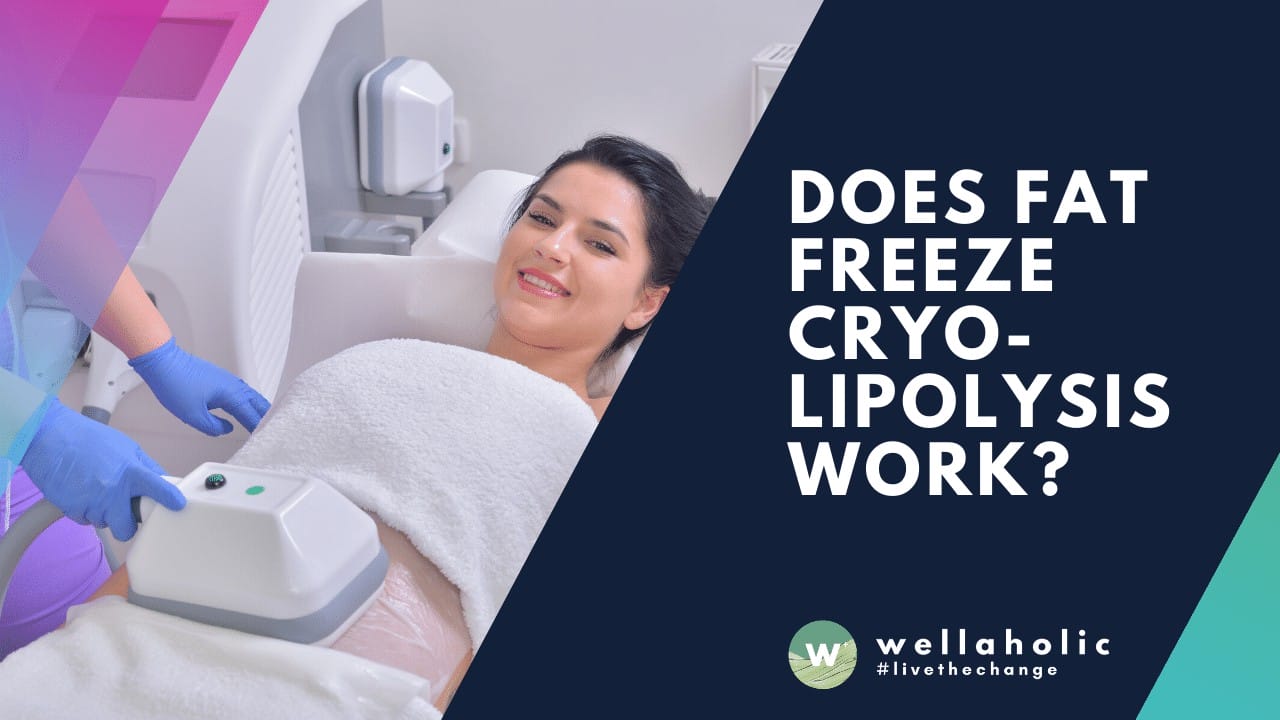 Does WellaFreeze or Cryolipolysis Work?
Introduction
Much studies have shown that WellaFreeze or Cryolipolysis fat freeze is an effective procedure for fat reduction. WellaFreeze is a non-surgical procedure to help remove extra fat cells from beneath the skin. As a non-invasive treatment, WellaFreeze has several advantages over a traditional surgical fat removal process. Cryolipolysis's popularity as a fat removal procedure has been increasing since it was approved by FDA in 2011. In this article by Wellaholic, we are going to take a closer look at the fat freezing technology to see how it works.
The Mechanics of WellaFreeze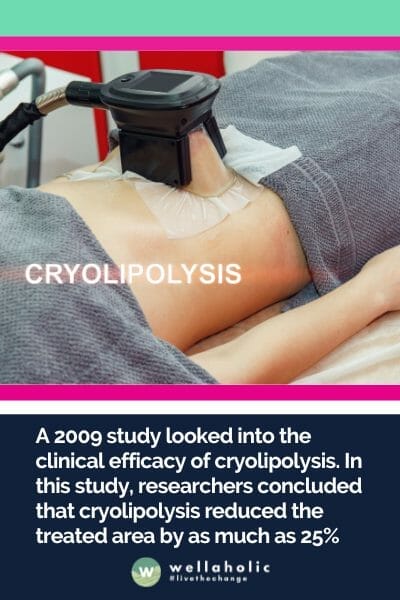 Cryolipolysis works by placing a portion of the fat into two parallel panels which cool the fat into a freeze temperature, usually below zero degree celcius. This is also known as CoolSculpting, a branded form of fat reduction that's approved by the FDA in USA.
A 2009 study looked into the clinical efficacy of cryolipolysis. In this study, researchers concluded that cryolipolysis reduced the treated area by as much as 25%. The results were still present six months after the treatment, which proved that the fat loss/reduction was a permanent one. When frozen, the dead fat cells are purged out of the body through the liver within several weeks of treatment. The full results of fat loss can be seen within three months.
Does Fat Freeze work?
WellaFreeze, together with CoolSculpting and other forms of fat freezing or cryolipolysis have a high success rate. They are effective for shaving off areas of fat from the body. They are also generally safer and have fewer side effects than other procedures such as liposuction, which is both invasive and more risky.
Nevertheless, Fat Freeze should not be seen as a miracle cure. Up to 25% of the fat can be removed after each treatment, but customers should not expect a complete removal of fat. As a whole, other factors such as lifestyle and diet also play a large role. A separate 2015 review published in the Aesthetic Surgery Journal that looked at 16 studies, reported that people had an average fat reduction of 19.55 percent.
Also, WellaFreeze cannot tighten loose skin. If the skin has stretched around fatty buildups, other treatments such as WellaSculpt will be needed to tighten the areas with loose skin.
The Possible Side Effects
Some possible side effects include the following:
A tugging feeling at the treatment area. This will usually go away after 10 – 20 minutes.
Sensations of pain or achine at the treatment area for about two weeks after treatment. This will usually go away without any further attention.
Very short-term redness, swelling and/or bruising.
In very rare occasions, cryolipolysis might lead to an increase in the volume of fat cells in the treated body part(s). This is called Paradoxical Adipose Hyperplasia. When this happens, alternative treatments such as the traditional liposuction is recommended instead.
​
Who is Most Suitable for WellaFreeze?
It is important to note that cryolipolysis is not for everyone, and should not be seen as a treatment for obesity. Instead, cryolipolysis is more ideal as a method to help remove small amounts of extra fat resistant to other weight-loss means.
People with the following conditions should avoid cryolipolysis:
cryoglobulinemia
cold agglutinin disease
paraxysmal cold hemoglobuinuria (PCH)
How Long Will the results Last?
The results from each cryolipolysis or WellaFreeze treatment should last indefinitely. This is because when cryolipolysis kills off the fat cells, they are "dead" and do not come back. However, if you do not manage your diet and binge after the treatment, new fat cells will naturally grow, hence it is important to always exercise regularly and eat accordingly to your calorie burn to balance it well.
---
​
WellaFreeze 360 Advanced Fat Freeze by Wellaholic
WellaFreeze 360 uses the latest fat freeze technology and is designed for customers who are looking to fat freeze 4 body parts at once. Similar to Clatuu 360 or CoolSculpting 360, our WellaFreeze 360 cryolipolysis device is equipped with 4 probes or applicators for concurrent usage. Further more, the latest innovation in our fat freeze 360 probes increases the coverage area – meaning that you can freeze a larger surface area per probe.
What is WellaFreeze™ 360 Advanced Fat Freezing?
WellaFreeze™ 360 Fat Freezing is the latest innovation in fat freezing. It uses a newer device over the traditional WellaFreeze cryo machine. 
WellaFreeze™ 360 Fat Freezing helps target the stubborn fat and cellulite areas of your body that do not react well to exercise and dieting.
Fat cells are "dissolved" by non-surgical means and controlled cooling at sub-zero temperatures.
WellaFreeze™ 360 Fat Freezing with its newer technology can increase in absolute fat removal by up to 19%, in addition to the 14% to 28% fat reduction from each session.
In addition, customer can treat 4 body parts at one time with WellaFreeze™ 360 Fat Freezing.
Each session is also reduced from 60 minutes to only 30 minutes, due to the increase freezing ability.
WellaSmooth™ is your ultimate all-inclusive hair removal treatment in Singapore complete with shaving and post-treatment care.
WellaFreeze™ Fat Freezing Can be Done for the Following Body Parts
Stomach / Belly / Tummy / Abdomen
Love Handles / Flanks
Under the Neck / Double Chin
Back / Bra Area
Thighs
Male Chest (Pseudogynecomastia)
Arms
Under Buttocks (Banana Roll)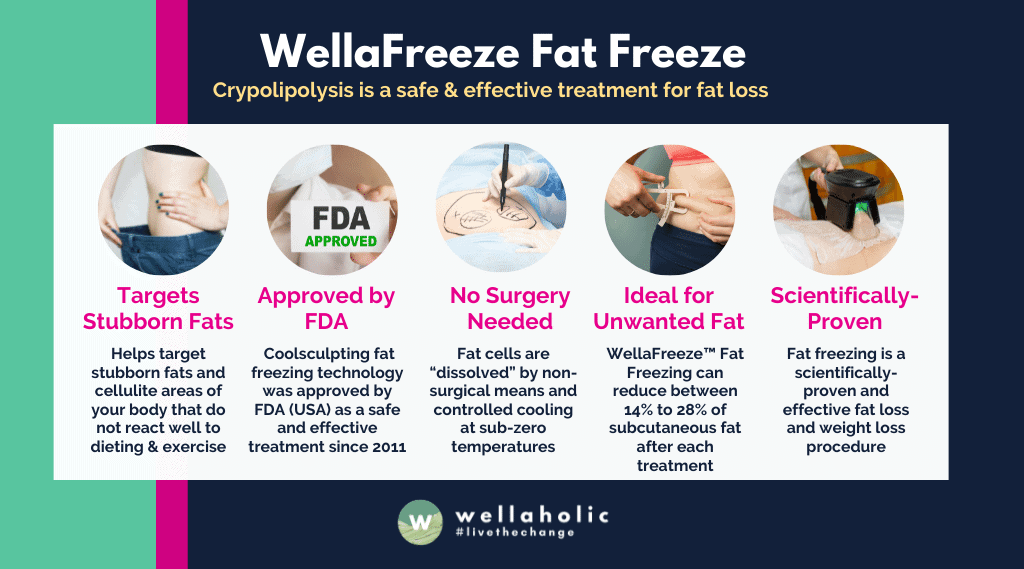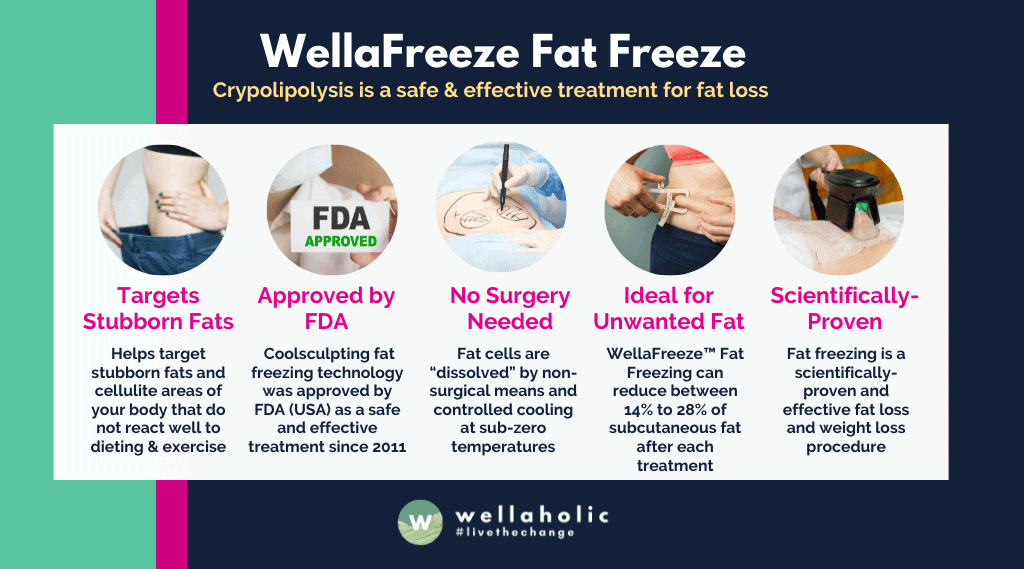 Pricing of Slimming Treatments by Wellaholic
Wellaholic believes in providing pricing transparency, and hence all prices are published and updated on its website. Choose from a single-session plan or choose a multi-session plan for greater discounts. Wellaholic's slimming treatmentes are generally divided into the following categories: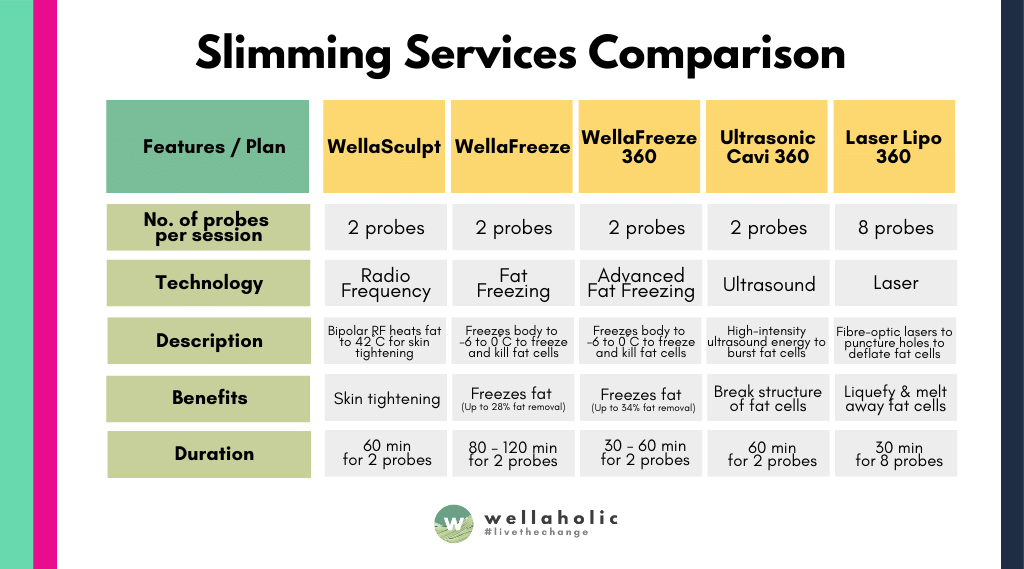 Please click on the menu below to see the pricing for the various slimming treatments by Wellaholic. Prices are nett and inclusive of GST.
---
---