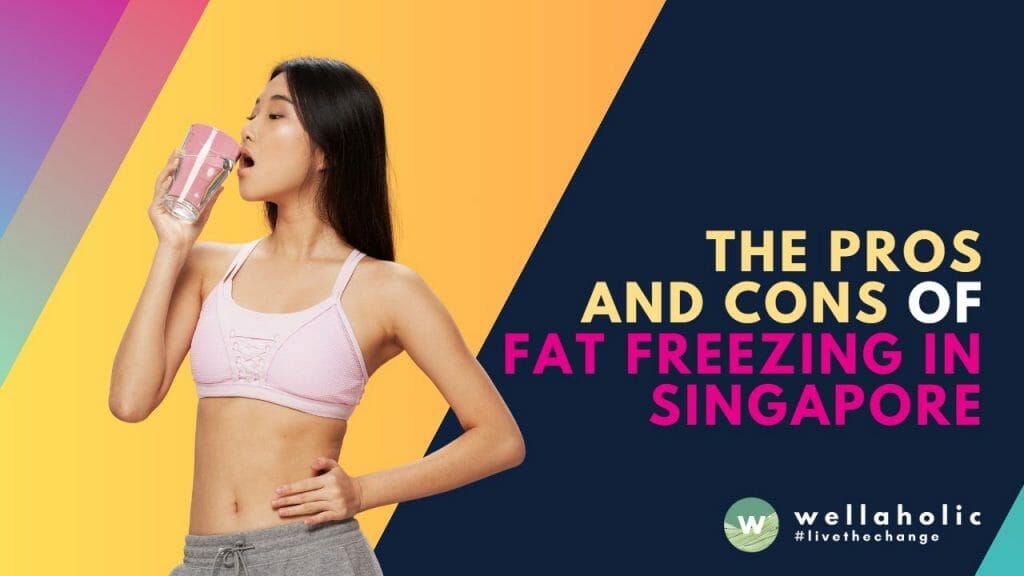 5 Unveiled Truths: The Pros and Cons of Fat Freezing
TL:DR Summary
What is fat freeze? A non-invasive procedure that uses cold temperatures to destroy fat cells.
How does it work? Fat cells are more sensitive to cold than other cells, so they die when exposed to low temperatures.
What are the benefits? Fat freeze can reduce stubborn fat deposits, improve body contour, and boost self-confidence.
What are the risks? Fat freeze may cause temporary side effects such as redness, bruising, swelling, numbness, and pain.
Who is a good candidate? Fat freeze is suitable for people who are close to their ideal weight, have realistic expectations, and want to target specific areas of fat.
Who is not a good candidate? Fat freeze is not a weight loss solution, and it is not recommended for people who have cold-related conditions, skin disorders, or blood circulation problems.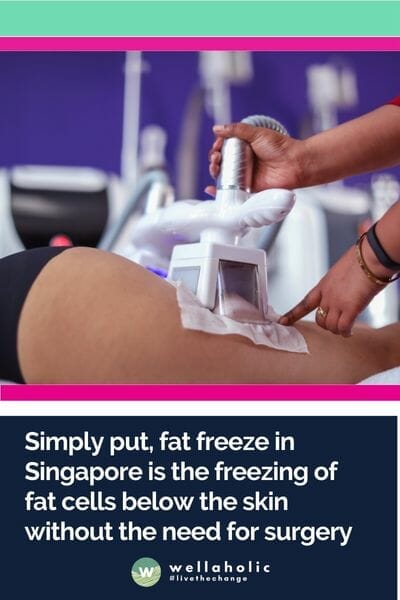 Introduction to the Benefits of Fat Freeze in Singapore
Step into the world of fat freezing, a revolutionary technique in body contouring, with Wellaholic – your trusted guide in the journey towards aesthetic excellence. With over seven years of expertise in the realm of beauty and wellness, spread across eight state-of-the-art outlets in Singapore, we at Wellaholic are not just practitioners, but connoisseurs of advanced aesthetic treatments. Our journey is rich with over 2,000 authentic, positive customer reviews and more than 30 industry awards, underscoring our commitment to delivering outstanding results in treatments like fat freezing, hair removal, and more.
In this insightful article, we unveil the five critical truths about fat freezing, a procedure that has gained immense popularity for its non-invasive approach to fat reduction. As a leader in aesthetic innovation, Wellaholic is here to provide you with a balanced perspective, detailing both the advantages and limitations of fat freezing.
"Fat freezing offers potential benefits but can also come with risks – make sure to do your research before taking the plunge!"
Here are the Key Points for Fat Freezing
For fat freezing, the fat pocket which is sucked up is frozen. Generally, around 14% to 30% of the cells will freeze and die off. They are then removed from your body by your own immune system.

Fat freezing is perfect for a pocket of fat. You can sometimes have 2 pockets treated at once.

Generally, if you can SQUEEZE IT, you can FREEZE IT! What it means is that if you are able to hold onto your fats, you can use fat freezing to target them.

Fat freezing treatments lasts for as short as 30 minutes (for the latest 360 freeze) to the usual 60 minutes.

Fat freezing is not painful, although it can feel very cold and numb your skin during the treatment.

There are very few side effects to fat freezing. You could get a bruise, and you skin can feel numb for a few days.

Areas which you can fat-freeze include tummy, love handles, inner thighs, back fat, upper arms and double chin.

It takes 6-10 weeks to see full results from fat freezing.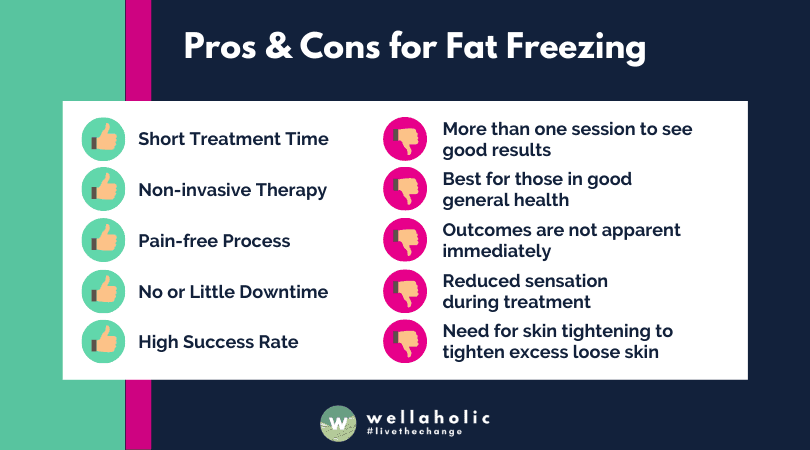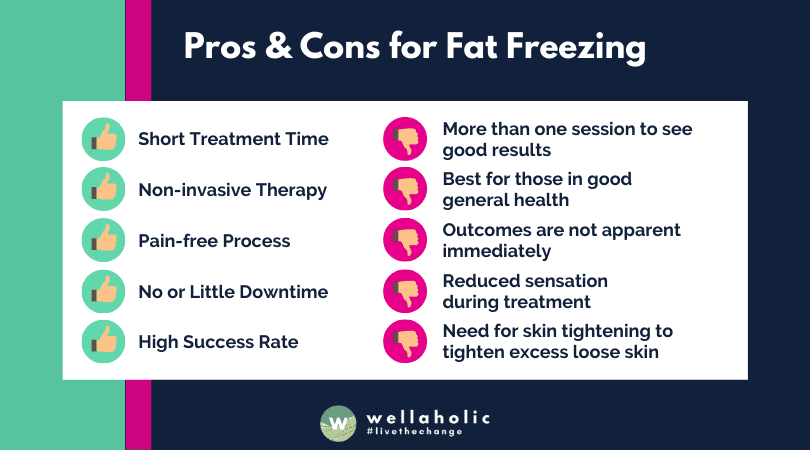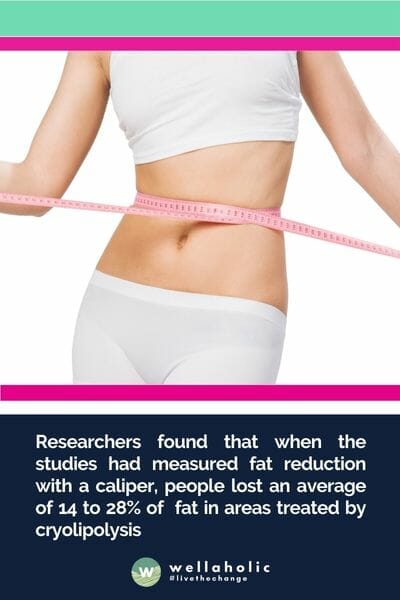 What are the pros or advantages to fat freezing?
Below are the advantages of fat freeze or Cryolipolysis:
Pro #1: Fat freeze includes a relatively short treatment time
Each cellulite freezing therapy usually takes about 60 minutes for one localised location or body part. If you have greater than any type of one location you wish to successfully target, it may take much longer for outcomes to reveal. Majorities of the body such as your back would certainly also take longer to see results. In fact, at Wellaholic, we offer WellaFreeze 360, which uses the latest innovation in fat freezing technology to freeze fat tissue in only 30 minutes or less and with increased percentage of fat reduction. We also offer WellaFreeze, which is the general fat freezing treatment being used in Singapore.
---
Pro #2: Fat freezing is a non-invasive therapy
Cryolipolysis is a non-invasive fat reduction treatment, during which specialists put a tiny suction handle or probe on the fat bulges of the clients. The gadget progressively removes temperature up until the subcutaneous fat is iced up. During the procedure, the applicator delivers precisely controlled cooling conditions that have actually been verified to target and also get rid of unwanted fat cells in particular areas of the body.
Pro #3: Fat freezing is a pain-free process
Although incredibly chilly temperature levels are able to penetrate the skin and target the body fat cells and fat deposits to freeze them , the temperature level at which cryogenic lipolysis is done is not low enough to create any type of discomfort or damages. You might feel a pain because of the drawing feeling as well as the cool once the procedure is done, that sensation ought to go away.
---
Pro #4: Fat freezing has no or little downtime
Compared to liposuction, fat freeze therapies can be done as an outpatient therapy. You will certainly be able to return to work or normal life the day of or the following day after your treatment. This is also partially as a result of the reduced downtime or lack thereof. There is hence no need for recovery time, and you should be able to resume your daily activities with no issues.
Pro #5: Fat freezing has a high success rate for fat reduction
Fat freeze is proven to remove fat. A 2015 review validated that patients who went through fat freezing experienced in between 14 to 28% decrease in treated areas after a solitary session. Results of the therapy sessions begin to become visible after about 6 weeks of therapy. If people preserve a healthy and balanced diet regimen and also a constant exercise routine, the results of fat freezing are taken into consideration permanent.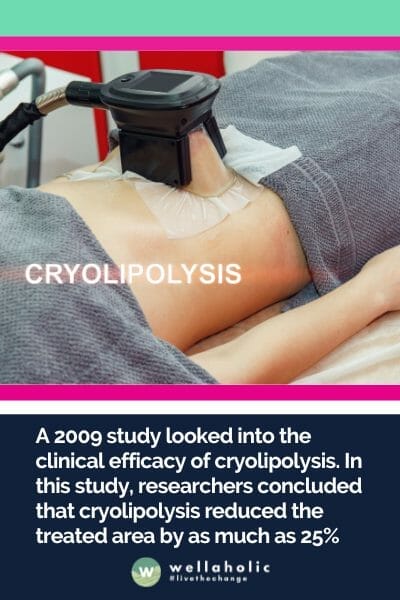 What are the cons or drawbacks to fat freezing?
Just like all medical procedures, some adverse effects are expected from cryolipolysis. Nonetheless, because it is a noninvasive procedure that does not require reducing or anesthetic, the opportunities of problems or negative effects is significantly lower than in various other aesthetic procedures. Right here are the drawbacks to fat freeze or cryolipoliysis:
Con #1: Fat freezing needs greater than one single session to see good results
For bigger body parts, your professional may need you to return every couple of weeks up until significant results start to reveal, after the initial treatment. If you are targeting more than one body component, you can also expect to return for even more sessions to achieve your preferred results. The degree of reduction in fat is compounded with repeated treatments spaced about a month apart.
---
Con #2: Fat freeze is advised for those that are in good general health and wellness
The fat freezing treatment is recommended just for individuals who remain in great general health without neurologic or orthopaedic problems and also who are looking for "place" fat decrease in particular areas on the body. Cryolipolysis is not suggested for individuals that are significantly obese or obese. You are always advised to adopt a healthy lifestyle to maximise the gains from fat freezing.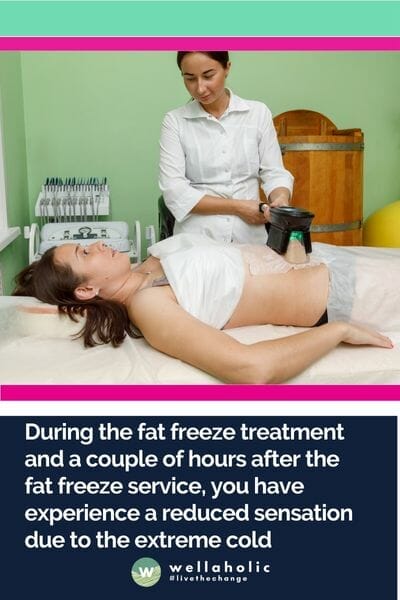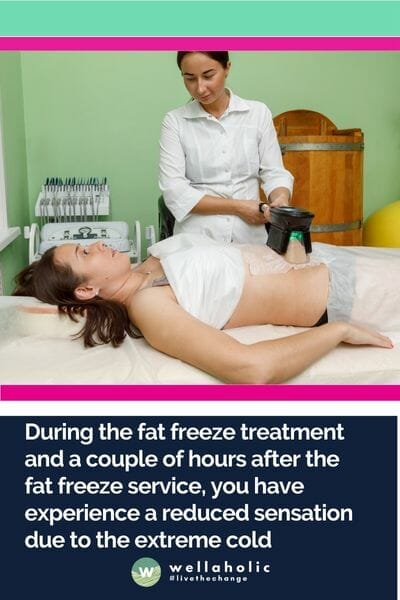 Con#3: Fat freezing outcomes are not apparent quickly
Outcomes are not obvious quickly. Because fat cells are gotten rid of gradually from the body, it can take 3 to 6 months to attain ideal outcomes. Weight gain is also feasible after undertaking cryolipolysis. Fat might be deposited in various other areas of the body. For this reason it is important for patients to maintain to a practical diet plan.
---
Con #4: You may experience a reduced sensation during fat freezing
During the fat freeze treatment and a couple of hours after the fat freeze service, you have experience a reduced sensation due to the extreme cold. This is because the low temperatures will have a numbing effect on the skin and its nerves. Skin sensitivity will also be reduced. Fortunately, the cold temperature of the cryolipolysis treatment does not cause any extreme pain or any ill effects. The numbness will go away naturally.
Con #5: There may be a need for skin tightening for laggy or loose skin
As fat freezing can effectively remove fat, the drastic reduction of fat cells and fat areas may cause loose skin to accumulate. Hence there is a need for skin tightening treatments to tighten excessive leftover skin for better body sculpting and body contouring. Wellaholic has body contouring procedures such as WellaSculpt which uses advanced Radio frequency to tighten loose skin and reduce skin laxity as well as to manage contour irregularities, which works very well with our WellaFreeze fat freezing treatments.
Summary of Pros and Cons of Fat Freezing
See the table below for a comprehensive summary of the pros and cons of fat freezing or Cryolipolysis:
| Pros of Fat Freezing (Cryolipolysis) | Cons of Fat Freezing (Cryolipolysis) |
| --- | --- |
| Non-surgical procedure | Possible temporary side effects, such as redness, swelling, and numbness |
| No anesthesia required | May not be as effective on large amounts of fat as liposuction |
| Minimal recovery time | Cost can be higher than traditional weight loss methods |
| Permanent fat reduction in treated areas | Results may take a few months to be noticeable |
| Natural biological process used to eliminate fat cells | May require multiple treatments to achieve desired results |
Table: Pros and Cons of Fat Freezing
It's important to note that the table is not comprehensive and there may be other factors to consider when deciding whether fat freezing is right for you. As with any medical procedure, it's recommended to consult with a qualified healthcare provider to discuss your individual needs and concerns.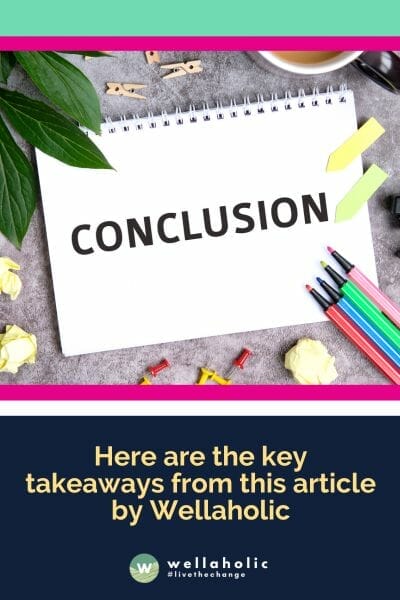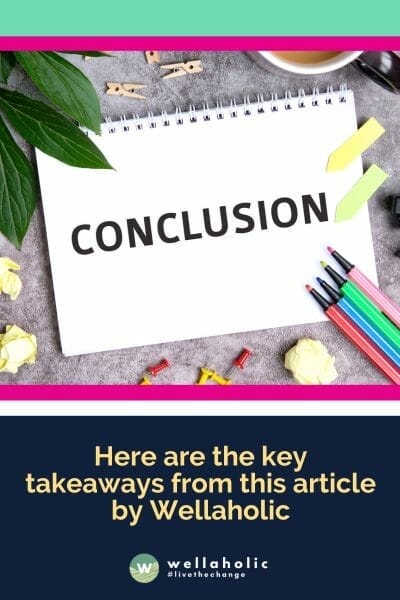 Conclusion
The Full Picture of Fat Freezing
Wellaholic is committed to providing a comprehensive understanding of aesthetic treatments like Fat Freezing. As a non-invasive solution, Fat Freezing effectively targets stubborn fat that diet and exercise alone may not be able to tackle. The treatment has little to no downtime and is suitable for those seeking a less aggressive approach to body contouring.
The Reality of Fat Freezing
Although it's a remarkable treatment, Fat Freezing isn't a magical fix. Maintaining a healthy lifestyle is essential for sustaining the results. Moreover, patience is a virtue in this process – achieving your desired outcomes may take a few sessions.
Your Body Contouring Journey with Wellaholic
At Wellaholic, we see Fat Freezing as a fantastic boost to your body contouring journey, not a standalone solution. We're always here to guide you towards the best treatments that align with your specific needs and body goals. So, if you're ready to freeze away the fat and sculpt your way to a more confident you, come and explore Fat Freezing in Singapore with us.
Frequently Asked Questions (FAQ)
What is fat freezing and how does it work?

Fat freezing, also known as cryolipolysis, is a non-invasive procedure that targets and freezes fat cells, causing them to die and be naturally eliminated from the body.
How can I prepare for a fat freezing procedure to get the best results?

Maintaining a healthy diet and exercise regimen is crucial before and after the procedure. Hydrating well on the day of the procedure can also improve results.
How soon can I see results from a fat freezing procedure?

Results can vary, but most individuals begin to see changes as quickly as three weeks after treatment, with the most dramatic results after two months.
How many fat freezing sessions will I need to see noticeable results?

The number of sessions needed varies per individual and their specific goals. However, many people see significant results after one to two sessions.
Is fat freezing a weight loss treatment?

No, fat freezing is a fat reduction procedure and not a weight loss treatment. It's best for those near their ideal body weight who want to target stubborn areas of fat.
Is fat freezing safe and are there any side effects?

Fat freezing is generally safe with minimal side effects. Some people might experience temporary redness, swelling, or sensitivity in the treated area.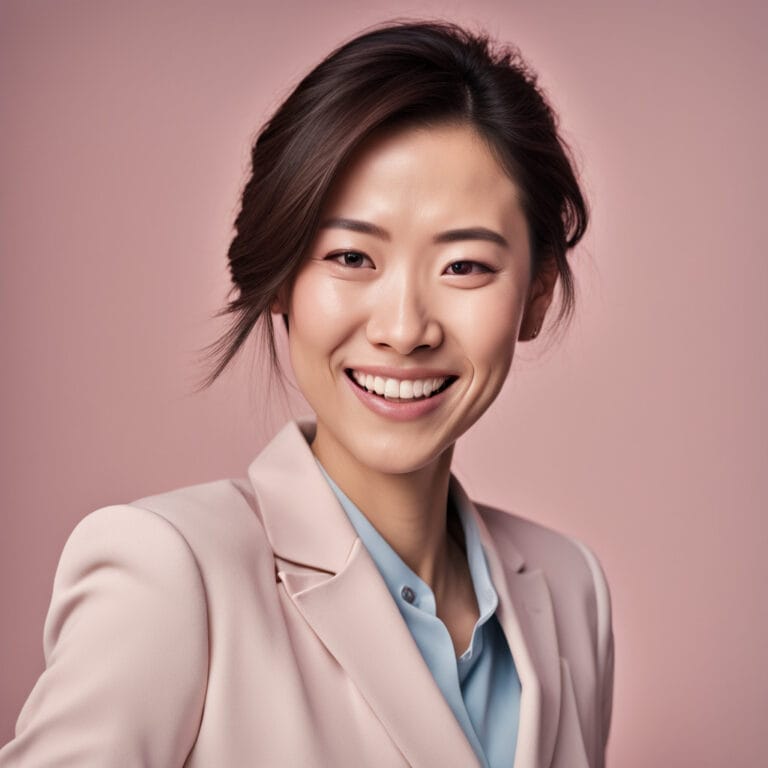 Serene Chiam, Aesthetic Director
Serene Chiam, the Aesthetic Director at Wellaholic, an acclaimed Aesthetic Chain in Singapore, brings over a decade of expertise in the aesthetics industry. With a Bachelor of Health Science (Aesthetics) and CIDESCO certifications, she expertly combines scientific knowledge with practical skills. Serene is known for her personalized approach to beauty, ensuring each Wellaholic client's journey is unique and transformative. Her significant contributions have been pivotal in establishing Wellaholic's reputation for excellence in aesthetic wellness.
GET IN TOUCH
Book Now Pay Later
WellaFreeze™ 360 Advanced Fat Freezing
⭐ Latest 4th Generation Freezing. WellaFreeze™ 360 advanced fat freezing uses the latest fat freeze technology for the highest fat reduction per session.
⭐ Up to 34% Fat Loss Each Session. Increase in percentage of fat loss due to newer technology and coverage.
⭐ 360° Surround Cooling Technology. The handles or cooling cups can be adjusted to fit all body curves and contouring for best freezing.
⭐ Breathing Technology Reduces Bruising. "Breathing" technology improves freeze while minimising bruising from the suction.
⭐ Shorter Time Needed. Each duration is reduced from typical 60 minutes to just 30 minutes.
⭐ Award-Winning. Wellaholic's treatments have been recognized by top beauty publications such as Daily Vanity, Beauty Insider, and Tropika Club Magazine.
⭐ Over 2000 Verified Customer Reviews. Wellaholic has over 2000 positive reviews from customers, and >50% are repeat customers.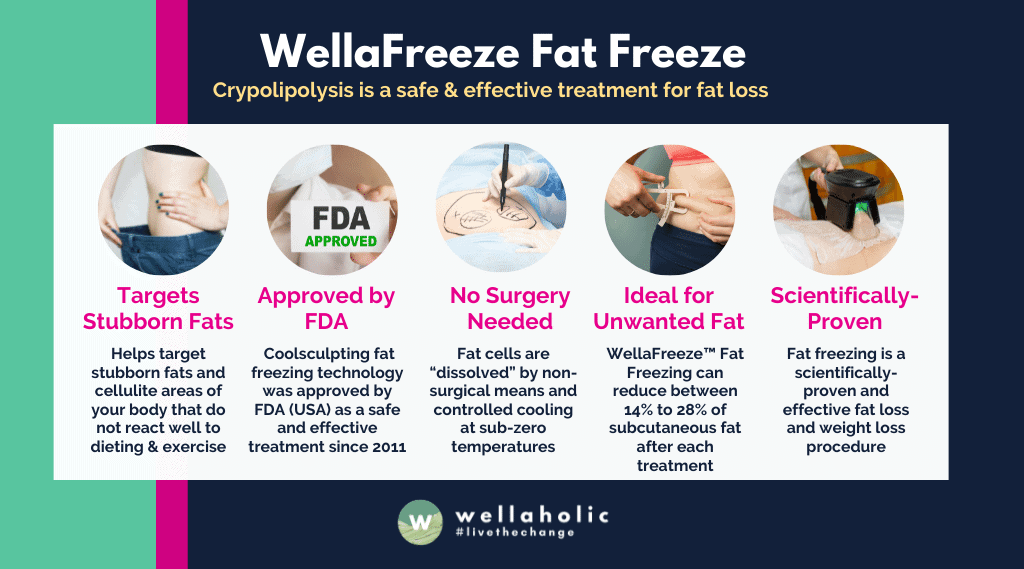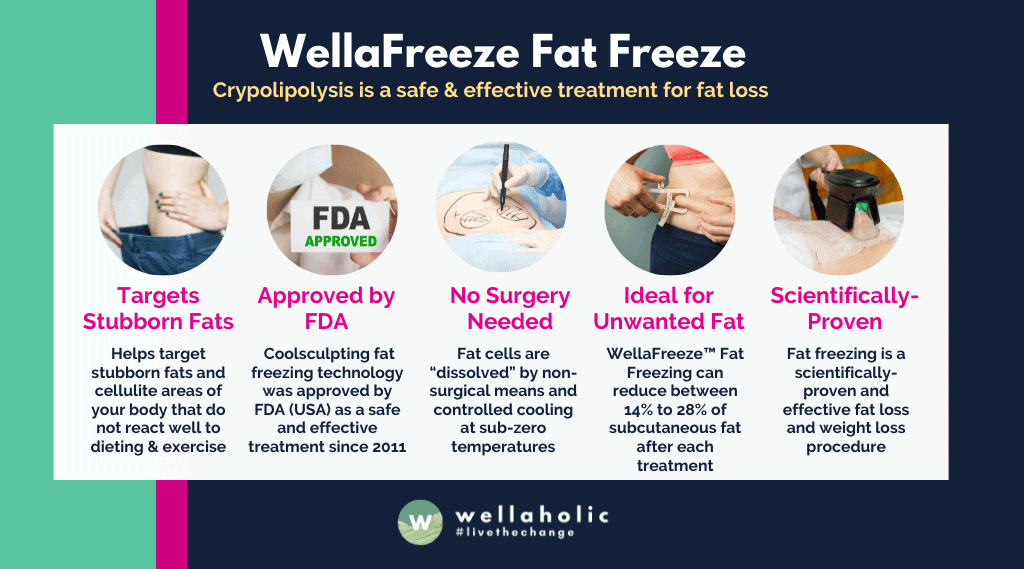 WellaFreeze™ 360 uses 360 probes which can freeze and reduce up to 34% of body fat per session with no or minimal bruising to the body.