Your In-depth Guide to Microneedling
Introduction to Microneedling
Microneedling is a popular procedure using tiny needle pricks to treat acne scars, wrinkles, large pores, and more. It's minimally invasive and has a quick recovery time. In this article, let's answer some questions about this trending aesthetic treatment that's creating waves in the beauty industry.
Microneedling is one of the facial collagen boosting treatment that is gaining in much popularity, due to good reason. The process of microneedling is using a dermapen or a device attached with a disposable cartridge of many mini-needles to create tiny wounds on the skin. These needles create wounds which are miniscule and skin-deep. Nevertheless, the body reacts to the wounds and then goes about healing the wounds, thereby creating new collagen and elastin that not only helps to create younger-looking skin but also helps to clear scars, pigmentation and wrinkles over time.
---
What is Microneedling?
Microneedling is a minimally invasive cosmetic procedure that's used to treat skin concerns via collagen production. Also known as collagen induction therapy, this treatment may help those looking to reduce the appearance of acne scars and stretch marks. Microneedling is a cosmetic procedure. It involves pricking the skin with tiny sterilized needles. The small wounds cause your body to make more collagen and elastin, which heal your skin and help you look younger.
It may sound a little medieval or even basic, but most skin rejuvenation treatments, whether laser or a chemical peel, trigger a similar kind of wound-healing response to create a structural and cosmetic benefit. Dr. Jason Emer , a dermatologist in West Hollywood, California, calls microneedling "an inexpensive approach for someone who may not be able to afford expensive lasers or peels to get something that makes their skin look brighter and younger."
What are the benefits of Microneedling?
In a study on the effects of microneedling published in the Journal of Cutaneous and Aesthetic Surgery , nearly 100 percent of acne-scarred participants reported a marked improvement in the visibility of their scars. With at-home microneedling, a 1.5-mm handheld roller is long enough to improve the appearance of acne scars. Long needles may be required for the best results for severe scars. Professional grade microneedling devices (used in a dermatologist's or facialist's office) can be as long as 3 mm, which will treat deep acne scars that occur beneath the surface of the skin. How effective is microneedling compared to fractional laser treatments for reducing acne scars ? Research in the journal Dermatologic Surgery in 2016 found both treatments to be comparable and effective but gave credit to microneedling for being better tolerated, with fewer side effects and less downtime.
One of the most popular benefits of microneedling is its ability to restore your skin's youth . The hundreds of tiny holes created during the procedure stimulate the release of growth factors, which lead to collagen and elastin production. Your skin will become softer and smoother, giving you a glow. The process might sound complex, but the results are simple and beautiful. You'll have fewer wrinkles, fewer fine lines and tighter skin. You'll look younger, fresher and brighter.
Acne scars are known to be very stubborn, and they can result in your skin looking uneven, rough and prematurely aged. One of the advantages of microneedling is how it goes straight to the source of the scars and stretch marks to heal and renew your skin. Scars form when fibrotic tissue knits together wounds, but fibrosis can also create pockmarks and other noticeable scars. It doesn't matter whether you have deep ice pick scars or mild rolling acne scars: Microneedling starts the healing process right away in a controlled way so as to encourage your skin to heal quickly thereby resulting in a softer, smoother texture. 
A small study also found that microneedling can help minimize the appearance of stretch marks, with marked to excellent improvement noted in about 44 percent of the study participants following three monthly sessions.
Did you know that only 4 to 8 percent of that expensive serum you're using on your face actually penetrates your skin? Another microneedling benefit is that it improves product absorption. A study in the European Journal of Pharmaceutical Sciences found that the treatment can help topical medications penetrate skin more efficiently , allowing you to reap greater benefits of any product. This makes sense considering that microneedling creates thousands of invisible holes in your skin that are ready to absorb products in a way clogged pores can't. "The tiny punctures actually act like little channels, allowing topical products to penetrate better and work more effectively," Dr. Shah says.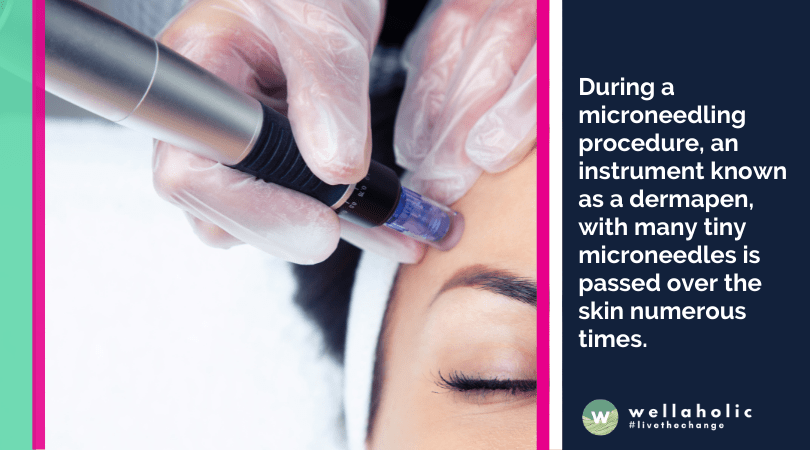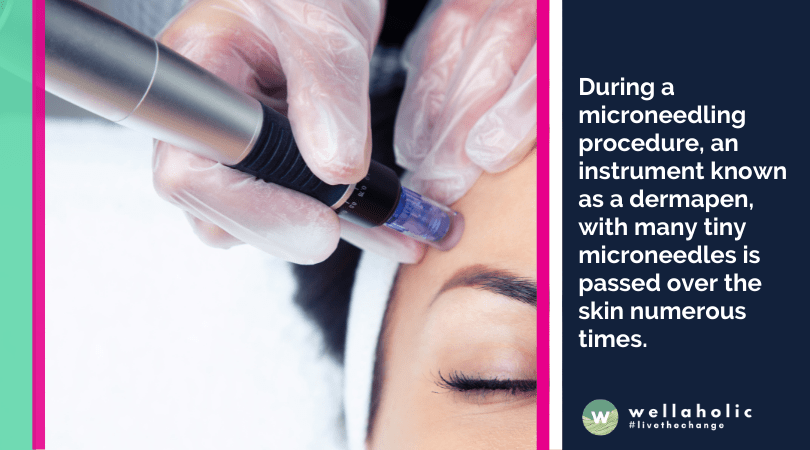 How is the Microneedling procedure like?
During a microneedling procedure, an instrument known as a dermapen, with many tiny microneedles is passed over the skin numerous times. The microneedles, which can reach up to 3 mm, create hundreds of tiny needle pricks. At Wellaholic we use professional dermapens with disposable cartridges of 30 needles for the best effect. After a treatment, we recommend the application of up to 3 types of serums containing Matrixyl, hyaluronic acid and resveratrol to soothe, heal, hydrate and protect your skin, as well as add to the results of the procedure.
Microneedling injects tiny needles (up to 36 at a time) into the skin to create micro channels. The old layer of skin is replaced by new collagen or skin which is free of any spots or marks. About 4 to 6 sessions with a gap of 2 to 4 weeks per session are required for the most effective results.
The goal of the procedure is to start your body's healing process by sending collagen and elastin to patch up the tiny injuries. Collagen helps fill in and smooth out wrinkles. Most people get microneedling on the face, but it can also done on other parts of the body, such as your stomach or thighs.
When to expect results from Microneedling?
You'll likely see results from microneedling almost immediately. As soon as the microwounds are created within the skin, the body's wound-healing processes respond to heal them for a better apperance. Your skin may look plump and radiant for up to two or three weeks following the microneedling treatment. The best results, however, can take six to eight weeks to appear. That's when the increased collagen effects become evident. That's the time it takes your body to ramp up collagen production and cellular turnover so you can get the new, healthy skin you want.
First, your new skin is entirely natural. The reason it takes a little time for the results to show themselves is that you're waiting on your body to do the work. The treatment simply sends your body the right signals telling it to do that work! But no part of the process involves chemicals, incisions, stitching, or anything unnatural. It's all your own body producing results.
Is Microneedling effective on all skin types and skin colours?
Yes. In fact, people with darker skin often choose this treatment over other types of minimally-invasive treatments that use laser technology. This is because dark skin will absorb the laser's light more than light skin, which not only causes the treatment to be less effective, but also can lighten dark skin in spots. The treatment is entirely safe for all skin types and colors and will not result in post-inflammatory hyperpigmentation.
Am I a good candidate for Microneedling?
The best candidate for collagen induction therapy is anyone who has not used isotretinoin (Accutane) in the past three months, does not have any open wounds, abrasions or cuts, has not had radiation skin treatment within the past 12 months and is not suffering from an active skin infection, herpes simplex at the treatment site or other skin condition. The best candidate also is neither pregnant nor nursing and does not have a history of hypertrophic or keloid scars or poor wound healing.
Unlike many other laser treatments for skin rejuvenation, microneedling is safe for all skin types and tones because the treatment does not damage the epidermis. It is safe for treating sensitive or fragile areas, such as the back of the hands, skin on the neck and around the eyes. When performed by a professional, the risk of hyperpigmentation is mitigated.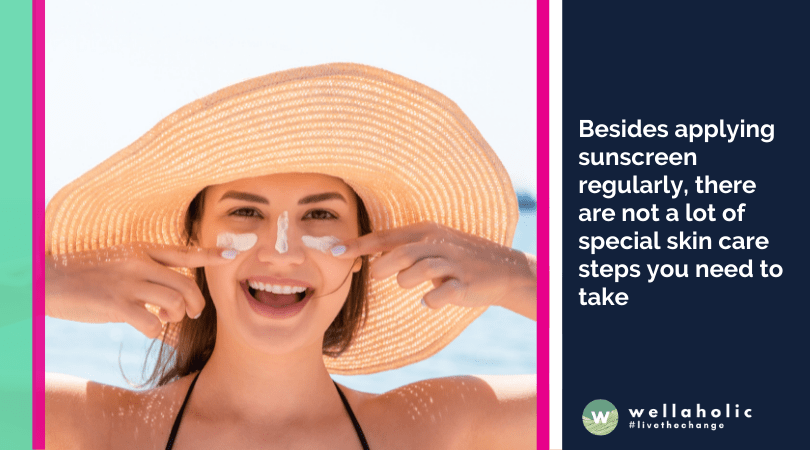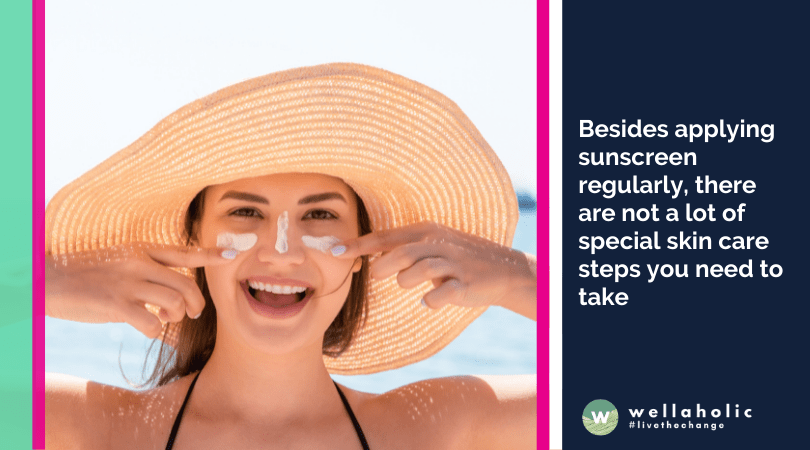 What is the aftercare for Microneedling?
Besides applying sunscreen regularly, there are not a lot of special skin care steps you need to take. If you're using collagen induction therapy to treat acne scars, use a gentle cleanser to clean your face every night and morning for 72 hours after treatment. Makeup, lotion and other skin care products can be used as normal after treatment.
Can I do Microneedling treatment myself at home?
There are microneedle dermarollers that are commercially available for at-home use; however, we do not recommend this treatment be performed by people who are not trained to do it properly. Additionally, you won't see the results from an at-home treatment that you will from a professional treatment because the grade of tools used. The at-home devices will not go as deep into your skin as ours will, which is critical for efficacy.
---
Microneedling for Face, Neck and Stretch Marks by Wellaholic
Microneedling is a collagen-stimulating treatment great for general skin rejuvenation. It treats textural issues dealing with pores, acne scars, wrinkles and pigmentation and has seen extensive positive clinical results, making this treatment a great alternative to laser skin resurfacing. Microneedling can be done at a fraction of the cost when compared to surgical treatments. Microneedling creates micro injuries which stimulate the body's natural wound healing processes, resulting in cell turnover and increased collagen and elastin production, therefore reversing as well as preventing signs of ageing.
---