How Men Can Use Fat Cavitation to Their Advantage
Introduction: Why do men gain more fat as we age?
As we age, our metabolism naturally slows down and we lose muscle mass. This combination makes it easy to gain weight, especially around the waistline. For men, excess weight can lead to health problems such as heart disease, stroke, and type 2 diabetes. While there are some lifestyle changes that can help prevent weight gain, such as maintaining a healthy diet and exercising regularly, sometimes it's just inevitable. Luckily, there are ways to manage your weight even as you get older.
---
What is fat cavitation?
Fat cavitation is a process that uses ultrasound waves to break down fat cells. The process is non-invasive and can be used on any area of the body. Fat cavitation can be used to treat stubborn areas of fat that are resistant to diet and exercise. The results of fat cavitation are not permanent, but the effects can last for several months.
The benefits of fat cavitation for men
Fat cavitation is a process that uses ultrasound waves to break down fat cells. The resulting fat loss can lead to a number of health benefits, including improved cardiovascular health and a reduction in the risk of obesity. Fat cavitation can also help to improve the appearance of cellulite and reduce the size of love handles.
---
How to get the most out of fat cavitation treatments
Maintaining a low calorie, low carbohydrate, low fat, and low sugar diet for 24 hours pre-treatment and three days post-treatment will help achieve the best results. This is to make sure that your body utilizes the triglycerides (which is a type of body fat) released by the fat cavitation process.
Conclusion: Fat Cavitation is an effective way for males to remove unwanted fat
In conclusion, fat cavitation for men is an effective way to remove unwanted fat. It is safe, affordable, and has minimal side effects. This treatment can be performed in a variety of settings, making it accessible to many men. Fat cavitation is a viable option for those seeking to improve their appearance and self-confidence.
Ultrasonic Cavi 360 by Wellaholic to Break Apart Fat Cells
What is Ultrasonic Cavi 360?
Ultrasonic Cavi 360 uses ultrasound cavitation technology to break down fat deposits in body.
Patients can see immediate result and will continue to see results in reduction of fat over a few weeks.
Ultrasonic Cavi 360 is a much safer alternative to other surgical options such as liposuction.
This fat cavitation treatment is ideal for targeting small areas of fat for better body contouring and sculpting.
Ultrasonic Cavi 360 works well on upper arms, belly, love handles, thighs, and back—where fat cells accumulate.
The consultant will glide the cavitation machine's handheld probe over the desired area, delivering low-frequency sound waves.
The wave will "vibrate" the walls of fat cells until they burst and turn into free fatty acids the body can expel.
Ultrasonic Cavi 360 works extremely well with WellaFreeze and WellaSculpt to accelerate fat disposal via the lymphatic system.
Clinical studies have shown 15.2% average fat layer or cellulite reduction in the thighs after cavitation.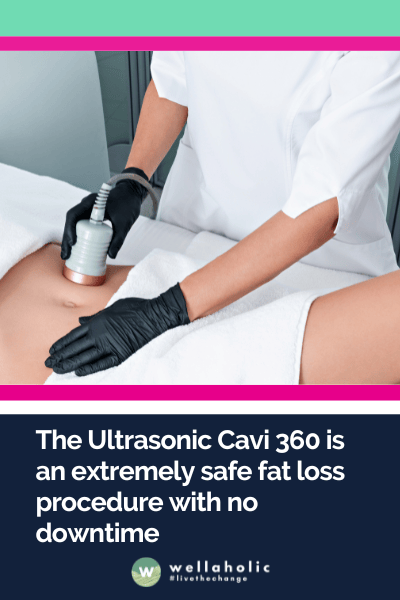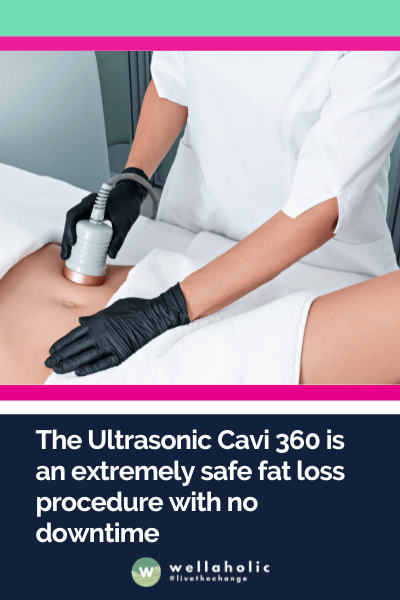 What Happens During Ultrasonic Cavi 360 Treatment?
Consultant will run through with you the Ultrasonic Cavi 360 procedure and steps.
You will review the safety instructions and sign the indemnity form.
Consultant will usher you to the treatment room.
You will lie on the treatment bed.
Depending on the treatment area, there may be a need for you to remove your clothing.
Consultant will apply the cavitation cream at the area(s) to be treatment.
Consultant will configure the cavitation machine and apply the probe/applicator on the treated area in a circular motion.
There will be a high pitch ultrasound high frequency sound together with some vibration. This might be initially shocking, but there will be no pain, and you will get used to it very quickly.
The treatment will take about 15 minutes per treated area.
Treatment is over!
Are There Any Before and After Photos of Ultrasonic Cavi 360 Treatment?
You can refer to the before/after photos below for the results of Ultrasonic Cavi 360 over treatment regime of 4 to 8 sessions.
While some results may be almost immediate, your best results usually will not be visible until four to six weeks after the procedure.
Patient results may vary.
See Over 1800 Positive Reviews of Wellaholic (Customer Verifiable)
Pricing of Slimming Treatments by Wellaholic
Wellaholic believes in providing pricing transparency, and hence all prices are published and updated on its website. Choose from a single-session plan or choose a multi-session plan for greater discounts. Wellaholic's slimming treatmentes are generally divided into the following categories: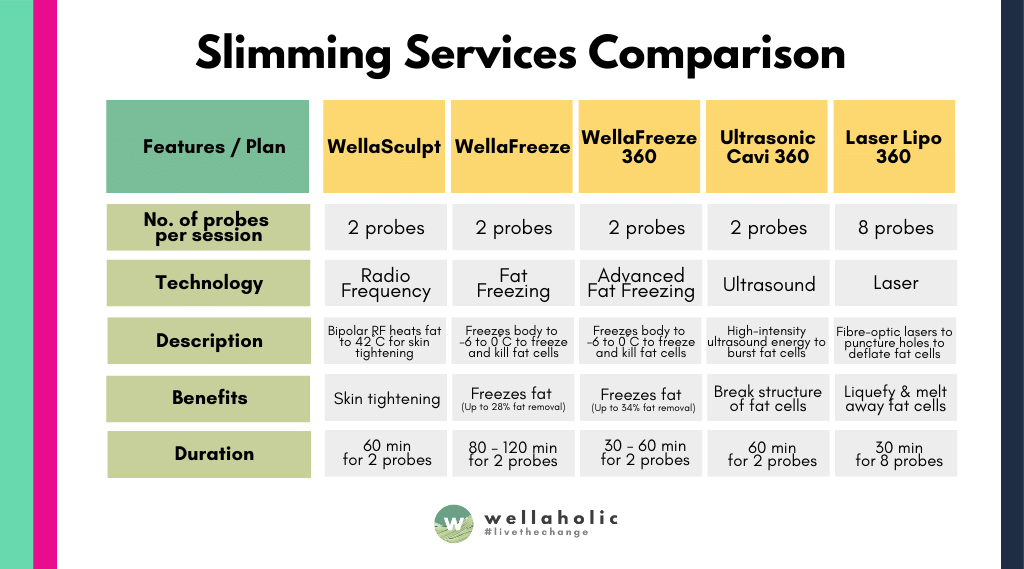 Please click on the menu below to see the pricing for the various slimming treatments by Wellaholic. Prices are nett and inclusive of GST.
---
---