How Often Microneedling for Hair Loss?
Introduction
Clinical studies show that microneedling once every 1-3 weeks helps to regrow hair. Then again, 1-3 week intervals are the sole frequencies studied for pattern hair loss. With men on hair loss forums reporting amazing results from microneedling as often as once per day, could we be missing something? How often should we microneedle for hair regrowth. Once every two weeks? Once per week? Once per day? More? Hair loss forums still debate this very question. Maybe. See the studies, photos, results, and suggestions from this article on microneedling as an effective hair loss treatment
Microneedling Once Every 1 to 3 Weeks
Yes, evidence confirms that microneedling once every 1-3 weeks helps to regrow hair. At the identical time, these intervals are the sole microneedling frequencies tested (so far) in humans with androgenic alopecia (AGA). In the case study, a 12-week randomized, comparative, evaluator blinded study was conducted at the Department of Dermatology, Lokmanya Tilak Muncipal Medical College and Hospital, Sion, Mumbai from October 2011 to June 2012. A total of 100 men with AGA were enrolled in study after taking an informed consent. They were randomly allocated into Microneedling (N = 50) and Minoxidil group (N = 50) by using the 'tossing coin' method. All patients' scalp was shaved off before treatment to ensure equal length of hair shaft at baseline. In the Microneedling group, patients received a weekly Microneedling procedure on the scalp with 1 ml of 5% Minoxidil lotion applied twice daily. In Minoxidil group, patient applied only 1 ml of 5% Minoxidil lotion twice daily. The mean change in hair count at week 12 was significantly greater for the Microneedling group compared to the Minoxidil group. (source: A Randomized Evaluator Blinded Study of Effect of Microneedling in Androgenetic Alopecia: A Pilot Study)
Microneedling Frequency Depends on Variety of Factors
The short answer: microneedling frequency depends on variety of factors: needle depth, applied pressure, and individual variances in wound-healing intervals. There aren't any concrete answers on how often we must always microneedle. And at the upper ends, we also have to balance out wounding frequencies with any potential increased risks of cancer.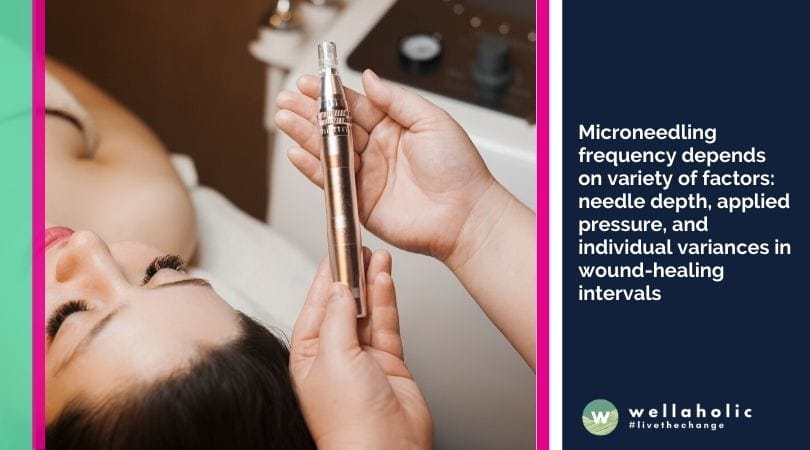 What is Microneedling and how does it work?
Microneedlers (also referred to as dermarollers) are devices with tiny needles that are pressed or rolled onto the skin. These needles create "micro-injuries". And, when repeated often, these micro-injuries accomplish some things:
A reorganisation of collagen. connective tissue (fibrosis) is disorganised collagen deposits underneath the skin. By creating these micro-injuries, microneedling devices help to destroy disorganised collagen and lay down new, more organised collagen. (1) And, no, microneedling doesn't actually penetrate deep enough to make new connective tissue (so long as you're using the correct needle length).
An increase in protein provision. Microneedling stimulates the assembly of proteins like platelet-derived protein and fibroblast growth factor (1), both of which are involved within the regulating the hair growth cycle. (2)
Improves topical absorption. By creating micro-tears within the epidermal layer of the skin, topicals can more easily penetrate to the dermal and subcutaneous layers (where the follicle bulge rests). Theoretically, this could afford these topicals to own a greater effect.
Encouragingly, these theories and purported mechanisms do translate to hair regrowth in those with pattern hair loss, or androgenic alopecia (AGA) – a minimum of within the clinical studies published to date.
Here are a summary of the results: the needle lengths used, how often the microneedling devices were used, the hair count increases, and more.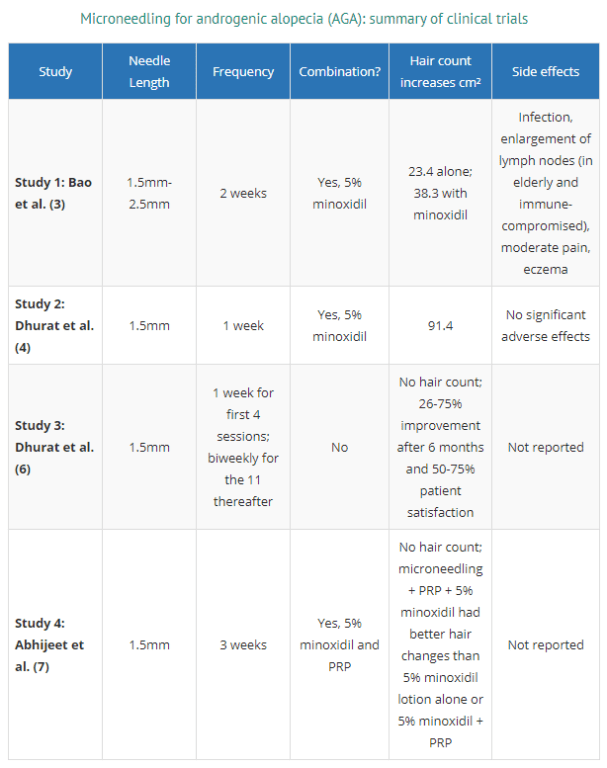 Microneedling Findings
A quick glance at these results suggests two things:
Microneedling enhances minoxidil's effectiveness. Two studies now show that microneedling can double or triple the efficacy of minoxidil as an active ingredients, which combining these treatments result in better outcomes than simply doing microneedling alone, or minoxidil alone.
Microneedling once weekly can be better than biweekly. Bao et al. (3) showed that microneedling once every fortnight resulted in an exceedingly 25% increase in hair count. Dhurat et al. (4) showed that microneedling once per week resulted in an exceedingly 40% increase in hair count. Both studies used a 1.5mm needle length; both studies used 5% topical minoxidil twice-daily alongside microneedling.
Of course, we can't fairly compare percentage hair changes across two different studies: there are too many factors at play that would influence results (different subject demographics, study duration, investigators, etc.). But if we take this back-of-the-envelope comparison at face-value, we're faced with a stimulating takeaway.
Feedback from Users
This user (with hair thinning) utilised a 2.0mm dermapen weekly alongside 5% minoxidil for his first 2 months. After 2 months, he moved to 10-14 day wounding intervals. He does not use minoxidil on the days that he does microneedling.
This user employed weekly microneedling with a 1.5mm dermaroller alongside topical minoxidil (percentage not specificed). After 1.5 months, he transitioned to microneedling only with these results after 3 months (Note: left photo is +3 months; right photo is +0 months).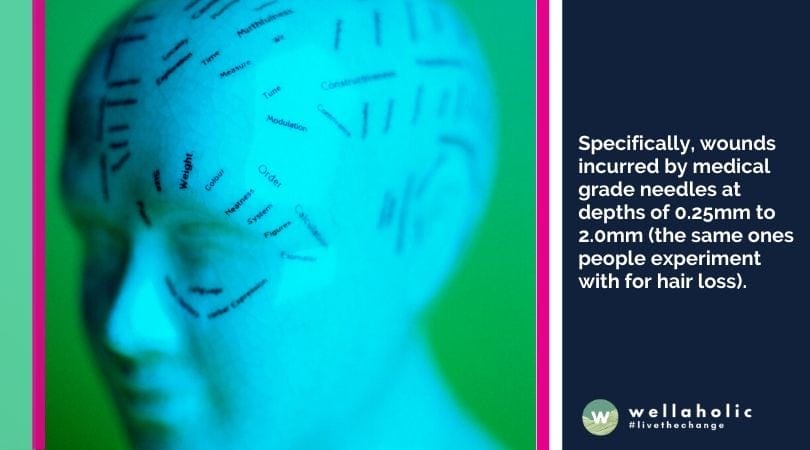 Microneedling frequencies: what you need to consider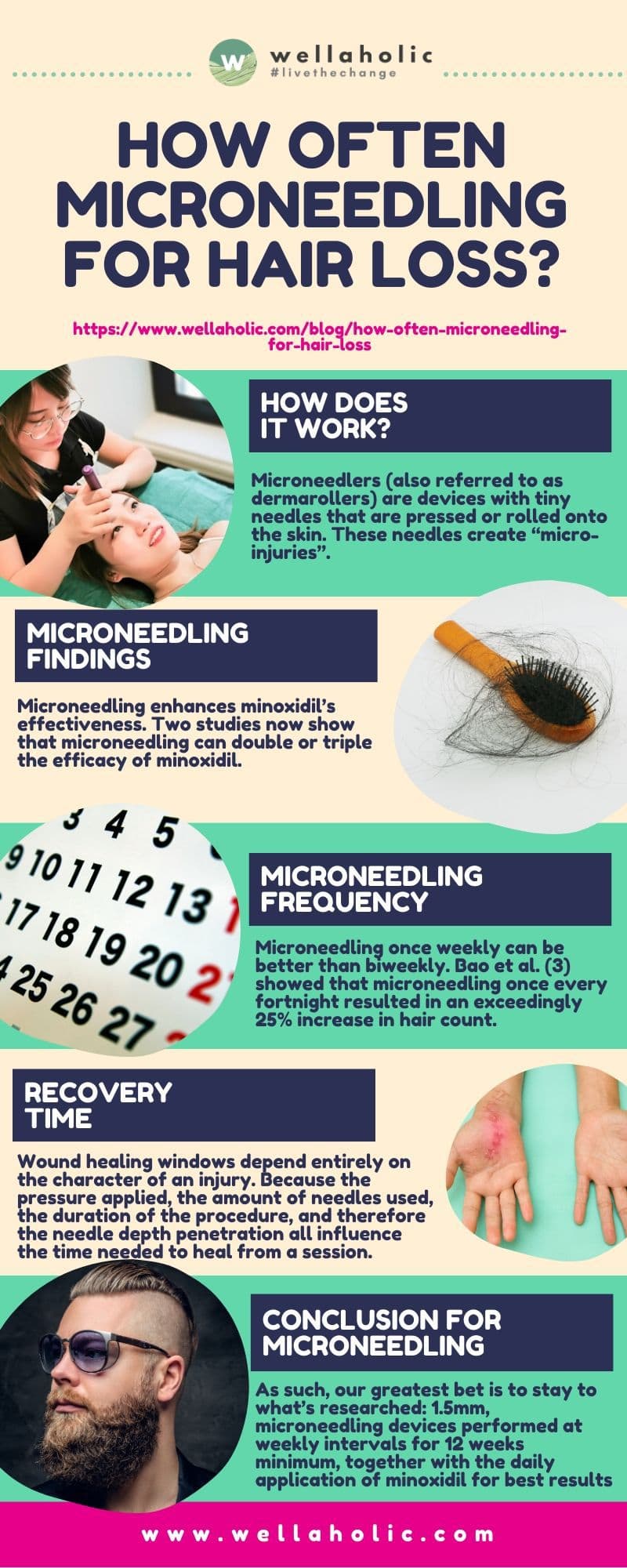 There are two issues that will arise from more frequent microneedling sessions or deeper needle penetration (that of which is set by needle length and therefore the amount of pressure used during any given session): scarring, and an increased risk of cancer.
Recovery time
Wound healing windows depend entirely on the character of an injury. This can be true even with microneedling – because the pressure applied, the amount of needles used, the duration of the procedure, and therefore the needle depth penetration all influence the time needed to heal from a session.
The goal: to wound deep enough / often enough to evoke follicle proliferation – but not deep enough / often enough to cause scarring.
So, what does the evidence say about average healing times for wounds this deep? Specifically, wounds incurred by medical grade needles at depths of 0.25mm to 2.0mm (the same ones people experiment with for hair loss).
The short-answer: we don't yet know. this can be because following microneedling in human skin, we've yet to actually thoroughly study the three stages of wound-healing (aside from clotting): inflammation, proliferation, and maturation.
Stage 1: Inflammation of the scalp area
​When it involves needle lengths to avoid scarring, Dunkin et al. (5) found that skin cuts to depths of 0.5–0.6 mm may show signs of inflammation for 24-48 hours following the injury; however, these wounds will close with none trace of connective tissue.
Other researchers have also argued that wounding with longer needle lengths – 1.5mm to 2.00mm – also shouldn't cause scarring… only if the needles are medical grade and used less frequently (i.e., once every 1-2 weeks).
This is why many of us feel comfortable employing a 0.5mm needling device on a daily basis, and why most clinical trials on microneedling have used 1.5mm to 2.0mm rollers with less frequencies (every 1-2 weeks).
Stage 2: Proliferation and Healing of Wound
After the initial inflammatory response, the subsequent stage of wound-healing is proliferation. this can be when the wound is rebuilt with new tissues – extracellular matrix, collagen, etc. – that then build the inspiration for brand new blood vessels (i.e., angiogenesis) in the entire scalp.
The proliferation phase starts immediately after microneedling and should reach its peak after 2 months. nowadays it's not known how epidermal and dermal stem cells are laid low with microneedling.
Stage 3: Remodelling and Maturation
​New type III collagen fibers integrate into the present skin matrix with none trace of fibrotic tissue. a motivating fact is that the new collagen formation is deposited from a depth of 0.6 mm upwards and towards the basal membrane, in most cases when needles with a length of 1.5 mm are used. (8)
Wounds heal within 4-6 weeks. But, the wounding initiated by microneedling may be a (for the foremost part) controlled micro-injury. As such, these wounds take significantly less time to heal.
That said, it's hard to specify a general healing window for a given microneedling session. this can be because there are many factors which will play into the degree of microwounding and, thereby, the mandatory window for a full recovery.
These factors are centered round the depth of penetration of the needle and individual variances in healing time. Essentially, the deeper the needle and therefore the more pressure used during a microneedling session, the more healing time required – all of which is further influenced by how long your body will fancy heal the treated area.
Conclusion
But, until more clinical evidence proves that these frequencies are safe, we can't yet say if these practices are viable long-term. As such, our greatest bet is to stay to what's researched: 1.5mm, microneedling devices performed at weekly intervals for 12 weeks minimum, together with the daily application of minoxidil for best results.
---
HairGrow™ – Hair Regrowth with 3 Scientific Methods
ULTIMATE HAIR REGROWTH TREATMENT COMBINING ALL THREE TREATMENTS: MICRONEEDLING FOR SCALP, HAIRGROW SCALP BOOSTER AND LOW LEVEL LASER THERAPY (LLLT)
What is HairGrow™ Hair Regrowth Plan?
HairGrow™ is an effective solution for hair loss by combining Wellaholic's three hair regrowth treatments with free additional weekly Low Level Laser Treatments (LLLT) to supercharge your hair regrowth. See results over a 12-week period.
HairGrow combines all three different scientific hair regrowth treatments of Microneedling for Scalp, Scalp Booster and LLLT to accelerate your hair regrowth efforts. Pay for 2 treatments and get the 3rd treatment free. This includes a monthly supply of Minoxidil with Royal Jelly to jumpstart your hair growth.
How is the pricing like for HairGrow™ Hair Regrowth Plan?
Depending on your hair regrowth needs you can choose the following plans:
Wellaholic is well-known in the industry for our transparent pricing and no hard selling.
In fact, we are probably the only aesthetic establishment in Singapore that publishes our prices openly.
All prices are nett and inclusive of GST, and are actual prices (i.e. not trial prices).
You can read our amazing reviews here.
HairGrow™ Unlimited (4 x Microneedling for Scalp + 4 x HairGrow Scalp Booster + 4 x LLLT per month)
HairGrow Price List
4 Week Plan ($329/week or $1316  in total) (28% savings)
8 Week Plan ($319/week or $2552 in total) (32% savings)
12 Week Plan ($279/week or $3348 in total) (40% savings)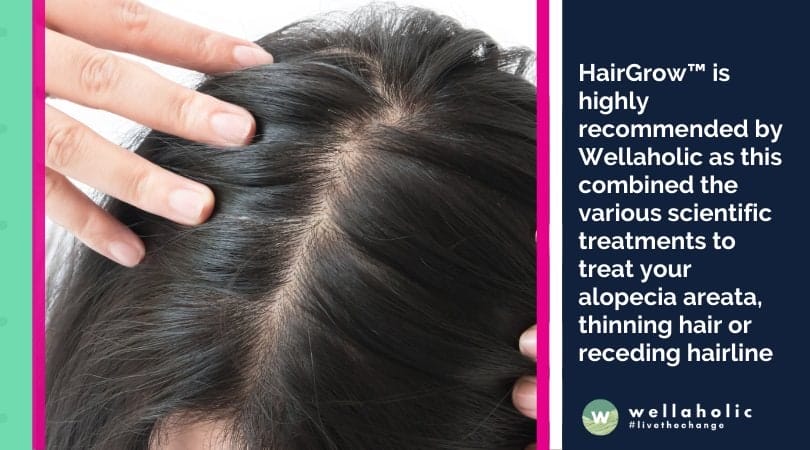 Is HairGrow™ Backed by Science? 
HairGrow™ includes three different types of technology treatments.
They have numerous research reports and case studies backing them up.
Case Study 1 (2013) concluded that the group which combined Microneedling with Minoxidil application saw a significant hair growth as compared to the minoxidil-only group.
Case Study 2 (2014) concluded the boosting effect of microneedling with respect to new hair follicle stimulation in patients with androgenetic alopecia who were poor responders to conventional therapy.
Low Level Laser Therapy (LLLT)
Case Study 3 (2013) concluded that 47% of the patients' hair growth occurred in 7 weeks earlier for the group with LLLT treatment compared to the group without.
Case Study 4 (2013) concluded a 35% increase in hair growth for the males with the LLLT helmet. 
---
---