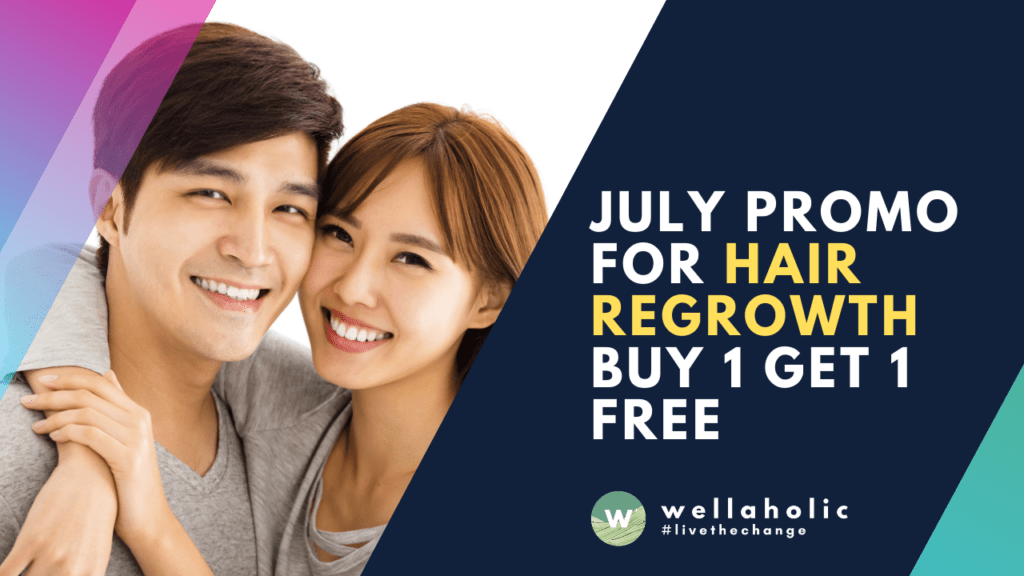 July 2021 Promo — Buy 1 Get 1 Free for Hair Regrowth Treatments
---
Treating Hair Loss Doesn't Need to be Expensive
Treating hair loss does not need to be an expensive affair at Wellaholic. This July, we are offering a 1-for-1 promo for our single session and 3-session plans for the following Hair Regrowth treatments:
Terms and Conditions
This promotion is valid from date of announcement to late July 2021.

Customers

are limited to one purchase per service type.

Product cannot be refunded or exchanged for cash.
Microneedling for Scalp
Microneedling for Scalp can treat hair loss and lead to positive effectiveness on hair growth.
Microneedling for Scalp is especially effective for patients with Alopecia Areata and Androgenetic Alopecia, or male pattern baldness, receding hairline, thinning hair and major forms of hair loss.
Microneedling for Scalp is a Collagen Induction Therapy hair loss treatment in Singapore which is also able to cause controlled trauma in the scalp to promote hair growth.
Together with the use of Minoxidil 5%, Microneedling can lead to positive effects on hair growth over a 12-week period.
HairGrow Scalp Booster
Wellaholic's HairGrow™ Scalp Booster uses two proven technologies for accelerated hair regrowth.
Method 1: WellaBoost – Method 1 (High Pressure Jet Spray) increases absorption of minoxidil by the hair follicles.
Method 2: (Electroporation) to improve the absorption of Minoxidil by the scalp by up to 17 times.
Low Level Laser Therapy (LLLT)
According to a 2014 study, low-level laser therapy appeared to be safe and effective for hair growth in both men and women.
LLLT uses laser light to stimulate cell growth and supercharge hair follicles.
This laser technology helps to combat hair loss and improve the volume and appearance of hair.
The LLLT helmet is FDA approved.
The LLLT treatment has been proven to have no side effects and takes about 20 minutes per session.
A 2013 study of 41 males ages 18 to 48 found that laser hair treatment provided a 39% increase in hair growth over a period of 16 weeks.
---