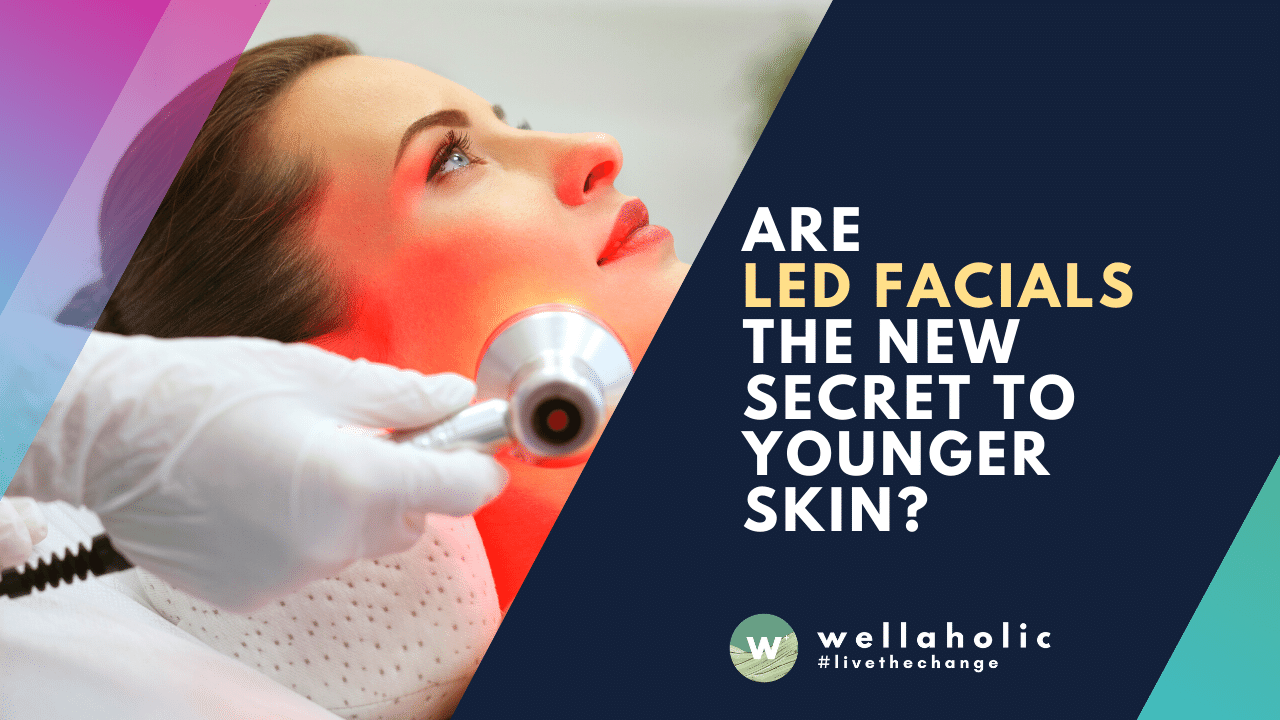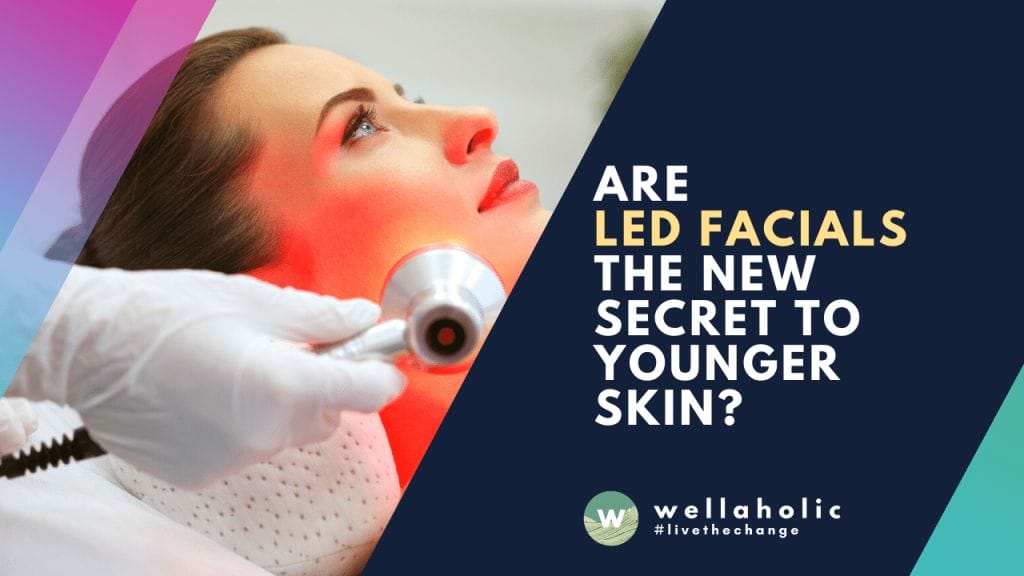 Are LED Facials the New Secret to Younger Skin?
Introduction to LED facials
LED facial is a type of facial that uses light-emitting diodes (LEDs) to improve the appearance of your skin. LEDs deliver specific wavelengths of light that can help treat a variety of skin concerns, such as wrinkles, acne, and age spots. LED facials are considered safe and non-invasive, and they typically don't require any downtime.
Learn about the history of LED facials
LED facial was first developed in the 1980s as a treatment for skin cancer. Beginning in the 1990s, LED facial surgery began to become more popular as doctors found that LEDs could be used to treat a variety of facial issues. These surgeries were initially used to treat conditions such as dark circles under the eyes, blemishes and wrinkles, but as LED technology has improved, so too has the range of treatments that can be performed with them.
Beginning in the late 1800s, a type of lighting known as incandescent lightbulbs were popular due to their cheap price and reliable performance. However, they had one major disadvantage – they emitted harsh, bright light that could cause eye fatigue and other problems. In the early 1960s, developments in semiconductor technology created the possibility of creating an alternative to incandescent bulbs that was not only less expensive to produce but also provided a more pleasant light. The history of LED facial is quite short, but it is already full of potential. As technology has advanced, so too have the ways we can improve our appearance and quality of life. LED facial has come a long way in a relatively short amount of time, and there are many more applications to be explored. From improving skin tone to reducing wrinkles, LED facial is poised to become one of the most popular beauty treatments in the future.
How does LED facials work?
LED facial works by using light to stimulate the production of collagen and elastin. This helps improve the appearance of the skin by reducing wrinkles and restoring elasticity. LED facial works by emitting a light that stimulates the nerves in your face to create relaxation. This is done by shining a light into your eyes which causes them to close, and then moving the light around your face. The results are a more relaxed appearance and lower stress levels. The light energy from LEDs penetrates the skin and affects the root cause of the problem. This procedure is safe and effective, and it does not require any surgery.
Benefits of LED facials
LED facial has many benefits, including improved skin tone, reduced wrinkles and improved complexion. There are many benefits to using LED facial therapy. Some of these include reducing the appearance of wrinkles, age spots, and sun damage. Additionally, LED technology helps stimulate collagen production, which can help reduce the appearance of cellulite and improve skin texture.
There are numerous LED facial benefits that have been scientifically proven. These benefits include: reducing wrinkles, age spots, and sun spots; improving skin tone; minimizing the appearance of acne; and reducing the appearance of scars. When choosing the best LED facial treatment for you, it is important to consider your specific needs and goals. A qualified practitioner can help you determine which LED facial treatment is best for you.
Possible side effects of LED facials
People have been concerned about the side effects of LED facial treatments for years, but there is still very little known about them. Some people have reported skin irritation, dryness, and even scarring. It is important to speak with a doctor before starting any kind of facial treatment so that any potential side effects can be monitored and addressed.
LED Cell Regeneration Facial by Wellaholic
WHAT IS LED CELL REGEN OR REGENERATION FACIAL?
Wellaholic's LED Cell Regeneration Facial uses different wavelengths to target the skin for various beneficial effects. They are able to improve skin elasticity, produce collagen, minimise blemishes and pimples as well as to soothe aggravated skin and even reduce scarring.
WHAT ARE THE BENEFITS OF LED CELL REGEN FACIAL?
Light-based skincare therapy has been studies for many decades and is clinically proven to help address skin issues. Facial therapists including dermatologists use light-based or photo-dynamic treatments to help improve skin conditions or even boost product and serum absorption as well as circulation.
WHAT IS LED CELL REGEN OR REGENERATION FACIAL?
Wellaholic's LED Cell Regeneration Facial uses different wavelengths to target the skin for various beneficial effects.
They are able to improve skin elasticity, produce collagen, minimise blemishes and pimples as well as to soothe aggravated skin and even reduce scarring.
RED Light – 640nm wavelength penetrates skin depth of 1-6nm. Red light helps to regenerate skin cells, stimulate collagen proteins, reduce fine lines and wrinkles, improve blood circulation and reduce inflammation.
BLUE Light – 432nm wavelength penetrates skin depth of 1nm. Blue light helps to treat acne and sun spots, inhibits sebaceous glands, improves skin texture, diminishes acne scars, treats enlarged oil glands and also improves depression.
GREEN Light – 532nm wavelength penetrates skin depth of 0.5 to 2nm. Green light decreases melanin production and whitens skin, decreases age spots and freckles, reduces pigmentation, reduces spider veins and rosacea.
YELLOW Light – 583nm wavelength penetrates skin depth of 1-2nm. Yellow light stimulates production of red blood cells, reduces appearance of tiny blood vessels on skin, boosts lymphatic flow and increases cellular growth.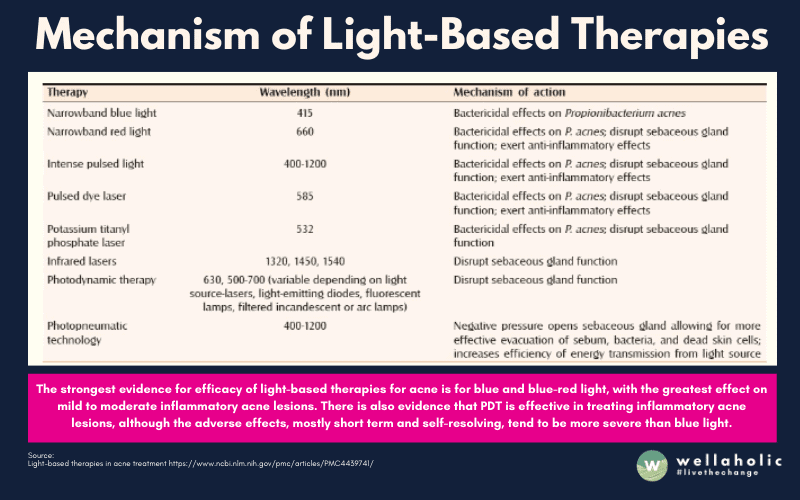 IS LED CELL REGENERATION BACKED BY SCIENCE?
NASA originally developed LED light treatment for plant growth experiments on shuttle missions and later found it to have promise for wound treatment. LED light therapy is now used by aestheticians to help regenerate the skin from ageing. It's also used for acne. When used as directed, LED light therapy can improve your skin over time. You'll need maintenance treatments to maintain your results. Home devices use lower frequencies and haven't been proven as effective​.
Case Study One: Phototherapy with Light Emitting Diodes. This review will describe the broad range of clinical applications and significant results achieved for acne, wound healing, actinic keratosis, precancerous tissue, psoriasis and skin rejuvenation, and post-procedural erythema. We determined that phototherapy using LEDs is beneficial for a range of medical and aesthetic conditions encountered in the dermatology practice. This treatment displays an excellent safety profile.(Source)
Case Study Two: Light‐emitting diodes in dermatology: A systematic review of randomized controlled trials. Based upon our systematic review of 31 RCTs, we provide evidence based suggested treatment parameters and regimens for LED therapy for skin conditions which dermatologists may tailor to meet patient needs. Scientific evidence exists that supports that LEDs may improve outcomes in acne vulgaris, HSV, HZV, and acute wound healing.  ​(Source)
Pricing of Facial Treatments by Wellaholic
Wellaholic believes in providing pricing transparency, and hence all our prices are published and updated on its website. Choose from a single-session plan or choose a multi-session plan for greater discounts. Wellaholic's facial treatments are generally divided into the following categories: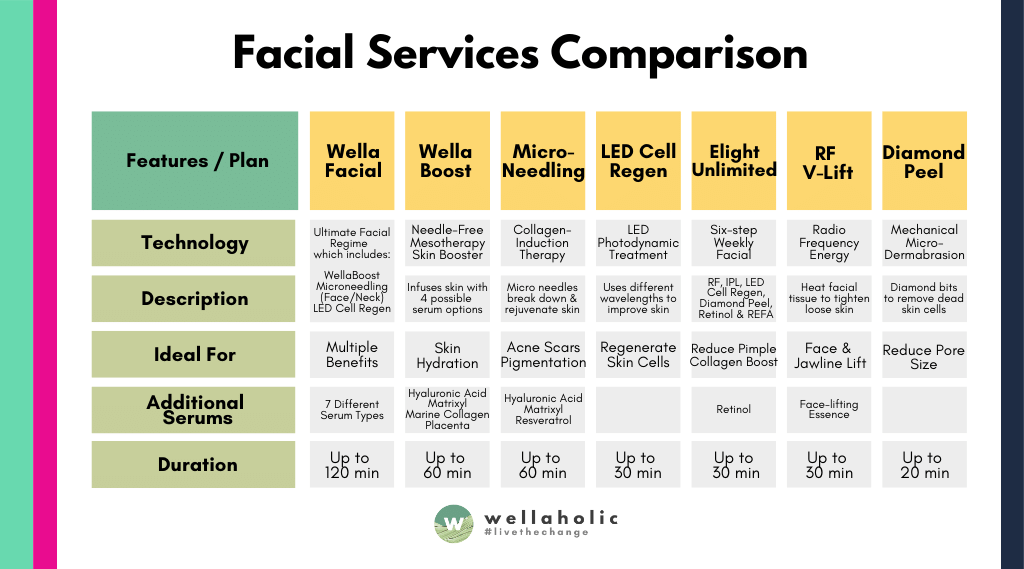 Please click on the menu below to see the pricing for the various facial treatments by Wellaholic. Wellaholic is well-known in the industry for our transparent pricing and no hard selling. In fact, Wellaholic is well-known for not only our transparent and cheap pricing but also without any hidden costs. All prices are nett and inclusive of GST, and are actual prices (i.e. not trial prices).
---