Microneedling is the Latest Trend for Treating Acne Scars
History of Microneedling?
Microneedling is a very simple and safe procedure for treating skin conditions such as acne scars, stretch marks, wrinkles, cellulite, sun damage, It was initially introduced for skin rejuvenation, however, now it is being used for a very wide range of indications including acne scar, acne, post-traumatic/burn scar, alopecia, skin rejuvenation, drug delivery, hyperhidrosis, stretch marks, and many more.
Moreover, during the last 10 years, many new innovations have been made to the initial instrument, which was used for microneedling. This technique can be combined with other surgical techniques to provide better results. In particular, it is a very safe technique for dark skin types, where risk of postinflammatory pigmentation is very high with other techniques that damage the epidermis.
What is Microneedling?
Micro needling is a noninvasive procedure used for treating various conditions such as acne scars, wrinkles, fine lines, hyperpigmentation. The procedure uses a handheld device to create microchannels into the dermis of your skin, initiating your body's own natural healing processes to produce collagen and elasticity. The end result is to improve skin texture with minimizing fine lines and wrinkles, as well as diminishing the hyperpigmentation of skin. This form of collagen induction is created by a mechanical force delivered to the dermis to allow improvement in acne pock marks and can weld stretch marks together by creating collagen bridging.
The 3 Phases of Microneedling Wound-Repair Process
There are three phases to the microneedling wound-repair process
​

Phase I: Inflammation

. Piercing the skin triggers your immune system to cleanse the wound, remove debris, increase blood flow and begin to create new tissue.
Phase II: Proliferation. The wound is rebuilt with new granulation cells, which are part of the extracellular matrix. Additionally, a new network of blood vessels develops.
Phase III: Remodeling. The wound is replaced with new dermal tissues and blood vessels.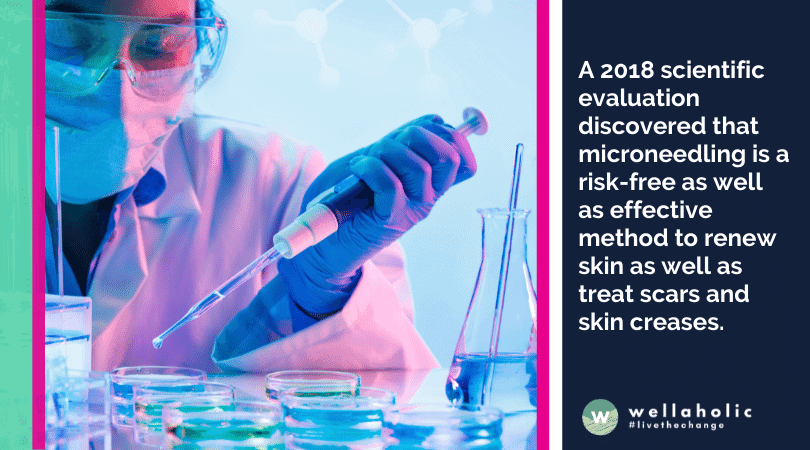 Which Body Part is Microneedling Ideal for?
The power hand piece can be applied to the entire face, neck, décolleté, arms, hands, legs, and abdomen. Anywhere the skin is structurally weak or there are stretch marks, contour deformities, such as divots, and wide depressed scars. We have noticed that diminished pigmentation can occur even though it is not a skin resurfacing technique. Also, improved dermal thickness may reduce the appearance of small capillary vessels in the skin. We have also been very pleased with the reduction in vertical lines seen around the mouth after several sessions.
Is Microneedling Safe?
The FDA has cleared microneedling devices for use on women and men aged 22 and older as a treatment to improve the appearance of:
Acne scars on the face
Wrinkles around the eyes and other parts of the face and neck
Surgical scars on the abdomen
Should You Consider Microneedling?
People who have considered microdermabrasion but don't want to wait to see improvements in their skin might opt for microneedling, which typically delivers better results that become apparent in less than a week. Microneedling is safe for people with any skin tone. With treatments such as laser hair removal , skin pigmentation can be a consideration, but with microneedling, there are no such concerns.
How quick can one see results from Microneedling?
After their first session, most men notice that their skin is softer and brighter. Additional effects become apparent over the next several weeks and can continue to progress for up to six months. The number of treatments recommended varies from person to person and depends on skin quality and specific concerns and goals. However, a series of three-to-six treatments is typically advised.
Find out more about Microneedling for Men via this link.
Gold RF Microneedling Facial by Wellaholic
Gold RF Microneedling is a revolutionary skin treatment that delivers dramatic anti-ageing results by combining fractional radiofrequency (RF) with microneedling to effectively treat acne, acne scar, pigmentation, stretch marks & enlarged pores. Gold RF Microneedling can also lift saggy skin and revitalise dull and uneven skin tone.
What is Gold RF Microneedling Facial Treatment?
If you are looking for an effective method to clear your acne scars, wrinkles or pigmentation, or if you are looking to tighten saggy skin such as jowl lines and nasolabial folds without any invasive surgery, then Gold RF Microneedling is the right treatment for you. Gold RF Microneedling combines two scientifically-proven techniques, microneedling and fractional radiofrequency (RF) to treat a variety of skin conditions.
Gold RF Microneedling uses up to 64 needles to penetrate the skin, releasing RF energy to trigger collagen and elastin production for the ultimate anti-ageing treatment for a clearer complexion and firmer skin.
Gold RF Microneedling is a safe, minimally invasive, and extremely effective aesthetic treatment for treating acne scars, pigmentation, fine lines and wrinkles.
Gold RF Microneedling has the ability to stimulate the growth of collagen and elastin using the combination of Microneedling with Radiofrequency, which is the key to new, youthful-looking skin.
Gold RF Microneedling has a dermatological treatment has seen extensive positive clinical results. This is an improvement over just doing a Microneedling or Radiofrequency treatment on its own.
Gold RF Microneedling combines radiofrequency with microneedling to stimulate tissue remodelling, thereby triggering the production of collagen.
What are the Benefits of Gold RF Microneedling Facial?
Gold RF Microneedling has all the skin resurfacing benefits of traditional microneedling, but with the added technology of insulated needles that deliver RF energy to the skin, creating new microchannels linking your skin's layers.
Gold RF Microneedling create tiny wounds in your skin to prompt your body to replace old skin cells with healthy new ones, the RF energy heats deep layers of your dermis to encourage collagen growth and tissue tightening, leading to visibly healthier skin that continues to improve over the following months.
Gold RF Microneedling leads to faster cell turnover and quicker results than traditional microneedling.
Gold RF Microneedling has a shorter recovery time as compared to traditional microneedling, laser resurfacing treatments and chemical peels. There is also less risk of hyperpigmentation.
Pricing of Facial Treatments by Wellaholic
Wellaholic believes in providing pricing transparency, and hence all our prices are published and updated on its website. Choose from a single-session plan or choose a multi-session plan for greater discounts. Wellaholic's facial treatments are generally divided into the following categories: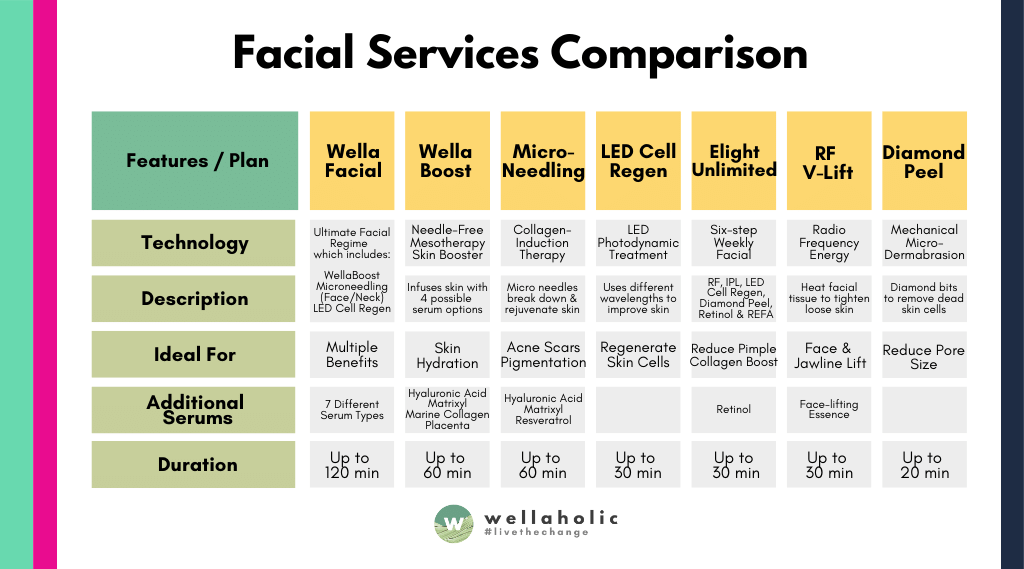 Please click on the menu below to see the pricing for the various facial treatments by Wellaholic. Wellaholic is well-known in the industry for our transparent pricing and no hard selling. In fact, Wellaholic is well-known for not only our transparent and cheap pricing but also without any hidden costs. All prices are nett and inclusive of GST, and are actual prices (i.e. not trial prices).
---
---