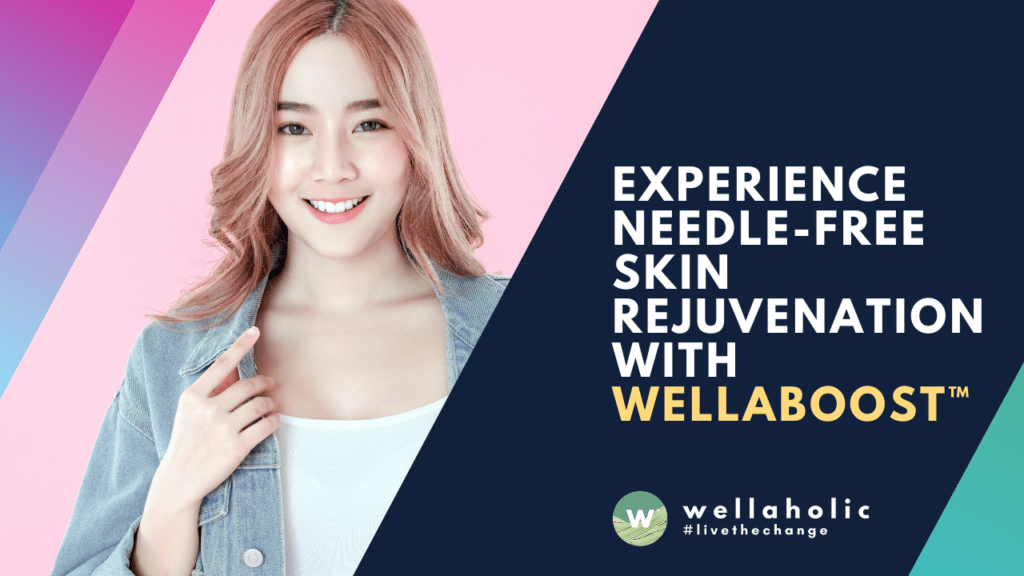 Experience Needle-free Skin Rejuvenation with WellaBoost™
Introduction to Needle-free Skin Rejuvenation and Plumping
As part of the quest for ever-youthful skin that doesn't age, we at Wellaholic see customers who are seeking the latest cutting-edge facial technology treatments for that anti-ageing boost. As we age and grow older, our faces begin to lose collagen and elastin, which leads to sagging facial features. With the decrease and loss of facial volume, the elasticity of the face is also affected, which then leads to wrinkles, links and folds forming. Also, as we age, our skin becomes thinner and drier, and is less able to protect itself from oxidative damage. This is why we need to care for our skin as early as we can, to prevent wrinkles from forming.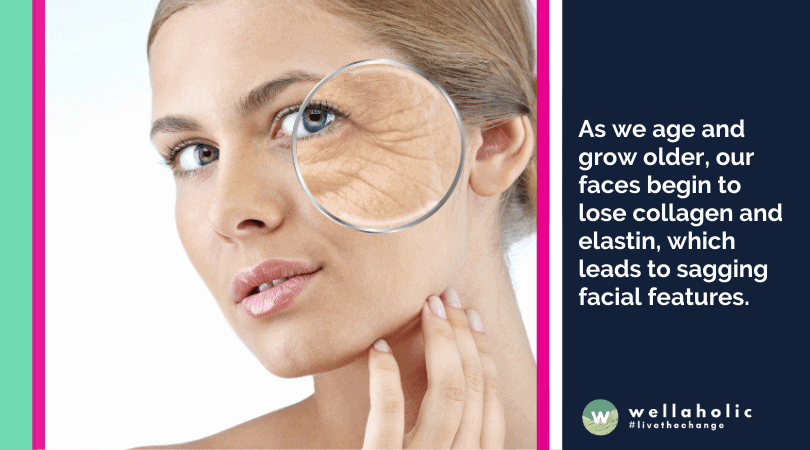 WellaBoost, a Needle-less Face Lifting Technology with 4 Serums
WellaBoost is a needle-free skin booster injection which uses an air-based propulsion driven by high pressure technology via kinetic energy. The proprietary nozzle is able to generate a high pressure of energy, propelling and injecting serums such as hyaluronic acid, Matrixyl, marine collagen and placenta. With the high pressure, the air jet is able to deliver the serums in a non-invasive manner into the dermis with the use of any needles. This is highly advantageous for several reasons:
Safety – The treatment being needle-free is non-invasive, safe and free of risks for all patients. There is no bleeding.
Minimal damage to epidermis – The air propulsion system is able to diffuse the serums evenly to the skin and thereby causes minimal to no damage to the epideris with minimal bruising.
Anti aging effects – With effective serums such as hyaluronic acid, the treatment can help plump skin, boost collagen and is an effective alternative to filler treatments.
Mechanics of WellaBoost
The WellaBoost skin booster injection procedure uses high air pressure kinetic energy to propel the serums deep into the skin surface. The needle free device helps to stimulate the body's natural healing response. The air jet or propulsion can cover up to 80 to 100 times the area of a static 32G needle entry point. Yet it is minimally invasive. WellaBoost can stimulate elastin production and skin rejuvenation, and is ideal for nasolabial folds, deep wrinkles and collagen production.
This is followed by electroporation, or electropermeabilization. Electroporation is a microbiology technique where an electrical field is applied to the skin cells in order to increase the permeability of the cell membrane. When this happens, the chemicals or serums can be introduced and absorbed more readily by the skin. By using high air pressure kinetic energy and electroporation, WellaBoost can more effectively target aging or ageing skin, hyperpigmented scars, freckles, melasma and wrinkles.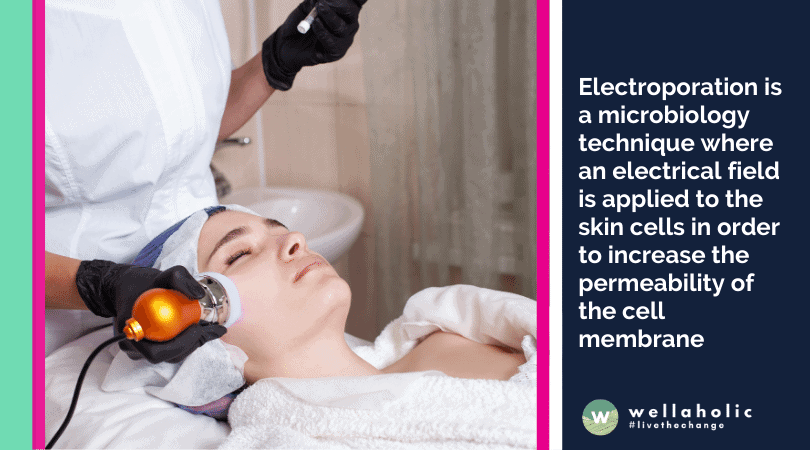 WellaBoost and its Benefit for Acne Scar Removal
You would have read about our Microneedling's effectiveness in smoothing and fading acne scars over a series of treatments (usually between 4 to 6 treatments). While most acne scars are trophic acne scars caused during the healing process as a result of collagen loss, hypertrophic acne scars on the other hand causes scars in the form of bumps. WellaBoost can also treat all scar subtypes with no downtime and needle injections. When the serum is pushed into the dermal layer, the kinetic pressure causes the solution to spread laterally. This leads to a subcision effect and helps to break the scar's fibrotic strands. By doing this, the structure of the scar tissue is affected, and together with the creation or generation of new collagen, the acne scar is diminished over time.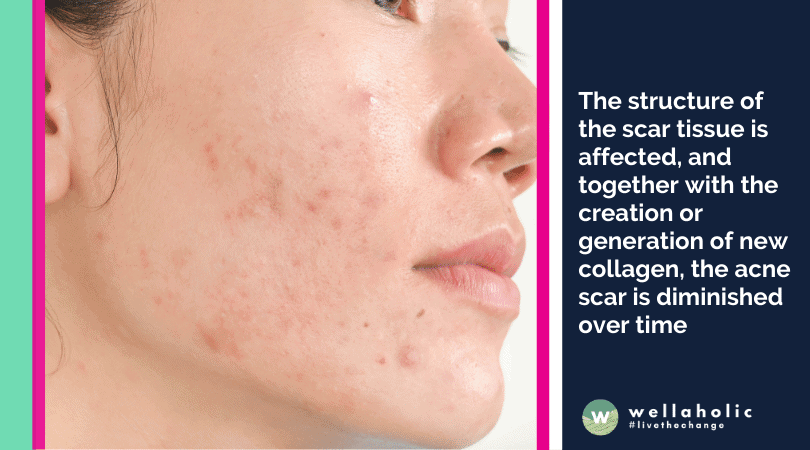 WellaBoost and Its Benefit for Wrinkle Removal
In addition to the treatment of acne scars, WellaBoost can also fill deep wrinkles at the forehead, cheekbones, and nasolabial folds, making it an alternative to dermal fillers, or even botox. This skin rejuvenation treatment can help strengthen and tighten the facial areas especially with our collection of serums (see below). The serums can penetrate deep into the skin as part of skin rejuvenation to plump the skin with no risks of side effects. A full WellaBoost session includes two full passes across the entire face, and targets the following areas:
Forehead
Cheeks
Around the eyes
Lips
Chin
The serums are effectively released into the dermal layers and will help lift up jawline sagging skin (even better if used with our RF V-lift in tandem), improve wrinkles and fine line where folds are likely (even better if used with our Microneedling) and help plump the skin for the anti aging effect.
Benefits of Hyaluronic Acid
Hyaluronic acid, or hyaluronan is naturally produced by the body. It helps to retain water, thereby keeping the human skin and tissues well-lubricated and moist. Hyaluronic acid can help to make the skin look and feel more supple, as the hyaluronic acid binds to water and retain moisture. Hydrated skin looks fuller and younger, and reduces the formation of wrinkles and folds. When applied to the skin directly, hyaluronic acid (serums) can reduce wrinkles, redness and even dermatitis. This is why at Wellaholic, we strongly recommend using Hyaluronic acid as the base serum for WellaBoost. Hyaluronic acid dermal fillers add volume to the facial structures, are very hydrophilic, and look very natural. Hyaluronic acid fillers typically last six to 12 months and can also be used for lip augmentation, which is a big advantage.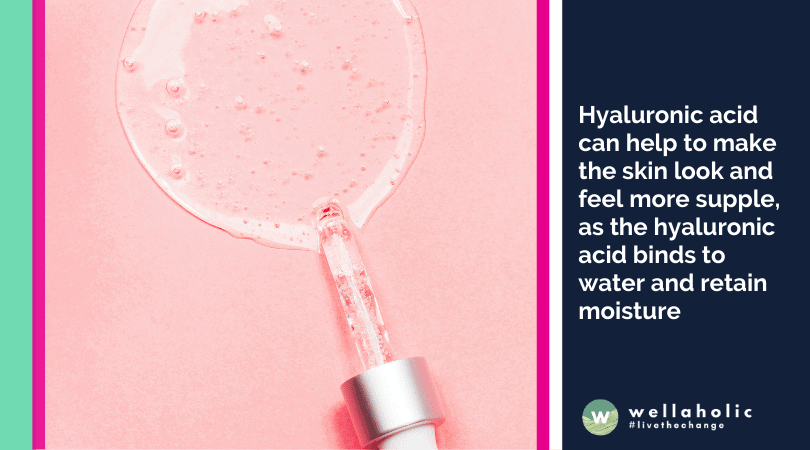 What about Matrixyl?
Matrixyl™ is a trademarked peptide composition developed by Sederma Inc. in France. The active ingredient in Matrixyl (Palmitoyl Pentapeptide) stimulates the growth of new collagen, elastin, and hyaluronic acid which aids in refilling wrinkles naturally from within the skin. Matrixyl 3000 (Palmitoyl Terapeptide) will do this as well but it also inhibits and reverses glycation damage. The damage from the glycation process on collagen and elastin fibers can neither be reversed nor repaired. Proteins that are inundated with AGEs lose their ability to properly function with surrounding cells and other proteins, resulting in sagging, wrinkled skin.
But because they're made up of the same things, peptides can actually stimulate the formation of collagen by sending signals to cells to improve how they function. So, as we age and our collagen production decreases and it breaks down, Peptides aid reparative efforts to combat signs of aging like loss of firmness, changes in texture as well as wrinkles. They also help to keep the skin hydrated.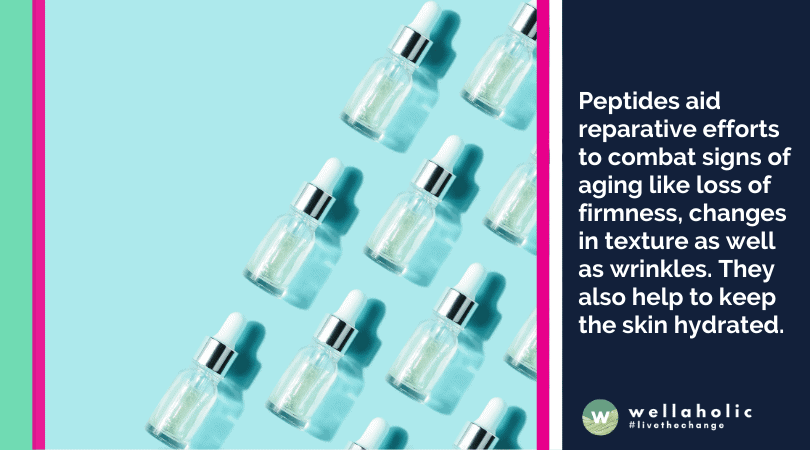 What Marine Collagen Does for the Skin
Preclinical research studies prove and show that ingesting marine collagen repairs skin collagen and elastin protein fibers and produces a significant thickening of the outer skin surface (epidermis). Human studies have reported decreased wrinkles and improved skin hydration and firmness following marine collagen supplementation. This effect is amplified by applying marine collagen to the skin directly. Marine collagen is a source of type 1 collagen. Type 1 is the most plentiful collagen in our bodies. It's also a key building block for maintaining the elasticity and firmness of our biggest organ: the skin. Marine collagen has long been used in the cosmetic industry for its skin enhancing benefits.
Our marine collagen serum contains a concentrated level of marine collagen and elastin rich in amino acids. Helps penetrate the skin to provide structural support, plumping, replenishing collagen levels and soothing out fine lines to create a youthful appearance.
Effects of Placenta Serum
Placenta is an organ that forms inside the uterus during pregnancy.It has some incredible benefits, including the increase of CRH, which is a stress-reducing hormone and helping with iron levels. In fact, there's a new startup, funded by the likes of Tony Robbins that focuses on taking stem cells from placenta, which is said to have regenerative properties. Placenta's regenerative properties is exactly what makes it so relevant in skincare. It's a repairing treatment that reduces the look of imperfections, lightens acne scars, and reconstructs weakened skin. Serum Placenta, specifically, is super nourishing, and ideal for acne scars.
Wellaholic uses an intensive repairing serum with placental biostimulin protein extracts. This helps to heal, regenerate and rebuild skin tissue, treating acne, rosacea, dull skin and visible skins of ageing. Our placenta serum is also ideal for post-acne scarring and any other form of epidermal exfoliations.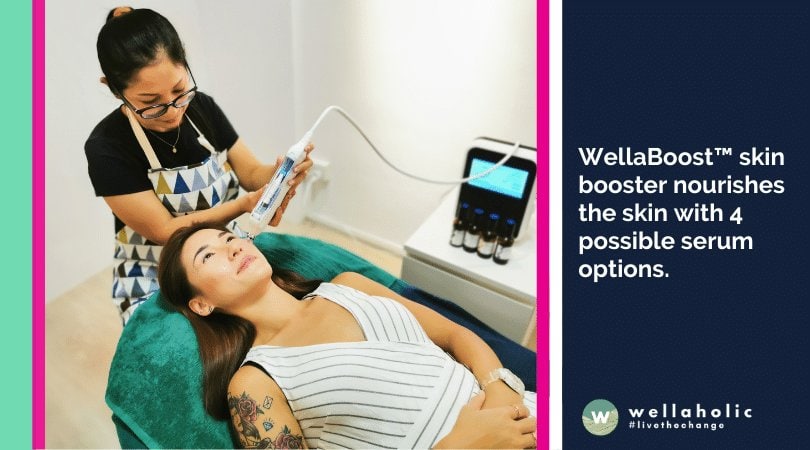 Boost Your Skin Elasticity with Wellaholic's WellaBoost
WellaBoost™ is a non-invasive facial skin booster. Combines two different technologies. Infuses the skin with 4 different types of facial serums. Helps to promote the increased hydration, collagen production, skin regeneration and healing, leading to healthier and more supple skin. WellaBoost™ skin booster nourishes the skin with 4 possible serum options. Hyaluronic Acid is always used as the base serum, and customers can choose to add on one or more of the following serums: hyaluronic acid, Matrixyl, Marine Collagen and Placenta serum.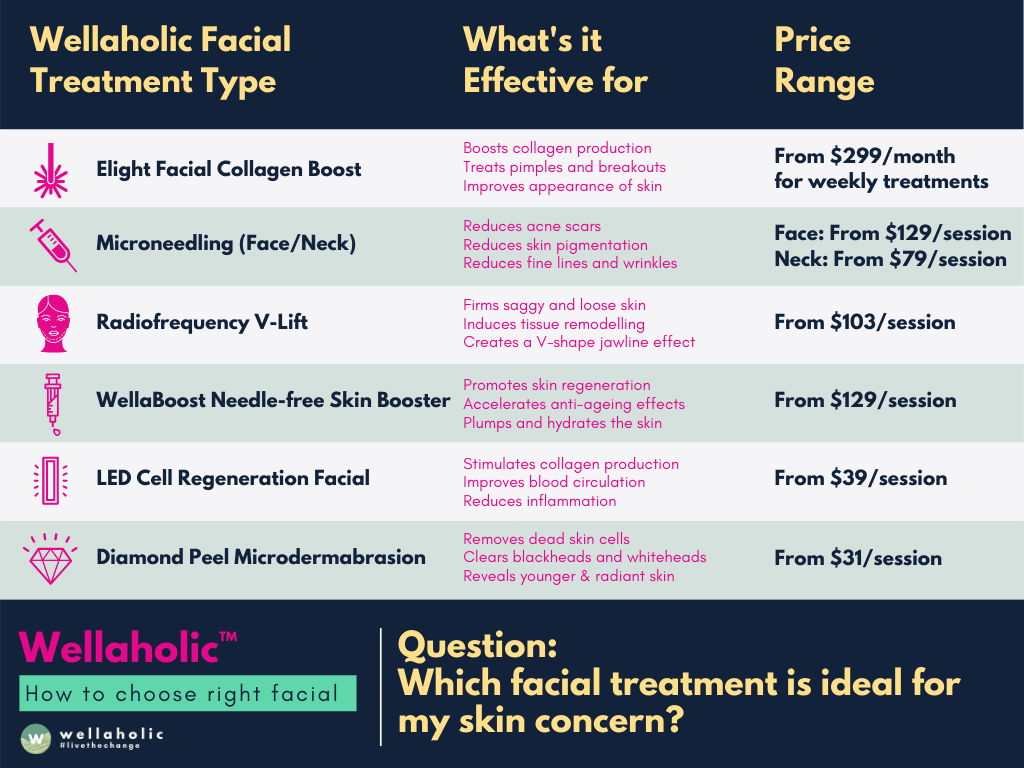 ---